Zusammenfassung
Die Untersuchung des Amelogeninsystems in der forensischen Genetik dient der genotypischen Geschlechtszuordnung von Spurenproben und ermöglicht die einzige, gesetzlich zugelassene, phänotypische Information über eine gesuchte Person. Insofern kommt den Befunden der Amelogeninanalyse weitreichende Bedeutung in der Interpretation von forensischem Spurenmaterial zu. In den letzten Jahren wurden viele Mutationen in dem untersuchten Locus beschrieben. Bereits hieraus kann abgeleitet werden, dass das Amelogeninsystem anfällig für Fehlinterpretationen ist. Im Folgenden werden anhand von 2 Fällen aus der praktischen Arbeit, die einen ungewöhnlichen Amelogeninbefund aufwiesen, Besonderheiten und mögliche Fehlerquellen dieser Untersuchungsmethode aufgezeigt und diskutiert.
Abstract
The investigation oft the amelogenin locus in forensic genetics is used for genotypic sex determination from forensic traces and is the only legally accepted genetic investigation about the phenotype of a crime suspect. The information gained from the analysis of the amelogenin locus has important implications for the interpretation of forensic traces. Over the last few years a plethora of mutations have been described within the amelogenin locus so that this locus is prone to erroneous interpretation. This article describes two cases with an unusual amelogenin status and discusses possible sources of error.
Access options
Buy single article
Instant access to the full article PDF.
USD 39.95
Price excludes VAT (USA)
Tax calculation will be finalised during checkout.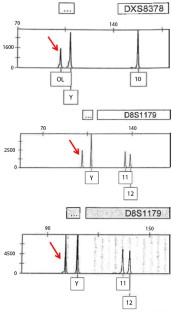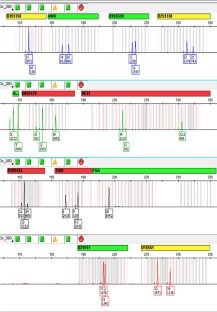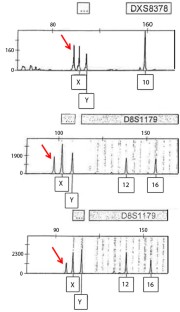 Literatur
Butler JM (2001) Forensic DNA typing: biology and technology behind STR markers. Academic Press, London

Clayton TM, Guest JL, Urquhart AJ, Gill PD (2004) A genetic basis for anomalous band patterns encountered during DNA STR profiling. J Forensic Sci 49:1207–1214

Freriks K, Timmers HJ, Netea-Maier RT et al (2013) Buccal cell FISH and blood PCR-Y detect high rates of X chromosomal mosaicism and Y chromosomal derivatives in patients with Turner syndrome. Eur J Med Genet 56:497–501

Jang MA, Jung CW (2013) Extra X chromosome in mosaic Klinefelter syndrome is associated with a hematologic malignancy. Ann Lab Med 33:297–299

Krause D, Jachau K, Wittig H et al (2005) DNA-Muster und herkömmlicher Erkennungsdienst. Ein Vergleich. Rechtsmedizin 15:371–380

Krenke BE, Nassif N, Sprecher CJ et al (2008) Developmental validation of a real-time PCR assay for the simultaneous quantification of total human and male DNA. Forensic Sci Int Genet 3:14–21

Lanfranco F, Kamischke A, Zitzmann M, Nieschlag E (2004) Klinefelter's syndrome. Lancet 364:273–283

Lattanzi W, Di Giacomo M, Lenato GM et al (2005) A large interstitial deletion encompassing the amelogenin gene on the short arm of the Y chromosome. Hum Genet 116:395–401

Leclair B, Fregeau CJ, Bowen KL, Fourney RM (2004) Systematic analysis of stutter percentages and allele peak height and peak area ratios at heterozygous STR loci for forensic casework and database samples. J Forensic Sci 49:1–13

Lo YM, Tein MS, Lau TK et al (1998) Quantitative analysis of fetal DNA in maternal plasma and serum: implications for noninvasive prenatal diagnosis. Am J Hum Genet 62:768–775

Ma Y, Kuang JZ, Zhang J et al (2012) Y chromosome interstitial deletion induced Y-STR allele dropout in AMELY-negative individuals. Int J Legal Med 126:713–724

Michael A, Brauner P (2004) Erroneous gender identification by the amelogenin sex test. J Forensic Sci 49:258–259

Roffey PE, Eckhoff CI, Kuhl JL (2000) A rare mutation in the amelogenin gene and its potential investigative ramifications. J Forensic Sci 45:1016–1019

Santos FR, Pandya A, Tyler-Smith C (1998) Reliability of DNA-based sex tests. Nat Genet 18:103

Shadrach B, Commane M, Hren C, Warshawsky I (2004) A rare mutation in the primer binding region of the amelogenin gene can interfere with gender identification. J Mol Diagn 6:401–405

Steinlechner M, Berger B, Niederstätter H, Parson W (2002) Rare failures in the amelogenin sex test. Int J Legal Med 116:117–120

Sullivan KM, Mannucci A, Kimpton CP, Gill P (1993) A rapid and quantitative DNA sex test: fluorescence-based PCR analysis of X-Y gene amelogenin. Biotechniques 15:636–641

Thangaraj K, Reddy AG, Singh L (2002) Is the amelogenin gene reliable for gender identification in forensic casework and prenatal diagnosis? Int J Legal Med 116:121–123

Wiegand P, Rolf B (2003) Analyse biologischer Spuren. Rechtsmedizin 13:375–383
Einhaltung ethischer Richtlinien
Interessenkonflikt. B. Balitzki, P.J. Laberke, L. Jegge, E. Kübler geben an, dass kein Interessenkonflikt besteht. Der Beitrag enthält keine Studien an Menschen oder Tieren.
About this article
Cite this article
Balitzki, B., Laberke, P., Jegge, L. et al. Geschlechtsbestimmung mit dem Amelogeninsystem. Rechtsmedizin 24, 30–36 (2014). https://doi.org/10.1007/s00194-013-0931-4
Published:

Issue Date:

DOI: https://doi.org/10.1007/s00194-013-0931-4
Schlüsselwörter
Keywords