Zusammenfassung
Ziel der Arbeit
Die Höhe der Blutalkoholkonzentration (BAK) und die damit einhergehenden alkoholinduzierten Veränderungen der neurophysiologischen Parameter der funktionellen Hirnbildgebung sollten auf einen Zusammengang untersucht werden.
Material und Methoden
Vierzehn gesunde Probanden wurden sowohl vor als auch nach forciertem Sturztrunk mithilfe der funktionellen Magnetresonanztomographie (fMRT) untersucht. Zur Evozierung der Hirnaktivitäten wurde den Teilnehmern ein visuomotorischer Stimulus präsentiert. Während der Messung unter alkoholisierter Bedingung wurde den Probanden regelmäßig Blut über eine Venenverweilkanüle entnommen.
Ergebnisse
Im Bereich zwischen 0,5 und 0,93 ‰ war keine lineare Abhängigkeit zwischen dem "Blood-oxygenation-level-dependent"(BOLD)-Signal und der zu diesem Zeitpunkt gemessenen BAK nachweisbar. Das Maximum der neurophysiologischen Veränderungen wurde bei steigender BAK im Bereich von 0,7  ‰ beobachtet.
Schlussfolgerung
Die beobachteten Zusammenhänge zwischen den BAK und der Veränderungen der Hirnaktivität können als Korrelate der Anflutungsphase nach forciertem Alkoholtrunk interpretiert werden.
Abstract
Aim
The purpose of the study was to investigate the correlation between the blood alcohol concentration (BAC) and the resulting alcohol-induced alterations of neurophysiological parameters of functional brain imaging.
Material and methods
In this study 14 healthy subjects were investigated before and after forced rapid drinking of alcohol using functional magnetic resonance imaging. In order to evoke brain activity in the visual and motor cortex a visuomotor task was presented. During the measurements taken under alcoholic conditions venous blood samples were collected from the subjects at regular intervals.
Results
In the range between 0.5 ‰ and 0.93 ‰ no linear dependency between BAC and the blood oxygenation level-dependent (BOLD) signal was observed. The maximum alcohol-induced changes of the BOLD signals were found in the range of 0.7 ‰.
Conclusion
The observed correlation between the BAC and the neurophysiological changes can be interpreted as the correlate of the influx phase after forced alcohol drinking.
This is a preview of subscription content, log in to check access.
Access options
Buy single article
Instant access to the full article PDF.
US$ 39.95
Price includes VAT for USA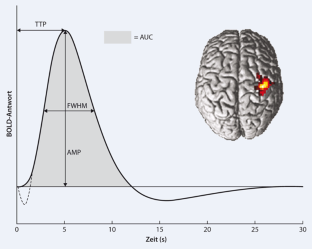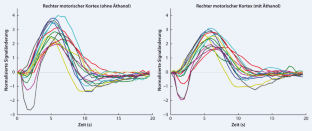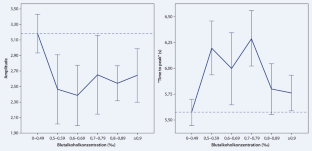 Literatur
1.

Aderjan R, Daldrup T, Käferstein H et al (2011) Guidelines for determining blood alcohol concentration (BAC) for forensic purposes – BAC guidelines. Blutalkohol 48:137–143

2.

Amberg R, Fürmaier R, Hirt H, Urban R (2002) Regional ethanol absorption of the human brain during the influx phase measured by means of the magnetic resonance spectroscopy (MRS) and positron emission tomography (PET). Blutalkohol 39:61–71

3.

Bönke DO (2012) Legal blood alcohol limit in the road traffic act – less is more? Blutalkohol 49(Suppl):12–14

4.

Bratzke H (2012) For an "absolute ban on alcohol at the wheel". Blutalkohol 49(Suppl):22–24

5.

Breitmeier D, Seeland-Schulze I, Hecker H, Schneider U (2007) The influence of blood alcohol concentrations of around 0.03 % on neuropsychological functions – a double-blind, placebo-controlled investigation. Addict Biol 12:183–189

6.

Brieler P (2012) The demand for a zero legal blood alcohol limit in road traffic from the point of view of traffic psychology. Blutalkohol 49(Suppl):29–34

7.

Buxton RB, Wong EC, Frank LR (1998) Dynamics of blood flow and oxygenation changes during brain activation: the balloon model. Magn Reson Med 39:855–864

8.

Calhoun VD, Pekar JJ, Pearlson GD (2004) Alcohol intoxication effects on simulated driving: exploring alcohol-dose effects on brain activation using functional MRI. Neuropsychopharmacology 29:2097–2107

9.

Friston KJ, Holmes AP, Worsley KJ, Poline J et al (1994) Statistical parametric maps in functional imaging: a general linear approach. Hum Brain Mapp 2:189–210

10.

Gilman JM, Ramchandani VA, Davis MB et al (2008) Why we like to drink: a functional magnetic resonance imaging study of the rewarding and anxiolytic effects of alcohol. J Neurosci 28:4583–4591

11.

Gonzalez-Wilhelm L, Orellana JJ, Bratzke H (2007) Prevalence of alcohol in blood samples from adults involved in traffic law violations in Frankfurt/Main and South-Hessen: cross sectional study (1993–2004). Blutalkohol 44:215–230

12.

Janeczek C (2012) Zero tolerance – no positive contribution to traffic safety. Blutalkohol 49(Suppl):25–28

13.

Levin JM, Ross MH, Mendelson JH et al (1998) Reduction in BOLD fMRI response to primary visual stimulation following alcohol ingestion. Psychiatry Res 82:135–146

14.

Logothetis NK, Pfeuffer J (2004) On the nature of the BOLD fMRI contrast mechanism. Magn Reson Imaging 22:1517–1531

15.

Lovinger DM, Roberto M (2013) Synaptic effects induced by alcohol. Curr Top Behav Neurosci 13:31–86

16.

Luchtmann M, Jachau K, Adolf D et al (2013) Decreased effective connectivity in the visuomotor system after alcohol consumption. Alcohol. DOI 10.1016/j.alcohol.2013.01.002

17.

Luchtmann M, Jachau K, Adolf D et al (2013) Ethanol modulates the neurovascular coupling. Neurotoxicology 34:95–104

18.

Luchtmann M, Jachau K, Tempelmann C, Bernarding J (2010) Alcohol induced region-dependent alterations of hemodynamic response: implications for the statistical interpretation of pharmacological fMRI studies. Exp Brain Res 1–10

19.

Madea B, Brinkmann B (2003) Handbuch gerichtliche Medizin, Bd 2. Springer, Berlin Heidelberg New York Tokio

20.

Mitchell MC (1985) Alcohol-induced impairment of central nervous system function: behavioral skills involved in driving. J Stud Alcohol Suppl 46:109–116

21.

Rogers BP, Parks MH, Nickel MK et al (2012) Reduced fronto-cerebellar functional connectivity in chronic alcoholic patients. Alcohol Clin Exp Res 36:294–301

22.

Rudell E, Bonte W, Sprung R, Frauenrath C (1981) Rising tide symptomatology after excessive drinking. Blutalkohol 18:326–330

23.

Scheffler U (2012) Zero legal blood alcohol limit – for or against? Against! Blutalkohol 49(Suppl):15–21

24.

Seidl S, Jensen U, Alt A (2000) The calculation of blood ethanol concentrations in males and females. Int J Legal Med 114:71–77

25.

Seifritz E, Bilecen D, Hänggi D et al (2000) Effect of ethanol on BOLD response to acoustic stimulation: implications for neuropharmacological fMRI. Psychiatry Res 99:1–13

26.

Söderlund H, Grady CL, Easdon C, Tulving E (2007) Acute effects of alcohol on neural correlates of episodic memory encoding. Neuroimage 35:928–939

27.

Sripada CS, Angstadt M, McNamara P et al (2011) Effects of alcohol on brain responses to social signals of threat in humans. Neuroimage 55:371–380

28.

Statistisches Bundesamt (2011) Unfälle unter dem Einfluss berauschender Mittel im Straßenverkehr. Statistisches Bundesamt, Wiesbaden, Stand 16.02.13. https://www.destatis.de

29.

Tank DW, Ogawa S, Ugurbil K (1992) Mapping the brain with MRI. Curr Biol 2:525–528

30.

Van Horn JD, Yanos M, Schmitt PJ, Grafton ST (2006) Alcohol-induced suppression of BOLD activity during goal-directed visuomotor performance. Neuroimage 31:1209–1221
Einhaltung ethischer Richtlinien
Interessenkonflikt. M. Luchtmann, K. Jachau, D. Adolf, S. Baecke, R. Lützkendorf und J. Bernarding geben an, dass kein Interessenkonflikt besteht. Alle im vorliegenden Manuskript beschriebenen Untersuchungen am Menschen wurden mit Zustimmung der zuständigen Ethikkommission, im Einklang mit nationalem Recht sowie gemäß der Deklaration von Helsinki von 1975 (in der aktuellen, überarbeiteten Fassung) durchgeführt. Von allen beteiligten Teilnehmern liegt eine Einverständniserklärung vor.
About this article
Cite this article
Luchtmann, M., Jachau, K., Adolf, D. et al. Veränderungen im visuomotorischen System während der Phase der Äthanolanflutung. Rechtsmedizin 23, 460–465 (2013). https://doi.org/10.1007/s00194-013-0913-6
Schlüsselwörter
Alkohol

Gehirn

Motorischer Kortex

Humanexperiment

Autofahren
Keywords
Alcohol

Brain

Motor cortex

Human experimentation

Automobile driving