Zusammenfassung
In den vergangenen Jahren erreichte weltweit eine wahre Flut von neuen, auch als "legal highs" bezeichneten Drogenprodukten den Markt. Während in einigen Teilen der Welt eher die amphetaminartigen Stimulanzien dominieren, stellen in Deutschland bisher die synthetischen Cannabinoide das größere Problem dar. Die hohe Dynamik, die durch rasche Aufnahme neuer Substanzen in die Anlagen des Betäubungsmittelgesetzes und den Ersatz auf Herstellerseite durch chemisch-strukturell leicht veränderte, neue Substanzen zustande kommt, stellt sowohl die Kriminaltechnik als auch die Toxikologie vor immense Herausforderungen.
Abstract
In recent years a flood of new psychoactive substances offered as "legal highs" appeared on the drugs market worldwide. In some parts of the world amphetamine-type stimulants are predominant but in Germany synthetic cannabinoids represent the bigger problem. The high dynamics which are maintained by the "cat and mouse game" of scheduling substances and the producers circumventing the regulations by adding new, chemically modified substances, poses a great challenge for both forensic science and toxicology.
Access options
Buy single article
Instant access to the full article PDF.
USD 39.95
Price excludes VAT (USA)
Tax calculation will be finalised during checkout.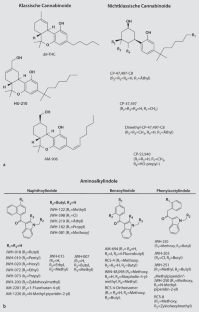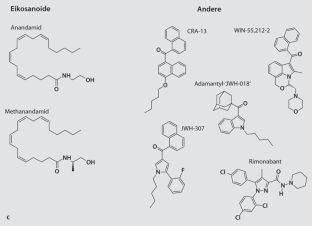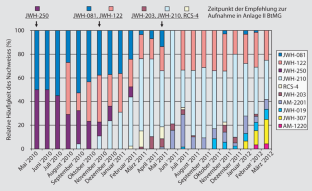 Literatur
Mechoulam R, Gaoni Y (1965) A total synthesis of dl-delta-1-tetrahydrocannabinol, the active constituent of hashish. J Am Chem Soc 87:3273–3275

Matsuda LA, Lolait SJ, Brownstein MJ et al (1990) Structure of a cannabinoid receptor and functional expression of the cloned cDNA. Nature 346:561–564

Munro S, Thomas KL, Abu-Shaar M (1993) Molecular characterization of a peripheral receptor for cannabinoids. Nature 365:61–65

Croxford JL (2003) Therapeutic potential of cannabinoids in CNS disease. CNS Drugs 17:179–202

Porter AC, Felder CC (2001) The endocannabinoid nervous system: unique opportunities for therapeutic intervention. Pharmacol Ther 90:45–60

Thakur GA, Tichkule R, Bajaj S, Makriyannis A (2009) Latest advances in cannabinoid receptor agonists. Expert Opin Ther Pat 19:1647–1673

Christensen R, Kristensen PK, Bartels EM et al (2007) Efficacy and safety of the weight-loss drug rimonabant: a meta-analysis of randomised trials. Lancet 370:1706–1713

Auwärter V, Dresen S, Weinmann W et al (2009) "Spice" and other herbal blends: harmless incense or cannabinoid designer drugs? J Mass Spectrom 44:832–837

Werse B, Morgenstern C (2011) Abschlussbericht – Online-Befragung zum Thema "Legal Highs". Centre for Drug Research, Goethe-Universität, Frankfurt a. M.

Pabst A, Piontek D, Kraus L, Müller S (2010) Substanzkonsum und substanzbezogene Störungen. Ergebnisse des Epidemiologischen Suchtsurveys 2009. Sucht 56:327–336

Werse B, Müller O, Schell C, Morgenstern C (2011) Jahresbericht MoSyD. Drogentrends in Frankfurt am Main 2010. Centre for Drug Research, Goethe-Universität, Frankfurt a. M.

Howlett AC (1984) Inhibition of neuroblastoma adenylate cyclase by cannabinoid and nantradol compounds. Life Sci 35:1803–1810

Howlett AC, Fleming RM (1984) Cannabinoid inhibition of adenylate cyclase. Pharmacology of the response in neuroblastoma cell membranes. Mol Pharmacol 26:532–538

Caulfield MP, Brown DA (1992) Cannabinoid receptor agonists inhibit Ca current in NG108–15 neuroblastoma cells via a pertussis toxin-sensitive mechanism. Br J Pharmacol 106:231–232

Mackie K, Hille B (1992) Cannabinoids inhibit N-type calcium channels in neuroblastoma-glioma cells. Proc Natl Acad Sci U S A 89:3825–3829

Devane WA, Hanus L, Breuer A et al (1992) Isolation and structure of a brain constituent that binds to the cannabinoid receptor. Science 258:1946–1949

Johnson DE, Heald SL, Dally RD et al (1993) Isolation, identification and synthesis of an endogenous arachidonic amide that inhibits calcium channel antagonist 1,4-dihydropyridine binding. Prostaglandins Leukot Essent Fatty Acids 48:429–437

Mechoulam R, Ben-Shabat S, Hanus L et al (1995) Identification of an endogenous 2-monoglyceride, present in canine gut, that binds to cannabinoid receptors. Biochem Pharmacol 50:83–90

Mascia MS, Obinu MC, Ledent C et al (1999) Lack of morphine-induced dopamine release in the nucleus accumbens of cannabinoid CB(1) receptor knockout mice. Eur J Pharmacol 383:R1–2

Fernandez-Ruiz J, Berrendero F, Hernandez ML et al (2000) The endogenous cannabinoid system and brain development. Trends Neurosci 23:14–20

Johnson MR, Rice KC, Howlett A et al (1992) The cannabinoid receptor – pharmacologic identification, anatomical localization and cloning. NIDA Res Monogr 119:86–90

Pavlopoulos S, Thakur GA, Nikas SP et al (2006) Cannabinoid receptors as therapeutic targets. Curr Pharm Des 12:1751–1769

Ishac EJ, Jiang L, Lake KD et al (1996) Inhibition of exocytotic noradrenaline release by presynaptic cannabinoid CB1 receptors on peripheral sympathetic nerves. Br J Pharmacol 118:2023–2028

Kathmann M, Bauer U, Schlicker E et al (1999) Cannabinoid CB1 receptor-mediated inhibition of NMDA- and kainate-stimulated noradrenaline and dopamine release in the brain. Naunyn Schmiedebergs Arch Pharmacol 359:466–470

Nakazi M, Bauer U, Nickel T et al (2000) Inhibition of serotonin release in the mouse brain via presynaptic cannabinoid CB1 receptors. Naunyn Schmiedebergs Arch Pharmacol 361:19–24

Shen M, Piser TM, Seybold VS, Thayer SA (1996) Cannabinoid receptor agonists inhibit glutamatergic synaptic transmission in rat hippocampal cultures. J Neurosci 16:4322–4334

Szabo B, Müller T, Koch H (1999) Effects of cannabinoids on dopamine release in the corpus striatum and the nucleus accumbens in vitro. J Neurochem 73:1084–1089

Felder CC, Joyce KE, Briley EM et al (1995) Comparison of the pharmacology and signal transduction of the human cannabinoid CB1 and CB2 receptors. Mol Pharmacol 48:443–450

Lambert DM, Di Marzo V (1999) The palmitoylethanolamide and oleamide enigmas: are these two fatty acid amides cannabimimetic? Curr Med Chem 6:757–773

Wiley JL, Martin BR (2002) Cannabinoid pharmacology: implications for additional cannabinoid receptor subtypes. Chem Phys Lipids 121:57–63

Forrester MB, Kleinschmidt K, Schwarz E, Young A (2011) Synthetic cannabinoid exposures reported to Texas poison centers. J Addict Dis 30:351–358

Hoyte CO, Jacob J, Monte AA et al (2012) A characterization of synthetic cannabinoid exposures reported to the National Poison Data System in 2010. Ann Emerg Med, DOI 10.1016/j.annemergmed.2012.03.007

Pant S, Deshmukh A, Dholaria B et al (2012) Spicy seizure. Am J Med Sci 344:67–68

Schneir AB, Baumbacher T (2012) Convulsions associated with the use of a synthetic cannabinoid product. J Med Toxicol 8:62–64

Aung MM, Griffin G, Huffman JW et al (2000) Influence of the N-1 alkyl chain length of cannabimimetic indoles upon CB(1) and CB(2) receptor binding. Drug Alcohol Depend 60:133–140

Compton DR, Rice KC, De Costa BR et al (1993) Cannabinoid structure-activity relationships: correlation of receptor binding and in vivo activities. J Pharmacol Exp Ther 265:218–226

D'Ambra TE, Estep KG, Bell MR et al (1992) Conformationally restrained analogues of pravadoline: nanomolar potent, enantioselective, (aminoalkyl)indole agonists of the cannabinoid receptor. J Med Chem 35:124–135

Deng H, Gifford AN, Zvonok AM et al (2005) Potent cannabinergic indole analogues as radioiodinatable brain imaging agents for the CB1 cannabinoid receptor. J Med Chem 48:6386–6392

Frost JM, Dart MJ, Tietje KR et al (2010) Indol-3-ylcycloalkyl ketones: effects of N1 substituted indole side chain variations on CB(2) cannabinoid receptor activity. J Med Chem 53:295–315

Huffman JW, Mabon R, Wu MJ et al (2003) 3-Indolyl-1-naphthylmethanes: new cannabimimetic indoles provide evidence for aromatic stacking interactions with the CB(1) cannabinoid receptor. Bioorg Med Chem 11:539–549

Huffman JW, Padgett LW (2005) Recent developments in the medicinal chemistry of cannabimimetic indoles, pyrroles and indenes. Curr Med Chem 12:1395–1411

Huffman JW, Padgett LW, Isherwood ML et al (2006) 1-Alkyl-2-aryl-4-(1-naphthoyl)pyrroles: new high affinity ligands for the cannabinoid CB1 and CB2 receptors. Bioorg Med Chem Lett 16:5432–5435

Huffman JW, Szklennik PV, Almond A et al (2005) 1-Pentyl-3-phenylacetylindoles, a new class of cannabimimetic indoles. Bioorg Med Chem Lett 15:4110–4113

Makriyannis A, Deng H (2001) Cannabimimetic indole derivatives, W.I.P. Organization (Patent)

Showalter VM, Compton DR, Martin BR, Abood ME (1996) Evaluation of binding in a transfected cell line expressing a peripheral cannabinoid receptor (CB2): identification of cannabinoid receptor subtype selective ligands. J Pharmacol Exp Ther 278:989–999

Mir A, Obafemi A, Young A, Kane C(2011) Myocardial infarction associated with use of the synthetic cannabinoid K2. Pediatrics 128:e1622–e1627

Schmid K, Niederhoffer N, Szabo B (2003) Analysis of the respiratory effects of cannabinoids in rats. Naunyn Schmiedebergs Arch Pharmacol 368:301–308

Advisory Council on the Misuse of Drugs (ACMD) (2009) Consideration of the major cannabinoid agonists. Home Office, London

Howlett AC, Barth F, Bonner TI et al (2002) International Union of Pharmacology. XXVII. Classification of cannabinoid receptors. Pharmacol Rev 54:161–202

Thakur GA, Nikas SP, Makriyannis A (2005) CB1 cannabinoid receptor ligands. Mini Rev Med Chem 5:631–640

Huffman J (2009) Cannabimimetic indoles, pyrroles, and indenes: structure-activity relationships and receptor interactions. In: Reggio PH (Hrsg) The cannabinoid receptors. Humana, New York

Atwood BK, Huffman J, Straiker A, Mackie K (2010) JWH018, a common constituent of "Spice" herbal blends, is a potent and efficacious cannabinoid CB receptor agonist. Br J Pharmacol 160:585–593

Teske J, Weller JP Fieguth A et al (2010) Sensitive and rapid quantification of the cannabinoid receptor agonist naphthalen-1-yl-(1-pentylindol-3-yl)methanone (JWH-018) in human serum by liquid chromatography-tandem mass spectrometry. J Chromatogr B Analyt Technol Biomed Life Sci 878:2659–2663

Dresen S, Kneisel S, Weinmann W et al (2011) Development and validation of a liquid chromatography-tandem mass spectrometry method for the quantitation of synthetic cannabinoids of the aminoalkylindole type and methanandamide in serum and its application to forensic samples. J Mass Spectrom 46:163–171

Kacinko SL, Xu A, Homan JW et al (2011) Development and validation of a liquid chromatography-tandem mass spectrometry method for the identification and quantification of JWH-018, JWH-073, JWH-019, and JWH-250 in human whole blood. J Anal Toxicol 35:386–393

Ammann J, Mc Laren JM, Gerostamoulos D, Beyer J et al (2012) Detection and quantification of new designer drugs in human blood: part 1 – synthetic cannabinoids. J Anal Toxicol 36:372–380

Poklis JL, Amira D, Wise LE et al (2012) Detection and disposition of JWH-018 and JWH-073 in mice after exposure to "Magic Gold" smoke. Forensic Sci Int. DOI 10.1016/j.forsciint.2012.02.003

Shanks KG, Dahn T, Terrell AR (2012) Detection of JWH-018 and JWH-073 by UPLC-MS-MS in postmortem whole blood casework. J Anal Toxicol 36:145–152

Kneisel S, Auwärter V (2012) Analysis of 30 synthetic cannabinoids in serum by liquid chromatography-electrospray ionization tandem mass spectrometry after liquid-liquid extraction. J Mass Spectrom. DOI 10.1002/jms.3020

Coulter C, Garnier M, Moore C (2011) Synthetic cannabinoids in oral fluid. J Anal Toxicol 35:424–430

Salomone A, Gerace E, D'Urso F et al (2012) Simultaneous analysis of several synthetic cannabinoids, THC, CBD and CBN, in hair by ultra-high performance liquid chromatography tandem mass spectrometry. Method validation and application to real samples. J Mass Spectrom 47:604–610

Hutter M, Kneisel S, Auwärter V, Neukamm MA (2012) Determination of 22 synthetic cannabinoids in human hair by liquid chromatography-tandem mass spectrometry. J Chromatogr B Analyt Technol Biomed Life Sci (in press)

Möller I, Wintermeyer A, Bender K et al (2011) Screening for the synthetic cannabinoid JWH-018 and its major metabolites in human doping controls. Drug Test Anal 3:609–620

Hutter M, Broecker S, Kneisel S, Auwärter V (2012) Identification of the major urinary metabolites in man of seven synthetic cannabinoids of the aminoalkylindole type present as adulterants in 'herbal mixtures' using LC-MS/MS techniques. J Mass Spectrom 47:54–65

Moran CL, Le VH, Chimalakonda KC et al (2011) Quantitative measurement of JWH-018 and JWH-073 metabolites excreted in human urine. Anal Chem 83:4228–4236

Johansson E, Halldin MM (1989) Urinary excretion half-life of delta 1-tetrahydrocannabinol-7-oic acid in heavy marijuana users after smoking. J Anal Toxicol 13:218–223

Fraser AD, Worth D (2003) Urinary excretion profiles of 11-nor-9-carboxy-Delta9-tetrahydrocannabinol: a Delta9-THC-COOH to creatinine ratio study #2. Forensic Sci Int 133:26–31
Interessenkonflikt
Der korrespondierende Autor gibt für sich und seine Koautoren an, dass kein Interessenkonflikt besteht.
About this article
Cite this article
Auwärter, V., Kneisel, S., Hutter, M. et al. Synthetische Cannabinoide. Rechtsmedizin 22, 259–271 (2012). https://doi.org/10.1007/s00194-012-0810-4
Published:

Issue Date:

DOI: https://doi.org/10.1007/s00194-012-0810-4
Schlüsselwörter
JWH

"Spice"

Typ-1-Cannabinoidrezeptor

Typ-2-Cannabinoidrezeptor

Räuchermischungen
Keywords
JWH

Spice

Receptor, cannabinoid, CB1

Receptor, cannabinoid, CB2

Herbal mixtures