Zusammenfassung
Die Divertikulose des Dünndarms ist ein seltener Befund. Am häufigsten sind die erworbenen Divertikel im Duodenum und proximalen Jejunum lokalisiert. Bei chronischen Verläufen, aber auch bei schweren Komplikationen, wird diese Erkrankung aufgrund unspezifischer Symptome nur selten zeitnah diagnostiziert. Es wird der Fall einer tödlichen verlaufenen Dünndarmdivertikulitis mit Abszessbildung und Sepsis vorgestellt.
Abstract
Diverticulosis of the small intestine is a rare finding. It is localized most frequently in the duodenum and proximal jejunum. In chronic courses, but also in cases of severe complications, diverticulosis is rarely diagnosed promptly due to unspecific symptoms. Here we present a case of fatal diverticulitis of the small intestine with abscess formation and sepsis.
This is a preview of subscription content,
to check access.
Access this article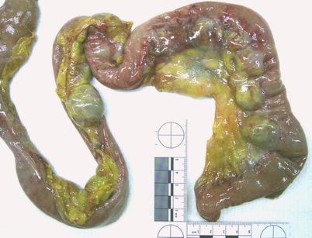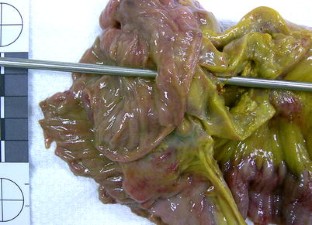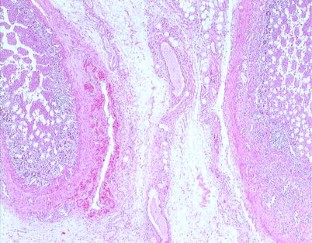 Literatur
Akhrass R, Yaffe MB, Fischer C et al. (1997) Small-bowel diverticulosis: perceptions and reality. J Am Coll Surg 184: 383–388

Kouraklis G, Glinavou A, Mantas D et al. (2002) Clinical implications of small bowel diverticula. Isr Med Assoc J 4: 431–433

Krishnamurthy S, Kelly MM, Rohrmann CA, Schuffler MD (1983) Jejunal diverticulosis. A heterogenous disorder caused by a variety of abnormalities of smooth muscle or myenteric plexus. Gastroenterology 85: 538–547

Lempinen M, Salmela K, Kemppainen E (2004) Jejunal diverticulosis: a potentially dangerous entity. Scand J Gastroenterol 39: 905–909

Liu CY, Chang WH, Lin SC et al. (2005) Analysis of clinical manifestations of symptomatic acquired jejunoileal diverticular disease. World J Gastroenterol 11: 5557–5560

Maglinte DD, Chernish SM, DeWeese R et al. (1986) Acquired jejunoileal diverticular disease: subject review. Radiology 158: 577–580

Maglinte DD, Kelvin FM, Sandrasegaran K et al. (2005) Radiology of small bowel obstruction: contemporary approach and controversies. Abdom Imaging 30: 160–178

Noer T (1960) Non-Meckelian diverticula of the small bowel. The incidence in an autopsy material. Acta Chir Scand 120: 175–179

Palder SB, Frey CB (1988) Jejunal diverticulosis. Arch Surg 123: 889–894

Richter S, Linde J van der, Dominok GW (1991) Die Divertikelkrankheit. Zentralbl Chir 116: 991–998

Tsiotos GG, Farnell MB, Ilstrup DM (1994) Nonmeckelian jejunal or ileal diverticulosis: an analysis of 112 cases. Surgery 116: 726–731
Interessenkonflikt
Es besteht kein Interessenkonflikt. Der korrespondierende Autor versichert, dass keine Verbindungen mit einer Firma, deren Produkt in dem Artikel genannt ist, oder einer Firma, die ein Konkurrenzprodukt vertreibt, bestehen. Die Präsentation des Themas ist unabhängig und die Darstellung der Inhalte produktneutral.
About this article
Cite this article
Braun, C., Püschel, K. & Schulz, F. Tödlicher Verlauf einer Dünndarmdivertikulitis. Rechtsmedizin 17, 211–214 (2007). https://doi.org/10.1007/s00194-007-0442-2
Published:

Issue Date:

DOI: https://doi.org/10.1007/s00194-007-0442-2
Schlüsselwörter
Keywords