Abstract
Introduction and hypothesis
Women diagnosed with provoked vulvodynia frequently report a great deal of frustration in achieving symptomatic relief. Physical therapy and drug treatment are among the interventions most indicated by guidelines; however, whether those modalities are effective when combined remains unclear. The objective was to evaluate the effectiveness of adding a physical therapy modality compared with amitriptyline alone for the treatment of vulvodynia.
Methods
Eighty-six women with vulvodynia were randomized to (G1) 25 mg amitriptyline, once a day (n=27), (G2) amitriptyline + electrical stimulation therapy (n=29) or (G3) amitriptyline + kinesiotherapy (n=30). All treatment modalities were administered for 8 weeks. The primary endpoint was the reduction in vestibular pain. Secondary measurements focused on sexual pain, frequency of vaginal intercourse, Friedrich score, and overall sexual function. Data were analyzed using intention-to-treat.
Results
All treatment modalities resulted in a significant decrease in vestibular pain (p<0.001), sexual pain (p<0.05), Friedrich score (p<0.001), and an increase in the frequency of sexual intercourse (p<0.05). G3 was more effective than G1 at reducing sexual pain (G1: 5.3±3.3 vs G3: 3.2±2.7; p=0.01) and at improving sexual function (G1: 18.8±9.8 vs G3: 23.9±7.8; p=0.04).
Conclusion
Kinesiotherapy and electrotherapy additions to amitriptyline administration as well as amitriptyline alone, were effective at improving vestibular pain in women with vulvodynia. Women receiving physical therapy had the greatest improvement in sexual function and frequency of intercourse at post-treatment and follow-up.
Access options
Buy single article
Instant access to the full article PDF.
USD 39.95
Price excludes VAT (USA)
Tax calculation will be finalised during checkout.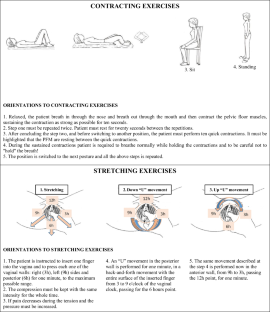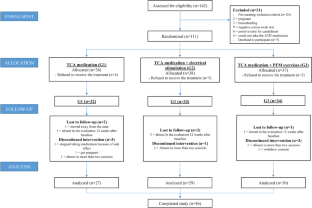 References
Bornstein J, Goldstein AT, Stockdale CK, et al. ISSVD, ISSWSH and IPPS consensus terminology and classification of persistent vulvar pain and vulvodynia. Obstet Gynecol. 2015;2016(127):745–51.

Nguyen RH, Ecklund AM, Maclehose RF, Veasley C, Harlow BL. Comorbid pain conditions and feelings of invalidation and isolation among women with vulvodynia. Psychol Health Med. 2012;17:589–98.

Arnold LD, Bachmann GA, Rosen R, et al. Vulvodynia: characteristics and associations with comorbidities and quality of life. Obstet Gynecol. 2006;107:617–24.

Prendergast SA. Pelvic floor physical therapy for vulvodynia: a clinician's guide. Obstet Gynecol Clin North Am. 2017;44(3):509–22.

Alappattu M, Lamvu G, Feranec J, Witzeman K, Robinson M, Rapkin A. Vulvodynia is not created equally: empirical classification of women with vulvodynia. J Pain Res. 2017;6(10):1601–9.

Wexler N, Haefner HK, Lawson HW, Stockdale CK. American College of Obstetricians and Gynecologists' Committee on Gynecologic Practice; American Society for Colposcopy and Cervical Pathology (ASCCP). Committee Opinion No 673: persistent vulvar pain. Obstet Gynecol. 2016;128(3):e78–84.

Dargie E, Gilron I, Pukall CF. Self-reported neuropathic pain characteristics of women with provoked vulvar pain: a preliminary investigation. J Sex Med. 2017;14:577–91.

Morin M, Binik YM, Bourbonnais D, Khalifé S, Ouellet S, Bergeron S. Heightened pelvic floor muscle tone and altered contractility in women with provoked vestibulodynia. J Sex Med. 2017;14(4):592–600.

Ventolini G, Barhan S, Duke J. Vulvodynia, a step-wise therapeutic prospective cohort study. J Obstet Gynaecol. 2009;29:648–50.

Reed BD, Caron AM, Gorenflo DW, Haefner HK. Treatment of vulvodynia with tricyclic antidepressants: efficacy and associated factors. J Low Genit Tract Dis. 2006;10:245–51.

Mandal D, Nunns D, Byrne M, et al. Guidelines for the management of vulvodynia. Br J Dermatol. 2010;162:1180–5.

Goldstein AT, Pukall CF, Brown C, et al. Vulvodynia: assessment and treatment. J Sex Med. 2016;13:572–90.

Hartmann D, Strauhal MJ, Nelson CA. Treatment of women in the United States with localized, provoked vulvodynia: practice survey of women's health physical therapists. J Reprod Med. 2007;52:48–52.

Morin M, Carroll M-S, Bergeron S. Systematic review of the effectiveness of physical therapy modalities in women with provoked vestibulodynia. Sex Med Rev. 2017;5(3):295–322.

Low J, Reed A. Electrical stimulation of nerve and muscle. In: Low J, Reed A, editors. Electrotherapy explained: principles and practice. 3rd ed. Oxford: Butterworth-Heinemann; 2000. p. 43–140.

Palmer S, Martin D. Interferential current for pain control. In: Kitchen S, editor. Electrotherapy evidence-based practice. 11th ed. Edinburgh: Churchill Livingstone; 2002. p. 287–98.

Ventolini G. Measuring treatment outcomes in women with vulvodynia. J Clin Med Res. 2011;3:59–64.

Stockdale CK, Lawson HW. Vulvodynia guideline update. J Low Genit Tract Dis. 2014;18(2):93–100.

Hartmann D, Strauhal MJ, Nelson CA. Treatment of women in the United States with localized, provoked vulvodynia: practice survey of women's health physical therapists. J Reprod. 2007;52(1):48.

Vallinga MS, Spoelstra SK, Hemel ILM, van de Wiel HBM, Weijmar Schultz WCM. Transcutaneous electrical nerve stimulation as an additional treatment for women suffering from therapy-resistant provoked vestibulodynia: a feasibility study. J Sex Med. 2015;12:228–37.

McKay M. Dysesthetic ("essential") vulvodynia. Treatment with amitriptyline. J Reprod Med. 1993;38(1):9–13.

Goldfinger C, Pukall CF, Gentilcore-Saulnier E, et al. A prospective study of pelvic floor physical therapy: pain and psychosexual outcomes in provoked vestibulodynia. J Sex Med. 2009;6:1955–68.

Gentilcore-Saulnier E, McLean L, Goldfinger C, et al. Pelvic floor muscle assessment outcomes in women with and without provoked vestibulodynia and the impact of a physical therapy program. J Sex Med. 2010;6:1003–22.

Friedrich EG. Vulvar vestibulitis syndrome. J Reprod Med. 1987;32:110–4

Bergeron S, Binik YM, Khalife S, et al. A randomized comparison of group cognitive-behavioral therapy, surface electromyographic biofeedback and vestibulectomy in the treatment of dyspareunia from vulvar vestibulitis. Pain. 2001;91:297–306.

American Physical Therapy Association. Guide to Physical Therapist Practice. Part 1: a description of patient/client management. Part 2: preferred practice patterns. Phys Ther. 1997;77:1160–656.

Fuentes JP, Olivo SA, Magee DJ. Effectiveness of interferential current therapy in the management of musculoskeletal pain: a systematic review and meta-analysis. Phys Ther. 2010;90(9):1219–38.

Farrar JT, Young JP Jr, LaMoreaux L, et al. Clinical importance of changes in chronic pain intensity measured on an 11-point numerical pain rating scale. Pain. 2001;94:149–58.

Bardin MG, Giraldo PC, Martinho N. Pelvic floor biometric changes assessed by 4D translabial ultrasound in women with vulvodynia submitted to physical therapy: a pilot study of a randomized controlled trial. J Sex Med. 2020;17:2236–46.
Acknowledgements
We would like to thank Julia Fante for contributing to data collection and Dr. José Paulo Martins Bonilha Júnior for all his support to my academic career.
The main author acknowledges a student grant from Coordenação de Aperfeiçoamento de Pessoal de Nível Superior (CAPES).
Ethics declarations
Conflicts of interest
None.
Additional information
Publisher's note
Springer Nature remains neutral with regard to jurisdictional claims in published maps and institutional affiliations.
Randomized controlled trial information
This clinical trial was registered under NCT02871661 (on 18 August 2016). (Initial participant enrollment: February) https://clinicaltrials.gov/ct2/show/NCT02871661
Rights and permissions
Springer Nature or its licensor (e.g. a society or other partner) holds exclusive rights to this article under a publishing agreement with the author(s) or other rightsholder(s); author self-archiving of the accepted manuscript version of this article is solely governed by the terms of such publishing agreement and applicable law.
About this article
Cite this article
Bardin, M.G., Giraldo, P.C., Lenzi, J. et al. Does the addition of electrical stimulation or kinesiotherapy improve outcomes of amitriptyline treatment for women with vulvodynia? A randomized clinical trial. Int Urogynecol J (2023). https://doi.org/10.1007/s00192-023-05454-z
Received:

Accepted:

Published:

DOI: https://doi.org/10.1007/s00192-023-05454-z
Keywords
Vulvodynia

Physical therapy

Amitriptyline

Pelvic floor exercise

Electric stimulation

Pelvic rehabilitation

Sexual dysfunction