Abstract
Introduction and hypothesis
Lichen sclerosus (LS) is a chronic disease which mainly affects the vulvar area in women. A few studies have shown a possible relationship between LS and overactive bladder (OAB) symptoms, but no studies have investigated whether OAB symptoms improve after initiating treatment of LS. The aim of this study was to investigate whether the treatment of LS also improves OAB symptoms in women newly diagnosed with LS.
Methods
This was a prospective cohort pilot study based on questionnaires from women newly diagnosed with LS and with symptoms of OAB. Women above the age of 18 who were newly diagnosed with LS were included. The women completed two questionnaires on OAB at inclusion and after 3 months. The questionnaires consisted of the validated questionnaires OAB-q (33 questions, maximum score 198) and ICIQ-OAB (8 questions, maximum score 56). All women initiated treatment with local steroid by the time of the LS diagnosis.
Results
A total of 40 women were included, and 13 women dropped out during the data collection time. Comparing month 0 to month 3 for the remaining 27 women, a mean difference at 28.8 points was observed for OAB-q and a mean difference of 5.7 points was observed for ICIQ-OAB. Both results showed a statistically significant difference after 3 months (p < 0.05). A total of 92.6% (25/27) of the women improved their symptoms.
Conclusion
Treatment with local steroid might improve OAB symptoms in women newly diagnosed with LS.
This is a preview of subscription content,
to check access.
Access this article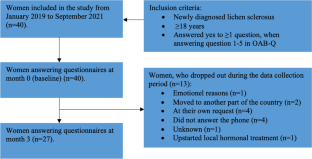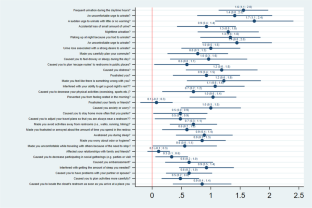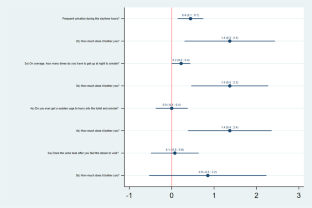 References
Swenson C, Menees S, Haefner H, Berger M. Lower urinary tract and functional bowel symptoms in women with vulvar diseases and controls. Female Pelvic Med Reconstr Surg. 2015;21(4):211–4.

McPherson T, Cooper S. Vulval lichen sclerosus and lichen planus. Dermatol Ther. 2010;523

Christmann-Schmid C, Hediger M, Gröger S, Krebs J, Günthert AR. Vulvar lichen sclerosus in women is associated with lower urinary tract symptoms. Int Urogynecol J. 2017:217–21.

Powell JJ, Wojnarowska F. Lichen sclerosus. The Lancet. 1999;353:1777–83.

Günthert AR, Faber M, Knappe G, Hellriegel S, Emons G. Early onset vulvar lichen sclerosus in premenopausal women and oral contraceptives. Eur J Obstetrics Gynecol Reprod Biol. 2007:56–60.

Eana D, Unaro F. Lichen sclerosus: a review and practical approach. Dermatologic Therapy. 2004;17:28–37.

Virgili A, Borghi A, Cazzaniga S, Di Landro A, Naldi L, Minghetti S, et al. New insights into potential risk factors and associations in genital lichen sclerosus: Data from a multicentre Italian study on 729 consecutive cases. J Eur Acad Dermatol Venereol. 2016;31(4):699.

Pérez-López FR, Ceausu I, Depypere H, Erel CT, Lambrinoudaki I, Rees M, et al. EMAS clinical guide: Vulvar lichen sclerosus in peri and postmenopausal women. Maturitas. 2013;74(3):279–82.

Neill SM, Lewis FM, Tatnall FM, Cox NH. British Association of Dermatologists' guidelines for the management of lichen sclerosus 2010. Br J Dermatol (1951). 2010;163(4):672–82.

Regauer S. Immune dysregulation in lichen sclerosus. Eur J Cell Biol. 2005;274.

Kolitz E, Gammon L, Mauskar M. Vulvar lichen sclerosus in women of reproductive age. Baylor Univ Med Center Proc. 2021:349–51.

Singh N, Ghatage P. Etiology, clinical features, and diagnosis of vulvar lichen sclerosus: A scoping review. Obstet Gynecol Int. 2020:1–8.

Kazandi M, Sahim C, Terek MC, Cirpan T, Oztekin K. Clinical evaluation of vulvar lichen sclerosus. Case series, European journal of Gynaecological Oncology. 2010;31:483–597, 555–8.

Fistarol SK, Itin PH. Diagnosis and treatment of lichen sclerosus. Am J Clin Dermatol. 2012;29

Meyrick Thomas RH, Ridley CM, Mcgibbon DH, Black MM. Lichen sclerosus et atrophicus and autoimmunity - a study of 350 women. British Journal of Dermatology 1987:41–46.

Hagedorn M, Buxmeyer B, Schmitt Y, Bauknecht T. Survey of genital lichen sclerosus in women and men. Arch Gyncol Obstet. 2001:86–91

Debra L, Birenbaum MD, Roger C, Young MD. High prevalence of thyroid disease in patients with lichen sclerosus. Journal of Reproductive Medicine. 2007;52(1):28–30.

Cooper SM, Ali I, Baldo M, Wojnarowska F. The association of lichen sclerosus and erosive lichen planus of the vulva with autoimmune disease: A case-control study. Arch Dermatol (1960) 2008;144(11):1432–5.

Kreuter A, Kryvosheyeva Y, Terras S, Moritz R, Möllenhoff K, Altmeyer P, et al. Association of autoimmune diseases with lichen sclerosus in 532 male and female patients. Acta Derm Venereol. 2013;93(2):238–41.

Virgili A, Borghi A, Toni G, Minghetti S, Corazza M. First randomized trial on clobetasol propionate and mometasone furoate in the treatment of vulvar lichen sclerosus: results of efficacy and tolerability. Br J Dermatol (1951). 2014;171(2):388–96.

Virgili A, Minghetti S, Borghi A, Corazza M. Proactive maintenance therapy with a topical corticosteroid for vulvar lichen sclerosus: preliminary results of a randomized study. Br J Dermatol (1951). 2013;168(6):1316–24.

Coyne KS, Zyczynski T, Margolis MK, Elinoff V, Roberts RG. Validation of an overactive bladder awareness tool for use in primary care settings. Adv Therapy. 2005;22(4):381–94.

Coyne K, Revicki D, Hunt T, Corey R, Stewart W, Bentkover J, et al. Psychometric validation of an overactive bladder symptom and health-related quality of life questionnaire: The OAB-q. Qual Life Res. 2002;34(6):563–74.

International Consultation on Incontinence Questionnaire Overactive Bladder Module (ICIQ-OAB). Available at: https://iciq.net/iciq-oab. Accessed Dec 2021.

Cooper GS, Bynum MLK, Somers EC. Recent insights in the epidemiology of autoimmune diseases: Improved prevalence estimates and understanding of clustering of diseases. J Autoimmun. 2009;33(3):197–207.

Higgins CA, Cruickshank ME. A population-based case-control study of aetiological factors associated with vulval lichen sclerosus. J Obstet Gynaecol. 2012;32(3):271–5.

Virgili A, Borghi A, Toni G, Minghetti S, Corazza M. Prospective clinical and epidemiologic study of vulvar lichen sclerosus: Analysis of prevalence and severity of clinical features, together with historical and demographic associations. Dermatology (Basel). 2014;149.
Ethics declarations
Conflicts of interest
The authors declare that they have no conflict of interest.
Additional information
Publisher's note
Springer Nature remains neutral with regard to jurisdictional claims in published maps and institutional affiliations.
Rights and permissions
Springer Nature or its licensor holds exclusive rights to this article under a publishing agreement with the author(s) or other rightsholder(s); author self-archiving of the accepted manuscript version of this article is solely governed by the terms of such publishing agreement and applicable law.
About this article
Cite this article
Olsen, S.B., Odgaard, H. & Glavind, K. Does treatment of lichen sclerosus improve overactive bladder symptoms?. Int Urogynecol J 34, 1203–1209 (2023). https://doi.org/10.1007/s00192-022-05318-y
Received:

Accepted:

Published:

Issue Date:

DOI: https://doi.org/10.1007/s00192-022-05318-y
Keywords