Abstract
Introduction and hypothesis
The objective was to assess the prevalence of symptoms of overactive bladder syndrome (OAB) among healthy nulliparous female university students, and to evaluate the correlation of these symptoms with a variety of factors, including waterpipe (WP) smoking.
Methods
This is a cross-sectional study. A questionnaire was administered to evaluate symptoms of OAB in healthy nulliparous female university students. Variables assessed included body mass index (BMI), cigarette smoking, WP smoking, consumption of alcohol, coffee, and tea with and without artificial sweeteners, soft drinks, and energy drinks. Adjusted odds ratio were calculated to determine the correlation of these variables with OAB symptoms.
Results
A total of 767 out of 2,900 females responded to the questionnaire. Bothersome frequency was reported in 32.3%, and nocturia in 47.5% of the women. Urgency and urgency urinary incontinence (UUI) were present in 25.5 and 24.7% of the study participants respectively. Urgency was associated with WP smoking (p value 0.048). Bothersome frequency was associated with artificial sweeteners used with coffee and tea (p value 0.013). UUI was associated with cigarette smoking (p value 0.034) and elevated BMI (p value < 0.001). OAB symptoms were not found to be significantly associated with soft drink and energy drink consumption. A lower prevalence of nocturia (p value 0.009) and urgency was associated with alcohol consumption (p value 0.017). More than two-thirds (69.2%) of WP smokers expressed readiness to decrease WP smoking if this would improve their lower urinary tract symptoms (LUTS).
Conclusion
Overactive bladder is common in healthy young nulliparous women and is associated with multiple risk factors, including WP smoking.
Access options
Buy single article
Instant access to the full article PDF.
USD 39.95
Price excludes VAT (USA)
Tax calculation will be finalised during checkout.
References
Haylen BT, de Ridder D, Freeman RM, et al. An International Urogynecological Association (IUGA)/International Continence Society (ICS) joint report on the terminology for female pelvic floor dysfunction. Neurourol Urodyn. 2010;29(1):4–20. https://doi.org/10.1002/nau.20798.

Gormley EA, Lightner DJ, Burgio KL, et al. Diagnosis and treatment of overactive bladder (non-neurogenic) in adults: AUA/SUFU guideline. J Urol. 2012;188(6 Suppl):2455–63. https://doi.org/10.1016/j.juro.2012.09.079.

Ghandour L, Minassian V, Al-Badr A, Abou Ghaida R, Geagea S, Bazi T. Prevalence and degree of bother of pelvic floor disorder symptoms among women from primary care and specialty clinics in Lebanon: an exploratory study. Int Urogynecol J. 2017;28(1):105–18. https://doi.org/10.1007/s00192-016-3080-y.

Sexton CC, Coyne KS, Vats V, Kopp ZS, Irwin DE, Wagner TH. Impact of overactive bladder on work productivity in the United States: results from EpiLUTS. Am J Manag Care. 2009;15(4 Suppl):S98–S107.

Zhu J, Hu X, Dong X, Li L. Associations between risk factors and overactive bladder: a meta-analysis. Female Pelvic Med Reconstr Surg. 2019;25(3):238–46. https://doi.org/10.1097/spv.0000000000000531.

Ural ÜM, Gücük S, Ekici A, Topçuoğlu A. Urinary incontinence in female university students. Int Urogynecol J. 2021;32(2):367–73. https://doi.org/10.1007/s00192-020-04360-y.

Robinson D, Hanna-Mitchell A, Rantell A, Thiagamoorthy G, Cardozo L. Are we justified in suggesting change to caffeine, alcohol, and carbonated drink intake in lower urinary tract disease? Report from the ICI-RS 2015. Neurourol Urodyn. 2017;36(4):876–81. https://doi.org/10.1002/nau.23149.

Robinson D, Giarenis I, Cardozo L. You are what you eat: the impact of diet on overactive bladder and lower urinary tract symptoms. Maturitas. 2014;79(1):8–13. https://doi.org/10.1016/j.maturitas.2014.06.009.

Dallosso HM, McGrother CW, Matthews RJ, Donaldson MM. The association of diet and other lifestyle factors with overactive bladder and stress incontinence: a longitudinal study in women. BJU Int. 2003;92(1):69–77. https://doi.org/10.1046/j.1464-410x.2003.04271.x.

Kawahara T, Ito H, Yao M, Uemura H. Impact of smoking habit on overactive bladder symptoms and incontinence in women. Int J Urol. 2020;27(12):1078–86. https://doi.org/10.1111/iju.14357.

Drope JSN, Cahn Z, Drope J, et al. The tobacco atlas. Atlanta: American Cancer Society and Vital Strategies; 2018.

Bhatnagar A, Maziak W, Eissenberg T, et al. Water pipe (hookah) smoking and cardiovascular disease risk: a scientific statement from the American Heart Association. Circulation. 2019;139(19):e917–36. https://doi.org/10.1161/cir.0000000000000671.

Jacob P 3rd, Abu Raddaha AH, Dempsey D, et al. Comparison of nicotine and carcinogen exposure with water pipe and cigarette smoking. Cancer Epidemiol Biomark Prev. 2013;22(5):765–72. https://doi.org/10.1158/1055-9965.Epi-12-1422.

Jawad M, Wilson A, Lee JT, Jawad S, Hamilton FL, Millett C. Prevalence and predictors of water pipe and cigarette smoking among secondary school students in London. Nicotine Tob Res. 2013;15(12):2069–75. https://doi.org/10.1093/ntr/ntt103.

Akl EA, Gunukula SK, Aleem S, et al. The prevalence of waterpipe tobacco smoking among the general and specific populations: a systematic review. BMC Public Health. 2011;11:244. https://doi.org/10.1186/1471-2458-11-244.

Dar-Odeh NS, Abu-Hammad OA. The changing trends in tobacco smoking for young Arab women; narghile, an old habit with a liberal attitude. Harm Reduct J. 2011;8:24. https://doi.org/10.1186/1477-7517-8-24.

Maziak W, Ward KD, Afifi Soweid RA, Eissenberg T. Standardizing questionnaire items for the assessment of waterpipe tobacco use in epidemiological studies. Public Health. 2005;119(5):400–4. https://doi.org/10.1016/j.puhe.2004.08.002.

Jackson S, Donovan J, Brookes S, Eckford S, Swithinbank L, Abrams P. The Bristol female lower urinary tract symptoms questionnaire: development and psychometric testing. Br J Urol. 1996;77(6):805–12. https://doi.org/10.1046/j.1464-410x.1996.00186.x.

Hamadeh RR, Lee J, Abu-Rmeileh NME, et al. Gender differences in waterpipe tobacco smoking among university students in four eastern Mediterranean countries. Tob Induc Dis. 2020;18:100. https://doi.org/10.18332/tid/129266.

Eissenberg T, Shihadeh A. Waterpipe tobacco and cigarette smoking: direct comparison of toxicant exposure. Am J Prev Med. 2009;37(6):518–23. https://doi.org/10.1016/j.amepre.2009.07.014.

Özgür Yeniel A, Mete Ergenoglu A, Meseri R, Hadimli A, Askar N, Mete Itil I. The prevalence of probable overactive bladder, associated risk factors and its effect on quality of life among Turkish midwifery students. Eur J Obstet Gynecol Reprod Biol. 2012;164(1):105–9. https://doi.org/10.1016/j.ejogrb.2012.06.006.

Abrams P, Andersson KE, Birder L, et al. Fourth international consultation on incontinence recommendations of the international scientific committee: evaluation and treatment of urinary incontinence, pelvic organ prolapse, and fecal incontinence. Neurourol Urodyn. 2010;29(1):213–40. https://doi.org/10.1002/nau.20870.

Cartwright R, Srikrishna S, Cardozo L, Gonzalez J. Does diet coke cause overactive bladder? A 4-way crossover trial, investigating the effect of carbonated soft drinks on overactive bladder symptoms in normal volunteers. Neurourol Urodyn 2007;26:626–627.

Shiri R, Hakama M, Häkkinen J, et al. The effects of lifestyle factors on the incidence of nocturia. J Urol. 2008;180(5):2059–62. https://doi.org/10.1016/j.juro.2008.07.042.

Fincham JE. Response rates and responsiveness for surveys, standards, and the journal. Am J Pharm Educ. 2008;72(2):43. https://doi.org/10.5688/aj720243.
Ethics declarations
Financial disclaimer/conflicts of interest
None.
Additional information
Publisher's note
Springer Nature remains neutral with regard to jurisdictional claims in published maps and institutional affiliations.
Appendix 1
Appendix 1
Structured questionnaire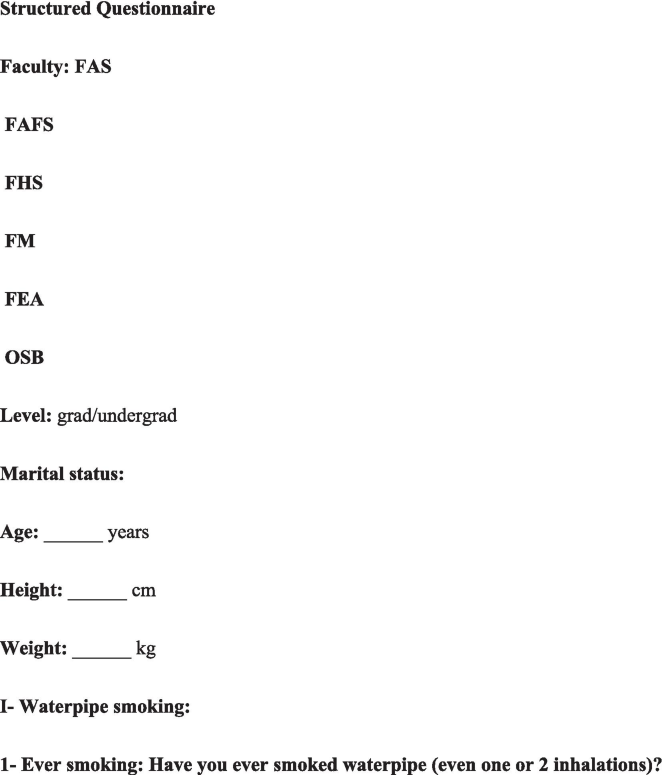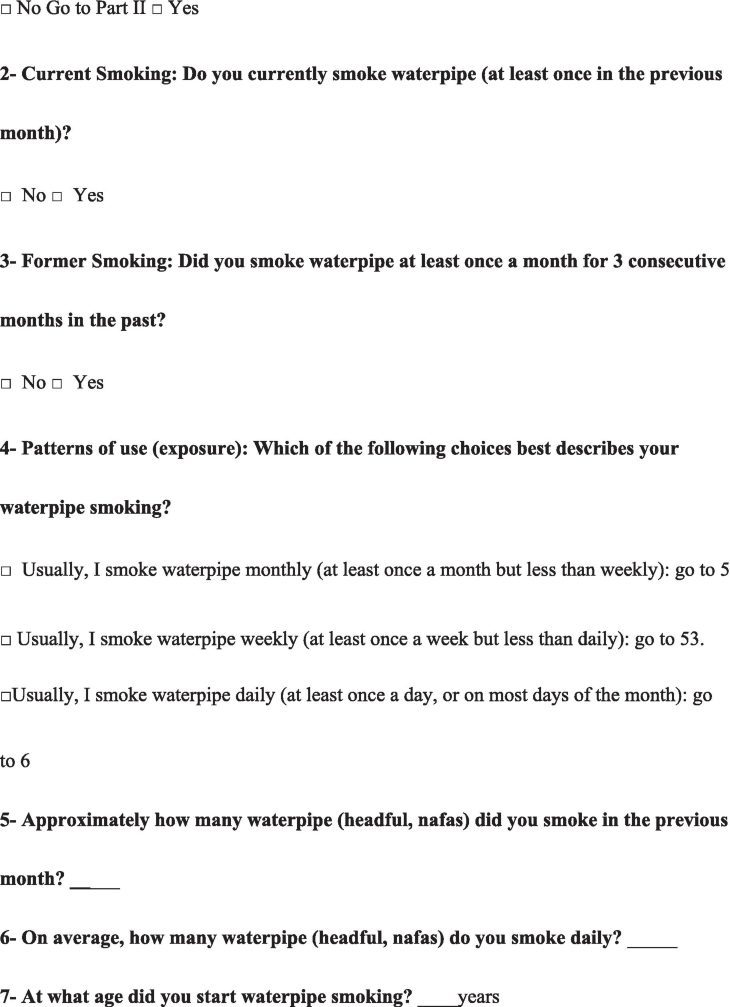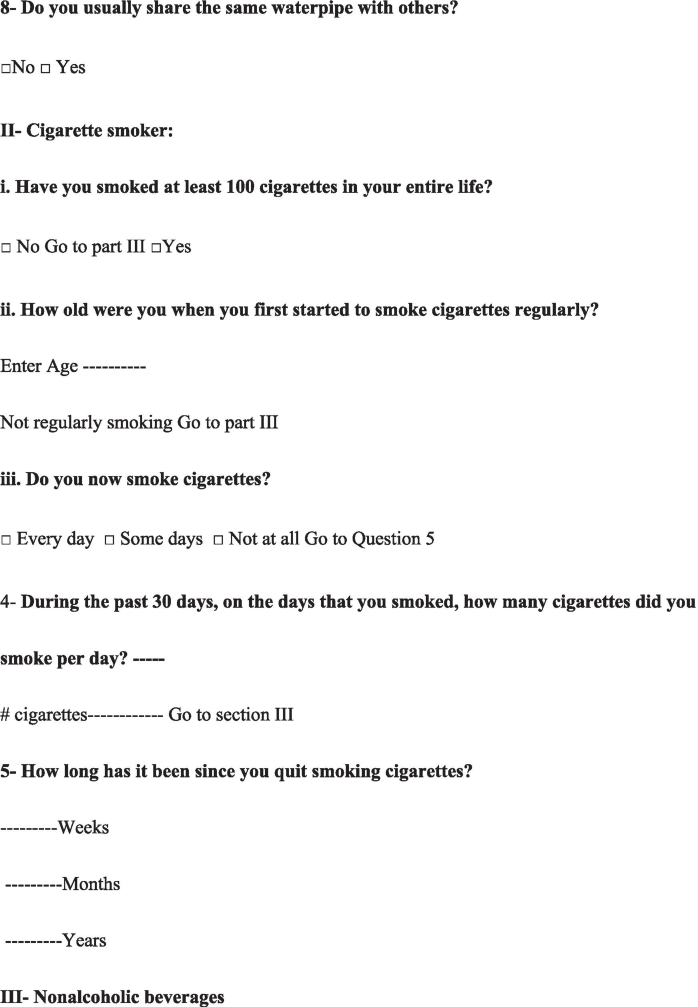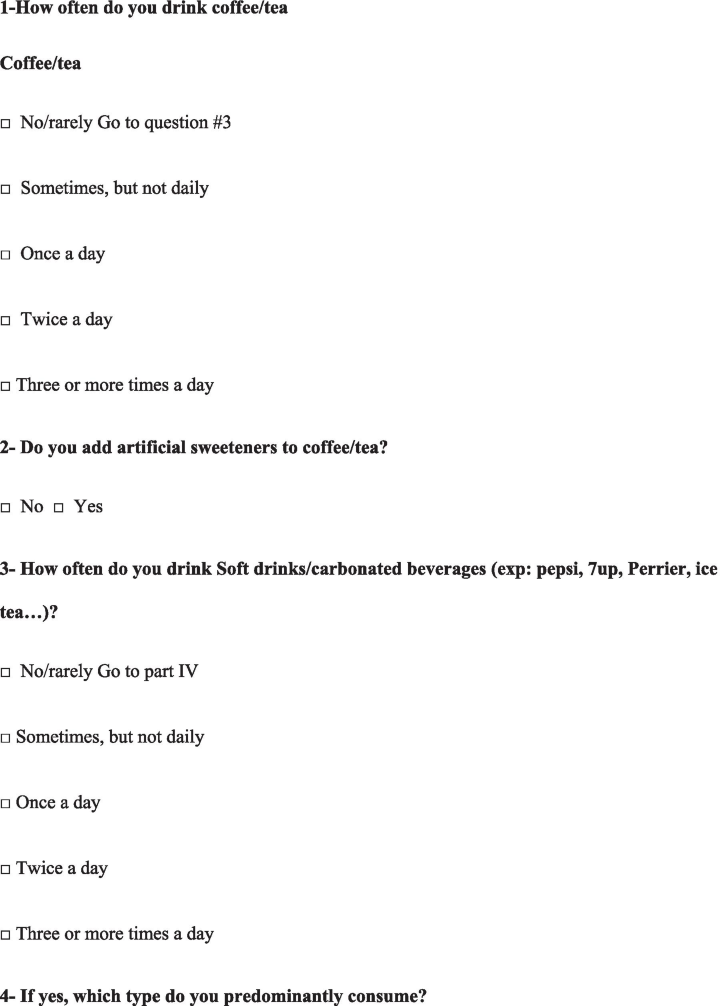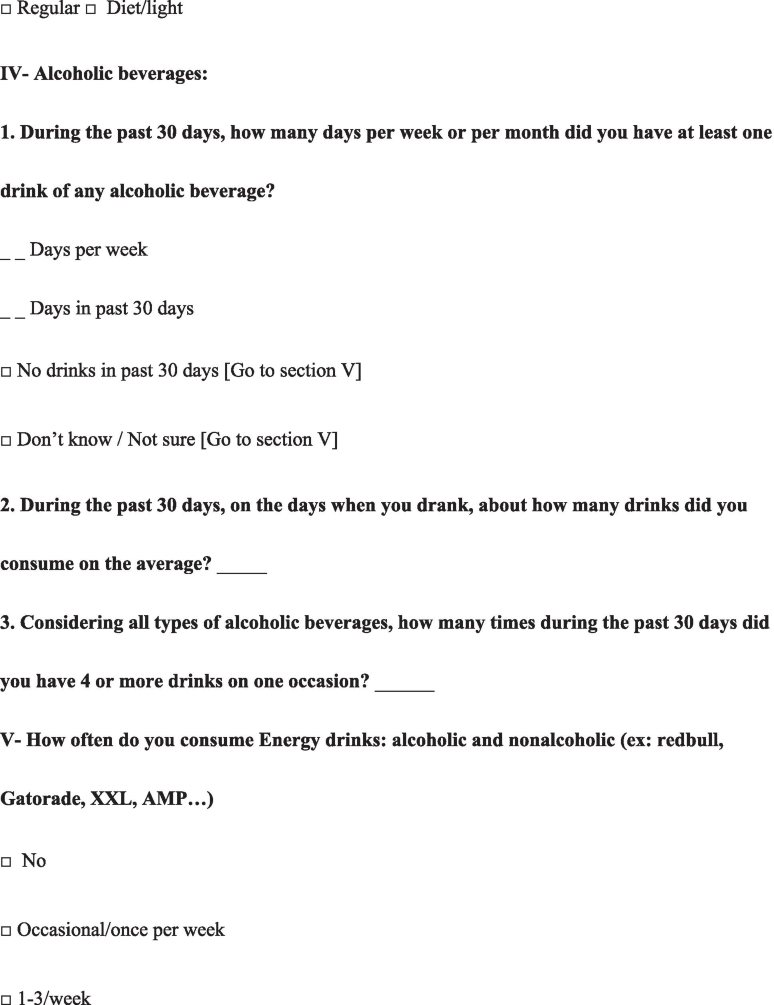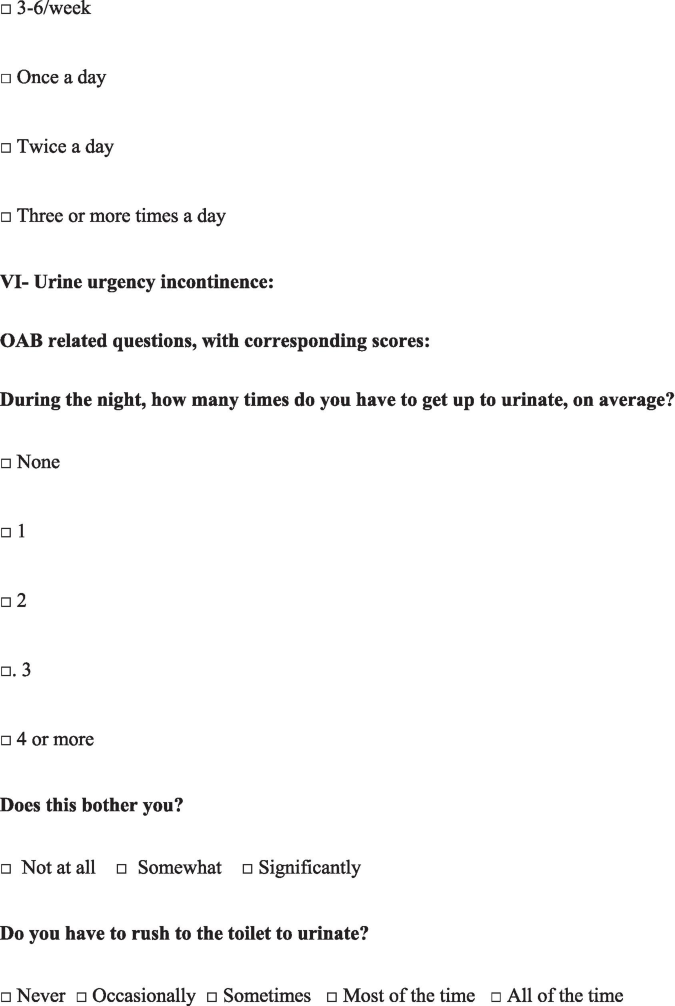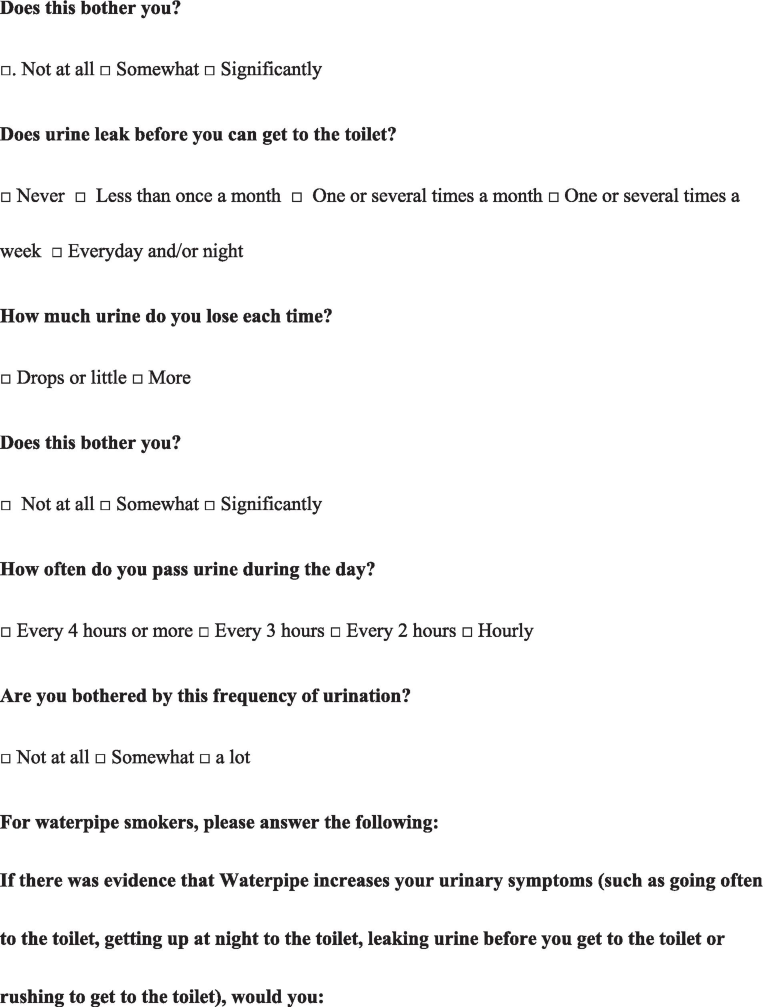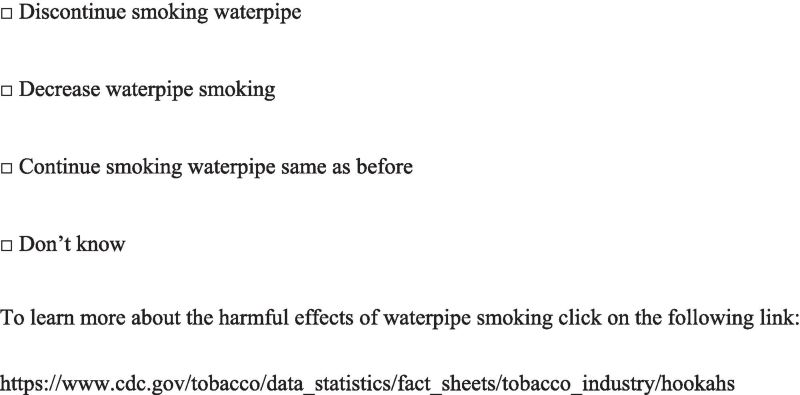 About this article
Cite this article
Hajjar, R., Tsolakian, I., Chaaya, M. et al. Overactive bladder syndrome in nulliparous female university students: prevalence and risk factors including waterpipe smoking. Int Urogynecol J 33, 1207–1223 (2022). https://doi.org/10.1007/s00192-021-05004-5
Received:

Accepted:

Published:

Issue Date:

DOI: https://doi.org/10.1007/s00192-021-05004-5
Keywords
Smoking

Lower urinary tract symptoms

Overactive bladder

Waterpipe smoking

Artificial sweeteners

Hookah