Abstract
Introduction and hypothesis
The Overactive Bladder Questionnaire (OAB-q) measures overactive bladder patients' severity of symptoms and their impact on health-related quality of life (HRQoL). The aim of this study was to validate the OAB-q in Greek patients with overactive bladder and report clinical implications of the disease.
Methods
In total, 107 patients were recruited consecutively in our clinic. They completed the OAB-q and Short Form-36 Health Survey (SF-36) twice, 3 months apart. Simultaneously, they initiated lifestyle changes and drug therapy. The reliability of OAB-q was estimated by its internal consistency (Cronbach's α). Validity was estimated by criterion validity and concurrent validity by comparison with SF-36.
Results
The sample's mean age was 62.1 years, and 74.8% were women. Cronbach's α exceeded the 0.7 threshold in all OAB-q subscales, implying good reliability of internal consistency for the OAB-q. In addition, moderate (Pearson's r > 0.3) or strong (r > 0.5) correlations were observed between OAB-q subscales and the relevant SF-36 subscales, implying concurrent validity. Clinically, urgency incontinence affected symptom bother (p = 0.001), concern/worry (p = 0.031) and social interaction (p = 0.027). Nocturia had the largest impact on HRQoL in patients with overactive bladder, as it affected all the OAB-q subscales (p < 0.001).
Conclusions
The Greek version of the OAB-q has shown strong psychometric properties of reliability and validity in our study. Urgency incontinence and especially nocturia seem to affect the HRQoL of patients with overactive bladder. OAB-q is valid for Greek patients with overactive bladder and can be used for clinical and academic purposes.
Access options
Buy single article
Instant access to the full article PDF.
USD 39.95
Price includes VAT (USA)
Tax calculation will be finalised during checkout.
Abbreviations
OAB-q:

Overactive Bladder Questionnaire

SF-36:

Short Form-36 questionnaire
References
1.

Eapen RS, Radomski SB. Review of the epidemiology of overactive bladder. Res Rep Urol. 2016;8:71–6. https://doi.org/10.2147/RRU.S102441.

2.

Melotti IGR, Juliato CRT, Tanaka M, Riccetto CLZ. Severe depression and anxiety in women with overactive bladder. Neurourol Urodyn. 2018;37(1):223–8. https://doi.org/10.1002/nau.23277.

3.

Avery JC, Stocks NP, Duggan P, Braunack-Mayer AJ, Taylor AW, Goldney RD, et al. Identifying the quality of life effects of urinary incontinence with depression in an Australian population. BMC Urol. 2013;13:11. https://doi.org/10.1186/1471-2490-13-11.

4.

Caplan EO, Abbass IM, Suehs BT, Ng DB, Gooch K, Kirby C, et al. Impact of coexisting overactive bladder in Medicare patients with osteoporosis. Arch Gerontol Geriatr. 2018;75:44–50.

5.

Karabulut A, Simavlı S, Demirtaş Ö, Ök N, Güngör HR, Zümrütbaş A. Evaluation of overactive bladder and nocturia as a risk factor for hip fracture in climacteric women: a matched pair case control study. J Obstet Gynaecol. 2018;38(2):252–6. https://doi.org/10.1080/01443615.2017.1349082.

6.

Khullar V, Espuna-Pons M, Marschall-Kehrel D, Fianu-Jonasson A, Kelleher CJ, Brubaker L, et al. Clinical value of a patient-reported goal-attainment measure: the global development of self-assessment goal achievement (SAGA) questionnaire for patients with lower urinary tract symptoms. Neurourol Urodyn. 2014;33(1):90–4.

7.

Matza LS, Zyczynski TM, Bavendam T. A review of quality-of-life questionnaires for urinary incontinence and overactive bladder: which ones to use and why? Curr Urol Rep. 2004;5(5):336–42.

8.

Coyne K, Revicki D, Hunt T, Corey R, Stewart W, Bentkover J, et al. Psychometric validation of an overactive bladder symptom and health-related quality of life questionnaire: the OAB-q. Qual Life Res. 2002;11(6):563–74. https://doi.org/10.1023/a:1016370925601.

9.

Acquadro C, Kopp Z, Coyne KS, Corcos J, Tubaro A, Choo M-S, et al. Translating overactive bladder questionnaires in 14 languages. Urology. 2006;67(3):536–40.

10.

Coyne KS, Margolis MK, Thompson C, Kopp Z. Psychometric equivalence of the OAB-q in Danish, German, Polish, Swedish, and Turkish. Value Health J Int Soc Pharmacoeconomics Outcomes Res. 2008;11(7):1096–101.

11.

Oh S-J, Son H, Kim SW, Lee K-S, Choo M-S, Kim S-O, et al. Psychometric properties of the Korean version of the overactive bladder questionnaire (OAB-q) in a Korean population. Int Neurourol J. 2012;16(2):77–85. https://doi.org/10.5213/inj.2012.16.2.77.

12.

McKown S, Abraham L, Coyne K, Gawlicki M, Piault E, Vats V. Linguistic validation of the N-QOL (ICIQ), OAB-q (ICIQ), PPBC, OAB-S and ICIQ-MLUTS questionnaires in 16 languages. Int J Clin Pract. 2010;64(12):1643–52.

13.

Pappa E, Kontodimopoulos N, Niakas D. Validating and norming of the Greek SF-36 health survey. Qual Life Res. 2005;14(5):1433–8.

14.

Milsom I, Kaplan SA, Coyne KS, Sexton CC, Kopp ZS. Effect of bothersome overactive bladder symptoms on health-related quality of life, anxiety, depression, and treatment seeking in the United States: results from EpiLUTS. Urology. 2012;80(1):90–6.

15.

Haylen BT, de Ridder D, Freeman RM, Swift SE, Berghmans B, Lee J, et al. An international Urogynecological association (IUGA)/international continence society (ICS) joint report on the terminology for female pelvic floor dysfunction. Neurourol Urodyn. 2010;29(1):4–20.

16.

Ware JE Jr, Gandek B. Overview of the SF-36 health survey and the international quality of life assessment (IQOLA) project. J Clin Epidemiol. 1998;51(11):903–12. https://doi.org/10.1016/s0895-4356(98)00081-x.

17.

Tavakol M, Dennick R. Making sense of Cronbach's alpha. Int J Med Educ. 2011;2:53–5. https://doi.org/10.5116/ijme.4dfb.8dfd.

18.

Arlandis S, Ruiz MA, Errando C, Villacampa F, Arumí D, Lizarraga I, et al. Quality of life in patients with overactive bladder: validation and psychometric properties of the Spanish overactive bladder questionnaire-short form. Clin Drug Investig. 2012;32(8):523–32.

19.

Groenendijk IM, Scheepe JR, Noordhoff TC, Blok BFM. The validation of the Dutch OAB-q SF: an overactive bladder symptom bother and health-related quality of life short-form questionnaire. Neurourol Urodyn. 2019;38(6):1775–82.

20.

Suskind AM, Kowalik C, Quanstrom K, Boscardin J, Zhao S, Reynolds WS, et al. The impact of frailty on treatment for overactive bladder in older adults. Neurourol Urodyn. 2019;38(7):1915–23.

21.

Johnston KM, Walker DR, Lakzadeh P. Characterizing the health-related quality of life burden of overactive bladder using disease-specific patient-reported outcome measures: a systematic literature review. Adv Ther. 2019;36(3):548–62.

22.

Lee KS, Choo MS, Seo JT, Oh SJ, Kim HG, Ng K, et al. Impact of overactive bladder on quality of life and resource use: results from Korean burden of incontinence study (KOBIS). Health Qual Life Outcomes. 2015;13:89.

23.

Pizzol D, Demurtas J, Celotto S, Maggi S, Smith L, Angiolelli G, et al. Urinary incontinence and quality of life: a systematic review and meta-analysis. Aging Clin Exp Res. 2021;33(1):25–35.

24.

Kupelian V, Wei JT, O'Leary MP, Norgaard JP, Rosen RC, McKinlay JB. Nocturia and quality of life: results from the Boston area community health survey. Eur Urol. 2012;61(1):78–84.

25.

Espuña-Pons M, Blasco P, Pérez M, Rebollo P. Nocturia in patients with overactive bladder. Arch Esp Urol. 2010;63(5):363–72.

26.

Michel MC, Schumacher H, Mehlburger L, de la Rosette JJMCH. Factors Associated With Nocturia-Related Quality of Life in Men With Lower Urinary Tract Symptoms and Treated With Tamsulosin Oral Controlled Absorption System in a Non-Interventional Study Front Pharmacol 2020;11:816.

27.

Jeong SJ, Homma Y, Oh S-J. Korean version of the overactive bladder symptom score questionnaire: translation and linguistic validation. Int Neurourol J. 2011;15(3):135–42.

28.

Goepel M, Hoffmann JA, Piro M, Rübben H, Michel MC. Prevalence and physician awareness of symptoms of urinary bladder dysfunction. Eur Urol. 2002;41(3):234–9.

29.

Coyne KS, Matza LS, Brewster-Jordan J. "We have to stop again?!": the impact of overactive bladder on family members. Neurourol Urodyn. 2009;28(8):969–75.

30.

Martin JL, Williams KS, Abrams KR, Turner DA, Sutton AJ, Chapple C, et al. Systematic review and evaluation of methods of assessing urinary incontinence. Health Technol Assess. 2006;10(6):1–132 iii–iv.
Acknowledgements
We thank the patients who kindly participated in the study. We could not have done it without them.
Contributions Stavros Kontogiannis: Project development, data collection, data analysis, manuscript writing/editing.
Anastasios Athanasopoulos: Project development and manuscript editing.
Michail Tsagkarakis: Data collection and data analysis.
Nikolaos Kontodimopoulos: Project development, data analysis, manuscript editing.
Ethics declarations
Financial disclaimers/Conflict of interest
Stavros Kontogiannis declares that he has no conflict of interest. Anastasios Athanasopoulos has received research grants from Astellas, Pfizer, Lilly and Alergan and speaker honoraria from Astellas, Pfizer, Lilly, Alergan, Meditrina, Galenika and Ranbaxy. Michail Tsagkarakis declares that he has no conflict of interest. Nikolaos Kontodimopoulos declares that he has no conflict of interest.
Informed consent
Informed consent was obtained from all individual participants included in the study.
Additional information
Publisher's note
Springer Nature remains neutral with regard to jurisdictional claims in published maps and institutional affiliations.
This work has been presented as an e-Poster Presentation at the 2018 Annual Scientific Meeting of the International Continence Society in Philadelphia, PA, USA, on 28–31 August 2018.
Appendix
Appendix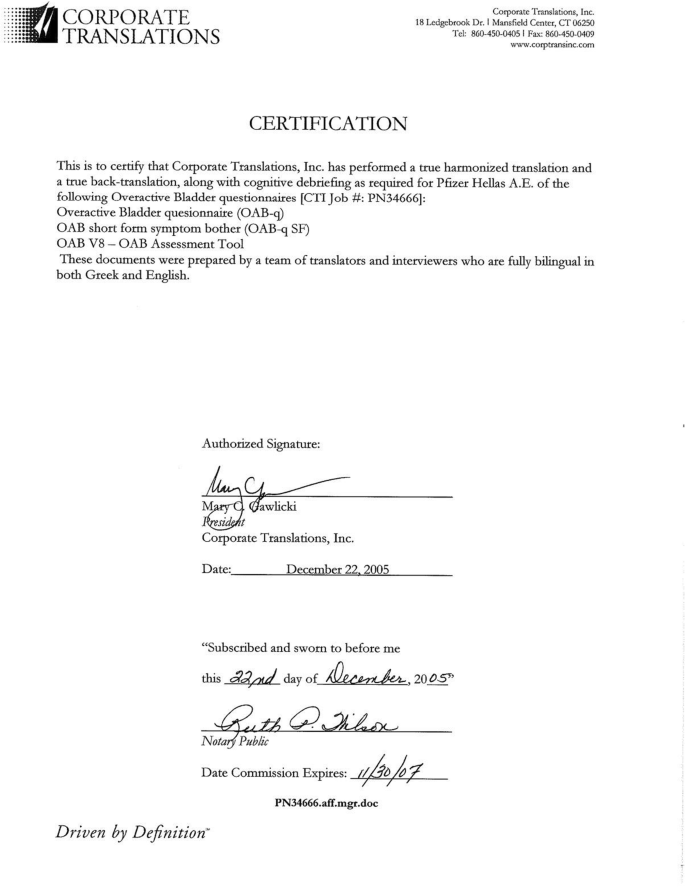 About this article
Cite this article
Kontogiannis, S., Athanasopoulos, A., Tsagkarakis, M. et al. Psychometric evaluation of the Overactive Bladder Questionnaire (OAB-q) for measuring quality of life and clinical implications in Greek patients with overactive bladder. Int Urogynecol J (2021). https://doi.org/10.1007/s00192-021-04991-9
Received:

Accepted:

Published:
Keywords
Urinary bladder, overactive

Surveys and questionnaires

Validation studies as topic

Urinary incontinence, urge

Nocturia