Abstract
Introduction and hypothesis
We aimed to evaluate the results of a readjustable sling (Remeex® system) among a selected group of women with complex stress urinary incontinence (SUI) with sonographic hypomobile urethra and assessing failure-related risk factors.
Methods
Observational, longitudinal, prospective cohort study, including patients who underwent surgery with the Remeex® system. The primary outcome was a binary outcome in change of one level or more of the severity of urinary incontinence symptoms according to the intervals of the Incontinence Questionnaire-Short Form (ICIQ-UI-SF) score (mild, moderate, severe and very severe). Secondary outcomes were postsurgical complications, absolute ICIQ-UI-SF, 24-h pad weight test (24-h PT), urodynamic SUI and Patient Global Impression of Improvement (PGI-I) score to evaluate subjective success.
Results
Among 120 women included, after surgery we found a 70% subjective success rate, a 76.7% decrease of urinary incontinence severity and a mean reduction of the 24-h PT of 109.6 ± 291.4 g. Women with post-surgical decreased severity of incontinence had lower mean body mass index (BMI) and 24-h PT than those without incontinence severity changes with statistically significant differences (p = 0.028 and p = 0.027, respectively). A logistic regression model demonstrated that a 1-point increase of BMI increased the risk of persistence of incontinence severity after surgery by 19% (OR = 1.19; 95% CI: 1.01–1.41; p = 0.040), and an increase of 10 g in the pre-surgical 24-h PT represented a 3% rise of the aforementioned risk (OR = 1.03; 95% CI: 1.01–1.06; p = 0.034).
Conclusions
In patients with complex SUI and sonographic hypomobile urethra, use of a readjustable sling (Remeex® system) led to improvement of SUI. Patients with a greater BMI and pre-surgical 24-h PT showed worse results after surgery.
Access options
Buy single article
Instant access to the full article PDF.
US$ 39.95
Tax calculation will be finalised during checkout.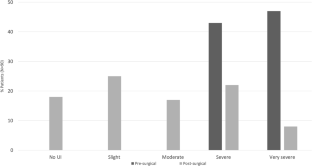 Additional information
Publisher's note
Springer Nature remains neutral with regard to jurisdictional claims in published maps and institutional affiliations.
About this article
Cite this article
Ros, C., Escura, S., Anglès-Acedo, S. et al. Mid-term results of the Remeex® readjustable sling for female complex stress urinary incontinence and sonographic hypomobile urethra. Int Urogynecol J (2021). https://doi.org/10.1007/s00192-021-04972-y
Received:

Accepted:

Published:
Keywords
Recurrent stress urinary incontinence

Hypomobile urethra

Ultrasound

Mid-urethral sling

Readjustable sling