Abstract
Introduction and aim
Urodynamics (UDS) is the current gold standard investigation for explaining pathology in lower urinary tract dysfunction. The role of UDS is to answer a urodynamic question based on reproducing the patient's symptoms. Despite the introduction of several standardization documents on terminology and methodology for performing UDS and the standard of equipment required, there remains no standardization on how to report and therefore how to interpret UDS findings. The lack of guidance in this specific area may undermine the value of this extremely important tool in the patient evaluation. The aim of this article is to propose a standardized proforma and checklist for the reporting of UDS studies; the main text discusses the rationale for the proforma.
Methods
This document underwent four rounds of review by the working group and external review by Andrew Gammie. Between each round the document was re-circulated for comment and the comments collated and then reviewed for adoption or rejection based on consensus prior to the document going for further external review. The comments of the external review were then collated and again circulated for consideration prior to adoption based on consensus and the paper put out to review by an IUGA committee public consultation prior to being submitted for publication.
Results
This article sets out the rationale for a standardized proforma for reporting female UDS.
Conclusion
This document gives a standardized approach to reporting of UDS. The importance of this is based on UDS being part of a process and not an isolated event. Standardized reporting, like the WHO checklist, gives a framework to ensure that the test has been ordered appropriately and that the final report refers to the indication rather than merely the observations. As such, a standardized report has a better chance of being interpreted appropriately for the woman's symptoms.
Access options
Buy single article
Instant access to the full article PDF.
USD 39.95
Price excludes VAT (USA)
Tax calculation will be finalised during checkout.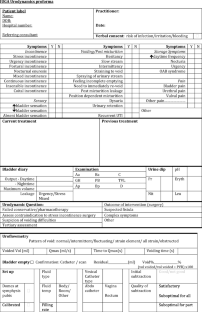 References
Abrams P, Eustice S, Gammie A, Harding C, Kearney R, Rantell A, et al. United Kingdom Continence Society: Minimum standards for urodynamic studies, 2018. Neurourol Urodyn. 2019. https://doi.org/10.1002/nau.23909.

Haylen BT, Freeman RM, Swift SE, Cosson M, Davila GW, Deprest J, et al. An International Urogynecological Association (IUGA)/International Continence Society (ICS) joint terminology and classification of the complications related directly to the insertion of prostheses (meshes, implants, tapes) & grafts in female pelvic floor surgery. Int Urogynecol J. 2011;22(1):3–15.

Gammie A, Clarkson B, Constantinou C, Damaser M, Drinnan M, Geleijnse G, et al. International Continence Society guidelines on urodynamic equipment performance. Neurourol Urodyn. 2014;33:370–9. https://doi.org/10.1002/nau.22546.

Haylen BT, Freeman RM, de Ridder D, Swift SE, Berghmans B, Lee J, et al. An International Urogynecological Association (IUGA)-International Continence Society (ICS) joint report into the terminology for female pelvic floor dysfunction. Neurourology & Urodynamics, 29:4-20. Int Urogynecol J. 2010;21:5–26.
Acknowledgements
The following are being recognized for their contributions to this article: Philip Toozs-Hobson, Javier Pizarro-Berdichevsky, Vivian Sung and Fiona Bach.
Additional information
Publisher's note
Springer Nature remains neutral with regard to jurisdictional claims in published maps and institutional affiliations.
About this article
Cite this article
Writing group of the International Urogynecological Association. IUGA report on reporting urodynamics in women. Int Urogynecol J 33, 801–807 (2022). https://doi.org/10.1007/s00192-021-04742-w
Received:

Accepted:

Published:

Issue Date:

DOI: https://doi.org/10.1007/s00192-021-04742-w
Keywords
Urodynamics

Lower urinary tract

Standardized reporting