Abstract
Introduction and hypothesis
Pelvic floor disorders (PFD) have a detrimental effect on quality of life. Despite the available treatments, women often do not seek medical care. Patient knowledge has been identified as a major barrier to accessing care. The objective of this study was to assess knowledge on PFD amongst women in Edmonton, hypothesizing that immigrant women are less knowledgeable about PFD than Canadian-born women.
Methods
A cross-sectional study of immigrant women and Canadian-born women was conducted. Immigrant women were recruited at the Multi-Cultural Health Brokers Co-op (MCHB) and Canadian-born women at a colposcopy clinic. The Prolapse and Incontinence Knowledge Questionnaire (PIKQ) was administered. Scores for UI and POP were calculated and compared using a Mann–Whitney U test and a t test. A subgroup analysis of immigrants was carried out according to length of stay in Canada and ethnicity. Ethics approval was obtained from the University of Alberta Human Research Ethics Office.
Results
A total of 106 immigrants and 102 Canadian-born women completed the PIKQ. The overall PIKQ scores were 12.7 for immigrant women and 14.4 for Canadian-born women (p = 0.04). Immigrant women who had lived in Canada for >10 years had higher scores (mean = 13.2) compared with women with less than 10 years in Canada (mean = 11.8). Women from South Asia had higher overall PIKQ scores (mean = 14.6) whereas women from sub-Saharan Africa had the lowest scores (mean = 12.1).
Conclusions
Immigrant women in Edmonton were found to have less knowledge on PFD than Canadian-born women.
Access options
Buy single article
Instant access to the full article PDF.
USD 39.95
Price excludes VAT (USA)
Tax calculation will be finalised during checkout.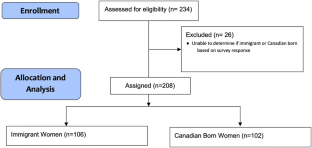 References
Herschorn S, Gajewski J, Schulz J, Corcos J. A population-based study of urinary symptoms and incontinence: the Canadian Urinary Bladder Survey. BJU Int. 2008;101:52–8.

Farage MA, Miller KW, Berardesca E, Maibach HI. Psychosocial and societal burden of incontinence in the aged population: a review. Arch Gynecol Obstet. 2008;277:285–90.

Dufour S, Wu M. No. 397—conservative care of urinary incontinence in women. J Obstet Gynaecol Can. 2020;42:510–22.

Robert M, Schulz JA, Harvey M-A. Technical update on pessary use. J Obstet Gynaecol Can. 2013;35(7):664–74.

Larouche M, Geoffrion R, Walter J-E. No. 351—transvaginal mesh procedures for pelvic organ prolapse. J Obstet Gynaecol Can. 2017;39(11):1085–97.

Minassian VA, Yan X, Lichtenfeld MJ, Sun H, Stewart WF. Predictors of care seeking in women with urinary incontinence. Neurourol Urodyn. 2012;31:470–4.

Washington BB, Raker CA, Mishra K, Sung VW. Variables impacting care-seeking for pelvic floor disorders among African American women. Female Pelvic Med Reconstr Surg. 2013;19:98–102.

Mandimika CL, Murk W, McPencow AM, Lake AG, Miller D, Connell KA, et al. Racial disparities in knowledge of pelvic floor disorders among community-dwelling women. Female Pelvic Med Reconstr Surg. 2015;21:287–92.

Statistics Canada. Focus on Geography Series, 2016. Available from: https://www12.statcan.gc.ca/census-recensement/2016/as-sa/fogs-spg/Facts-pr-eng.cfm?Lang=Eng&GK=PR&GC=48&TOPIC=7. Accessed May 2020.

Multicultural Health Brokers Cooperative. Available from: http://mchb.org/. Accessed Sept 2019.

Shah AD, Massagli MP, Kohli N, Rajan SS, Braaten KP, Hoyte L. A reliable, valid instrument to assess patient knowledge about urinary incontinence and pelvic organ prolapse. Int Urogynecol J. 2008;19:1283–9.

Khadgi J, Poudel A. Uterine prolapse: a hidden tragedy of women in rural Nepal. Int Urogynecol J. 2018;29(11):1575–8.

Gjerde JL, Rortveit G, Adefris M, Belayneh T, Blystad A. Life after pelvic organ prolapse surgery: a qualitative study in Amhara region, Ethiopia. BMC Womens Health. 2018;18(1):74.

Mckay ER, Lundsberg LS, Miller DT, Draper A, Chao J, Yeh J, et al. Knowledge of pelvic floor disorders in obstetrics. Female Pelvic Med Reconstr Surg. 2019;25(6):419–25.

Kalich A, Heinemann L, Ghahari SA. Scoping review of immigrant experience of health care access barriers in Canada. J Immigr Minor Health. 2016;18(3):697–709.

Ghahari S, Burnett S, Alexander L. Development and pilot testing of a health education program to improve immigrants' access to Canadian health services. BMC Health Serv Res. 2020;20(1):321.

Dunivan GC, Anger JT, Alas A, Wieslander C, Sevilla C, Chu S, et al. Pelvic organ prolapse: a disease of silence and shame. Female Pelvic Med Reconstr Surg. 2014;20(6):322–7.

Van den Muijsenbergh ME, Lagro-Janssen TA. Urinary incontinence in Moroccan and Turkish women: a qualitative study on impact and preferences for treatment. Br J Gen Pract. 2006;56(533):945–9.

Thaddeus S, Maine D. Too far to walk: maternal mortality in context. Soc Sci Med. 1994;38(8):1091–110.

Meara JG, Leather AJ, Hagander L, Alkire BC, Alonso N, Ameh EA, et al. Global surgery 2030: evidence and solutions for achieving health, welfare, and economic development. Lancet. 2015;386(9993):569–624.

Ju R, Siddiqui N, Garrett J, Feng L, Heit M. A validated translation of a survey for measuring incontinence knowledge in Chinese-speaking American immigrants. Int Urogynecol J. 2017;28(6):851–6.
Acknowledgements
We would like to thank the Multicultural Health Brokers Cooperative and particularly Mrs. Lydia Yip for their tremendous support throughout the design and data collection.
We would like to thank Dr. Cathy Flood for her mentorship and guidance in the first stage of this study design.
Funding
This work was supported by the Women & Children Health Research Institute Clinical/Resident Trainee Research Grant, the Women & Children Health Research Institute Community Research Integration Support Program (CRISP) grant, and the Women & Children Health Research Institute Summer Studentship. The funding source was not involved in the study design, analysis, or manuscript writing.
Ethics declarations
Conflicts of interest
The following authors do not declare any conflicts of interest: L. Roa, M. Yaskina, and A. Poirier. S. Kent received a stipend for a Summer Studentship from the Department of Obstetrics and Gynecology at the University of Alberta. J. Schulz received a research grant and a speaker honorarium from Pfizer in the past 5 years. She also received a speaker honorarium from Searchlight Pharm in September 2019 and research funding from Astellas about 5 years ago for a different research study.
Additional information
Publisher's note
Springer Nature remains neutral with regard to jurisdictional claims in published maps and institutional affiliations.
Supplementary Information
About this article
Cite this article
Roa, L., Kent, S., Yaskina, M. et al. Knowledge of pelvic floor disorders amongst immigrant women in Canada. Int Urogynecol J 32, 3077–3084 (2021). https://doi.org/10.1007/s00192-020-04662-1
Received:

Accepted:

Published:

Issue Date:

DOI: https://doi.org/10.1007/s00192-020-04662-1
Keywords
Health inequities

Immigrants

Pelvic floor diseases

Prolapse

Incontinence