Abstract
Introduction and hypothesis
A functional interaction exists between the pelvic floor and the abdominal wall. The study was aimed at investigating the clinical and morphological relationships between diastasis rectus abdominus (DRA) and pelvic floor trauma in primiparous women.
Methods
Eighteen women suffering from DRA and 18 women without DRA (non-DRA group), all primiparous with pelvic floor trauma, were enrolled in the study. Ultrasound was performed on the 36 women examining the inter-rectus distance, pelvic floor morphology, abdominal muscle force (MMT), Static Abdominal Flexion Endurance Test (SFET), and Dynamic Abdominal Flexion Endurance Test (DFET), abdominal circumference, visual analog scale, and responses to the Oswestry Low Back Pain Questionnaire and the Pelvic Floor Distress Inventory questionnaire (PFDI).
Results
A significant increase in the urinary symptoms portion of the in PFDI-20 questionnaire was found in the DRA group (non-DRA = 12.5 ± 22.8, DRA = 26.8 ± 18.2, p = 0.01). A significant reduction in abdominal force and endurance was observed in the DRA2–3 group compared with the DRA0–1 group (0.025 < p < 0.04). DFET (average repetitions) in the DRA0–1 group measured 13.4 ± 11.8 and 6.46 ± 4.59 in the DRA2–3 group (p = 0.025). SFET was 20.48 ± 14.46 s in the DRA0–1 group and 10.62 ± 10.6 s in the DRA2–3 group (p = 0.031). MMT was 4 in the DRA0–1 group and 3 in the DRA2–3 group (p = 0.04).
Conclusions
Diastasis rectus abdominus does not correlate with morphological changes in the pelvic floor, but does correlate with higher scores in the urinary symptoms portion of the PFDI-20. Women suffering from DRA do not endure more pain or greater lumbar disability than non-DRA women. In extended DRA, the abdominal muscles are significantly compromised and weaker.
Access options
Buy single article
Instant access to the full article PDF.
US$ 39.95
Tax calculation will be finalised during checkout.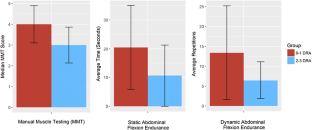 References
1.

Rett M, Braga M, Bernardes N, Andrade S. Prevalence of diastasis of the rectus abdominis muscles immediately postpartum: comparison between primiparae and multiparae. Braz J Phys Ther. 2009;13(4):275–80.

2.

Sperstad JB, Tennfjord MK, Hilde G, Ellström-Engh M, Bø K. Diastasis recti abdominis during pregnancy and 12 months after childbirth: prevalence, risk factors and report of lumbopelvic pain. Br J Sports Med. 2016;50(17):1092–6.

3.

Akram J, Matzen SH. Rectus abdominis diastasis. J Plastic Surg Hand Surg. 2014;48(3):163–9. https://doi.org/10.3109/2000656X.2013.859145.

4.

Beer GM, Schuster A, Seifert B, Manestar M, Mihic-Probst D, Weber SA. The normal width of the linea alba in nulliparous women. Clin Anat. 2009;22(6):706–11.

5.

Bursch SG. Interrater reliability of diastasis recti abdominis measurement. Phys Ther. 1987;67(7):1077–9.

6.

Chiarello CM, McAuley JA. Concurrent validity of calipers and ultrasound imaging to measure interrecti distance. J Orthop Sports Phys Ther. 2013;43(7):495–503.

7.

Liaw L-J, Hsu M-J, Liao C-F, Liu M-F, Hsu A-T. The relationships between inter-recti distance measured by ultrasound imaging and abdominal muscle function in postpartum women: a 6-month follow-up study. J Orthop Sports Phys Ther. 2011;41(6):435–43.

8.

Mota P, Pascoal AG, Sancho F, Bø K. Test-retest and intrarater reliability of 2-dimensional ultrasound measurements of distance between rectus abdominis in women. J Orthop Sports Phys Ther. 2012;42(11):940–6.

9.

Dietz HP. Pelvic floor trauma in childbirth. Aust N Z J Obstet Gynaecol. 2013;53(3):220–30.

10.

Shek K, Dietz H. Intrapartum risk factors for levator trauma. BJOG. 2010;117(12):1485–92.

11.

Madill SJ, McLean L. Relationship between abdominal and pelvic floor muscle activation and intravaginal pressure during pelvic floor muscle contractions in healthy continent women. Neurourol Urodyn. 2006;25(7):722–30.

12.

Neumann P, Gill V. Pelvic floor and abdominal muscle interaction: EMG activity and intra-abdominal pressure. Int Urogynecol J. 2002;13(2):125–32.

13.

Sapsford R, Hodges P, Richardson C, Cooper D, Markwell S, Jull G. Co-activation of the abdominal and pelvic floor muscles during voluntary exercises. Neurourol Urodyn. 2001;20(1):31–42.

14.

Lien K-C, Mooney B, DeLancey JO, Ashton-Miller JA. Levator ani muscle stretch induced by simulated vaginal birth. Obstet Gynecol. 2004;103(1):31.

15.

Dietz H, Simpson J. Levator trauma is associated with pelvic organ prolapse. BJOG. 2008;115(8):979–84.

16.

Dietz H. Ultrasound imaging of the pelvic floor. II. Three-dimensional or volume imaging. Ultrasound Obstet Gynecol. 2004;23(6):615–25.

17.

Dietz HP, Bernardo MJ, Kirby A, Shek KL. Minimal criteria for the diagnosis of avulsion of the puborectalis muscle by tomographic ultrasound. Int Urogynecol J. 2011;22(6):699–704.

18.

Dietz HP, Wong V, Shek KL. A simplified method for determining hiatal biometry. Aust N Z J Obstet Gynaecol. 2011;51(6):540–3.

19.

Dietz H, Haylen B, Broome J. Ultrasound in the quantification of female pelvic organ prolapse. Ultrasound Obstet Gynecol. 2001;18(5):511–4.

20.

Lowenstein L, Levy G, Chen KO, Ginath S, Condrea A, Padoa A. Validation of Hebrew versions of the Pelvic Floor Distress Inventory, Pelvic Organ Prolapse/Urinary Incontinence Sexual Function Questionnaire, and the Urgency, Severity and Impact Questionnaire. Female Pelvic Med Reconstr Surg. 2012;18(6):329–31.

21.

Gutke A, Lundberg M, Östgaard HC, Öberg B. Impact of postpartum lumbopelvic pain on disability, pain intensity, health-related quality of life, activity level, kinesiophobia, and depressive symptoms. Eur Spine J. 2011;20(3):440–8. https://doi.org/10.1007/s00586-010-1487-6.

22.

Hislop H, Avers D, Brown M. Daniels and Worthingham's muscle testing-E-book: techniques of manual examination and performance testing. Amsterdam: Elsevier Health Sciences; 2013.

23.

Moffroid MT. Endurance of trunk muscles in persons with chronic low back pain: assessment, performance, training. J Rehabil Res Dev. 1997;34:440–7.

24.

Eisenberg V, Chantarasorn V, Shek K, Dietz H. Does levator ani injury affect cystocele type? Ultrasound Obstet Gynecol. 2010;36(5):618–23.

25.

Spitznagle TM, Leong FC, Van Dillen LR. Prevalence of diastasis recti abdominis in a urogynecological patient population. Int Urogynecol J. 2007;18(3):321–8. https://doi.org/10.1007/s00192-006-0143-5.

26.

Da Mota PGF, Pascoal AGBA, Carita AIAD, Bø K. Prevalence and risk factors of diastasis recti abdominis from late pregnancy to 6 months postpartum, and relationship with lumbo-pelvic pain. Man Ther. 2015;20(1):200–5.

27.

Parker MA, Millar LA, Dugan SA. Diastasis rectus abdominis and lumbo-pelvic pain and dysfunction—are they related? J Womens Health Phys Ther. 2009;33(2):15–22.

28.

Dalal K, Kaur A, Mitra M. Correlation between diastasis rectus abdominis and lumbopelvic pain and dysfunction. Indian J Physiother Occup Ther. 2014;8(1):210.
Funding
There was no external funding for this study.
Ethics declarations
Conflicts of interest
None.
Additional information
Publisher's note
Springer Nature remains neutral with regard to jurisdictional claims in published maps and institutional affiliations.
About this article
Cite this article
Eisenberg, V.H., Sela, L., Weisman, A. et al. The relationship between diastasis rectus abdominus, pelvic floor trauma and function in primiparous women postpartum. Int Urogynecol J 32, 2367–2375 (2021). https://doi.org/10.1007/s00192-020-04619-4
Received:

Accepted:

Published:

Issue Date:
Keywords
Diastasis rectus abdomins

Pain

Pelvic floor trauma

Pregnancy

Rectus abdominus

Ultrasound

Urogynaecology