Abstract
Introduction and hypothesis
In developed countries urogenital fistulas are rare and usually a complication of surgery or radiation therapy. Surgical repair can be accomplished transvaginally or by laparotomy, laparoscopy, robotic-assisted laparoscopy, or transurethral endoscopy. Closure can be achieved with or without tissue interposition. The vaginal approach is the least invasive and a variety of techniques with or without tissue interpositions and flaps have been described. This study reviews surgical approaches and techniques for the repair of nonradiogenic urogenital fistulas.
Methods
We identified and reviewed records from all patients treated for urogenital fistulas at our unit between 2008 and 2018. We analyzed fistula location, etiology, type and duration of corrective surgery, length of hospitalization, as well as complication and success rates.
Results
Fifty patients (mean age 52 years) were identified. 49 fistulas were related to previous gynecological surgery, 3 were related to obstetric trauma. Thirty-four patients had vesicovaginal, 11 urethrovaginal, 3 ureterovaginal, and 2 neobladder–vaginal fistulas. Forty-eight patients (96%) were operated on using a vaginal approach; a modified Sims–Simon repair was used in 47 cases (94%). No flaps or tissue interpositions were used. In 48 patients (96%) successful closure was achieved with one operation; the modified Sims–Simon technique was successful in all 47 cases. The median operation time was 40 min (range, 20–100 min); the complication rate was 14%.
Conclusions
This series demonstrates the feasibility and advantages of vaginal repair of benign gynecological fistulas. The success rate was high and extensive procedures were avoided.
Access options
Buy single article
Instant access to the full article PDF.
US$ 39.95
Tax calculation will be finalised during checkout.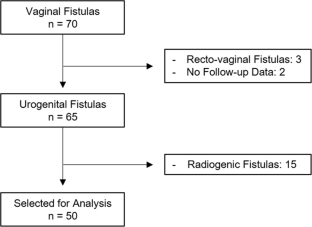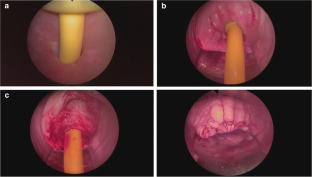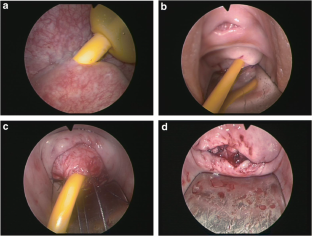 References
1.

Bodner-Adler B, Hanzal E, Pablik E, Koelbl H, Bodner K. Management of vesicovaginal fistulas (VVFs) in women following benign gynaecologic surgery: a systematic review and meta-analysis. PLoS One. 2017;12(2):e0171554.

2.

Farid FN, Azhar M, Samnani SS, Allana S, Naz A, Bohar F, et al. Psychosocial experiences of women with vesicovaginal fistula: a qualitative approach. J Coll Physicians Surg Pak. 2013;23(10):828–9.

3.

Angioli R, Penalver M, Muzii L, Mendez L, Mirhashemi R, Bellati F, et al. Guidelines of how to manage vesicovaginal fistula. Crit Rev Oncol Hematol. 2003;48(3):295–304.

4.

Cromwell D, Hilton P. Retrospective cohort study on patterns of care and outcomes of surgical treatment for lower urinary-genital tract fistula among English National Health Service hospitals between 2000 and 2009. BJU Int. 2013;111(4 Pt B):E257–62.

5.

Moses RA, Ann Gormley E. State of the art for treatment of vesicovaginal fistula. Curr Urol Rep. 2017;18(8):60.

6.

Mellano EM, Tarnay CM. Management of genitourinary fistula. Curr Opin Obstet Gynecol. 2014;26(5):415–23.

7.

Sims JM. On the treatment of vesico-vaginal fistula. Int Urogynecol J Pelvic Floor Dysfunct. 1998;9(4):236–48.

8.

Simon G. Successful operation on a very large vesico-vaginal fistula, occurring in a child eight years of age. Edinb Med J. 1878;23(8):684–90.

9.

Albers P, Heidenreich A. Standardoperationen in der Urologie. Stuttgart: Thieme Verlag; 2014.

10.

Kumar S, Vatsa R, Bharti J, Roy KK, Sharma JB, Singh N, et al. Urinary fistula—a continuing problem with changing trends. J Turk Ger Gynecol Assoc. 2017;18(1):15–9.

11.

Eilber KS, Kavaler E, Rodríguez LV, Rosenblum N, Raz S. Ten-year experience with transvaginal vesicovaginal fistula repair using tissue interposition. J Urol. 2003;169(3):1033–6.

12.

Hillary CJ, Chapple CR. The choice of surgical approach in the treatment of vesico-vaginal fistulae. Asian J Urol. 2018;5(3):155–9.

13.

Reisenauer C. Vesicovaginal fistulas: a gynecological experience in 41 cases at a German pelvic floor center. Arch Gynecol Obstet. 2015;292(2):245–53.

14.

Tatar B, Oksay T, Selcen Cebe F, Soyupek S, Erdemoğlu E. Management of vesicovaginal fistulas after gynecologic surgery. Turk J Obstet Gynecol. 2017;14(1):45–51.

15.

Osman SA, Al-Badr AH, Malabarey OT, Dawood AM, AlMosaieed BN, Rizk DEE. Causes and management of urogenital fistulas. A retrospective cohort study from a tertiary referral center in Saudi Arabia. Saudi Med J. 2018;39(4):373–8.

16.

Pushkar DY, Dyakov VV, Kosko JW, Kasyan GR. Management of urethrovaginal fistulas. Eur Urol. 2006;50(5):1000–5.

17.

Schöller D, Brucker S, Reisenauer C. Management of urethral lesions and urethrovaginal fistula formation following placement of a tension-free suburethral sling: evaluation from a university continence and pelvic floor centre. Geburtshilfe Frauenheilkd. 2018;78(10):991–8.

18.

Kapoor R, Ansari MS, Singh P, Gupta P, Khurana N, Mandhani A, et al. Management of vesicovaginal fistula: an experience of 52 cases with a rationalized algorithm for choosing the transvaginal or transabdominal approach. Indian J Urol. 2007;23(4):372–6.
Ethics declarations
Conflicts of interest
None.
Additional information
Publisher's note
Springer Nature remains neutral with regard to jurisdictional claims in published maps and institutional affiliations
About this article
Cite this article
Mörgeli, C., Tunn, R. Vaginal repair of nonradiogenic urogenital fistulas. Int Urogynecol J 32, 2449–2454 (2021). https://doi.org/10.1007/s00192-020-04496-x
Received:

Accepted:

Published:

Issue Date:
Keywords
Urethrovaginal fistulas

Vaginal surgical approach

Vesicovaginal fistulas