Abstract
Introduction and hypothesis
A variety of pharmacological and non-pharmacological interventions have been investigated, with the goal of relieving pain after post-episiotomy repair. We aimed to compare the efficacy of tramadol versus celecoxib orally in reducing pain after mediolateral episiotomy repair in obese primigravidae undergoing spontaneous vaginal delivery.
Methods
We conducted a randomized double-blinded trial in Cairo University hospital, Cairo, Egypt, from October 2018 to December 2019. We randomly assigned 200 women into two groups: group A (n = 100) received one tramadol tablet 100 mg orally whereas group B (n = 100) received one celecoxib tablet 200 mg orally. Our primary outcome was pain score using a 10-cm visual analog scale at different time intervals. Our secondary outcomes were the overall satisfaction score and drug side effects.
Results
After mediolateral episiotomy repair, the pain scores at 1, 2, and 4 h were significantly lower in the tramadol group than in the celecoxib group (p < 0.001). However, there were no significantly differences in pain scores at 8 and 12 h between the two groups (p = 0.50 and 0.48 respectively). Women's satisfaction score was significantly higher in the tramadol group than in the celecoxib group (p < 0.001). Fewer participants in the tramadol group needed additional analgesics than in the celecoxib group; however, the difference was not significant (p = 0.17). Drug adverse effects were comparable in the two groups.
Conclusions
Primigravid women who received tramadol 100 mg orally after mediolateral episiotomy repair had lower pain scores and were more satisfied than women who received celecoxib 200 mg orally. Both drugs were well tolerated, with few side effects.
Access options
Buy single article
Instant access to the full article PDF.
US$ 39.95
Tax calculation will be finalised during checkout.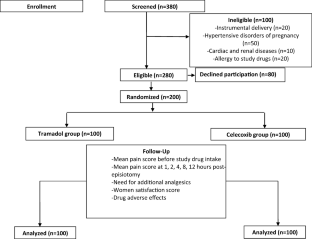 References
1.

Macarthur AJ, Macarthur C. Incidence, severity, and determinants of perineal pain after vaginal delivery: a prospective cohort study. Am J Obstet Gynecol. 2004;191:1199–204.

2.

Andrews V, Thakar R, Sultan AH, Jones PW. Evaluation of postpartum perineal pain and dyspareunia—a prospective study. Eur J Obstet Gynecol Reprod Biol. 2008;137:152–6.

3.

Manresa M, Pereda A, Bataller E, et al. Incidence of perineal pain and dyspareunia following spontaneous vaginal birth: a systematic review and meta-analysis. Int Urogynecol J. 2019;30:853–68.

4.

Weber AM, Meyn L. Episiotomy use in the United States, 1979–1997. Obstet Gynecol. 2002;100:1177–82.

5.

American College of Obstetricians and Gynecologists. ACOG practice bulletin. Episiotomy. Clinical management guidelines for obstetrician-gynecologists. Number 71, April 2006. Obstet Gynecol. 2006;107:957–62.

6.

Frankman EA, Wang L, Bunker CH, Lowder JL. Episiotomy in the United States: has anything changed? Am J Obstet Gynecol 2009;200:573.e1–7.

7.

Friedman AM, Ananth CV, Prendergast E, et al. Variation in and factors associated with use of episiotomy. JAMA. 2015;313:197–9.

8.

Singh S, Thakur T, Chandhiok N, Dhillon BS. Pattern of episiotomy use & its immediate complications among vaginal deliveries in 18 tertiary care hospitals in India. Indian J Med Res. 2016;143:474–80.

9.

Committee on Practice Bulletins-Obstetrics. ACOG practice bulletin no. 198: prevention and management of obstetric lacerations at vaginal delivery. Obstet Gynecol. 2018;132:e87–e102.

10.

Jiang H, Qian X, Carroli G, Garner P. Selective versus routine use of episiotomy for vaginal birth. Cochrane Database Syst Rev. 2017;2:CD000081.

11.

Wolfe KB, Rossi RA, Warshak CR. The effect of maternal obesity on the rate of failed induction of labor. Am J Obstet Gynecol. 2011;205:128.e1–7.

12.

Sebire NJ, Jolly M, Harris JP, et al. Maternal obesity and pregnancy outcome: a study of 287,213 pregnancies in London. Int J Obes Relat Metab Disord. 2001;25:1175–82.

13.

Racz S, Hantosi E, Marton S, et al. Impact of maternal obesity on the fetal electrocardiogram during labor. J Matern Fetal Neonatal Med. 2016;29:3712–6.

14.

Yeşilçiçek Çalik K, Korkmaz Yildiz N, Erkaya R. Effects of gestational weight gain and body mass index on obstetric outcome. Saudi J Biol Sci. 2018;25:1085–9.

15.

Durnea CM, Jaffery AE, Gauthaman N, Doumouchtsis SK. Effect of body mass index on the incidence of perineal trauma. Int J Gynaecol Obstet. 2018;141:166–70.

16.

Björkman S, Wada DR, Stanski DR. Application of physiologic models to predict the influence of changes in body composition and blood flows on the pharmacokinetics of fentanyl and alfentanil in patients. Anesthesiology. 1998;88:657–67.

17.

Tarnoff M, Kaplan LM, Shikora S. An evidenced-based assessment of preoperative weight loss in bariatric surgery. Obes Surg. 2008;18:1059–61.

18.

Wiezer M, Jansen I, Thorell A. Preoperative weight loss: a component of the preoperative program in bariatric surgery. Obes Surg. 2010;20:130; author reply 131.

19.

McKendall MJ, Haier RJ. Pain sensitivity and obesity. Psychiatry Res. 1983;8:119–25. https://doi.org/10.1016/0165-1781(83)90099-9.

20.

Pradalier A, Deplante J, Bouvier M. Etude de la sensibilité à la douleur chez les obèses. Ann Med Intern. 1982;133:528–31.

21.

Swain J, Dahlen HG. Putting evidence into practice: a quality activity of proactive pain relief for postpartum perineal pain. Women Birth. 2013;26:65–70.

22.

Sanders J, Peters TJ, Campbell R. Techniques to reduce perineal pain during spontaneous vaginal delivery and perineal suturing: a UK survey of midwifery practice. Midwifery. 2005;21:154–60.

23.

Dayer P, Desmeules J, Collart L. Pharmacology of tramadol. Drugs 1997;53(Suppl 2):18–24.

24.

Moore RA, McQuay HJ, Tomaszewski J, et al. Dexketoprofen/tramadol 25 mg/75 mg: randomised double-blind trial in moderate-to-severe acute pain after abdominal hysterectomy. BMC Anesthesiol. 2016;16:9.

25.

Peters AAW, Witte EH, Damen ACH, et al. Pain relief during and following outpatient curettage and hysterosalpingography: a double blind study to compare the efficacy and safety of tramadol versus naproxen. Eur J Obstet Gynecol Reprod Biol. 1996;66:51–6.

26.

Mattar OM, Abdalla AR, Shehata MSA, et al. Efficacy and safety of tramadol in pain relief during diagnostic outpatient hysteroscopy: systematic review and meta-analysis of randomized controlled trials. Fertil Steril. 2019;111:547–52.

27.

Cashman JN. The mechanisms of action of NSAIDs in analgesia. Drugs. 1996;52(Suppl 5):13–23.

28.

Lim SS, Tan PC, Sockalingam JK, Omar SZ. Oral celecoxib versus oral diclofenac for post-perineal repair analgesia after spontaneous vaginal birth: a randomised trial. Aust N Z J Obstet Gynaecol. 2008;48:71–7.

29.

Singer AJ, Thode HC. Determination of the minimal clinically significant difference on a patient visual analog satisfaction scale. Acad Emerg Med. 1998;5:1007–11.

30.

Larsson C, Saltvedt S, Edman G, et al. Factors independently related to a negative birth experience in first-time mothers. Sex Reprod Healthc. 2011;2:83–9.

31.

Falk M, Nelson M, Blomberg M. The impact of obstetric interventions and complications on women's satisfaction with childbirth a population based cohort study including 16,000 women. BMC Pregnancy Childbirth. 2019;19:494.

32.

Blomquist JL, Quiroz LH, MacMillan D, et al. Mothers' satisfaction with planned vaginal and planned Cesarean birth. Am J Perinatol. 2011;28:383–8.

33.

Dunn EA, O'Herlihy C. Comparison of maternal satisfaction following vaginal delivery after caesarean section and caesarean section after previous vaginal delivery. Eur J Obstet Gynecol Reprod Biol. 2005;121:56–60.

34.

Gong L, Thorn CF, Bertagnolli MM, et al. Celecoxib pathways: pharmacokinetics and pharmacodynamics. Pharmacogenet Genomics. 2012;22:310–8.

35.

Suhrabi Z, Taghinejad H. A comparative study on the efficacy of ibuprofen and celecoxib on the intensity of perineal pain following episiotomy: a randomized clinical trial. Iran Red Crescent Med J. 2013;15:e9980.

36.

Wuytack F, Smith V, Cleary BJ. Oral non-steroidal anti-inflammatory drugs (single dose) for perineal pain in the early postpartum period. Cochrane Database Syst Rev. 2016;7(7):CD011352.

37.

Srimaekarat T. Tramadol suppository versus placebo for the relief of perineal pain after perineorrhaphy: a randomized controlled trial in Thailand. J Med Assoc Thai. 2011;94:17–20.

38.

Hassan A, Wahba A, Haggag H. Tramadol versus celecoxib for reducing pain associated with outpatient hysteroscopy: a randomized double-blind placebo-controlled trial. Hum Reprod. 2016;31:60–6.

39.

Hassan A, Haggag H. Role of oral tramadol 50 mg in reducing pain associated with outpatient hysteroscopy: a randomised double-blind placebo-controlled trial. Aust N Z J Obstet Gynaecol. 2016;56:102–6.
Acknowledgements
We thank Mrs. Yasmin Samir Negm (Teacher at Om El Momineen Primary School, Helwan, Egypt) for her invaluable efforts in recording and organizing study data and computer works. In addition, she checked the manuscript for grammatical and style mistakes.
Funding
No funding received for this research.
Ethics declarations
Conflicts of interest
None.
Additional information
Publisher's note
Springer Nature remains neutral with regard to jurisdictional claims in published maps and institutional affiliations.
About this article
Cite this article
Latif, D., Darweesh, F.F., Osman, O.M. et al. Oral tramadol versus oral celecoxib for analgesia after mediolateral episiotomy repair in obese primigravidae: a randomized controlled trial. Int Urogynecol J 32, 2465–2472 (2021). https://doi.org/10.1007/s00192-020-04411-4
Received:

Accepted:

Published:

Issue Date:
Keywords
Tramadol

Celecoxib

Episiotomy

Obese

Primigravidae