Abstract
Introduction and hypothesis
The objective was to evaluate pelvic floor muscle (PFM) function regarding strength, activation and incontinence, approximately 1 month before and after radiation therapy in women with cervical cancer.
Methods
This was a pilot study of 49 women with cervical cancer at stages I to III. These women attended an educational session with a physical therapist who taught them to perform preventive pelvic floor muscle exercises (PFMEs; slow and fast contractions and the "knack") at home before, during and after radiation therapy. The women received instructions for performing PFME prior to radiation therapy. The modified Oxford scale, electromyography (EMG), the International Consultation on Incontinence Questionnaire Short Form to assess urinary incontinence and two questions for faecal and gas incontinence were used.
Results
Twenty-eight women (57%; mean age = 44 years, range 27–66) completed the study, 21 (43%) were lost to follow-up. There was no significant change from baseline to post-radiation therapy in muscle strength, EMG records and incontinence (p > 0.05). The median of PFM strength was equal at baseline and after intervention (median = 2; IQR = 1).
Conclusions
The results of this study suggest that pre-rehabilitation teaching PFMEs might be a protective factor for preserving PFM strength and preventing incontinence 1 month after radiation therapy. It is a feasible intervention.
Access options
Buy single article
Instant access to the full article PDF.
US$ 39.95
Tax calculation will be finalised during checkout.
Subscribe to journal
Immediate online access to all issues from 2019. Subscription will auto renew annually.
US$ 119
Tax calculation will be finalised during checkout.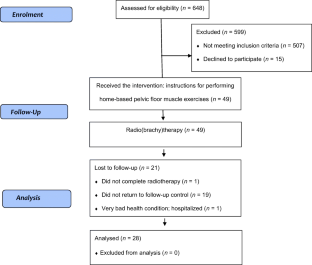 References
1.

Bodean OM, Marcu RD, Spinu DA, Socea B, Diaconu CC, Munteanu O, et al. Pelvic floor disorders in gynaecological malignancies. An overlooked problem? J Mind Med Sci. 2018;5(1):46–52. https://doi.org/10.22543/7674.51.P4652.

2.

Greear G, Lefkowits C, Parrillo LM, et al. Incontinence, voiding dysfunction, and other urologic complications after radiotherapy for gynecologic malignancies. Curr Bladder Dysfunct Rep. 2016;11:88–97. https://doi.org/10.1007/s11884-016-0354-7.

3.

Hazewinkel MH, Sprangers MAG, Van der Velden J, et al. Long-term cervical cancer survivors suffer from pelvic floor symptoms: a cross-sectional matched cohort study. Gynecol Oncol. 2010;117(2):281–6. https://doi.org/10.1016/j.ygyno.2010.01.034.

4.

DeVita VT Jr, Lawrence TS, Rosenberg SA. Devita, Hellman, and Rosenberg's cancer: principles and practice of oncology. 10th ed. Philadelphia: Wolters Kluwer; 2015.

5.

Viswanathan AN, Lee LJ, Eswara JR, Horowitz NS, Konstantinopoulos PA, Mirabeau-Beale KL, et al. Complications of pelvic radiation in patients treated for gynecologic malignancies. Cancer. 2014;120(24):3870–83.

6.

Bernard S, Ouellet M, Moffet H. Effects of radiation therapy on the structure and function of the pelvic floor muscles of patients with cancer in the pelvic area: a systematic review. J Cancer Surviv. 2016;10(2):351–62. https://doi.org/10.1007/s11764-015-0481-8.

7.

Zomkowski K, Toryi AM, Sacomori C, et al. Sexual function and quality of life in gynecological cancer pre- and post-short-term brachytherapy: a prospective study. Arch Gynecol Obstet. 2016;294(4):833–40.

8.

Bernard S, Moffet H, Plante M, et al. Pelvic-floor properties in women reporting urinary incontinence after surgery and radiotherapy for endometrial cancer. Phys Ther. 2016;97:438–48. https://doi.org/10.1093/ptj/pzx012.

9.

Ramaseshan AS, Felton J, Roque D, et al. Pelvic floor disorders in women with gynaecologic malignancies: a systematic review. Int Urogynecol J. 2018;29:459–76. https://doi.org/10.1007/s00192-017-3467-4.

10.

Plácido TR. [Physical therapy for patients post radiotherapy]. In: Figueira P, Marx A, Paim N. Manual de condutas e práticas de fisioterapia en oncología: oncología ginecológica. [Manual of physical therapy practices in oncology: gynecological oncology]. Barueri: Editora Manole; 2017.

11.

Franceschini J, Sacarlato A, Cisi MC. Physiotherapy in main sexual dysfunctions after the treatment of cervical cancer: bibliographic review. Rev Bras Cancerol. 2010;56:501–6.

12.

Price N, Dawood R, Jackson SR. Pelvic floor exercise for urinary incontinence: a systematic literature review. Maturitas. 2010;67:309–15.

13.

Laycock J, Jerwood D. Pelvic floor muscle assessment: the PERFECT scheme. Physiotherapy. 2001;87:631–42. https://doi.org/10.1016/S0031-9406(05)61108-X.

14.

Avery K, Donovan J, Peters TJ, et al. ICIQ: a brief and robust measure for evaluating the symptoms and impact of urinary incontinence. Neurourol Urodyn. 2004;23:322–30. https://doi.org/10.1002/nau.20041.

15.

Busquets CM, Serra TR. Validación del cuestionario International Consultation on Incontinence Questionnaire Short-Form (ICIQ-SF) en una población chilena usuaria del Fondo Nacional de Salud (FONASA). Rev Méd Chile. 2012;140(3):340–6.

16.

Miller JM, Ashton-Miller JA, Delancey JO. A pelvic muscle pre-contraction can reduce cough-related urine in selected women with mild SUI. J Am Geriatr Soc. 1998;46:870–4.

17.

Bø K, Talseth T, Holme I. Single blind, randomized controlled trial of pelvic floor exercises, electrical stimulation, vaginal cones, and no treatment in management of genuine stress incontinence in women. BMJ. 1999;318:487–93.

18.

Sacomori C, Berghmans B, Mesters I, et al. Strategies to enhance self-efficacy and adherence to home-based pelvic floor muscle exercises did not improve adherence in women with urinary incontinence: a randomised trial. J Physiother. 2015;61:190–8. https://doi.org/10.1016/j.jphys.2015.08.005.

19.

Health Ministry of Chile. Guias Clinicas AUGE: Cancer Cervicouterino. [AUGE Clinical Guidelines: cervical cancer] 2015. Available at https://www.minsal.cl/wp-content/uploads/2015/09/GPC-CaCU.pdf.

20.

Downey RG, King CV. Missing data in Likert ratings: a comparison of replacement methods. J Gen Psychol. 1998;125:175–91. https://doi.org/10.1080/00221309809595542.

21.

Yang EJ, Lim J, Rah UW, et al. Effect of a pelvic floor muscle training program on gynaecologic cancer survivors with pelvic floor dysfunction: a randomized controlled trial. Gynecol Oncol. 2012;125:705–11. https://doi.org/10.1016/j.ygyno.2012.03.045.

22.

Rutledge TL, Rogers R, Lee S-J, et al. A pilot randomized control trial to evaluate pelvic floor muscle training for urinary incontinence among gynaecologic cancer survivors. Gynecol Oncol. 2014;132(1):154–8. https://doi.org/10.1016/j.ygyno.2013.10.024.

23.

Vodusek DB. Electromyography. In: Bo K, Berghmans B, Morkved S, Van Kampen M, editors. Evidence-based physical therapy for the pelvic floor: bridging science and clinical practice. Edinburgh: Elsevier; 2007.

24.

Lindgren A, Dunberger G, Enblom A. Experiences of incontinence and pelvic floor muscle training after gynaecologic cancer treatment. Support Care Cancer. 2017;25:157–66. https://doi.org/10.1007/s00520-016-3394-9.

25.

De Noronha AF, de Figueiredo EM, Franco TMRF, et al. Treatments for invasive carcinoma of the cervix: what are their impacts on the pelvic floor functions? Int Braz J Urol. 2013;39:46–54. https://doi.org/10.1590/S1677-5538.IBJU.2013.01.07.

26.

Bø K, Sherburn M. Measurement of pelvic floor muscle function and strength and pelvic organ prolapse. In: Bø K, Berghmans B, Mørkved S, Van Kampen M, editors. Evidence-based physical therapy for the pelvic floor. Philadelphia: Butterworth Heinemann Elsevier; 2007. p. 47.

27.

Sirls LT, Tennstedt S, Brubaker L, et al. The minimum important difference for the international consultation on incontinence questionnaire—urinary incontinence short form in women with stress urinary incontinence. Neurourol Urodyn. 2015;34(2):183–7. https://doi.org/10.1002/nau.22533.

28.

Koenig I, Luginbuehl H, Radlinger L. Reliability of pelvic floor muscle electromyography tested on healthy women and women with pelvic floor muscle dysfunction. Annals Phys Rehab Med. 2017;60:382–6.

29.

Lee Y. Patients' perception and adherence to vaginal dilator therapy: a systematic review and synthesis employing symbolic interactionism. Patient Pref Adher. 2018;12:551–60. https://doi.org/10.2147/PPA.S163273.
Funding
1° Concurso de Investigacion Interno de la Universidad Bernardo O'Higgins (Ref. UBO/VRIP 170202) and Concurso de Investigacion Interno de la Universidad San Sebastian (PI0073–2016-0003-IE).
Ethics declarations
Conflicts of interest
The authors declare that they have no conflicts of interest.
Additional information
Publisher's note
Springer Nature remains neutral with regard to jurisdictional claims in published maps and institutional affiliations.
About this article
Cite this article
Sacomori, C., Araya-Castro, P., Diaz-Guerrero, P. et al. Pre-rehabilitation of the pelvic floor before radiation therapy for cervical cancer: a pilot study. Int Urogynecol J 31, 2411–2418 (2020). https://doi.org/10.1007/s00192-020-04391-5
Received:

Accepted:

Published:

Issue Date:
Keywords
Cervical cancer

Radiotherapy

Brachytherapy

Pelvic floor

Muscle strength

Pre-rehabilitation