Abstract
Introduction and hypothesis
The objective of this trial was to evaluate whether avoidance of episiotomy can decrease the risk of advanced perineal tears.
Methods
In this randomized (1:1) parallel-group superiority trial, primiparous women underwent randomization into "avoidance of episiotomy" (the study group in which episiotomy was allowed only in cases of fetal distress) or "standard care." The primary outcome was the incidence of advanced (3rd- and 4th-degree) perineal tears.
Results
The participants were randomized into "standard care" (n = 337) vs. "no episiotomy" (n = 339) groups, not differing in any demographic or obstetric characteristics. Episiotomy rates were significantly lower in the study group (19.6%) compared with the standard care group (29.8%, p = 0.004). Five (1.5%) advanced tears were diagnosed in the study group vs. ten = 3.0% in the controls, yielding an odds ratio of 0.50 (95% CI 0.17–1.50) in favor of the "no episiotomy" group (p = 0.296). No differences were noted in any secondary outcomes. By per protocol analysis (omitting cases in which episiotomy was performed for indications other than fetal distress in the study group), a trend to decreased risk of advanced tears in the study group was noted (p = 0.0956). By per protocol analyses, no severe tears were noted in the 53 vacuum deliveries in the study group vs. 4/65 (6.2%) tears in the controls (p = 0.126).
Conclusions
Since decreased use of episiotomy was not associated with higher rates of severe tears or any other adverse outcomes, we believe this procedure can be avoided in spontaneous as well as vacuum-assisted deliveries. Trial registration no. NCT02356237.
Access options
Buy single article
Instant access to the full article PDF.
USD 39.95
Price excludes VAT (USA)
Tax calculation will be finalised during checkout.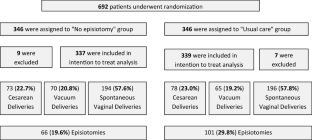 References
Jiang H, Qian X, Carroli G, Garner P. Selective versus routine use of episiotomy for vaginal birth. Cochrane Database Syst Rev. 2017;2:CD000081.

Biguzzi E, Franchi F, Ambrogi F, Ibrahim B, Bucciarelli P, Acaia B, et al. Risk factors for postpartum hemorrhage in a cohort of 6011 Italian women. Thromb Res. 2012;129(4):e1–7.

Amorim Francisco A, Junqueira Vasconcellos de Oliveira SM, Barbosa da Silva FM, Bick D, Gonzalez Riesco ML. Women's experiences of perineal pain during the immediate postnatal period: a cross-sectional study in Brazil. Midwifery. 2011;27(6):e254–9.

Espuna-Pons M, Solans-Domenech M, Sanchez E. Double incontinence in a cohort of nulliparous pregnant women. Neurourol Urodyn. 2012;31(8):1236–41.

Sagi-Dain L, Sagi S. Morbidity associated with episiotomy in vacuum delivery: a systematic review and meta-analysis. BJOG: Int J Obstet Gynaecol. 2015;122(8):1073–81.

Sagi-Dain L, Sagi S. The role of episiotomy in prevention and management of shoulder dystocia: a systematic review. Obstet Gynecol Survey. 2015;70(5):354–62.

ACOG Practice Bulletin No. 198: Prevention and Management of Obstetric Lacerations at Vaginal Delivery. Obstetrics Gynecol. 2018; 132(3):e87-e102.

Kartal B, Kizilirmak A, Calpbinici P, Demir G. Retrospective analysis of episiotomy prevalence. J Turkish German Gynecol Assoc. 2017;18(4):190–4.

Sagi-Dain L, Sagi S. Episiotomy knowledge, attitudes and practice: a crosssectional survey of four public Israeli hospitals and review of the literature. Evidence Based Midwifery. 2015;13(4):138–42.

Pergialiotis V, Vlachos D, Protopapas A, Pappa K, Vlachos G. Risk factors for severe perineal lacerations during childbirth. Int J Gynaecol Obstet:Off Organ Int Federation Gynaecol Obstetrics. 2014;125(1):6–14.

Clesse C, Lighezzolo-Alnot J, De Lavergne S, Hamlin S, Scheffler M. Statistical trends of episiotomy around the world: comparative systematic review of changing practices. Health Care Women Int. 2018;39(6):644–62.

Sagi-Dain L, Bahous R, Caspin O, Kreinin-Bleicher I, Gonen R, Sagi S. No episiotomy versus selective lateral/mediolateral episiotomy (EPITRIAL): an interim analysis. Int Urogynecol J. 2018;29(3):415–23.

MA M, Coutinho IC, Melo I, Katz L. Selective episiotomy vs. implementation of a non-episiotomy protocol: a randomized clinical trial. Reprod Health. 2017;14(1):55.

Piaggio G, Elbourne DR, Pocock SJ, Evans SJ, Altman DG, Group C. Reporting of noninferiority and equivalence randomized trials: extension of the CONSORT 2010 statement. Jama. 2012;308(24):2594–604.

Rogers RG, Coates KW, Kammerer-Doak D, Khalsa S, Qualls C. A short form of the pelvic organ prolapse/urinary incontinence sexual questionnaire (PISQ-12). Int Urogynecol J Pelvic Floor Dysfunct. 2003;14(3):164–8 discussion 8.

Barber MD, Walters MD, Bump RC. Short forms of two condition-specific quality-of-life questionnaires for women with pelvic floor disorders (PFDI-20 and PFIQ-7). Am J Obstet Gynecol. 2005;193(1):103–13.

Carroli G, Mignini L. Episiotomy for vaginal birth. The Cochrane database of systematic reviews. 2009(1):CD000081.

Royal College of Obstetricians and Gynaecologists. The Management of Third- and Fourth-Degree Perineal Tears. 2015. Accessible from https://www.rcog.org.uk/globalassets/documents/guidelines/gtg-29.pdf.

Harvey MA, Pierce M, Alter JE, Chou Q, Diamond P, Epp A, et al. Obstetrical anal sphincter injuries (OASIS): prevention, recognition, and repair. Journal of obstetrics and gynaecology Canada : JOGC =. J d'Obstet et Gynecol du Canada: JOGC. 2015;37(12):1131–48.

Sagi-Dain L, Sagi S. Indications for episiotomy performance - a cross-sectional survey and review of the literature. J Obstet Gynaecol: J Institute Obstet Gynaecol. 2016;36(3):361–5.

Raisanen S, Vehvilainen-Julkunen K, Heinonen S. Need for and consequences of episiotomy in vaginal birth: a critical approach. Midwifery. 2010;26(3):348–56.

Smith LA, Price N, Simonite V, Burns EE. Incidence of and risk factors for perineal trauma: a prospective observational study. BMC Pregnancy Childbirth. 2013;13:59.

Lund NS, Persson LK, Jango H, Gommesen D, Westergaard HB. Episiotomy in vacuum-assisted delivery affects the risk of obstetric anal sphincter injury: a systematic review and meta-analysis. Eur J Obstet Gynecol Reprod Biol. 2016;207:193–9.

Murphy DJ, Macleod M, Bahl R, Goyder K, Howarth L, Strachan B. A randomised controlled trial of routine versus restrictive use of episiotomy at operative vaginal delivery: a multicentre pilot study. BJOG: Int J Obstet Gynaecol. 2008;115(13):1695–702 discussion 702-3.

Tsakiridis I, Giouleka S, Mamopoulos A, Athanasiadis A, Daniilidis A, Dagklis T. Operative vaginal delivery: a review of four national guidelines. J Perinat Med. 2020;48(3):189–98.

Hobson S, Cassell K, Windrim R, Cargill Y. No. 381 – Assisted vaginal birth. J Obstet Gynaecol Can 2019;41:870–882.

Sagi-Dain L, Sagi S. The correct episiotomy: does it exist? A cross-sectional survey of four public Israeli hospitals and review of the literature. Int Urogynecol J. 2015;26(8):1213–9.
Ethics declarations
Financial disclaimer/conflict of interest
None (for all authors).
Additional information
Publisher's note
Springer Nature remains neutral with regard to jurisdictional claims in published maps and institutional affiliations.
Electronic supplementary material
About this article
Cite this article
Sagi-Dain, L., Kreinin-Bleicher, I., Bahous, R. et al. Is it time to abandon episiotomy use? A randomized controlled trial (EPITRIAL). Int Urogynecol J 31, 2377–2385 (2020). https://doi.org/10.1007/s00192-020-04332-2
Received:

Accepted:

Published:

Issue Date:

DOI: https://doi.org/10.1007/s00192-020-04332-2
Keywords