Abstract
Introduction and hypothesis
The study was aimed at evaluating the safety and efficacy of ring pessaries without support under continuous use without periodic removal or replacement for the treatment of advanced pelvic organ prolapse (POP) in women for 2 consecutive years.
Methods
This study was a prospective observational study. A total of 123 women were recruited in a tertiary hospital from January 2013 to January 2016. The primary objective was the percentage of patients maintaining the use of the pessary after 24 months. The secondary objectives were the reasons for discontinuation and the adverse events in patients with successful fittings.
Results
A total of 115 patients (93.5%) had a successful fitting. Four patients died of non-pessary-related causes during the study and, one patient dropped out the follow-up so that finally, 110 patients were included in the efficacy analysis. Pessary use was maintained by 91.8% of the women at the end of the study. The adverse events rate was low (27.0%). The two main factors of interruption in the pessary use were: age (OR 0.93; 95% CI 0.87–0.99) and history of urinary urge incontinence (OR 0.33; 95% CI 0.11–0.96]).
Conclusions
A high success rate and low adverse events rate were achieved in patients with advanced-stage POP with continuous pessary use for 24 months, indicating that a ring pessary could also be used without periodic removal for at least the first 2 years. This practice could reduce the number of control visits.
Access options
Buy single article
Instant access to the full article PDF.
US$ 39.95
Tax calculation will be finalised during checkout.
Subscribe to journal
Immediate online access to all issues from 2019. Subscription will auto renew annually.
US$ 119
Tax calculation will be finalised during checkout.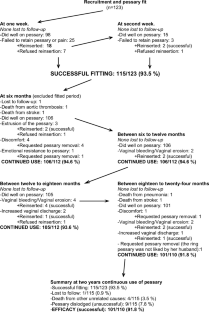 Ethics declarations
Conflicts of interest
None.
Additional information
Publisher's note
Springer Nature remains neutral with regard to jurisdictional claims in published maps and institutional affiliations.
About this article
Cite this article
Miceli, A., Fernández-Sánchez, M., Polo-Padillo, J. et al. Is it safe and effective to maintain the vaginal pessary without removing it for 2 consecutive years?. Int Urogynecol J 31, 2521–2528 (2020). https://doi.org/10.1007/s00192-020-04240-5
Received:

Accepted:

Published:

Issue Date:
Keywords
Advanced POP

Ring pessary without support

Continuous use

Efficacy

Safety