Abstract
Introduction and hypothesis
Postoperative urinary tract infection (UTI) leads to increased patient morbidity and health care costs. A prediction model may identify patients at highest risk for UTI development. Our primary objective was to determine the rate of UTI in the first 6 weeks after benign gynecologic surgery. Our secondary objective was to identify risk factors and build a predictive model for postoperative UTI.
Methods
We reviewed 310 patient records, which represent all patients who underwent clean-contaminated surgery at a tertiary center (2016–2017). UTI was defined as positive urine culture (> 100,000,000 CFU/l) in a symptomatic patient. Pre-, intra- and postoperative variables were collected. The relation between these variables and UTI was assessed through logistic regression. A clinical prediction model was built.
Results
Patients' mean age was 58.5 years and mean body mass index was 27.5 kg/m2. Most were inpatients (65.8%) and 269 had urogynecologic procedures, with the remainder undergoing pelvic surgery for other indications. The most common operation was vaginal reconstruction for prolapse (59.7%), associated with concomitant synthetic midurethral sling in 1/3 cases. Forty patients (12.9%) developed UTI. Multivariate prediction modeling showed increasing age (OR 1.33, CI 1.01–1.75), increasing number of procedures (OR 1.42, CI 1.14–1.78) and prolonged voiding dysfunction (OR 3.78, CI 1.66–8.60) to be significant UTI predictors.
Conclusions
Urinary tract infection in the first 6 weeks after complex pelvic surgery is common. Our prediction model identifies that patients who are older women, have prolonged voiding dysfunction and have a greater number of concomitant pelvic floor surgeries have higher risk of postoperative UTI.
This is a preview of subscription content, log in to check access.
Access options
Buy single article
Instant access to the full article PDF.
US$ 39.95
Tax calculation will be finalised during checkout.
Subscribe to journal
Immediate online access to all issues from 2019. Subscription will auto renew annually.
US$ 119
Tax calculation will be finalised during checkout.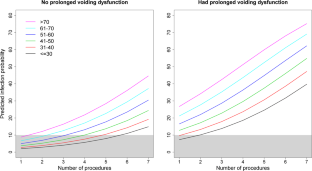 References
1.

Wu JM, Matthews CA, Conover MM, et al. Lifetime risk of stress urinary incontinence or pelvic organ prolapse surgery. Obstet Gynecol. 2014;123:1201.

2.

Keshavarz H, Hillis SD, Kieke BA, et al. Hysterectomy surveillance–United States, 1994–1999. MMWR CDC Surveill Summ. 2002;51:SS–5.

3.

de Lissovoy G, Fraeman K, Hutchins V, et al. Surgical site infection: incidence and impact on hospital utilization and treatment costs. Am J Infect Control. 2009;37:387.

4.

Lachiewicz MP, Moulton LJ, Jaiyeoba O. Pelvic surgical site infections in gynecologic surgery. Infect Dis Obstet Gynecol. 2015;2015:614950.

5.

Ayeleke RO, Mourad S, Marjoribanks J, Calis KA, Jordan V. Antibiotic prophylaxis for elective hysterectomy. Cochrane Database Syst Rev. 2017;6:CD004637.

6.

Lake AG, McPencow AM, Dick-Biascoechea MA, et al. Surgical site infection after hysterectomy. Am J Obstet Gynecol. 2013;209:e1.

7.

Bolling DR, Plunkett GD. Prophylactic antibiotics for vaginal hysterectomies. Obstet Gynecol. 1973;41:3.

8.

Vij SC, Kartha G, Krishnamurthi V, et al. Simple operating room bundle reduces superficial surgical site infections after major urologic surgery. Urology. 2017;112:66.

9.

Zywot A, Lau CSM, Fletcher HS, et al. Bundles prevent surgical site infections after colorectal surgery: meta-analysis and systematic review. J Gastrointest Surg. 2017;21:1915.

10.

Harris JA, Sammarco AG, Swenson CW, et al. Are perioperative bundles associated with reduced postoperative morbidity in women undergoing benign hysterectomy? Retrospective cohort analysis of 16,286 cases in Michigan. Am J Obstet Gynecol. 2017;216:e1.

11.

Taylor JS, Marten CA, Munsell MF, et al. The DISINFECT initiative: decreasing the incidence of surgical INFECTions in gynecologic oncology. Ann Surg Oncol. 2017;24:362.

12.

Martin EK, Beckmann MM, Barnsbee LN, et al. Best practice perioperative strategies and surgical techniques for preventing caesarean section surgical site infections: a systematic review of reviews and meta-analyses. Br J Obstet Gynaecol. 2018;125:956.

13.

Steiner HL, Strand EA. Surgical-site infection in gynecologic surgery: pathophysiology and prevention. Am J Obstet Gynecol. 2017;217:121.

14.

Van Eyk N, van Schalkwyk J. Antibiotic prophylaxis in gynaecologic procedures. J Obstet Gynaecol Can. 2012;34:382.

15.

Anger JT, Litwin MS, Wang Q, et al. Complications of sling surgery among female medicare beneficiaries. Obstet Gynecol. 2007;109:707.

16.

Nygaard I, Brubaker L, Chai TC, et al. Risk factors for urinary tract infection following incontinence surgery. Int Urogynecol J. 2011;22:1255.

17.

Chung CP, Kuehl TJ, Harris SK, et al. Incidence and risk factors of postoperative urinary tract infection after uterosacral ligament suspension. Int Urogynecol J. 2012;23:947.

18.

Wei JT, Nygaard I, Richter HE, et al. A midurethral sling to reduce incontinence after vaginal prolapse repair. N Engl J Med. 2012;366:2358.

19.

El-Nashar SA, Singh R, Schmitt JJ, et al. Urinary tract infection after hysterectomy for benign gynecologic conditions or pelvic reconstructive surgery. Obstet Gynecol. 2018;132:1347-1357.

20.

Yoshikawa TT. Epidemiology and unique aspects of aging and infectious diseases. Clin Infect Dis. 2000;30:931.

21.

Castle SC. Clinical relevance of age-related immune dysfunction. Clin Infect Dis. 2000;31:578.

22.

Liu F, Ling Z, Xiao Y, et al. Characterization of the urinary microbiota of elderly women and the effects of type 2 diabetes and urinary tract infections on the microbiota. Oncotarget. 2017;8:678.

23.

Simmering JE, Tang F, Cavanaugh JE, et al. The increase in hospitalizations for urinary tract infections and the associated costs in the United States, 1998-2011. Open Forum Infect Dis. 2017;4:1.

24.

Sutkin G, Alperin M, Meyn L, et al. Symptomatic urinary tract infections after surgery for prolapse and/or incontinence. Int Urogynecol J. 2010;21:955.

25.

Hakvoort RA, Thijs SD, Bouwmeester FW, et al. Comparing clean intermittent catheterization and transurethral indwelling catheterization for incomplete voiding after vaginal prolapse surgery: a multicenter randomized trial. BJOG. 2011;118:1055.

26.

Gotoh M, Kobayashi T, Sogabe K. Characterization of symptom bother and health-related quality of life in Japanese female patients with overactive bladder. Neurourol Urodyn. 2015;34:730.

27.

Fok CS, McKinley K, Mueller ER, et al. Day of surgery urine cultures identify urogynecologic patients at increased risk for postoperative urinary tract infection. J Urol. 2013;189:1721.

28.

Sutkin G, Lowder JL, Smith KJ. Prophylactic antibiotics to prevent urinary tract infection during clean intermittent self-catheterization (CICS) for management of voiding dysfunction after prolapse and incontinence surgery: a decision analysis. Int Urogynecol J. 2009;20:933.

29.

Foxman B, Cronenwett AE, Spino C, et al. Cranberry juice capsules and urinary tract infection after surgery: results of a randomized trial. Am J Obstet Gynecol. 2015;213:e1.

30.

World Health Organization. Global guidelines for the prevention of surgical site infection. 2016. [http://www.who.int/gpsc/global-guidelines-web.pdf]. Accessed 23 April 2019.
Funding
Funding for this study was provided by institutional funding; a competitive Providence Health Care Foundation grant and a University of British Columbia Faculty of Medicine Summer Student Research Program grant.
Ethics declarations
Conflict of interest
M. Sanaee, K. Pan, T. Lee and N. Koenig: None.
R. Geoffrion reports personal fees from Boston Scientific and from Duchesnay Canada, outside the submitted work.
Additional information
Publisher's note
Springer Nature remains neutral with regard to jurisdictional claims in published maps and institutional affiliations.
About this article
Cite this article
Sanaee, M.S., Pan, K., Lee, T. et al. Urinary tract infection after clean-contaminated pelvic surgery: a retrospective cohort study and prediction model. Int Urogynecol J 31, 1821–1828 (2020). https://doi.org/10.1007/s00192-019-04119-0
Received:

Accepted:

Published:

Issue Date:
Keywords
Decision support techniques

Pelvic floor reconstruction

Postoperative infection

Prediction model

Urinary tract infection

Urinary retention