Abstract
Introduction and hypothesis
We aim to examine the financial relationship between industry and female pelvic medicine and reconstructive surgeons (FPMRS) during the first four full calendar years since the implementation of the Sunshine Act.
Methods
All board-certified FPMRS specialists were identified using the American Board of Medical Specialties directory. Program directors (PDs) were identified using an Accreditation Council for Graduate Medical Education (ACGME) database. All identified physicians were categorized by gender, specialty, and American Urological Association (AUA) region. Payment data for each individual from 2014 to 2017 were accessed using the Centers for Medicare and Medicaid Services (CMS) Open Payments website. Statistical analyses were performed to elucidate payment trends.
Results
Of the 1,307 FPMRS physicians identified, 25.1% (n = 328) are urology-trained and 74.9% (n = 979) are obstetrics/gynecology (OB/GYN)-trained. Of all physicians analyzed, 6.8% had no reported payments over the 4-year period. 90.1%, 86.5%, 85.3%, and 84.4% received some sort of payment in 2014 to 2017 respectively. Median total payments for all physicians decreased yearly, whereas mean payments decreased from 2014 to 2015 before increasing in all subsequent years. Median general payments were higher for men versus women, urology-trained versus OB/GYN-trained, and PDs versus non-PDs in all years analyzed. The largest contributor to overall payments was the "others" compensation category, which includes gifts, royalties, honoraria, and non-continuing medical education speaking engagements.
Conclusions
Since institution of the Sunshine Act, the percentage of physicians receiving payments has decreased each year. Additionally, there has been a decrease in median total payments and an increase in yearly research payments in all years analyzed.
Access options
Buy single article
Instant access to the full article PDF.
US$ 39.95
Tax calculation will be finalised during checkout.
Subscribe to journal
Immediate online access to all issues from 2019. Subscription will auto renew annually.
US$ 119
Tax calculation will be finalised during checkout.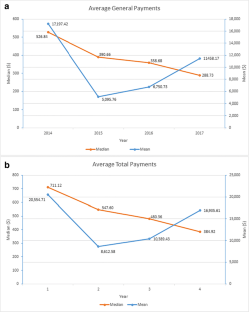 References
1.

Wazana A. Physicians and the pharmaceutical industry: is a gift ever just a gift? JAMA. 2000;283(3):373–80.

2.

Gagnon MA, Lexchin J. The cost of pushing pills: a new estimate of pharmaceutical promotion expenditures in the United States. PLoS Med. 2008;5(1):e1.

3.

Campbell EG, Gruen RL, Mountford J, Miller LG, Cleary PD, Blumenthal D. A national survey of physician-industry relationships. N Engl J Med. 2007;356(17):1742–50.

4.

Watson PY, Khandelwal AK, Musial JL, Buckley JD. Resident and faculty perceptions of conflict of interest in medical education. J Gen Intern Med. 2005;20(4):357–9.

5.

Nakayama DK, Bozeman AP. Industry support of graduate medical education in surgery. Am Surg. 2009;75(5):395–400.

6.

Kirschner NM, Sulmasy LS, Kesselheim AS. Health policy basics: the physician payment sunshine act and the open payments program. Ann Intern Med. 2014;161(7):519–21.

7.

Muffly TM, Giamberardino WL, Guido J, Weterings R, Bastow B, Sheeder J. Industry payments to obstetricians and gynecologists under the Sunshine Act. Obstet Gynecol. 2018;132(1):9–17.

8.

Perez TY, Chen MC, Chung PH, Shenot PJ. Leaders in urologic education and their relationship to industry: an analysis of sunshine act open payments from 2014–2016. Urology. 2019;123:53–8.

9.

Patel SV, Klingel M, Sonoda T. An assessment of the industry-faculty surgeon relationship within colon and rectum surgical training programs. J Surg Educ. 2016;73(4):595–9.

10.

Cvetanovich GL, Chalmers PN, Bach BR. Industry financial relationships in orthopaedic surgery: analysis of the Sunshine Act open payments database and comparison with other surgical subspecialties. J Bone Joint Surg Am. 2015;97(15):1288–95.

11.

Green MJ, Masters R, James B, Simmons B, Lehman E. Do gifts from the pharmaceutical industry affect trust in physicians? Fam Med. 2012;44(5):325–31.

12.

Rosenthal MB, Mello MM. Sunlight as disinfectant—new rules on disclosure of industry payments to physicians. N Engl J Med. 2013;368(22):2052–4.
Ethics declarations
Conflicts of interest
PJS (Ipsen—investigator with financial support, Merck—consultant). None of the other authors has anything to disclose.
Previous presentations
SUFU 2019 Conference, Miami Florida, 2/26/2019–3/2/2019.
Additional information
Publisher's note
Springer Nature remains neutral with regard to jurisdictional claims in published maps and institutional affiliations.
Electronic supplementary material
About this article
Cite this article
Teplitsky, S., Perez, T., Leong, J.Y. et al. Industry payments to female pelvic medicine and reconstructive surgeons: an analysis of Sunshine Act open payments from 2014–2017. Int Urogynecol J 31, 799–807 (2020). https://doi.org/10.1007/s00192-019-04098-2
Received:

Accepted:

Published:

Issue Date:
Keywords
FPMRS

Urology

Urogynecology

Industry

Payment

Sunshine Act