Abstract
Introduction and hypothesis
The aim of this study was to evaluate the effectiveness of perineal massage, pelvic floor muscle training (PFMT) and a pelvic floor dysfunction (PFD) prevention educational program in pregnant women above the age of 35 years to prevent perineal tear and episiotomy.
Methods
A randomized parallel assignment study involved two groups of pregnant women at the obstetrics outpatient clinic 4 weeks prior to their due date. The first group (n = 200) was educated to do digital perineal massage and pelvic floor muscle training and received an educational PFD prevention program. The second group (n = 200) received only the prevention education program. Occurrence of perineal laceration was reported at time of delivery as a primary outcome. Statistical analysis was done using the IBM SPSS computer program (Statistical Package for the Social Sciences; IBM Corp, Armonk, NY, USA), release 22 for Microsoft Windows.
Results
Delivery was significantly less complicated by perineal tear, episiotomy and postnatal pain in the first than in the second group (p < 0.05). Grades of perineal tear were mostly of first and second degree in the first group compared with the second group. We found a significantly lower need for analgesia and fewer ampoules required during the hospital stay in the first group (p < 0.001, 0.002, respectively).
Conclusions
Performing antenatal digital perineal massage and PFMT in addition to health education is recommended to reduce perineal complications.
This is a preview of subscription content, log in to check access.
Access options
Buy single article
Instant access to the full article PDF.
US$ 39.95
Price includes VAT for USA
Subscribe to journal
Immediate online access to all issues from 2019. Subscription will auto renew annually.
US$ 199
This is the net price. Taxes to be calculated in checkout.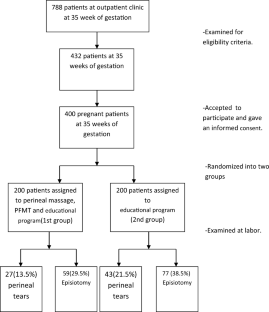 References
1.

Larbi KT, Buchmann EJ, Matshidze PR. Pregnancy outcomes in urban black South African women aged 35 years and older. J Obstet Gynaecol. 2000;20(3):259–62.

2.

Andrews V, Thakar R, Sultan AH, Jones PW. Evaluation of postpartum perineal pain and dyspareunia—a prospective study. Eur J Obstet Gynecol Reprod Biol. 2008;137(2):152–6.

3.

Torrisi G, Minini G, Bernasconi F, Perrone A, Trezza G, Guardabasso V, et al. A prospective study of pelvic floor dysfunctions related to delivery. Eur J Obstet Gynecol Reprod Biol. 2012;160(1):110–5.

4.

Masoumi SZ, Kazemi F, Oshvandi K, Jalali M, Esmaeili-Vardanjani A, Rafiei H. Effect of training preparation for childbirth on fear of normal vaginal delivery and choosing the type of delivery among pregnant women in Hamadan, Iran: a randomized controlled trial. J Family Reprod Health. 2016;10(3):115.

5.

de Castro Monteiro MV, Pereira GMV, Aguiar RAP, Azevedo RL, Correia-Junior MD, Reis ZSN. Risk factors for severe obstetric perineal lacerations. Int Urogynecol J. 2016;27(1):61–7.

6.

King TL, Pinger W. Evidence-based practice for intrapartum care: the pearls of midwifery. J Midwifery Womens Health. 2014;59(6):572–85.

7.

Zare O, Pasha H, Faramarzi M. Effect of perineal massage on the incidence of episiotomy and perineal laceration. Health. 2014;6(01):10.

8.

McLennan MT, Melick CF, Alten B, Young J, Hoehn MR. Patients' knowledge of potential pelvic floor changes associated with pregnancy and delivery. Int Urogynecol J Pelvic Floor Dysfunct. 2006;17(1):22–6. https://doi.org/10.1007/s00192-005-1325-2.

9.

Dame J, Neher J, Safranek S. Does antepartum perineal massage reduce intrapartum lacerations? J Fam Pract. 2008;57(7):480–2.

10.

Woodley SJ, Boyle R, Cody JD, Mørkved S, Hay-Smith EJC. Pelvic floor muscle training for prevention and treatment of urinary and fecal incontinence in antenatal and postnatal women. Cochrane Database Syst Rev. 2017;12:CD007471. https://doi.org/10.1002/14651858.CD007471.pub3. Review.

11.

Dönmez S, Kavlak O. Effects of prenatal perineal massage and Kegel exercises on the integrity of postnatal perine. Health. 2015;7(04):495.

12.

Abd H. Effects of prenatal perineal massage and Kegel exercise on the episiotomy rate. IOSR-JNHS. 2015;4(4):61–70.

13.

DeFrances CJ, Hall MJ. 2002 national hospital discharge survey. Adv Data. 2004;342(342):1–29.

14.

Ye J, Zhang J, Mikolajczyk R, Torloni MR, Gülmezoglu AM, Betran AP. Association between rates of caesarean section and maternal and neonatal mortality in the 21st century: a worldwide population-based ecological study with longitudinal data. BJOG Int J Obstet Gynaecol. 2016;123(5):745–53.

15.

Betrán AP, Ye J, Moller AB, Zhang J, Gülmezoglu AM, Torloni MR. The increasing trend in caesarean section rates: global, regional and national estimates: 1990-2014. PLoS One. 2016;11(2):e0148343.

16.

Altman D, Falconer C, Rossner S, Melin I. The risk of anal incontinence in obese women. Int Urogynecol J. 2007;18(11):1283–9.

17.

Voldner N, Frøslie KF, Haakstad LAH, Bø K, Henriksen T. Birth complications, overweight, and physical inactivity. Acta Obstet Gynecol Scand. 2009;88(5):550–5.

18.

Lindholm ES, Altman D. Risk of obstetric anal sphincter lacerations among obese women. BJOG Int J Obstet Gynaecol. 2013;120(9):1110–5.

19.

Eogan M, Daly L, O'Herlihy C. The effect of regular antenatal perineal massage on postnatal pain and anal sphincter injury: a prospective observational study. J Matern Fetal Neonatal Med. 2006;19(4):225–9.

20.

Karaçam Z, Ekmen H, Çalişir H. The use of perineal massage in the second stage of labor and follow-up of postpartum perineal outcomes. Health care for women international. 2012;33(8):697–718.

21.

Dias LA, Driusso P, Aita DL, Quintana SM, Bø K, Ferreira CH. Effect of pelvic floor muscle training on labor and newborn outcomes: a randomized controlled trial. Brazilian Journal of Physical Therapy. 2011;15(6):487–93.

22.

Johanson R. Perineal massage for prevention of perineal trauma in childbirth. Lancet. 2000;355(9200):250–1.

23.

Geranmayeh M, Habibabadi ZR, Fallahkish B, Farahani MA, Khakbazan Z, Mehran A. Reducing perineal trauma through perineal massage with Vaseline in second stage of labor. Arch Gynecol Obstet. 2012;285(1):77–81.

24.

Bodner-Adler B, Bodner K, Mayerhofer K. Perineal massage during pregnancy in primiparous women. Int J Gynecol Obstet. 2002;78(1):51–3.

25.

WHO Reproductive Health Library. WHO recommendation on episiotomy policy (February 2018). The WHO Reproductive Health Library. World Health Organization, Geneva.

26.

Beckmann MM, Stock OM. Antenatal perineal massage for reducing perineal trauma. Cochrane Database Syst Rev. 2013;4:CD005123. https://doi.org/10.1002/14651858.CD005123.pub3. Review.

27.

Labrecque M, Eason E, Marcoux S. Randomized trial of perineal massage during pregnancy: perineal symptoms three months after delivery. Am J Obstet Gynecol. 2000;182(1):76–80.

28.

Mei-dan E, Walfisch A, Raz I, Levy A, Hallak M. Perineal massage during pregnancy: a prospective controlled trial. Isr Med Assoc J. 2008;10(7):499.
Ethics declarations
Conflicts of interest
None.
Additional information
Publisher's note
Springer Nature remains neutral with regard to jurisdictional claims in published maps and institutional affiliations.
About this article
Cite this article
Dieb, A.S., Shoab, A.Y., Nabil, H. et al. Perineal massage and training reduce perineal trauma in pregnant women older than 35 years: a randomized controlled trial. Int Urogynecol J 31, 613–619 (2020). https://doi.org/10.1007/s00192-019-03937-6
Received:

Accepted:

Published:

Issue Date:
Keywords
Pregnancy above 35

Episiotomy

Health education

Pelvic floor muscle training

Perineal massage

Perineal tear