Abstract
Introduction and hypothesis
Understanding the functioning of pelvic floor muscles (PFM) is crucial in female PFM rehabilitation. The aim of this study was to determine the intra-session retest reliability and validity to evaluate the quantity of PFM displacement.
Methods
This cross-sectional observational study examined the PFM displacement of 17 young healthy nulliparous women in the midsagittal plane. Three maximal voluntary contractions (MVCs) and five fast voluntary contractions (FVCs) were simultaneously examined with an electromagnetic tracking system (ETS) and transabdominal ultrasound (TAUS) and expressed in millimeters (mean, SD). To evaluate reliability and validity, the analysis of variance, intraclass coefficient (2,1), standard error of measurement (SEM), and minimal detectable difference (MDD) were calculated.
Results
Maximal voluntary contractions and FVCs in supine position measured by an ETS (TAUS) showed a displacement of MVC: 3.5 ± 1.9 mm (7.8 ± 4.5 mm), FVC: 3.5 ± 2.4 mm (7.6 ± 5.3 mm), and during standing of MVC: 5.2 ± 1.6 mm (9.4 ± 3.8 mm) and FVC: 4.8 ± 2.5 mm (9.7 ± 4.1 mm). Intraclass correlation for the ETS (TAUS) measurement varied between 0.79 and 0.89 (0.61 and 0.74), SEM 0.52 and 1.03 mm (1.54 and 3.2 mm), and MDD 1.54 and 3.2 mm (6.64 and 7.53 mm). The correlation between an ETS and TAUS varied between 0.53 and 0.67.
Conclusions
For MVC and FVC, ETS measurements are highly reliable and TAUS measurements are moderately reliable for both contraction types. The correlation between the TAUS and ETS measurements is moderate. An ETS seems to be a reliable and valid measurement tool for evaluating PFM displacement during voluntary contractions. In future studies, the reproducibility and validity of ETS measurements need to be investigated in impact activities.
This is a preview of subscription content, log in to check access.
Access options
Buy single article
Instant access to the full article PDF.
US$ 39.95
Price includes VAT for USA
Subscribe to journal
Immediate online access to all issues from 2019. Subscription will auto renew annually.
US$ 199
This is the net price. Taxes to be calculated in checkout.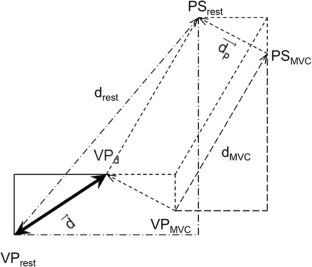 Abbreviations
PFM:

Pelvic floor muscles

MVC:

Maximal voluntary contraction

FVC:

Fast voluntary contraction

ETS:

Electromagnetic tracking system

TAUS:

Transabdominal ultrasound

MRI:

Magnetic resonance imaging

EMG:

Electromyography
References
1.

Thompson JA, O'Sullivan PB, Briffa NK, Neumann P. Comparison of transperineal and transabdominal ultrasound in the assessment of voluntary pelvic floor muscle contractions and functional manoeuvres in continent and incontinent women. Int Urogynecol J Pelvic Floor Dysfunct. 2007;18(7):779–86.

2.

Constantinou CE. Dynamics of female pelvic floor function using urodynamics, ultrasound and Magnetic Resonance Imaging (MRI). Eur J Obstet Gynecol Reprod Biol. 2009;144(Suppl 1):S159–65.

3.

Lovegrove Jones RC, Peng Q, Stokes M, Humphrey VF, Payne C, Constantinou CE. Mechanisms of pelvic floor muscle function and the effect on the urethra during a cough. Eur Urol. 2010;57(6):1101–10.

4.

Dumoulin C, Glazener C, Jenkinson D. Determining the optimal pelvic floor muscle training regimen for women with stress urinary incontinence. Neurourol Urodyn. 2011;30(5):746–53.

5.

Bo K, Sherburn M. Evaluation of female pelvic-floor muscle function and strength. Phys Ther. 2005;85(3):269–82.

6.

Frawley HC, Galea MP, Phillips BA, Sherburn M, Bo K. Effect of test position on pelvic floor muscle assessment. Int Urogynecol J Pelvic Floor Dysfunct. 2006;17(4):365–71.

7.

Talasz H, Himmer-Perschak G, Marth E, Fischer-Colbrie J, Hoefner E, Lechleitner M. Evaluation of pelvic floor muscle function in a random group of adult women in Austria. Int Urogynecol J Pelvic Floor Dysfunct. 2008;19(1):131–5.

8.

Messelink B, Benson T, Berghmans B, Bo K, Corcos J, Fowler C, et al. Standardization of terminology of pelvic floor muscle function and dysfunction: report from the pelvic floor clinical assessment group of the International Continence Society. Neurourol Urodyn. 2005;24(4):374–80.

9.

Crotty K, Bartram CI, Pitkin J, Cairns MC, Taylor PC, Dorey G, et al. Investigation of optimal cues to instruction for pelvic floor muscle contraction: a pilot study using 2D ultrasound imaging in pre-menopausal, nulliparous, continent women. Neurourol Urodyn. 2011;30(8):1620–6.

10.

Sherburn M, Murphy CA, Carroll S, Allen TJ, Galea MP. Investigation of transabdominal real-time ultrasound to visualise the muscles of the pelvic floor. Aust J Physiother. 2005;51(3):167–70.

11.

Arab AM, Behbahani RB, Lorestani L, Azari A. Correlation of digital palpation and transabdominal ultrasound for assessment of pelvic floor muscle contraction. J Man Manip Ther. 2009;17(3):e75–9.

12.

Thompson JA, O'Sullivan PB, Briffa K, Neumann P, Court S. Assessment of pelvic floor movement using transabdominal and transperineal ultrasound. Int Urogynecol J Pelvic Floor Dysfunct. 2005;16(4):285–92.

13.

Haylen BT, de Ridder D, Freeman RM, Swift SE, Berghmans B, Lee J, et al. An International Urogynecological Association (IUGA)/International Continence Society (ICS) joint report on the terminology for female pelvic floor dysfunction. Neurourol Urodyn. 2010;29(1):4–20.

14.

Leitner M, Moser H, Taeymans J, Kuhn A, Radlinger L. Pelvic floor muscle displacement during voluntary and involuntary activation in continent and incontinent women: a systematic review. Int Urogynecol J. 2015;26(11):1587–98.

15.

Unger CA, Weinstein MM, Pretorius DH. Pelvic floor imaging. Obstet Gynecol Clin N Am. 2011;38(1):23–43 vii.

16.

Chehrehrazi M, Arab AM, Karimi N, Zargham M. Assessment of pelvic floor muscle contraction in stress urinary incontinent women: comparison between transabdominal ultrasound and perineometry. Int Urogynecol J Pelvic Floor Dysfunct. 2009;20(12):1491–6.

17.

Leitner M, Moser H, Eichelberger P, Kuhn A, Baeyens JP, Radlinger L. Evaluation of pelvic floor kinematics in continent and incontinent women during running: an exploratory study. Neurourol Urodyn. 2018;37(2):609–18.

18.

Laycock J, Jerwood D. Pelvic floor muscle assessment: the PERFECT scheme. Physiotherapy. 2001;87:631–42.

19.

Franco AV, Lee F, Fynes MM. Is there an alternative to pad tests? Correlation of subjective variables of severity of urinary loss to the 1-h pad test in women with stress urinary incontinence. BJU Int. 2008;102(5):586–90.

20.

Weir JP. Quantifying test-retest reliability using the intraclass correlation coefficient and the SEM. J Strength Cond Res. 2005;19(1):231–40.

21.

Portney LG, Watkins MP. Foundations of clinical research: applications to practice. 3rd ed. Upper Saddle River: Pearson/Prentice Hall; 2009.

22.

Kelly M, Tan BK, Thompson J, Carroll S, Follington M, Arndt A. Healthy adults can more easily elevate the pelvic floor in standing than in crook-lying: an experimental study. Aust J Physiother. 2007;53(3):187–91.

23.

Junginger B, Vollhaber H, Baessler K. Submaximal pelvic floor muscle contractions: similar bladder-neck elevation, longer duration, less intra-abdominal pressure. Int Urogynecol J. 2018;29(11):1681–7.
Acknowledgements
The authors thank Dr Martin Mueller and Dr Katja Duffe, Women's Hospital, Urogynaecology, University Hospital and University of Bern, Switzerland, for the execution of the ultrasound measurements, Jean-Daniel Pourroy, private office of physical education and physiotherapy, Bern, Switzerland for assistance during the measurements, Michala Cadova, engineer, Centre of Dental Medicine, University of Zürich, Switzerland for setting up the custom-made MATLAB program, and Parsenn-Produkte AG (Küblis, Switzerland) for providing the vaginal surface EMG probes.
Ethics declarations
Conflicts of interest
None.
Additional information
Publisher's note
Springer Nature remains neutral with regard to jurisdictional claims in published maps and institutional affiliations.
About this article
Cite this article
Moser, H., Luginbuehl, H., Baeyens, J. et al. Reliability and validity of pelvic floor muscle displacement measurements during voluntary contractions. Int Urogynecol J 30, 2093–2100 (2019). https://doi.org/10.1007/s00192-019-03932-x
Received:

Accepted:

Published:

Issue Date:
Keywords
Ultrasound

Reproducibility of results

Movement

Gynecology

Rehabilitation