Abstract
Introduction and hypothesis
We aimed to identify the prevalence of urinary incontinence (UI) during the postpartum period (12–24 months) in two cities with different socioeconomic indicators in Brazil (Ribeirão Preto, SP, and São Luís, MA) and to determine associated risk factors.
Methods
A cross-sectional study nested in the Brazilian Ribeirão Preto and São Luís Birth Cohort Studies (BRISA) cohort was conducted in two Brazilian municipalities (Ribeirão Preto, and São Luís). A total of 13,214 women delivered in both cities (2010–2011). We interviewed 3,751 postpartum women in Ribeirão Preto and 3275 in São Luís (2011–2013). Univariate and multivariate analyses were performed to assess factors associated with postpartum UI for each municipality.
Results
The prevalence of self-reported UI at 12–24 months postpartum was 16.3% (611 out of 3,751) in Ribeirão Preto and 11.4% (375 out of 3,275) in São Luís (p < 0.001). The univariate analysis performed at Ribeirão Preto showed that women who were obese, who had diabetes or gestational diabetes and who presented with excessive weight gain during gestation presented an association with postpartum UI. However, only weight gain during pregnancy remained strongly associated with UI on multivariate analysis (p = 0.009; OR 1.041 [1.010–1.073]). On the other hand, in São Luís, no risk factors were associated with postpartum UI at univariate and multivariate analysis.
Conclusions
The prevalence of UI was higher in Ribeirão Preto (higher socioeconomic level) than in São Luís. Weight gain during pregnancy was statistically associated with UI in Ribeirão Preto. No independent variables remained associated in the final model with UI in São Luís.
This is a preview of subscription content,
to check access.
Access this article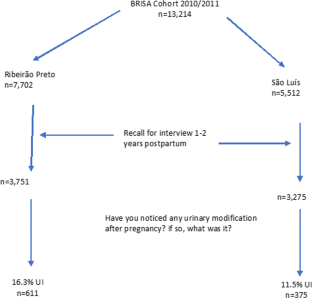 References
Haylen BT, de Ridder D, Freeman RM, Swift SE, Berghmans B, Lee J, et al. An International Urogynecological Association (IUGA)/International Continence Society (ICS) joint report on the terminology for female pelvic floor dysfunction. Neurourol Urodyn. 2010;29(1):4–20.

Norton P, Brubaker L. Urinary incontinence in women. Lancet. 2006;367(9504):57–67.

Turner DA, Shaw C, McGrother CW, Dallosso HM, Cooper NJ. The cost of clinically significant urinary storage symptoms for community-dwelling adults in the UK. BJU Int. 2004;93:1246–52.

Sangsawang B, Sangsawang N. Stress urinary incontinence in pregnant women: a review of prevalence, pathophysiology, and treatment. Int Urogynecol J. 2013;24(6):901–12.

Schimpf MO. Postpartum urinary incontinence: asking the right questions. BJOG. 2016;123(7):1229.

Fritel X, Tsegan YE, Pierre F, Saurel-Cubizolles MJ. Association of postpartum depressive symptoms and urinary incontinence. A cohort study. Eur J Obstet Gynecol Reprod Biol. 2016;198:62–7.

Fritel X, Ringa V, Quiboeuf E, Fauconnier A. Female urinary incontinence, from pregnancy to menopause: a review of epidemiological and pathophysiological findings. Acta Obstet Gynecol Scand. 2012;91(8):901–10.

Espuna-Pons M, Solans-Domenech M, Sanchez E. Double incontinence in a cohort of nulliparous pregnant women. Neurourol Urodyn. 2012;31(8):1236–41.

Da Silva AA, Simões VM, Barbieri MA, Cardoso VC, Alves CM, Thomaz EB, et al. A protocol to identify non-classical risk factors for preterm births: the Brazilian Ribeirão Preto and São Luís prenatal cohort (BRISA). Reprod Health. 2014;11(1):79.

Waetjen LE, Xing G, Johnson WO, Melnikow J, Gold EB. Factors associated with seeking treatment for urinary incontinence during the menopausal transition. Obstet Gynecol. 2015;125(5):1071–9.

Barbosa AM, Marini G, Piculo F, Rudge CV, Calderon IM, Rudge MV. Prevalence of urinary incontinence and pelvic floor muscle dysfunction in primiparae two years after cesarean section: cross-sectional study. Sao Paulo Med J. 2013;131(2):95–9.

Buckley BS, Lapitan MC. Prevalence of urinary incontinence in men, women, and children—current evidence: findings of the fourth international consultation on incontinence. Urology. 2010;76(2):265–70.

Thom DH, Rortveit G. Prevalence of postpartum urinary incontinence: a systematic review. Acta Obstet Gynecol Scand. 2010;89(12):1511–22.

Quiboeuf E, Saurel-Cubizolles MJ, Fritel X. Trends in urinary incontinence in women between 4 and 24 months postpartum in the EDEN cohort. BJOG. 2016;123(7):1222–8.

MacArthur C, Wilson D, Herbison P, Lancashire RJ, Hagen S, Toozs-Hobson P, et al. Urinary incontinence persisting after childbirth: extent, delivery history, and effects in a 12-year longitudinal cohort study. BJOG. 2016;123(6):1022–9.

Ruiz de Vinaspre Hernandez R, Rubio Aranda E, Tomas Aznar C. Urinary incontinence and weight changes during pregnancy and postpartum: a pending challenge. Midwifery. 2013;29(12):e123–9.

Wesnes SL, Hunskaar S, Bo K, Rortveit G. Urinary incontinence and weight change during pregnancy and postpartum: a cohort study. Am J Epidemiol. 2010;172(9):1034–44.

Pitkin RM. Nutritional support in obstetrics and gynecology. Clin Obstet Gynecol. 1976;19(3):489–513.

Berggren EK, Groh-Wargo S, Presley L, Hauguel-de Mouzon S, Catalano PM. Maternal fat, but not lean, mass is increased among overweight/obese women with excess gestational weight gain. Am J Obstet Gynecol. 2016;214(6):745.e1–5.

Subak LL, Wing R, West DS, Franklin F, Vittinghoff E, Creasman JM, et al. Weight loss to treat urinary incontinence in overweight and obese women. N Engl J Med. 2009;360(5):481–90.

Ebbesen MH, Hunskaar S, Rortveit G, Hannestad YS. Prevalence, incidence and remission of urinary incontinence in women: longitudinal data from the Norwegian HUNT study (EPINCONT). BMC Urol. 2013;13:27.

Chuang CM, Lin IF, Horng HC, Hsiao YH, Shyu IL, Chou P. The impact of gestational diabetes mellitus on postpartum urinary incontinence: a longitudinal cohort study on singleton pregnancies. BJOG. 2012;119(11):1334–43.

Kim C, McEwen LN, Sarma AV, Piette JD, Herman WH. Stress urinary incontinence in women with a history of gestational diabetes mellitus. J Women's Health. 2008;17(5):783–92.

Tahtinen RM, Auvinen A, Cartwright R, Johnson TM 2nd, Tammela TL, Tikkinen KA. Smoking and bladder symptoms in women. Obstet Gynecol. 2011;118(3):643–8.

Tong VT, Farr SL, Bombard J, D'Angelo D, Ko JY, England LJ. Smoking before and during pregnancy among women reporting depression or anxiety. Obstet Gynecol. 2016;128(3):562–70.

Tahtinen RM, Cartwright R, Tsui JF, Aaltonen RL, Aoki Y, Cardenas JL, et al. Long-term impact of mode of delivery on stress urinary incontinence and urgency urinary incontinence: a systematic review and meta-analysis. Eur Urol. 2016;70(1):148–58.

Casey BM, Schaffer JI, Bloom SL, Heartwell SF, McIntire DD, Leveno KJ. Obstetric antecedents for postpartum pelvic floor dysfunction. Am J Obstet Gynecol. 2005;192(5):1655–62.

Bo K, Hilde G, Tennfjord MK, Engh ME. Does episiotomy influence vaginal resting pressure, pelvic floor muscle strength and endurance, and prevalence of urinary incontinence 6 weeks postpartum? Neurourol Urodyn. 2017;36(3):683–6.

Oliveira LS, Brito LG, Quintana SM, Duarte G, Marcolin AC. Perineal trauma after vaginal delivery in healthy pregnant women. Sao Paulo Med J. 2014;132(4):231–8.

Jeffs E, Haszard JJ, Sharp B, Gullam J, Paterson H. Pregnant women lack accurate knowledge of their BMI and recommended gestational weight gain. N Z Med J. 2016;129(1439):37–45.
Acknowledgments
The authors thank to all interviewers from the BRISA cohort study for their assistance in recruiting the participants.
Funding
National Council for Scientific and Technological Development (CNPq), São Paulo State Research Foundation (FAPESP) process no. 08/53593-0 and Maranhão Research Foundation (FAPEMA).
Ethics declarations
Conflicts of interest
None.
Additional information
Publisher's note
Springer Nature remains neutral with regard to jurisdictional claims in published maps and institutional affiliations.
Electronic supplementary material
About this article
Cite this article
Magnani, P.S., Bettiol, H., da Silva, A.A.M. et al. Urinary incontinence between 12 and 24 months postpartum: a cross-sectional study nested in a Brazilian cohort from two cities with different socioeconomic characteristics. Int Urogynecol J 30, 1003–1011 (2019). https://doi.org/10.1007/s00192-019-03907-y
Received:

Accepted:

Published:

Issue Date:

DOI: https://doi.org/10.1007/s00192-019-03907-y
Keywords