Abstract
Introduction and hypothesis
There are no data on midwives' knowledge and management of obstetric anal sphincter injuries (OASIs) in the USA. We performed a cross-sectional national survey characterizing OASI practice by certified nurse midwives (CNMs), hypothesizing that few midwives personally repair OASIs and that there are gaps in CNM OASI training/education.
Methods
We emailed a REDCap internet-based survey to 6909 American College of Nurse Midwives members (ACNM). We analyzed responses from active clinicians performing at least one delivery per month, asking about OASI risks, prevention, repair, and management. We summarized descriptive data then evaluated OASI knowledge by patient and provider characteristics.
Results
We received 1070 (15.5%) completed surveys, and 832 (77.8%) met the inclusion/exclusion criteria. Participants were similar to ACNM membership. Respondents most frequently identified prior OASI (87%) and nutrition (71%) as antepartum OASI risk factors and, less frequently, nulliparity (36%) and race (22%). Identified intrapartum risks included forceps delivery (94%) and midline episiotomy (88%). When obstetric laceration is suspected, 13.6% of respondents perform a rectal examination routinely. Only 15% of participants personally perform OASI repair. Overall, participants matched 64% of evidence-based answers. OASI education/training courses were attended by 30% of respondents, and 44% knew of OASI protocols within their group/institution. Of all factors evaluated, the percent of evidence-based responses was only different for respondent education/CME and protocols.
Conclusions
Quality initiatives regarding OASI prevention and management may improve care. Our data suggest OASI training for midwives may improve delivery care in the US. Further studies of other obstetric providers are needed.
This is a preview of subscription content, log in to check access.
Access options
Buy single article
Instant access to the full article PDF.
US$ 39.95
Price includes VAT for USA
Subscribe to journal
Immediate online access to all issues from 2019. Subscription will auto renew annually.
US$ 199
This is the net price. Taxes to be calculated in checkout.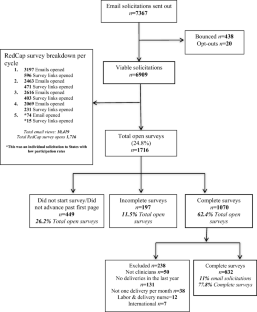 References
1.

Friedman AM, Ananth CV, Prendergast E, D'Alton ME, Wright JD. Evaluation of third-degree and fourth-degree laceration rates as quality indicators. Obstet Gynecol. 2015;125(4):927–37. https://doi.org/10.1097/AOG.0000000000000720.

2.

Lewicky-Gaupp C, Leader-Cramer A, Johnson LL, Kenton K, Gossett DR. Wound complications after obstetric anal sphincter injuries. Obstet Gynecol. 2015;125(5):1088–93.

3.

Marsh F, Lynne R, Christine L, Alison W. Obstetric anal sphincter injury in the UK and its effect on bowel, bladder and sexual function. Eur J Obstet Gynecol Reprod Biol. 2011;154(2):223–7. https://doi.org/10.1016/j.ejogrb.2010.09.006.

4.

Fitzpatrick M, Fynes M, Cassidy M, Behan M, O'Connell PR, O'Herlihy C. Prospective study of the influence of parity and operative technique on the outcome of primary anal sphincter repair following obstetrical injury. Eur J Obstet Gynecol Reprod Biol. 2000;89(2):159–63.

5.

Williams A, Lavender T, Richmond DH, Tincello DG. Women's experiences after a third-degree obstetric anal sphincter tear: a qualitative study. Birth. 2005;32(2):129–36. https://doi.org/10.1111/j.0730-7659.2005.00356.x.

6.

Mellgren A, Jensen LL, Zetterstrom JP, Wong WD, Hofmeister JH, Lowry AC. Long-term cost of fecal incontinence secondary to obstetric injuries. Dis Colon Rectum. 1999;42(7):857–65.

7.

Hamilton BE MJ, Osterman MJK, Curtin, SC, Mathews TJ (2015) Births: Final Data for 2014. National Center for Health Statistics. http://www.midwife.org/CNM/CM-attended-Birth-Statistics. Accessed Sept 4 2018.

8.

Bick DE, Ismail KM, Macdonald S, Thomas P, Tohill S, Kettle C. How good are we at implementing evidence to support the management of birth related perineal trauma? A UK wide survey of midwifery practice. BMC Pregnancy and Childbirth. 2012;12:57. https://doi.org/10.1186/1471-2393-12-57.

9.

Mutema EK. A tale of two cities: auditing midwifery practice and perineal trauma. Br J of Midwifery. 2007;15:511–3.

10.

Agency for Healthcare Research and Quality. Guide to Patient Safety Indicators. (2003) US Department of Health and Human Services http://www.qualityindicators.ahrq.gov/downloads/modules/psi/v31/psi_guide_v31.pdf. Accessed September 15 2018.

11.

Agency for Healthcare Research and Quality. (2014) US Department of Health and Human Services https://nhqrnet.ahrq.gov/inhqrdr/data/submit. Accessed June 6 2018.

12.

Colorado Hospital Quality Report by Measure (2016). http://www.cohospitalquality.org:8080/corda/dashboards/COLORADO_REPORT_CARD_BY_MEASURE/main.dashxml-cordaDash=1060. Accessed May 20 2018.

13.

Harris PA, RT RT, Payne J, Gonzalez N, Conde JG. Research electronic data capture (REDCap) - a metadata-driven methodology and workflow process for providing translational research informatics support. J Biomed Inform. 2009;42(2):377–81.

14.

Practice Bulletin No. 165: Prevention and Management of Obstetric Lacerations at Vaginal Delivery. Obstet Gynecol. 2016;128(1):e1–e15.

15.

Nair R, Aggarwal R, Khanna D. Methods of formal consensus in classification/diagnostic criteria and guideline development. Semin Arthritis Rheum. 2011;41(2):95–105. https://doi.org/10.1016/j.semarthrit.2010.12.001.

16.

Practice Bulletin No. 198: Prevention and Management of Obstetric Lacerations at Vaginal Delivery. Obstet Gynecol. 2018;132(3):e87–e102. https://doi.org/10.1097/AOG.0000000000002841.

17.

ACNM Essential Facts About Midwives. American College of Nurse-Midwives http://www.midwife.org/Essential-Facts-about-Midwives. Accessed June 1 2018.

18.

IIBM Corp. Released. BM SPSS statistics for windows, version 24.0. Armonk, NY: IBM Corp; 2016.

19.

Davies-Tuck M, Biro MA, Mockler J, Stewart L, Wallace EM, East C. Maternal Asian ethnicity and the risk of anal sphincter injury. Acta Obstet Gynecol Scand. 2015;94(3):308–15. https://doi.org/10.1111/aogs.12557.

20.

Ramage L, Yen C, Qiu S, Simillis C, Kontovounisios C, Tan E, et al. Does a missed obstetric anal sphincter injury at time of delivery affect short-term functional outcome? Ann R Coll Surg Engl. 2018;100(1):26–32. https://doi.org/10.1308/rcsann.2017.0140.

21.

Andrews V, Sultan AH, Thakar R, Jones PW. Occult anal sphincter injuries—myth or reality? BJOB. 2006;113(2):195–200. https://doi.org/10.1111/j.1471-0528.2006.00799.x.

22.

Fernando RJ, Sultan AH, Kettle C, Thakar R. Methods of repair for obstetric anal sphincter injury. Cochrane Database Syst Rev. 2013;12:CD002866. https://doi.org/10.1002/14651858.CD002866.pub3.

23.

Core Competencies for Basic Midwifery Practice (2012) American College of Nurse-Midwives http://www.midwife.org/ACNM/files/ACNMLibraryData/UPLOADFILENAME/000000000050/Core Comptencies Dec 2012.pdf. Accessed Oct 29 2018.

24.

Agency for Healthcare Research and Quality. PSI 18 and 19: Obstetric Trauma Rate – Vaginal Delivery With and Without Instrument. http://www.ahrq.gov/sites/default/files/wysiwyg/professionals/systems/hospital/qitoolkit/d4k-laceration-bestpractices.pdf. Accessed March 30 2016.

25.

Basu M, Smith D. Long-term outcomes of the stop traumatic OASI morbidity project (STOMP). Int J Gynaecol Obstet. 2018. https://doi.org/10.1002/ijgo.12565.

26.

Walker C, Rodriguez T, Herranz A, Espinosa JA, Sanchez E, Espuna-Pons M. Alternative model of birth to reduce the risk of assisted vaginal delivery and perineal trauma. Int Urogynecol J. 2012;23(9):1249–56. https://doi.org/10.1007/s00192-012-1675-5.

27.

Mascarello KC (2017) Maternal complications and cesarean section without indication: systematic review and meta-analysis. 51. https://doi.org/10.11606/s1518-8787.2017051000389.

28.

Keag OE, Norman JE, Stock SJ. Long-term risks and benefits associated with cesarean delivery for mother, baby, and subsequent pregnancies: systematic review and meta-analysis. PLoS Med. 2018;15(1):e1002494. https://doi.org/10.1371/journal.pmed.1002494.

29.

Eysenbach G. Improving the quality of web surveys: the checklist for reporting results of internet E-surveys (CHERRIES). J Med Internet Res. 2004;6(3):e34. https://doi.org/10.2196/jmir.6.3.e34.

30.

Burton SJ, Sudweeks RR, Merrill PF, Wood B (1991) How to Prepare Better Multiple-Choice Test Items: Guidelines for University Faculty. Brigham Young University Testing Services.

31.

Pit SW, Vo T, Pyakurel S. The effectiveness of recruitment strategies on general practitioner's survey response rates - a systematic review. BMC Med Res Methodol. 2014;14:76. https://doi.org/10.1186/1471-2288-14-76.
Acknowledgements
We acknowledge Andre Owens for his assistance implementing the invitations and Nicole Carlson, CNM, PhD, for her input on project design and the consensus process. We especially thank all the participants from ACNM without whom we could not have done this work.
Funding
This work was supported by the Rocky Vista University College of Osteopathic Medicine Intramural Research Grant (SD), the Department of Obstetrics and Gynecology (KJH), the Society of Family Planning Junior Investigator Career Grant SFPRF10-JI1 (MG), and the NIH/NCRR Colorado CTSI grant no. UL1 RR025780 (RedCap resource). Its contents are the authors' sole responsibility and do not necessarily represent official UC Denver, Rocky Vista University, or NIH views.
Ethics declarations
Financial disclaimer/conflict of interest
None.
Additional information
Publisher's note
Springer Nature remains neutral with regard to jurisdictional claims in published maps and institutional affiliations.
Conference Presentations
ACOG Annual Meeting. San Diego, CA, May 2017
Appendix
Appendix
About this article
Cite this article
Diko, S., Guiahi, M., Nacht, A. et al. Prevention and Management of Severe Obstetric Anal Sphincter Injuries (OASIs): a National Survey of Nurse- Midwives. Int Urogynecol J 31, 591–604 (2020). https://doi.org/10.1007/s00192-019-03897-x
Received:

Accepted:

Published:

Issue Date:
Keywords
Cross-sectional

Education

Midwifery

OASIs

Perineal trauma

Quality improvement