Abstract
Introduction and hypothesis
Urethral diverticulum in pregnancy is a rare finding and difficult to diagnose. The classical triad of dysuria, dyspareunia and dribbling of urine is found in a minority of women.
Methods
A young woman presented during the first trimester of pregnancy with vaginal and suprapubic pain as well as voiding difficulty. Ultrasound demonstrated a 2-cm hypoechoic lesion to the left of the urethra. She went on to have a cystoscopy that demonstrated a diverticulum. She was found to have chlamydia on PCR.
Results
Her pregnancy was complicated by recurrent admissions for pain and also an episode of reactive arthritis. She underwent an uncomplicated surgical excision postpartum.
Conclusions
Urethral diverticula should be excluded whenever a patient exhibits unresolved, nonspecific urinary problems. This is an underdiagnosed problem. Pregnancy presents additional challenges, but does not preclude medical or surgical treatment in the patient with significant symptoms.
This is a preview of subscription content, log in to check access.
Access options
Buy single article
Instant access to the full article PDF.
US$ 39.95
Price includes VAT for USA
Subscribe to journal
Immediate online access to all issues from 2019. Subscription will auto renew annually.
US$ 199
This is the net price. Taxes to be calculated in checkout.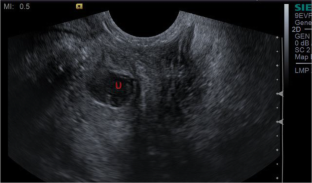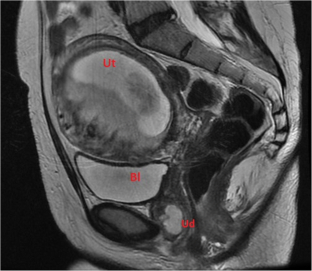 References
1.

Foley CL, Greenwell TJ, Gardiner RA. Urethral diverticula in females. BJU Int. 2011;108(suppl 2):20–3.

2.

Sherif A, Bacon M, Kim-Fine S, Weaver A, Gebhart JB, Klingele C. Incidence of urethral diverticulum: a population based analysis and literature review. Int Urogynecol J. 2014;25(1):73–9.

3.

Moran PA, Carey MP, Dwyer PL. Urethral diverticula in pregnancy. Aus New Zeal J Obstet Gynaecol. 1998;38(1):102–6.

4.

Iyer S, Minassian VA. Resection of urethral diverticulum in pregnancy. Obstet Gynecol. 2013;122(2 Pt 2):467–9.

5.

Dwarkasing RS, Dinkelaar W, Hop WC, Steensma AB, Dohle GR, Krestin GP, et al. MRI evaluation of urethral diverticula and differential diagnosis in symptomatic women. AJR Am J Roentgenol. 2011;197(3):676–82.

6.

Antosh DD, Gutman RE. Diagnosis and management of female urethral diverticulum. Female Pelvic Med Reconstr Surg. 2011;17:264.
Ethics declarations
Conflicts of interest
None.
Additional information
Publisher's note
Springer Nature remains neutral with regard to jurisdictional claims in published maps and institutional affiliations.
About this article
Cite this article
Carswell, F.M. Urethral diverticulum in pregnancy: a case report. Int Urogynecol J 30, 2149–2151 (2019). https://doi.org/10.1007/s00192-019-03890-4
Received:

Accepted:

Published:

Issue Date:
Keywords
Urethral diverticulum

Pregnancy

Reactive arthritis

MRI

Diverticulectomy