Abstract
Introduction and hypothesis
We assessed variations in sacral anatomy and lead placement as predictors of sacral neuromodulation (SNM) success. Based solely on bony landmarks, we also assessed the accuracy of the 9 and 2 protocol for locating S3.
Methods
This is a retrospective cohort study performed from October 2008 to December 2016 at the University of North Carolina at Chapel Hill. Fluoroscopic images were used to assess sacral anatomy and lead location. Success was defined as >50% symptom improvement after stage I and clinical response at most recent follow-up.
Results
Of 249 procedures, 209 were primary implants and 40 were revisions among 187 (89.5%) women and 22 (10.5%) men. Success rate was 83.3% for primary implants and 89.4% for revisions. Success was associated with shorter implant duration (21.3 ± 22.2 vs 33.6 ± 25.8 months), higher body mass index (30.3 ± 7.8 vs 27.6 ± 6.1 kg/m2), and straight vs curved lead (90.5% vs 80.5%) (all p = .05), but not with sacral anatomy or lead placement. In assessing the 9 and 2 protocol, mean distance from coccyx to S3 did not equal 9 cm: 7.4 ± 1.0 vs 7.2 ± 0.8 cm (p = .26), while mean distance from midline to S3 did equal 2 cm: 1.9 ± 0.4 vs 2.0 ± 0.7 cm (p = .37).
Conclusions
Variations in sacral anatomy and lead placement did not predict SNM success. The 2-cm protocol was verified while the 9-cm protocol was not, although neither was predictive of success, which may obviate the need to mark bony landmarks prior to fluoroscopy.
This is a preview of subscription content, log in to check access.
Access options
Buy single article
Instant access to the full article PDF.
US$ 39.95
Price includes VAT for USA
Subscribe to journal
Immediate online access to all issues from 2019. Subscription will auto renew annually.
US$ 199
This is the net price. Taxes to be calculated in checkout.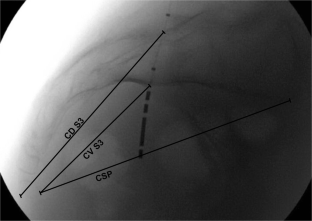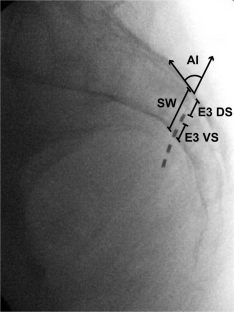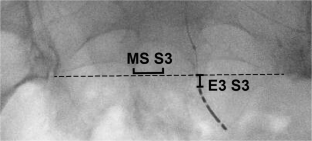 References
1.

Chai TC, Mamo GJ. Modified techniques of S3 foramen localization and lead implantation in S3 neuromodulation. Urology. 2001;58(5):786–90.

2.

Buchs NC, Dembe JC, Robert-Yap J, Roche B, Fasel J. Optimizing electrode implantation in sacral nerve stimulation--an anatomical cadaver study controlled by a laparoscopic camera. Int J Color Dis. 2008;23(1):85–91.

3.

Deveneau NE, Greenstein M, Mahalingashetty A, Herring NR, Lipetskaia L, Azadi A, et al. Surface and boney landmarks for sacral neuromodulation: a cadaveric study. Int Urogynecol J. 2015;26(2):263–8.

4.

Matzel KE, Chartier-Kastler E, Knowles CH, Lehur PA, Munoz-Duyos A, Ratto C, et al. Sacral neuromodulation: standardized electrode placement technique. Neuromodulation. 2017;20(8):816–24.

5.

O'Haire C, Gibbons P. Inter-examiner and intra-examiner agreement for assessing sacroiliac anatomical landmarks using palpation and observation: pilot study. Man Ther. 2000;5(1):13–20.

6.

Williams ER, Siegel SW. Procedural techniques in sacral nerve modulation. Int Urogynecol J. 2010;21(Suppl 2):S453–60.

7.

Sutherland SE, Lavers A, Carlson A, Holtz C, Kesha J, Siegel SW. Sacral nerve stimulation for voiding dysfunction: one institution's 11-year experience. Neurourol Urodyn. 2007;26(1):19–28 discussion 36.

8.

Saint Clair N, Boyles SH, Clark A, Edwards SR, Denman MA, Gregory WT. The presacral space and its impact on sacral neuromodulator implantation. J Urol. 2008;180(3):988–91.

9.

McCullough MC, Decker S, Ford J, Downes K, Hilbelink D, Ordorica R, et al. Third sacral foramina morphometry for sacral neuromodulation. Female Pelvic Med Reconstr Surg. 2013;19(1):23–30.

10.

Chung CP, Neese PA, Le HK, Bird ET. Computed tomography-guided S3 lead placement for sacral neuromodulation. Int Urogynecol J. 2013;24(2):349–51.

11.

Hasan ST, Shanahan DA, Pridie AK, Neal DE. Surface localization of sacral foramina for neuromodulation of bladder function. An anatomical study. Eur Urol. 1996;29(1):90–8.

12.

Povo A, Arantes M, Matzel KE, Barbosa J, Ferreira MA, Pais D, et al. Surface anatomical landmarks for the location of posterior sacral foramina in sacral nerve stimulation. Tech Coloproctol. 2016;20(12):859–64.

13.

Jairam R, Marcelissen T, van Koeveringe G, van Kerrebroeck P. Optimal Lead positioning in sacral neuromodulation: which factors are related to treatment outcome? Neuromodulation. 2017;20(8):830–5.

14.

Jacobs SA, Lane FL, Osann KE, Noblett KL. Randomized prospective crossover study of interstim lead wire placement with curved versus straight stylet. Neurourol Urodyn. 2014;33(5):488–92.

15.

Richter HE, Amundsen CL, Erickson SW, Jelovsek JE, Komesu Y, Chermansky C, et al. Characteristics associated with treatment response and satisfaction in women undergoing OnabotulinumtoxinA and sacral neuromodulation for refractory urgency urinary incontinence. J Urol. 2017;198(4):890–6.

16.

Levin PJ, Wu JM, Siddiqui NY, Amundsen CL. Does obesity impact the success of an InterStim test phase for the treatment of refractory urge urinary incontinence in female patients? Female Pelvic Med Reconstr Surg. 2012;18(4):243–6.

17.

Dudding TC, Pares D, Vaizey CJ, Kamm MA. Predictive factors for successful sacral nerve stimulation in the treatment of faecal incontinence: a 10-year cohort analysis. Color Dis. 2008;10(3):249–56.

18.

Faris AER, Gill BC, Pizarro-Berdichevsky J, Dielubanza E, Clifton MM, Okafor H, et al. Impact of age and comorbidities on use of sacral neuromodulation. J Urol. 2017;198(1):161–6.

19.

Cameron AP, Anger JT, Madison R, Saigal CS, Clemens JQ, Urologic diseases in America P. National trends in the usage and success of sacral nerve test stimulation. J Urol. 2011;185(3):970–5.

20.

Anger JT, Cameron AP, Madison R, Saigal C, Clemens JQ, Urologic diseases in America P. Outcomes of sacral neuromodulation in a privately insured population. Neuromodulation. 2016;19(7):780–4.

21.

Amundsen CL, Romero AA, Jamison MG, Webster GD. Sacral neuromodulation for intractable urge incontinence: are there factors associated with cure? Urology. 2005;66(4):746–50.

22.

Komesu YM, Amundsen CL, Richter HE, Erickson SW, Ackenbom MF, Andy UU, et al. Refractory urgency urinary incontinence treatment in women: impact of age on outcomes and complications. Am J Obstet Gynecol. 2018;218(1):111.e1–9.

23.

Amundsen CL, Komesu YM, Chermansky C, Gregory WT, Myers DL, Honeycutt EF, et al. Two-year outcomes of sacral neuromodulation versus OnabotulinumtoxinA for refractory urgency urinary incontinence: a randomized trial. Eur Urol. 2018.

24.

Hull T, Giese C, Wexner SD, Mellgren A, Devroede G, Madoff RD, et al. Long-term durability of sacral nerve stimulation therapy for chronic fecal incontinence. Dis Colon Rectum. 2013;56(2):234–45.

25.

Altomare DF, Giuratrabocchetta S, Knowles CH, Munoz Duyos A, Robert-Yap J, Matzel KE, et al. Long-term outcomes of sacral nerve stimulation for faecal incontinence. Br J Surg. 2015;102(4):407–15.
Ethics declarations
Conflicts of interest
None.
Additional information
Publisher's note
Springer Nature remains neutral with regard to jurisdictional claims in published maps and institutional affiliations.
About this article
Cite this article
Husk, K.E., Norris, L.D., Willis-Gray, M.G. et al. Variation in bony landmarks and predictors of success with sacral neuromodulation. Int Urogynecol J 30, 1973–1979 (2019). https://doi.org/10.1007/s00192-019-03883-3
Received:

Accepted:

Published:

Issue Date:
Keywords
Bony landmarks

Fluoroscopy

Lead wire

Sacral S3 foramen

Sacral anatomy

Sacral neuromodulation