Abstract
Introduction and hypothesis
As surgeons increase the volume of robotic abdominal sacrocolpopexies (rASCs) and become more experienced, a subsequent decrease in the number of adverse events is expected over time. Further, as the leading manufacturer of the operative robot (Intuitive Surgical) improves the technology, adverse events should also decrease. We hypothesized that there has been a decrease in adverse event reporting for rASCs and that serious adverse events are rare.
Methods
We performed a search of the FDA Manufacturer and User Facility Device Experience (MAUDE) database. All entries with the manufacturer "Intuitive Surgical" were exported from 2007 to 2017. All entries with "sacrocolpopexy" were then isolated and analyzed.
Results
The number of adverse events reported for rASC peaked in 2013 and 2014, at 107 and 124 respectively. In 2015 and 2016, the number dropped to 11 and 7 respectively. There were 334 reported adverse events from 2007 to 2017. Five (1.50%) were categorized as death, 33 (9.88%) as injury, and 296 (88.62%) as malfunction. Analysis of the malfunction reports found that 15 out of 296 (5.07%) were converted to open surgery, 4 out of 296 (1.3%) were converted to laparoscopic surgery, 4 out of 296 (1.3%) cases were aborted, and 6 out of 296 (2.03%) malfunctions resulted in patient injury.
Conclusions
Although the MAUDE database has its limitations, it does indicate that the number of adverse events reported for rASC peaked in 2013 and 2014 and has decreased annually since then. This may be due to improved proficiency of the surgeon and surgical team, in addition to improvements in the robot. When malfunctions do occur, they infrequently cause serious injury or have an impact on surgical approach.
This is a preview of subscription content, log in to check access.
Access options
Buy single article
Instant access to the full article PDF.
US$ 39.95
Price includes VAT for USA
Subscribe to journal
Immediate online access to all issues from 2019. Subscription will auto renew annually.
US$ 199
This is the net price. Taxes to be calculated in checkout.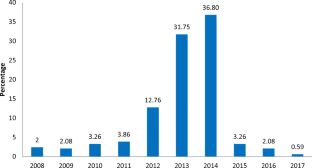 Abbreviations
rASC:

Robotic abdominal sacrocolpopexy

MAUDE:

Manufacturer and user facility device experience

POP:

Pelvic organ prolapse

RAEs:

Reported adverse events
References
1.

Wu JM, Hundley AF, Fulton RG, et al. Forecasting the prevalence of pelvic floor disorders in U.S. women: 2010 to 2050. Obstet Gynecol. 2009;114:1278.

2.

Kurkijarvi K, Aaltonen R, Gissler M, et al. Pelvic organ prolapse surgery in Finland from 1987 to 2009: a national register based study. Eur J Obstet Gynecol Reprod Biol. 2017;214:71.

3.

Nygaard IE, McCreery R, Brubaker L, et al. Abdominal sacrocolpopexy: a comprehensive review. Obstet Gynecol. 2004;104:805.

4.

Hudson CO, Northington GM, Lyles RH, et al. Outcomes of robotic Sacrocolpopexy: a systematic review and meta-analysis. Female Pelvic Med Reconstruct Surg. 2014;20:252.

5.

Anger JT, Mueller ER, Tarnay C, et al. Robotic compared with laparoscopic sacrocolpopexy: a randomized controlled trial. Obstet Gynecol. 2014;123:5.

6.

Surgical I. 2017 Annual Report. 2017. https://isrg.gcs-web.com/sec-filings?field_nir_sec_form_group_target_id%5B%5D=471&field_nir_sec_date_filed_value=#views-exposed-form-widget-sec-filings-table

7.

FDA: US Food and Drug Administration MAUDE. Manufacturer and user facility device experience 2018, 2018. https://www.accessdata.fda.gov/scripts/cdrh/cfdocs/cfmaude/search.cfm. Accessed May 2018.

8.

FDA Administration. Mandatory reporting requirements: manufacturers, importers and device user facilities. Internet 2018, 2018. https://www.fda.gov/medicaldevices/deviceregulationandguidance/postmarketrequirements/reportingadverseevents/default.htm. Accessed October 2018.

9.

Andonian S, Okeke Z, Okeke DA, et al. Device failures associated with patient injuries during robot-assisted laparoscopic surgeries: a comprehensive review of FDA MAUDE database. Can J Urol. 2008;15:3912.

10.

Friedman DCW, Lendvay TS, Hannaford B. Instrument failures for the da Vinci Surgical system: a Food and Drug Administration MAUDE database study. Surg Endosc. 2013;27:1503.

11.

Sandberg JM, Gray I, Pearlman A, et al. An evaluation of the manufacturer and user facility device experience database that inspired the United States Food and Drug Administration's reclassification of transvaginal mesh. Investigat Clin Urol. 2018;59:126.
Ethics declarations
Conflicts of interest
None.
Additional information
Publisher's note
Springer Nature remains neutral with regard to jurisdictional claims in published maps and institutional affiliations
About this article
Cite this article
Souders, C., Nik-Ahd, F., Zhao, H. et al. Robotic sacrocolpopexy: adverse events reported to the FDA over the last decade. Int Urogynecol J 30, 1919–1923 (2019). https://doi.org/10.1007/s00192-018-3845-6
Received:

Accepted:

Published:

Issue Date:
Keywords
Abdominal sacrocolpopexy

Adverse events

Pelvic organ prolapse

Robotic surgery