Abstract
Introduction and hypothesis
Perineal preparation techniques for childbirth have been used with the aim of reducing perineal tears during the expulsive phase of labor. However, no studies were found to investigate the effects of instrument-assisted stretching versus perineal massage on pelvic floor muscle (PFM) variables. Therefore, the aim of this study was to evaluate the effect of instrument-assisted stretching versus perineal massage on the extensibility and strength of the PFMs.
Methods
Primiparous women were randomized to the instrument-assisted stretching (IStr) group (n = 13) and perineal massage (PnM) group (n = 14). The groups participated in eight sessions, twice weekly, beginning at the 34th gestational week. The IStr group underwent the intervention for 15 min using EPI-NO®. The PnM group underwent a perineal massage protocol for 10 min. Each woman was evaluated by a blinded physiotherapist before, after four and after eight sessions for primary (PFM extensibility using the EPI-NO® circumference) and secondary (PFM strength using a manometer) outcomes. Covariate analysis (ANCOVA) was used to compare the groups using the baseline values as a covariate.
Results
Both groups showed an increase in PFM extensibility compared with the evaluations before and after four and eight sessions (PnM group from 17.6 ± 1.8 to 20.2 ± 1.9 cm; IStr group from 19.9 ± 1.6 to 22.9 ± 1.6 cm;p < 0.001). There was no difference between groups. Regarding muscle strength, no statistical differences were observed between evaluations or between groups.
Conclusions
Instrument-assisted stretching and perineal massage increase extensibility and do not alter the strength of PFMs in pregnant women.
Access options
Buy single article
Instant access to the full article PDF.
USD 39.95
Price includes VAT (USA)
Tax calculation will be finalised during checkout.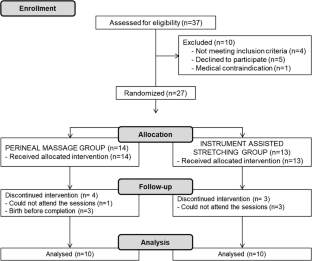 References
1.

WHO recommendations: intrapartum care for a positive childbirth experience. Geneva: World Health Organization; 2018. Licence: CC BY-NC-SA 3.0 IGO. http://www.who.int/reproductivehealth/publications/intrapartum-care-guidelines/en. Accessed 20 Feb 2018.

2.

Bo K, Frawley HC, Haylen BT, et al. An International Urogynecological Association (IUGA)/International Continence Society (ICS) joint report on the terminology for the conservative and nonpharmacological management of female pelvic floor dysfunction. Int Urogynecol J. 2017;28:191–213. https://doi.org/10.1002/nau.23107.

3.

Beckmann MM, Stock OM. Antenatal perineal massage for reducing perineal trauma. Cochrane Database Syst Rev. 2013;30(4):CD005123. https://doi.org/10.1002/14651858.CD005123.pub3.

4.

Kamisan Atan SKL, Langer S, et al. Does the EPI-NO® birth trainer prevent vaginal birth-related pelvic floor trauma? A multicentre prospective randomised controlled trial. BJOG. 2016;123(6):995–1003. https://doi.org/10.1111/1471-0528.13924.

5.

Hillebrenner J, et al. First clinical experiences with the new birth trainer EPI-NO® in primiparous women (Erste klinische Erfahrungen beiErstgebärenden mit einem neuartigen Geburtstrainer Epi-no®). Z Geburtshilfe Neonatol. 2001:205, 12–19.

6.

Kok J, Tan KH, Koh S, et al. Antenatal use of a novel vaginal birth training device by term primiparous women in Singapore. Singap Med J. 2004;45(7):318–23.

7.

Kovacs GT, Heath P, Heather C. First Australian trial of the birth-training device EPI-NO: a highly significantly increased chance of an intact perineum. Aust N Z J Obstet Gynaecol. 2004;44(4):347–8. https://doi.org/10.1111/j.1479-828X.2004.00265.x.

8.

Ruckhabäberle E, Jundt K, Bäuerle M, et al. Prospective randomized multicenter trial with the birth trainer EPI-NO® for the prevention of perineal trauma. Aust N Z J Obstet Gynaecol. 2009;49(5):478–83. https://doi.org/10.1111/j.1479-828X.2009.01044.x.

9.

Brito LG, Ferreira CH, Duarte G, Nogueira AA, Marcolin AC. Antepartum use of EPI-NO birth trainer for preventing perineal trauma: systematic review. Int Urogynecol J. 2015;26(10):1429–36. https://doi.org/10.1007/s00192-015-2687-8.

10.

Zanetti MR, Petricelli CD, Alexandre SM, Paschoal A, Araujo Júnior E, Nakamura MU. Determination of a cutoff value for pelvic floor distensibility using the EPI-NO balloon to predict perineal integrity in vaginal delivery: ROC curve analysis. Prospective observational single cohort study. Sao Paulo Med J. 2016;134(2):97–102. https://doi.org/10.1590/1516-3180.2014.8581009.

11.

Sut HK, Kaplan PB. Effect of pelvic floor muscle exercise on pelvic floor muscle activity and voiding functions during pregnancy and the postpartum period. Neurourol Urodyn. 2016;35:417–22. https://doi.org/10.1002/nau.22728.

12.

Santos MD, Palmezoni VP, Torelli L, Baldon VSP, Sartori MGF, Resende APM. Evaluation of pelvic floor muscle strength and its correlation with sexual function in primigravid and non-pregnant women: a cross-sectional study. Neurourol Urodyn. 2018 Feb;37(2):807–14. https://doi.org/10.1002/nau.23353.

13.

Palmezoni VP, Santos MD, Pereira JM, Bernardes BT, Pereira-Baldon VS, Resende AP. Pelvic floor muscle strength in primigravidae and non-pregnant nulliparous women: a comparative study. Int Urogynecol J. 2017;28(1):131–7. https://doi.org/10.1007/s00192-016-3088-3.

14.

Laycock J. Pelvic muscle exercise: physiotherapy for the pelvic floor. Urol Nurs. 1994;14:136–40.

15.

Steel RGD, Torrie JH. Principles and procedures of statistics: a biometrical approach. 2nd ed. New York: McGraw-Hill; 1980. p. 20–90.

16.

McHugh MP, Cosgrave CH. To stretch or not to stretch: the role of stretching in injury prevention and performance. Scand J Med Sci Sports. 2010;20:169–81. https://doi.org/10.1111/j.1600-0838.2009.01058.x.

17.

Nakamura MU, Sass N, Júnior JE, Petricelli CD, Alexandre SM, Júnior EA, et al. Tolerância da parturiente à extensibilidade perineal avaliada pelo EPI-NO: estudo observacional. Einstein. 2014;12(1):22–6. https://doi.org/10.1590/S1679-45082014AO2944.

18.

Petricelli CD, Resende APM, Júnior JE, Júnior EA, Alexandre SM, Zanetti MRD, et al. Distensibility and strength of the pelvic floor muscles of women in the third trimester of pregnancy. Biomed Res Int. 2014; 2014:Article ID 437867, 6 pages. https://doi.org/10.1155/2014/437867.

19.

Duarte G, Coutinho CM. Mecanismo de parto. In: CHJ F, editor. Fisioterapia na saúde da mulher: teoria e prática. 2nd ed. Rio de Janeiro: Guanabara Koogan; 2011.

20.

Rahn DD, Ruff MD, Brown AS. Biomechanical properties of the vaginal wall: effect of pregancy, elastic fiber deficiency, and pelvic organ prolapse. Am J Obstet Gynecol. 2008;198(5):590.e1–6. https://doi.org/10.1016/j.ajog.2008.02.022.

21.

Rosário JLP, Souza A, Cabral CMN, João SMA, Marques AP. Reeducação Postural Global e alongamento estático segmentar na melhora da flexibilidade, força muscular e amplitude de movimento: um estudo comparativo. Fisioter Pesq. 2008;15(1):12–8. https://doi.org/10.1590/S1809-29502008000100003.

22.

Endilich PW, Farina GR, Dambroz C, Gonçalves WLS, Moysés MR, Mill JG, et al. Efeitos agudos do alongamento estático no desempenho da força dinâmica em homens jovens. Rev Bras Med Esporte. 2009;15(3):200–3. https://doi.org/10.1590/S1517-86922009000300007.

23.

Brasil. Portal Brasil. Número de cesarianas cai pela primeira vez desde 2010. Disponível em: <http://www.brasil.gov.br/saude/2017/03/numero-de-cesarianas-cai-pela-primeira-vez-desde-2010>. Accessed 21 Mar 2018.

24.

Memon H, Handa VL. Pelvic floor disorders following vaginal or cesarean delivery. Curr Opin Obstet Gynecol. 2012;24(5):349–54.

25.

Oliveira LS, Brito LG, Quintana SM, Duarte G, Marcolin AC. Perineal trauma after vaginal delivery in healthy pregnant women. Sao Paulo Med J. 2014;132(4):231–8. https://doi.org/10.1097/GCO.0b013e328357628b.

26.

Priddis H, Dahlen HG, Schmied V, Sneddon A, Kettle C, Brown C, et al. Risk of recurrence, subsequente mode of birth and morbidity for women who experienced severe perineal trauma in first birth in New South Wales between 2000–2008: a population based data linkage study. BMC Pregnancy Childbirth. 2013;13(89):1–7. https://doi.org/10.1186/1471-2393-13-89.

27.

Pergialiotis V, Vlachos D, Protopapas A, Papa K, Vlachos G. Risk factors for severe perineal lacerations during childbirth. Int J Gynecol Obstet. 2014;125:6–14. https://doi.org/10.1016/j.ijgo.2013.09.034.

28.

Riesco MLG, Costa ASC, Almeida SFS, Basile ALO, Oliveira SMJV. Episiotomia, laceração e integridade perineal em partos normais: análise de fatores associados. Rev Enferm UERJ. 2011;19(1):77–83.

29.

Svabık K, Shek K, Dietz H. How much does the levator hiatus have to stretch during childbirth? BJOG. 2009;116:1657–62. https://doi.org/10.1111/j.1471-0528.2009.02321.x.

30.

Toozs-Hobson P, Balmforth J, Cardozo L, Khullar V, Athanasiou S. The effect of mode of delivery on pelvic floor functional anatomy. Int Urogynecol J. 2008;19:407–16. https://doi.org/10.1007/s00192-007-0455-0.

31.

Krofta L, Otcenasek M, Kasikova E, Feyereisl J. Pubococcygeus-puborectalis trauma after forecps delivery: evaluation of the levator ani muscle with 3D/4D ultrasound. Int Urogynecol J. 2009;20:1175–81. https://doi.org/10.1007/s00192-009-0837-6.

32.

Shek KL, Dietz HP. The effect of childbirth on hiatal dimensions. Obstet Gynecol. 2009;113(6):1272–8. https://doi.org/10.1097/AOG.0b013e3181a5ef23.
Acknowledgements
We thank the Higher Education Personnel Improvement Coordination for the scholarship provided to the author Síssi Sisconeto de Freitas.
Ethics declarations
Conflicts of interest
None.
About this article
Cite this article
de Freitas, S.S., Cabral, A.L., de Melo Costa Pinto, R. et al. Effects of perineal preparation techniques on tissue extensibility and muscle strength: a pilot study. Int Urogynecol J 30, 951–957 (2019). https://doi.org/10.1007/s00192-018-3793-1
Received:

Accepted:

Published:

Issue Date:
Keywords
Physical therapy specialty

Pelvic floor

Perineum

Muscle-stretching exercises

Natural childbirth