Abstract
Introduction and hypothesis
Women have a 20% risk of developing a urinary tract infection (UTI) following urogynecologic surgery. This study assessed the association of postoperative UTI with bacteria in preoperative samples of catheterized urine.
Methods
Immediately before surgery, vaginal swabs, perineal swabs, and catheterized urine samples were collected, and the V4 region of the 16S ribosomal RNA (rRNA) gene was sequenced. The cohort was dichotomized in two ways: (1) standard day-of-surgery urine culture result (positive/negative), and (2) occurrence of postoperative UTI (positive/negative). Characteristics of bladder, vaginal, and perineal microbiomes were assessed to identify factors associated with postoperative UTI.
Results
Eighty-seven percent of the 104 surgical patients with pelvic organ prolapse/urinary incontinence (POP/UI) were white; mean age was 57 years. The most common genus was Lactobacillus, with a mean relative abundance of 39.91% in catheterized urine, 53.88% in vaginal swabs, and 30.28% in perineal swabs. Two distinct clusters, based on dispersion of catheterized urine (i.e., bladder) microbiomes, had highly significant (p < 2.2–16) differences in age, microbes, and postoperative UTI risk. Postoperative UTI was most frequently associated with the bladder microbiome; microbes in adjacent pelvic floor niches also contributed to UTI risk. UTI risk was associated with depletion of Lactobacillus iners and enrichment of a diverse mixture of uropathogens.
Conclusions
Postoperative UTI risk appears to be associated with preoperative bladder microbiome composition, where an abundance of L. iners appears to protect against postoperative UTI.
This is a preview of subscription content, log in to check access.
Access options
Buy single article
Instant access to the full article PDF.
US$ 39.95
Price includes VAT for USA
Subscribe to journal
Immediate online access to all issues from 2019. Subscription will auto renew annually.
US$ 199
This is the net price. Taxes to be calculated in checkout.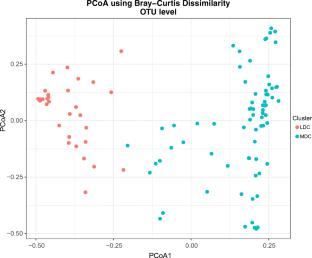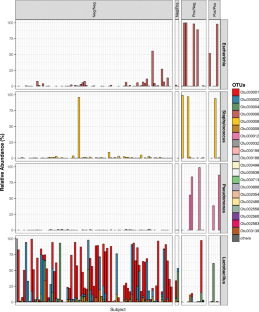 References
1.

Karram MM, Segal JL, Vassallo BJ, Kleeman SD. Complications and untoward effects of the tension-free vaginal tape procedure. Obstet Gynecol. 2003;101:929–32.

2.

Nygaard I, Brubaker L, Chai TC, Markland AD, Menefee SA, Sirls L, et al. Risk factors for urinary tract infection following incontinence surgery. Int Urogynecol J. 2011;22:1255–65.

3.

Gehrich AP, Patzwald JR, Kern ME, Squires CC, Lustik MB. The incidence of early and recurrent urinary tract infections after midurethral sling operations. Mil Med. 2014;179:1301–6.

4.

Hilt EE, McKinley K, Pearce MM, Rosenfeld AB, Zilliox MJ, Mueller ER, et al. Urine is not sterile: use of enhanced urine culture techniques to detect resident bacterial flora in the adult female bladder. J Clin Microbiol. 2014;52:871–6.

5.

Fouts DE, Pieper R, Szpakowski S, Pohl H, Knoblach S, Suh MJ, et al. Integrated next-generation sequencing of 16S rDNA and metaproteomics differentiate the healthy urine microbiome from asymptomatic bacteriuria in neuropathic bladder associated with spinal cord injury. J Transl Med. 2012;10:174.

6.

Wolfe AJ, Toh E, Shibata N, Rong R, Kenton K, Fitzgerald M, et al. Evidence of uncultivated bacteria in the adult female bladder. J Clin Microbiol. 2012;50:1376–83.

7.

Karstens L, Asquith M, Davin S, Stauffer P, Fair D, Gregory WT, et al. Does the urinary microbiome play a role in urgency urinary incontinence and its severity? Front Cell Infect Microbiol. 2016;6:78.

8.

Thomas-White KJ, Hilt EE, Fok C, Pearce MM, Mueller ER, Kliethermes S, et al. Incontinence medication response relates to the female urinary microbiota. Int Urogynecol J. 2016;27:723–33.

9.

Brubaker L, Nager CW, Richter HE, Visco A, Nygaard I, Barber MD, et al. Urinary bacteria in adult women with urgency urinary incontinence. Int Urogynecol J. 2014;25:1179–84.

10.

Pearce MM, Hilt EE, Rosenfeld AB, Zilliox MJ, Thomas-White K, Fok C, et al. The female urinary microbiome: a comparison of women with and without urgency urinary incontinence. MBio. 2014;5:e01283–14.

11.

Fok CS, McKinley K, Mueller ER, Kenton K, Schreckenberger P, Wolfe A, et al. Day of surgery urine cultures identify urogynecologic patients at increased risk for postoperative urinary tract infection. J Urol. 2013;189:1721–4.

12.

Yuan S, Cohen DB, Ravel J, Abdo Z, Forney LJ. Evaluation of methods for the extraction and purification of DNA from the human microbiome. PLoS One. 2012;7:e33865.

13.

Schloss PD, Westcott SL, Ryabin T, Hall JR, Hartmann M, Hollister EB, et al. Introducing mothur: open-source, platform-independent, community-supported software for describing and comparing microbial communities. Appl Environ Microbiol. 2009;75:7537–41.

14.

Edgar RC, Haas BJ, Clemente JC, Quince C, Knight R. UCHIME improves sensitivity and speed of chimera detection. Bioinformatics. 2011;27:2194–200.

15.

Wang Q, Garrity GM, Tiedje JM, Cole JR. Naive Bayesian classifier for rapid assignment of rRNA sequences into the new bacterial taxonomy. Appl Environ Microbiol. 2007;73:5261–7.

16.

Gao X, Lin H, Revanna K, Dong Q. A Bayesian taxonomic classification method for 16S rRNA gene sequences with improved species-level accuracy. BMC Bioinf. 2017;18:247.

17.

Jari Oksanen FGB, Roeland Kindt, Pierre Legendre, Peter R. Minchin, R., B. O'Hara GLS, Peter Solymos, M. Henry H. Stevens and Helene Wagner vegan: Community Ecology Package. R package version 2.2-1. 2015, http://CRAN.R-project.org/package=vegan.

18.

Paradis E, Claude J, Strimmer K. APE: analyses of phylogenetics and evolution in R language. Bioinformatics. 2004;20:289–90.

19.

Goslee SC, Urban DL. The ecodist package for dissimilarity-based analysis of ecological data. J Stat Softw. 2007;22:1–19.

20.

Anderson MJ, Walsh DCI. Permanova, anosim, and the mantel test in the face of heterogeneous dispersions: what null hypothesis are you testing? Ecol Monogr. 2013;83:557–74.

21.

Anderson MJ. Distance-based tests for homogeneity of multivariate dispersions. Biometrics. 2006;62:245–53.

22.

Bolker B, Skaug H, Magnusson A, Nielsen A. Getting started with the glmmADMB 2012.

23.

Price TK, Hilt EE, Dune TJ, Mueller ER, Wolfe AJ, Brubaker L. Urine trouble: should we think differently about UTI? Int Urogynecol J. 2017;29:205–10.

24.

Schreiber HLT, Conover MS, Chou WC, Hibbing ME, Manson AL, Dodson KW, Hannan TJ, Roberts PL, Stapleton AE, Hooton TM, Livny J, Earl AM, Hultgren SJ. Bacterial virulence phenotypes of Escherichia coli and host susceptibility determine risk for urinary tract infections. Sci Transl Med 2017;9.

25.

Coorevits L, Heytens S, Boelens J, Claeys G. The resident microflora of voided midstream urine of healthy controls: standard versus expanded urine culture protocols. Eur J Clin Microbiol Infect Dis 2016.

26.

Khasriya R, Sathiananthamoorthy S, Ismail S, Kelsey M, Wilson M, Rohn JL, et al. Spectrum of bacterial colonization associated with urothelial cells from patients with chronic lower urinary tract symptoms. J Clin Microbiol. 2013;51:2054–62.
Acknowledgements
We kindly thank Mary Tulke RN for her assistance with participant recruitment and sample collection; we thank Noriko Shibata MS for her assistance with sample analysis. We also thank Dr. Michael Zilliox and Gina Kuffel of the Loyola Genomics Facility for performing the DNA sequencing.
Funding
This study was supported by a grant from the Falk Foundation (LU#202567) and by NIH grants R21 DK097435 and P20 DK108268.
Ethics declarations
Conflicts of interest
Dr. Wolfe discloses research support from Astellas and Kimberly Clark; Dr. Mueller discloses research support from Astellas and Boston Scientic. The remaining authors (Thomas-White, Gao, Lin, Fok, Ghanayem, Dong, and Brubaker) report no disclosures.
Electronic supplementary material
About this article
Cite this article
Thomas-White, K.J., Gao, X., Lin, H. et al. Urinary microbes and postoperative urinary tract infection risk in urogynecologic surgical patients. Int Urogynecol J 29, 1797–1805 (2018). https://doi.org/10.1007/s00192-018-3767-3
Received:

Accepted:

Published:

Issue Date:
Keywords
Urinary tract infection

Urobiome

Surgical infection

Postoperative infection