Abstract
Introduction and hypothesis
We compared treatment success and adverse events between women undergoing open abdominal sacrocolpopexy (ASC) vs vaginal repair (VAR) using data from women enrolled in one of three multicenter trials. We hypothesized that ASC would result in better outcomes than VAR.
Methods
Participants underwent apical repair of stage 2–4 prolapse. Vaginal repair included uterosacral, sacrospinous, and iliococcygeal suspensions; sacrocolpopexies were via laparotomy. Success was defined as no bothersome bulge symptoms, no prolapse beyond the hymen, and no retreatment up to 24 months. Adverse events were collected at multiple time points. Outcomes were analyzed using longitudinal mixed-effects models to obtain valid outcome estimates at specific visit times, accounting for data missing at random. Comparisons were controlled for center, age, body mass index (BMI), initial Pelvic Organ Prolapse Quantification (POP-Q) stage, baseline scores, prior prolapse repair, and concurrent repairs.
Results
Of women who met inclusion criteria (1022 of 1159 eligibile), 701 underwent vaginal repair. The ASC group (n = 321) was older, more likely white, had prior prolapse repairs, and stage 4 prolapse (all p < 0.05). While POP-Q measurements and symptoms improved in both groups, treatment success was higher in the ASC group [odds ratio (OR) 6.00, 95% confidence interval (CI) 3.45–10.44). The groups did not differ significantly in most questionnaire responses at 12 months and overall improvement in bowel and bladder function. By 24 months, fewer patients had undergone retreatment (2% ASC vs 5% VAR); serious adverse events did not differ significantly through 6 weeks (13% vs 5%, OR 2.0, 95% CI 0.9–4.7), and 12 months (26% vs 13%, OR 1.6, 95% CI 0.9–2.9), respectively.
Conclusions
Open sacrocolpopexy resulted in more successful prolapse treatment at 2 years.
Access options
Buy single article
Instant access to the full article PDF.
USD 39.95
Price excludes VAT (USA)
Tax calculation will be finalised during checkout.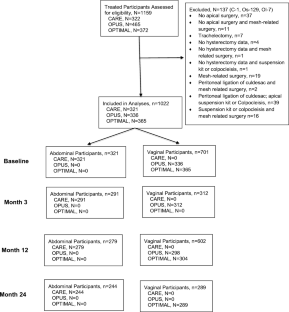 Similar content being viewed by others
References
Maher C, Feiner B, Baessler K, Adams EJ, Hagen S, Glazener CM. Surgical management of pelvic organ prolapse in women. Cochrane Database Syst Rev. 2010;14(4):CD004014.

Benson JT, Lucente V, McClellan E. Vaginal versus abdominal reconstructive surgery for the treatment of pelvic support defects: a prospective randomized study with long-term outcome evaluation. Am J Obstet Gynecol. 1996;175(6):1418–21.

Maher CF, Qatawneh AM, Dwyer PL, Carey MP, Cornish A, Schluter PJ. Abdominal sacral colpopexy or vaginal sacrospinous colpopexy for vaginal vault prolapse: a prospective randomized study. Am J Obstet Gynecol. 2004;190(1):20–6.

Lo TS, Wang AC. Abdominal colpopsacropexy and sacrospinous ligament suspension for severe uterovaginal prolapse: a comparison. J Gyn Surg. 1998;14(2):59–64.

Brubaker L, Cundiff GW, Fine P, et al. Pelvic floor disorders network. Abdominal sacrocolpopexy with Burch colposuspension to reduce urinary stress incontinence. N Engl J Med. 2006;354:1557–66.

Barber MD, Brubaker L, Burgio KL, et al. Comparison of 2 transvaginal surgical approaches and perioperative behavioral therapy for apical vaginal prolapse: the OPTIMAL randomized trial. JAMA. 2014;311:1023–34.

Wei JT, Nygaard I, Richter H, et al. A midurethral sling to reduce incontinence after vaginal prolapse repair. NEJM. 2012;366(25):2358–67.

Haylen BT, Younis M, Naidoo S, Birrell W. Perineorrhaphy quantitative assessment (Pe-QA). Int Urogynecol J. 2014.

Barber MD, Kuchibhatla MN, Pieper CF, Bump RC. Psychometric evaluation of 2 comprehensive condition-specific quality of life instruments for women with pelvic floor disorders. Am J Obstet Gynecol. 2001;185(6):1388–95.

Barber MD, Brubaker L, Nygaard I, et al. Pelvic floor disorders network. Defining success after surgery for pelvic organ prolapse. Obstet Gynecol. 2009;114(3):600–9.

Barber MD. Symptoms and outcome measures of pelvic organ prolapse. Clin Obstet Gynecol. 2005;48(3):648–61.

Bump RC, Mattiasson A, Bo K, et al. The standardization of terminology of female pelvic organ prolapse and pelvic floor dysfunction. Am J Obstet Gynecol. 1996;175(1):10–7.

Rogers RG, Coates KW, Kammerer-Doak D, Khalsa S, Qualls C. A short form of the pelvic organ prolapse/urinary incontinence sexual questionnaire (PISQ-12). Int Urogynecol J Pelvic Floor Dys. 2003;14(3):164–8.

Dindo D, Demartines N, Clavien PA. Classification of surgical complications: a new proposal with evaluation in a cohort of 6336 patients and results of a survey. Ann Surg. 2004;240(2):205–13.

Siddiqui NY, Grimes CL, Casiano ER, Abed HT, Jeppson PC, Olivera CK, et al. Mesh scrocolpopexy compared with native tissue vaginal repair. Obstet Gynecol. 2015;125(1):44–55.

Sze EH, Karram MM. Transvaginal repair of vault prolapse: a review. Obstet Gynecol. 1997;89:466–75.

Margulies RU, Rogers MA, Morgan DM. Outcomes of transvaginal uterosacral ligament suspension: systematic review and metaanalysis. Am J Obstet Gynecol. 2010;202:124–34.

Nygaard IE, McCreery R, Brubaker L, et al. Abdominal sacrocolpopexy: a comprehensive review. Obstet Gynecol. 2004;104(4):805–23.

Nygaard I, Brubaker L, Zyczynski HM, et al. Long term outcomes following abdominosacralcolpopexy for pelvic organ prolapse. JAMA. 2013;309(19):2016–24.
Acknowledgements
University of Iowa: CS Bradley, K Kreder; University of Alabama, KL Burgio, RE Varner, A Ballard, J Burge, K Carter, P Goode, AD Markland, C Parker-Autry, TS Wilson; University of Michigan YW Casher, B Marchant, JT Wei, PA Wren, YH Chen, D DiFranco, C Spino, B Marchant; University North Carolina of Chapel Hill AM Connolly, W Whitehead; Johns Hopkins GW Cundiff, VL Handa; Baylor P Fine; Magee Women's Hospital J Gruss, P Moalli, HM Zyczynski; Duke AG Visco, CL Amundsen, I Harm-Ernandes, M Raynor, J Wu, NY Siddiqui; UCSD ME Albo, C Grimes, ES Lukacz, CW Nager; UTSW S Atnip, EK Moore, D Rahn, C Wai; University of Utah J Baker, M Masters, A Orr; Kaiser San Diego G Diwadkar, KY Dyer, LM Hall, LM Mackinnon, JN Nguyen, G Zazueta-Damian, J Tan-Kim; Cleveland Clinic A Frick, B O'Dougherty, L Pung, B Ridegeway, C Williams; RTI M Gantz, LK Warren, D Matthews, A Shaffer, KA Wilson, RE Whitworth, J Thornberry, TT Terry; Steering Committee Chair K Hartmann; Kaiser Bellflower S Jakus-Waldman; Loyola E Mueller, M Tulke; University of New Mexico Y Komesu, G Dunivan, C Cichowski, P Jeppson.
Funding
Research Support: Supported by grants from the Eunice Kennedy Shriver National Institute of Child Health and Human Development (2U01HD41249, 2 U10 HD41250, 2 U10 HD41261, 2 U10 HD41267, 1 U10 HD54136, 1 U10 HD54214, 1 U10 HD54215, 1 U10 HD54241, U10 HD069013, U10 HD069025, U10 HD069010, and U01 HD069031) and the National Institutes of Health Office of Research on Women's Health.
Ethics declarations
Conflicts of interest
Rogers: royalties, travel and stipend from ABOG for work on the board; travel and stipend from IUGA for work related to the editor in chief for the IUJ, DSMB chair for the TRANSFORM trial sponsored by American Medical Systems. Richter: Pelvalon, research grant and consultant; Kimberly Clarkt, royalties. Shepherd : site PI for Synergy trial sponsored by Astellas. Brubaker: editorial stipends, Female Pelvic Medicine and Reconstructive Surgery and royalties. Schaffer: McGraw Hill, royalties; Boston Scientific, research; Astellas, speaker. Harvie, Jelovsek, Menefee, Myers, Hsu, Wallace, Meikle: no conflict of interest.
Additional information
Presented at the Society of Gynecologic Surgeons 2014 annual meeting in Orlando, FL, USA.
About this article
Cite this article
Rogers, R.G., Nolen, T.L., Weidner, A.C. et al. Open sacrocolpopexy and vaginal apical repair: retrospective comparison of success and serious complications. Int Urogynecol J 29, 1101–1110 (2018). https://doi.org/10.1007/s00192-018-3666-7
Received:

Accepted:

Published:

Issue Date:

DOI: https://doi.org/10.1007/s00192-018-3666-7
Keywords