Abstract
Introduction and hypothesis
Self-confidence is the belief in one's ability to perform and can be enhanced by training. Surgical education should aim to optimize trainee confidence. We designed three procedure-specific competency-based modules to teach vaginal hysterectomy (VH), anterior (AR) and posterior repair (PR) to novice gynecology residents. We hypothesized each module would improve self-confidence and satisfaction during index procedure performance in the operating room.
Methods
This was an ancillary analysis of a larger randomized-controlled trial of gynecologic educational interventions. Residents at three Canadian universities were included if they had previously performed fewer than five index procedures independently. Intervention residents received educational modules; controls engaged in self-directed learning. All residents performed one or more of the three surgeries and filled out a validated Self-Confidence Scale and a Satisfaction Scale. Scores were compared between groups. Correlations were sought between self-confidence and various variables.
Results
Forty-six residents at three Canadian universities were randomized (21 intervention, 25 control). Most residents had never performed the index procedure. Overall, self-confidence was significantly higher (p = 0.021) in the intervention group for VH, but not for AR and PR (p = 0.94 and p = 0.12, respectively). Compared with controls, self-confidence was also significantly higher in intervention residents who had never performed VH (p = 0.026) or PR (p = 0.027) and in first and second year intervention residents. There was a positive correlation between self-confidence and satisfaction.
Conclusions
Surgical modules improved self-confidence preferentially in the most junior residents and for more complicated procedures. The wide self-confidence ranges observed suggest that optimization should be an important goal for surgical educators.
This is a preview of subscription content,
to check access.
Access this article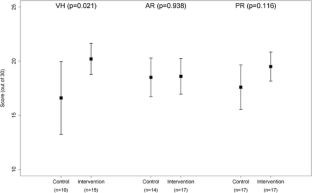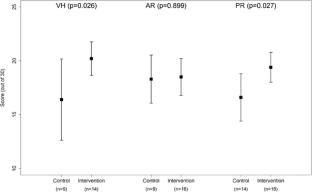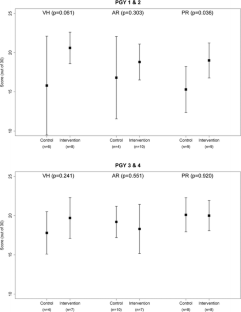 Similar content being viewed by others
References
Arora S, Sevdalis N, Nestel D, et al. Managing intraoperative stress: what do surgeons want from a crisis training program? Am J Surgery. 2009;197:537–43.

Arora S, Sevdalis N, Nestel D, et al. The impact of stress on surgical performance: a systematic review of the literature. Surgery. 2010;147(3):318–30.

Arora S, Sevdalis N, Aggarwal R, et al. Stress impairs psychomotor performance in novice laparoscopic surgeons. Surg Endosc. 2010;24(10):2588–93.

Driskell JE, Salas E. Stress and human performance. Mahwah: Lawrence Erlbaum Associates Inc.; 1996.

Geoffrion R. Standing on the shoulders of giants: contemplating a standard national curriculum for surgical training in gynecology. J Obstet Gynaecol Can. 2008;30(8):684–95.

Denadai R, Saad-Hossne R, Raposo-Amaral CE. Simulation-based rhomboid flap skills training during medical education: comparing low- and high-fidelity bench models. J Craniofac Surg. 2014;25(6):2134–8.

Skoy ET, Eukel HN, Frenzel JE. Comparison of low- and higher-fidelity simulation to train and assess pharmacy students' injection technique. Am J Pharm Educ. 2013;77(2):33.

Bandura A. The exercise of control. New York: WH Freeman & Co; 1997.

Feltz D, Short S, Sullivan P. Self efficacy in sport: research and strategies for working with athletes, teams and coaches. Int J Sports Sci Coach. 2008;3:293–5.

Geoffrion R, Suen MW, Koenig NA, et al. Teaching vaginal surgery to junior residents: initial validation of 3 novel procedure-specific low-fidelity models. J Surg Educ. 2016;73(1):157–61.

Geoffrion R, Lee T, Singer J. Validating a self-confidence scale for surgical trainees. J Obstet Gynaecol Can. 2013;35(4):355–61.

Hellier SD, Ramponi DR, Wrynn A, Garofalo S. An innovative approach: using simulation to teach primary care gynecologic procedures. Simul Healthcare. 2017;12(4):268–73.

Farrar Highfield ME, Scharf-Swaller C, Chu L. Effect of nurse-led review plus simulation on obstetric/perinatal nurses' self-assessed knowledge and confidence. Nurs Womens Health. 2017;20(6):568–81.

Silva DR, Mazzo A, Jorge BM, Souza Júnior VD, Fumincelli L, Almeida RG. Intermittent urinary catheterization: the impact of training on a low-fidelity simulator on the selfi-confidence of patients and caregivers. Rehabil Nurs. 2015. https://doi.org/10.1002/rnj.226.

Naylor RA, Hollett LA, Castellvi A, et al. Preparing medical students to enter surgery residencies. Am J Surg. 2010;199(1):105–9.

Healey A, Sherbino J, Fan J, et al. A low-fidelity simulation curriculum addresses needs identified by faculty and improves the comfort level of senior internal medicine resident physicians with inhospital resuscitation. Crit Care Med. 2010;38(9):1899–903.

Leopold SS, Morgan HD, Kadel NJ, et al. Impact of educational intervention on confidence and competence in the performance of a simple surgical task. J Bone Joint Surg Am. 2005;87(5):1031–7.

Elfenbein DM. Confidence crisis among general surgery residents: a systematic review and qualitative discourse analysis. JAMA Surg. 2016;151(12):1166–75.
Funding
Financial support from a Medical Education Research Grant (competitive), the Royal College of Physicians and Surgeons of Canada. The funding source did not have any role in any aspect of this research.
Ethics declarations
Conflicts of interest
• R Geoffrion: Preceptor/proctor Boston Scientific Capio and Obtryx devices; Advisory Board Duchesnay.
• N Todd: Advisory board, Bayer Pharmaceuticals.
• Remaining authors claim no conflict of interest.
Additional information
Meeting presentation
Poster, Association of Academic Professionals in Obstetrics and Gynecology/Society of Obstetrics and Gynecology Canada Ontario Continuing Medical Education conference, Toronto Ontario, Canada, December 1–3, 2017.
About this article
Cite this article
Geoffrion, R., Koenig, N.A., Sanaee, M.S. et al. Optimizing resident operative self-confidence through competency-based surgical education modules: are we there yet?. Int Urogynecol J 30, 423–428 (2019). https://doi.org/10.1007/s00192-018-3654-y
Received:

Accepted:

Published:

Issue Date:

DOI: https://doi.org/10.1007/s00192-018-3654-y
Keywords