Abstract
Introduction and hypothesis
People are increasingly aware of healthy lifestyles. Extenuating practice can injure the pelvic floor. Urinary incontinence (UI) is a prevalent condition in women whether they exercise professionally or not. The most common symptom is stress UI. It is reported in a large variety of sports and may interfere with everyday life or training, leading athletes to change or compromise their performance or risk compromising it. We aimed to assess the prevalence of UI in female athletes and to determine whether the type of sport might also influence UI.
Methods
A systematic review of the literature was performed by searching PubMed, the Cochrane Library, and LILACS up to 23 January 2017. The search strategy included the keywords pelvic floor disorders, urinary incontinence, athletes, and sports. The inclusion criterion was studies of women who performed any kind of sport with a prevalence of UI. The subjects were female, with no restriction for age, sport modality, or frequency of training. The outcome was prevalence of UI.
Results
The search identified 385 studies, 22 of which met the methodologic criteria for complete analysis. In this review, 7507 women aged 12 to 69 years were included. Only five studies compared physically active women to controls. Every study included high or moderate impact activities involving jumping, fast running, and rotational movements. In total, 17 sport modalities were analyzed. The prevalence of UI varied from 5.56% in low-impact activity to 80% in trampolining. In athletes, the prevalence of incontinence ranged from 10.88% to 80%, showing that the amount of training influences UI symptoms. High-impact activities showed a 1.9-fold prevalence over medium-impact activities and 4,59-fold prevalence over impact activities. Factors such as hormone use, smoking, or menopausal status could not be assessed since they were not detailed in most of the studies.
Conclusion
These data suggest that sports practice increases the prevalence of UI and that the type of activity performed by women also has a bearing on the disorder.
Access options
Buy single article
Instant access to the full article PDF.
USD 39.95
Price excludes VAT (USA)
Tax calculation will be finalised during checkout.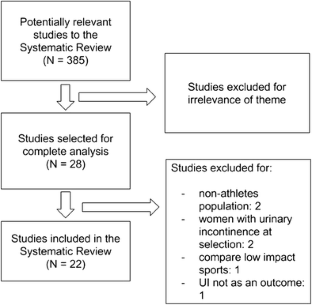 References
Abitteboul Y, Leonard F, Mouly L, Riviere D, Oustric S. Urinary incontinence in non-professional female marathon runners. Prog Urol. 2015;25(11):636–41.

Araujo MP, Ed O, Zucchi EV, Girão MJ, Sartori MG. The relationship between urinary incontinence and eating disorders in female long-distance runners. Rev Assoc Med Bras. 2008;54(2):146–9.

Bo K. Urinary incontinence, pelvic floor dysfunction, exercise and sport. Sports Med. 2004;34(7):451–64.

Bo K, Sundgot-Borgen J. Prevalence of stress and urge urinary incontinence in elite athletes and controls. Med Sci Sports Exerc. 2001;33(11):1797–802.

Bo K, Sundgot-Borgen J. Are former female elite athletes more likely to experience urinary incontinence later in life than non athletes? Scand J Med Sci Sports. 2010;20:100–4.

Bo K, Bratland-Sanda S, Sundgot-Borgen J. Urinary incontinence among group fitness instructors including yoga and pilates teachers. Neurourol Urodyn. 2011;30(3):370–3.

Brown WJ, Miller TD. Too wet to exercise? Leaking urine as a barrier to physical activity in women. J Sci Med Sport. 2001;4(4):373–8.

Carls C. The prevalence of stress urinary incontinence in high school and college-age female athletes in the Midwest: implications for education and prevention. Urol Nurs. 2007;27(1):21–4. 39.

Caylet N, Fabbro-Peray P, Marès P, Dauzat M, Prat-Pradal D. Corcos. Prevalence and occurrence of stress urinary incontinence in elite women athletes. J. Can J Urol. 2006;13(4):3174–9.

Da Roza T, Brandão S, Mascarenhas T, Jorge RN, Duarte JA. Urinary incontinence and levels of regular physical exercise in young women. Int J Sports Med. 2015;36(9):776–80.

Da Roza T, Brandão S, Mascarenhas T, Jorge RN, Duarte JA. Volume of training and the ranking level are associated with the leakage of urine in young female trampolinists. Clin J Sport Med. 2015;25(3):270–5.

Eliasson K, Larsson T, Mattson E. Prevalence of stress incontinence in nulliparous elite trampolinists. Scand J Med Sci Sports. 2002;12:106–10.

Eliasson K, Edner A, Mattson E. Urinary incontinence in very young and mostly nulliparous women with a history of regular organised high-impact trampoline training: occurence and risk factors. Int Urogynecol J. 2008;19(5):687–96.

Fozzatti C, Riccetto C, Herrmann V, Brancalion MF, Raimondi M, Nascif CH, et al. Prevalence study of stress urinary incontinence in women who perform high impact exercises. Int Urogynecol J. 2012;23:1687–91.

Goldstick O, Constantini N. Urinary incontinence in physically active women and female athletes. Br J Sports Med. 2014;48(4):296–8.

Groothausen J, Siemer H, Kemper HCG, Twisk J, Welten D. Influence of peak strain on lumbar bone mineral density: an analysis of 15-year physical activity in young males and females. Pediatr Exerc Sci. 1997;9:159–73.

Jácome C, Oliveira D, Marques A, Sá-Couto P. Prevalence and impact of urinary incontinence among female athletes. Int J Gynaecol Obstet. 2011;114(1):60–3.

Kruger JA, Dietz HP, Murphy BA. Pelvic floor function in elite nulliparous athletes. Ultrasound Obstet Gynecol. 2007;30(1):81–5.

Lousquy R, Jean-Baptiste J, Barranger E, Hermieux J-F. Sport and urinary incontinence in women. Gynecol Obstet Fertil. 2014;42(9):597–603.

Nygaard IE. Does prolonged high-impact activity contribute to later urinary incontinence? A retrospective cohort study of female Olympians. Obstet Gynecol. 1997;90(5):718–22.

Nygaard I, DeLancey JOL, Arnsdorf L, Murphy E. Exercise and incontinence. Obstet Gynecol. 1990;75(5):848–51.

Nygaard IE, Thompson FL, Svengalis SL, Albright JP. Urinary incontinence in elite nulliparous athletes. Obstet Gynecol. 1994;84(2):183–7.

Nygaard I, Shaw J, Egger M. Exploring the association between lifetime physical activity and pelvic floor disorders: study and design challenges. Contemp Clin Trials. 2012;33(4):819–27.

Opara J, Socha T, Bidzan M, Mehlich K, Poswiata A. Stress urine incontinence especially in elite women athletes extremely practicing sports. Sci Martial Arts. 2011;4(7):227–31.

Poswiata A, Socha T, Opara J. Prevalence of stress urinary incontinence in elite female endurance athletes. J Hum Kinet. 2014;44:91–6.

Salvatore S, Serati M, Laterza R, Uccella S, Torella M, Bolis P-F. The impact of urinary stress incontinence in young and middle-age women practising recreational sports activity: an epidemiological study. Br J Sports Med. 2009;43(14):1115–8.

Schettino MT, Mainini G, Ercolano S, Vascone C, Scalzone G, D'Assisi D, et al. Risk of pelvic floor dysfunctions in young athletes. Clin Exp Obstet Gynecol. 2014;41(6):671–6.

Simeone C, Moroni A, Petteno A, Antonelli A, Zani D, Orizio C, et al. Occurrence rates and predictors of lower urinary tract symptoms and incontinence in female athletes. Urologia. 2010;77(2):139–46.

Thyssen HH, Clevin L, Olesen S, Lose G. Urinary incontinence in elite female athletes and dancers. Int Urogynecol J Pelvic Floor Dysfunct. 2002;13(1):15–7.

Torstveit MK. Sundgot-Borgen. Low bone mineral density is two to three times more prevalent in non-athletic premenopausal women than in elite athletes: a comprehensive controlled study. Br J Sports Med. 2005;39(5):282–7.
Ethics declarations
Conflicts of interest
Jorge M. Haddad has received speaking honoraria from Promedon, Boston Scientific, and Astellas.
About this article
Cite this article
de Mattos Lourenco, T.R., Matsuoka, P.K., Baracat, E.C. et al. Urinary incontinence in female athletes: a systematic review. Int Urogynecol J 29, 1757–1763 (2018). https://doi.org/10.1007/s00192-018-3629-z
Received:

Accepted:

Published:

Issue Date:

DOI: https://doi.org/10.1007/s00192-018-3629-z
Keywords
Pelvic floor disorders

Urinary incontinence

Athletes and sports