Abstract
Introduction and hypothesis
The steep Trendelenburg position, high pneumoperitoneum pressure, and longer surgical time may lead to significantly increased intraocular pressure (IOP), which could result in unexpected eye disease complications, including perioperative visual loss (POVL). We monitored IOP to induce early laparoscopic sacral colpopexy (LSC) safely.
Methods
This prospective study enrolled 39 patients with pelvic organ prolapse (POP), including 10 with eye diseases (6 with normal tension glaucoma and 4 with a narrow anterior chamber and normal range IOP). Enrolled patients underwent LSC under the same surgical settings involving a pneumoperitoneum of 10 mmHg and a Trendelenburg position of 15°. We measured IOP at seven time points during surgery and estimated IOP changes with time in patients with or without eye diseases.
Results
All patients, with or without eye diseases, experienced significantly elevated IOP during LSC. There were no significant differences between these groups. The average maximal IOP reached 20 mmHg at the end of surgery, and recovered to baseline values with the patient in the supine position at the end of anesthesia. No patient had an IOP of >40 mmHg as a critical threshold during surgery, and no substantial clinical eye symptoms were seen after LSC.
Conclusions
Laparoscopic sacral colpopexy using an pneumoperitoneum of 10 mmHg and a Trendelenburg position of 15° during a 3-h surgical period could be performed within a safe range of IOP.
This is a preview of subscription content, log in to check access.
Access options
Buy single article
Instant access to the full article PDF.
US$ 39.95
Price includes VAT for USA
Subscribe to journal
Immediate online access to all issues from 2019. Subscription will auto renew annually.
US$ 199
This is the net price. Taxes to be calculated in checkout.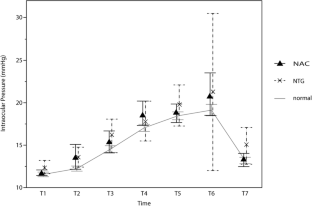 Abbreviations
IOP:

Intraocular pressure

LSC:

Laparoscopic sacral colpopexy

NAC:

Narrow anterior chamber angle

NTG:

Normal tension glaucoma

POP:

Pelvic organ prolapse

POP-Q:

Pelvic organ prolapse quantification

POVL:

Perioperative visual loss

RALP:

Robot-assisted laparoscopic radical prostatectomy
References
1.

Ganatra AM, Rozet F, Sanchez-Salas R, Barret E, Galiano M, Cathelineau X, et al. The current status of laparoscopic sacrocolpopexy: a review. Eur Urol. 2009;55(5):1089–105.

2.

Maher CF, Feiner B, DeCuyper EM, Nichlos CJ, Hickey KV, O'Rourke P. Laparoscopic sacral colpopexy versus total vaginal mesh for vaginal vault prolapse: a randomized trial. Am J Obstet Gynecol. 2011;204(4):360.e1–7.

3.

Gabriel B, Nassif J, Barata S, Wattiez A. Twenty years of laparoscopic sacrocolpopexy: where are we now? Int Urogynecol J. 2011;22(9):1165–9.

4.

Weber ED, Colyer MH, Lesser RL, Subramanian PS. Posterior ischemic optic neuropathy after minimally invasive prostatectomy. J Neuroophthalmol. 2007;27:285–7.

5.

Bui BV, Edmunds B, Cioffi GA, Fortune B. The gradient of retinal functional changes during acute intraocular pressure elevation. Invest Ophthalmol Vis Sci. 2005;46:202–13.

6.

Awad H, Santilli S, Ohr M, Roth A, Yan W, Fernandez S, et al. The effects of steep Trendelenburg positioning on intraocular pressure during robotic radical prostatectomy. Anesth Analg. 2009;109(2):473–8.

7.

Molloy BL. Implications for postoperative visual loss: steep Trendelenburg position and effects on intraocular pressure. AANA J. 2011;79:115–21.

8.

Taketani Y, Mayama C, Suzuki N, Wada A, Oka T, Inamochi K, et al. Transient but significant visual field defects after robot-assisted laparoscopic radical prostatectomy in deep Trendelenburg position. PLoS One. 2015;10(4):e0123361.

9.

Hoshikawa Y, Tsutsumi N, Ohkoshi K, Serizawa S, Hamada M, Inagaki K, et al. The effect of steep Trendelenburg positioning on intraocular pressure and visual function during robotic-assisted radical prostatectomy. Br J Ophthalmol. 2014;98(3):305–8.

10.

Iwase A, Suzuki Y, Araie M, Yamamoto T, Abe H, Shirato S, et al. The prevalence of primary open-angle glaucoma in Japanese: the Tajimi study. Ophthalmology. 2004;111:1641–8.

11.

Yamamoto T, Iwase A, Araie M, Suzuki Y, Abe H, Shirato S, et al. The Tajimi study report 2: prevalence of primary angle closure and secondary glaucoma in a Japanese population. Ophthalmology. 2005;112:1661–9.

12.

Kla KM, Lee LA. Perioperative visual loss. Best Pract Res Clin Anaesthesiol. 2016;30:69–77.

13.

American Society of Anesthesiologists Task Force on Acute Pain Management. Practice guidelines for acute pain management in the perioperative setting: an updated report by the American Society of Anesthesiologists Task Force on acute pain management. Anesthesiology. 2012;116:248–73.

14.

Wattiez A, Boughizane S, Alexandre F, Canis M, Mage G, Pouly JL, et al. Laparoscopic procedures for stress incontinence and prolapse. Curr Opin Obstet Gynecol. 1995;7:317–21.

15.

Vandendriessche D, Sussfeld J, Giraudet G, Lucot JP, Behal H, Cosson M. Complications and reoperations after laparoscopic sacrocolpopexy with a mean follow-up of 4 years. Int Urogynecol J. 2017;28:231–9.

16.

Pinkney TD, King AJ, Walter C, Wilson TR, Maxwell-Armstrong C, Acheson AG. Raised intraocular pressure (IOP) and perioperative visual loss in laparoscopic colorectal surgery: a catastrophe waiting to happen? A systematic review of evidence from other surgical specialities. Tech Coloproctol. 2012;16(5):331–5.

17.

Shen Y, Drum M, Roth S. The prevalence of perioperative visual loss in the United States: a 10-year study from 1996 to 2005 of spinal, orthopedic, cardiac, and general surgery. Anesth Analg. 2009;109:1534–45.

18.

Stoffelns BM. Decreased visual acuity and loss of field of vision after inguinal hernia surgery. Ophthalmologe. 2009;106:448–51.

19.

Mizrahi H, Hugkulstone CE, Vyakarnam P, Parker MC. Bilateral ischaemic optic neuropathy following laparoscopic proctocolectomy: a case report. Ann R Coll Surg Engl. 2011;93:e53–4.

20.

Molloy B. A preventive intervention for rising intraocular pressure: development of the Molloy/Bridgeport anesthesia associates observation scale. AANA J. 2012;80(3):213–22.

21.

Grosso A, Scozzari G, Bert F, Mabilia MA, Siliquini R, Morino M. Intraocular pressure variation during colorectal laparoscopic surgery: standard pneumoperitoneum leads to reversible elevation in intraocular pressure. Surg Endosc. 2013;27(9):3370–6.

22.

Lentschener C, Benhamou D, Niessen F, Mercier FJ, Fernandez H. Intra-ocular pressure changes during gynaecological laparoscopy. Anaesthesia. 1996;51(12):1106–8.

23.

Hitchings RA. Low tension glaucoma—its place in modern glaucoma practice. Br J Ophthalmol. 1992;76:494–6.

24.

Molloy B, Watson C. A comparative assessment of intraocular pressure in prolonged steep Trendelenburg position versus level supine position intervention. J Anesthesiol Clin Sci. 2012;1(9):8. https://doi.org/10.7243/2049-9752-1-9.

25.

Shihota R, Dada T, Gupta V, Deepak KK, Pandey RM. Narrowing of the anterior chamber angle during Valsalva maneuver: a possible mechanism for angle closure. Eur J Ophthalmol. 2006;16(1):81–91.
Acknowledgements
This study won the academic award of the poster presentation at the 11th Japanese Society of POP Surgery (JPOP) annual scientific meeting, 11–12 March 2017, Tokyo, Japan.
The authors acknowledge and thank the following mentors and advisors: Seiichi Era, Hidetoshi Ehara, Hiroki Ito.
Ethics declarations
Conflicts of interest
None.
Financial support
None.
Patient consent
Written consent was obtained from the patients included in the study.
Additional information
Publisher's note
Springer Nature remains neutral with regard to jurisdictional claims in published maps and institutional affiliations.
About this article
Cite this article
Moriyama, Y., Miwa, K., Yamada, T. et al. Intraocular pressure change during laparoscopic sacral colpopexy in patients with normal tension glaucoma. Int Urogynecol J 30, 1933–1938 (2019). https://doi.org/10.1007/s00192-018-03866-w
Received:

Accepted:

Published:

Issue Date:
Keywords
Pelvic organ prolapse

Laparoscopic sacral colpopexy

Intraocular pressure

Glaucoma

Trendelenburg