Abstract
Urinary tract infection (UTI) is clinically important, given that it is one of the most common bacterial infections in adult women. However, the current understanding of UTI remains based on a now disproven concept that the urinary bladder is sterile. Thus, current standards for UTI diagnosis have significant limitations that may reduce the opportunity to improve patient care. Using data from our work and numerous other peer-reviewed studies, we identified four major limitations to the contemporary UTI description: the language of UTI, UTI diagnostic testing, the Escherichia coli-centric view of UTI, and the colony-forming units (CFU) threshold-based diagnosis. Contemporary methods and technology, combined with continued rigorous clinical research can be used to correct these limitations.
Access options
Buy single article
Instant access to the full article PDF.
USD 39.95
Price includes VAT (USA)
Tax calculation will be finalised during checkout.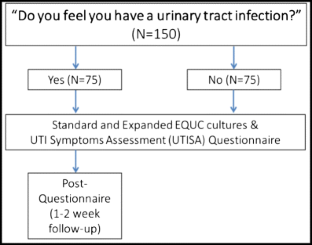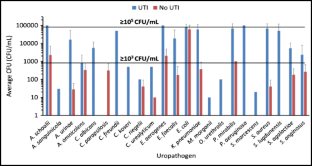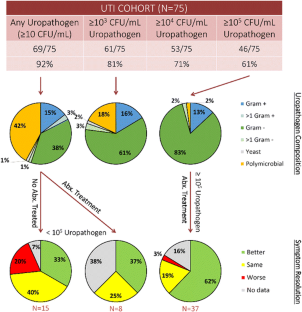 References
1.

Hooton TM. Clinical practice. Uncomplicated urinary tract infection. N Engl J Med. 2012;366(11):1028–37.

2.

Finucane TE. "Urinary tract infection"—requiem for a heavyweight. J Am Geriatr Soc. 2017;65(8):1650–5.

3.

Wolfe AJ, Toh E, Shibata N, Rong R, Kenton K, Fitzgerald M, et al. Evidence of uncultivated bacteria in the adult female bladder. J Clin Microbiol. 2012;50(4):1376–83.

4.

Fouts DE, Pieper R, Szpakowski S, Pohl H, Knoblach S, Suh MJ, et al. Integrated next-generation sequencing of 16S rDNA and metaproteomics differentiate the healthy urine microbiome from asymptomatic bacteriuria in neuropathic bladder associated with spinal cord injury. J Transl Med. 2012;10:174.

5.

Pearce MM, Hilt EE, Rosenfeld AB, Zilliox MJ, Thomas-White K, Fok C, et al. The female urinary microbiome: a comparison of women with and without urgency urinary incontinence. MBio. 2014;5(4):e01283–14.

6.

Thomas-White KJ, Hilt EE, Fok C, et al. Incontinence medication response relates to the female urinary microbiota. Int Urogynecol J 2015;27(5):723–33.

7.

Khasriya R, Sathiananthamoorthy S, Ismail S, Kelsey M, Wilson M, Rohn JL, et al. Spectrum of bacterial colonization associated with urothelial cells from patients with chronic lower urinary tract symptoms. J Clin Microbiol. 2013;51(7):2054–62.

8.

Hilt EE, McKinley K, Pearce MM, Rosenfeld AB, Zilliox MJ, Mueller ER, et al. Urine is not sterile: use of enhanced urine culture techniques to detect resident bacterial flora in the adult female bladder. J Clin Microbiol. 2014;52(3):871–6.

9.

Procop GW, Church DL, Hall GS, Janda WM, Koneman EE, Schreckenberger P, Woods GL. Koneman's color atlas and textbook of diagnostic microbiology. 7th edn. Philadelphia: Wolters Kluwer Health; 2017.

10.

Kass EH. Asymptomatic infections of the urinary tract. Trans Assoc Am Phys. 1956;69:56–64.

11.

Stamm WE, Counts GW, Running KR, Fihn S, Turck M, Holmes KK. Diagnosis of coliform infection in acutely dysuric women. N Engl J Med. 1982;307(8):463–8.

12.

Stark RP, Maki DG. Bacteriuria in the catheterized patient. What quantitative level of bacteriuria is relevant? N Engl J Med. 1984;311(9):560–4.

13.

Hooton TM, Roberts PL, Cox ME, Stapleton AE. Voided midstream urine culture and acute cystitis in premenopausal women. N Engl J Med. 2013;369(20):1883–91.

14.

Price TK, Dune T, Hilt EE, et al. The clinical urine culture: enhanced techniques improve detection of clinically relevant microorganisms. J Clin Microbiol 2016;54(5):1216–22.

15.

Clayson D, Wild D, Doll H, Keating K, Gondek K. Validation of a patient-administered questionnaire to measure the severity and bothersomeness of lower urinary tract symptoms in uncomplicated urinary tract infection (UTI): the UTI symptom assessment questionnaire. BJU Int. 2005;96(3):350–9.

16.

Deville WL, Yzermans JC, van Duijn NP, Bezemer PD, van der Windt DA, Bouter LM. The urine dipstick test useful to rule out infections. A meta-analysis of the accuracy. BMC Urol. 2004;4:4.

17.

Al Majid F, Buba F. The predictive and discriminant values of urine nitrites in urinary tract infection. Biomed Res. 2010;21:297–9.

18.

Foxman B. Urinary tract infection syndromes: occurrence, recurrence, bacteriology, risk factors, and disease burden. Infect Dis Clin N Am. 2014;28(1):1–13.

19.

Ronald A. The etiology of urinary tract infection: traditional and emerging pathogens. Am J Med. 2002;113 [Suppl 1A]:14s–9s.

20.

Kline KA, Lewis AL. Gram-positive uropathogens, polymicrobial urinary tract infection, and the emerging microbiota of the urinary tract. Microbiol Spectr 2016;4(2). https://doi.org/10.1128/microbiolspec.UTI-0012-2012.

21.

Le Brun C, Robert S, Bruyere F, Lanotte P. Emerging uropathogens: point for urologists and biologists. Prog Urol. 2015;25(7):363–9.

22.

Siegman-Igra Y, Kulka T, Schwartz D, Konforti N. The significance of polymicrobial growth in urine: contamination or true infection. Scand J Infect Dis. 1993;25(1):85–91.

23.

Holmes K, Sparling P, Stamm WE, Piot P, Wasserheit J, Corey L, Cohen M. Sexually transmitted diseases. 4th edn. New York: McGraw-Hill; 2007.

24.

Stamm WE. Quantitative urine cultures revisited. Eur J Clin Microbiol. 1984;3(4):279–81.

25.

Davenport M, Mach KE, Shortliffe LMD, Banaei N, Wang TH, Liao JC. New and developing diagnostic technologies for urinary tract infections. Nat Rev Urol. 2017;14(5):296–310.
Acknowledgements
We would like to thank the members of the Loyola Urinary Education and Research Collaborative for their contributions to the work described.
Funding
AJW, LB, and ERM have been supported by NIH grants 2 U10 HD41250, U01 DK58229, R21 DK097435, R56 DK104718, P20 DK108268, R01 DK104718, a translational grant from the Falk Foundation and by RFC LU206998 from Loyola University Chicago. AJW has received funding for Investigator Initiated Studies VESI-12D01 and MYRB-15A01 from Astellas Scientific and Medical Affairs Inc. ERM has received funding from an Investigator Initiated Study (VESI-12D01) from Astellas Scientific and Medical Affairs Inc. Our funding sources have played no role in the design or conduct of our studies; collection, management, analysis, and interpretation of our data; or in the preparation, review, or approval of this or any other manuscript.
Ethics declarations
Conflicts of interest
Dr Brubaker has received editorial honoraria from UpToDate and Female Pelvic Medicine and Reconstructive Surgery. Dr Wolfe has received research support from Astellas Scientific and Medical Affairs. for urinary microbiome research. Dr Mueller has received honoraria from UpToDate and honoraria and research support from Astellas Scientific and Medical Affairs. Drs Brubaker and Wolfe have received funding from the NIH and Loyola University Chicago for urinary microbiome research (see funding acknowledgements). Travis Price, Evann Hilt, and Tanaka Dune have no conflicts of interest.
About this article
Cite this article
Price, T.K., Hilt, E.E., Dune, T.J. et al. Urine trouble: should we think differently about UTI?. Int Urogynecol J 29, 205–210 (2018). https://doi.org/10.1007/s00192-017-3528-8
Received:

Accepted:

Published:

Issue Date:
Keywords
Diagnostics

Escherichia coli

Microbiome

Pathogens

Urinalysis

Urinary tract infection