Abstract
Introduction and hypothesis
The efficacy and safety of removing or preserving the uterus during reconstructive pelvic surgery is a matter of debate.
Methods
We performed a systematic review and meta-analysis of studies that compared hysteropreservation and hysterectomy in the management of uterine prolapse. PubMed, Medline, SciELO and LILACS databases were searched from inception until January 2017. We selected only randomized controlled trials and observational cohort prospective comparative studies. Primary outcomes were recurrence and reoperation rates. Secondary outcomes were: operative time, blood loss, visceral injury, voiding dysfunction, duration of catheterization, length of hospital stay, mesh exposure, dyspareunia, malignant neoplasia and quality of life.
Results
Eleven studies (six randomized and five non-randomized) were included involving 910 patients (462 in the hysteropreservation group and 448 in the hysterectomy group). Pooled data including all surgical techniques showed no difference between the groups regarding recurrence of uterine prolapse (RR 1.65, 95% CI 0.88–3.10; p = 0.12), but the risk of recurrence following hysterectomy was lower when the vaginal route was used with native tissue repair (RR 10.61; 95% CI 1.26–88.94; p = 0.03). Hysterectomy was associated with a lower reoperation rate for any prolapse compartment than hysteropreservation (RR 2.05; 95% CI 1.13–3.74; p = 0.02). Hysteropreservation was associated with a shorter operative time (mean difference −12.43 min; 95% CI −14.11 to −10.74 ; p < 0.00001) and less blood loss (mean difference −60.42 ml; 95% CI −71.31 to −49.53 ml; p < 0.00001). Other variables were similar between the groups.
Conclusions
Overall, the rate of recurrence of uterine prolapse was not lower but the rate of reoperation for prolapse was lower following hysterectomy, while operative time was shorter and blood loss was less with hysteropreservation. The limitations of this analysis were the inclusion of nonrandomized studies and the variety of surgical techniques. The results should be interpreted with caution due to potential biases.
Access options
Buy single article
Instant access to the full article PDF.
US$ 39.95
Tax calculation will be finalised during checkout.
Subscribe to journal
Immediate online access to all issues from 2019. Subscription will auto renew annually.
US$ 119
Tax calculation will be finalised during checkout.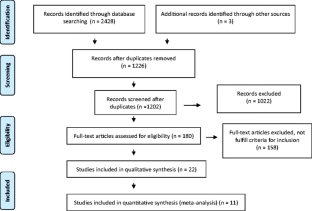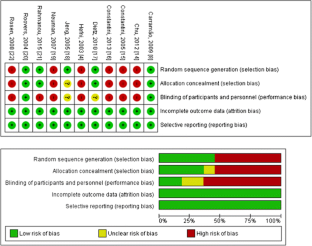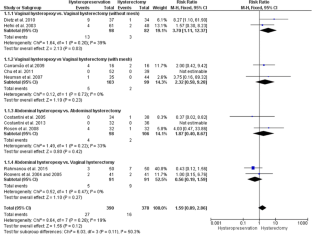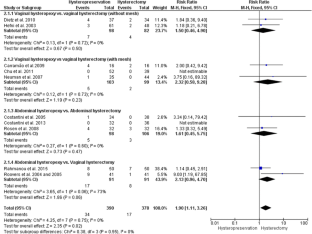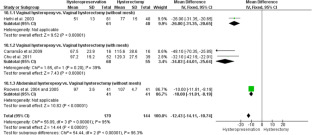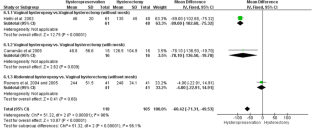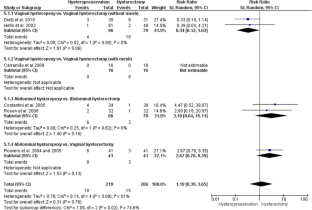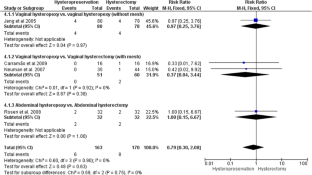 References
1.

Olsen AL, Smith VJ, Bergstrom JO, Colling JC, Clark AL. Epidemiology of surgically managed pelvic organ prolapse and urinary incontinence. Obstet Gynecol. 1997;89(4):501–6.

2.

Detollenaere RJ, den Boon J, Stekelenburg J, et al. Treatment of uterine prolapse stage 2 or higher: a randomized multicenter trial comparing sacrospinous fixation with vaginal hysterectomy (SAVE U trial). BMC Womens Health. 2011;11:4.

3.

Kow N, Goldman HB, Ridgeway B. Management options for women with uterine prolapse interested in uterine preservation. Curr Urol Rep. 2013;14:395–402.

4.

Hefni M, El-Toucky T, Bhaumik J, Katsimanis E. Sacrospinous cervicocolpopexy with uterine conservation for uterovaginal prolapse in elderly women: an evolving concept. Am J Obset Gynecol. 2003;188:645–50.

5.

Wilcox LS, Koonin LM, Pokras R, Strauss LT, Xia Z, Peterson HB. Hysterectomy in the United States. Obstet Gynecol. 1994;83:549–55.

6.

Thomas AG, Brodman ML, Dottino PR, Bodian C, Friedman F Jr, Bogursky E. Manchester procedure vs. vaginal hysterectomy for uterine prolapse. A comparison. J Reprod Med. 1995;40:299–304.

7.

Moher D, Liberati A, Tetzlaff J, Altman DG. Preferred reporting items for systematic reviews and meta-analyses: The PRISMA statement. BMJ. 2009;339:332–9.

8.

Haylen BT, de Ridder D, Freeman RM, et al. An International Urogynecological Association IUGA/International Continence Society (ICS) joint report on the terminology for female pelvic floor dysfunction. Int Urogynecol J. 2010;21:5–26.

9.

Higgins JPT, Green S (editors). Cochrane handbook for systematic reviews of interventions, version 5.1.0. The Cochrane Collaboration; 2011. www.cochrane-handbook.org. Accessed 23 Jul 2017.

10.

Chu LC, Chuang FC, Kung FT, Huang KH. Comparison of short-term outcomes following pelvic reconstruction with Perigee and Apogee systems: hysterectomy or not? Int Urogynecol J. 2012;23(1):79–84.

11.

Costantini E, Mearini L, Bini V, Zucchi A, Mearini E, Porena M. Uterus preservation in surgical correction of urogenital prolapse. Eur Urol. 2005;48:642–9.

12.

Costantini E, Porena M, Lazzeri M, Mearini L, Bini V, Zucchi A. Changes in female sexual function after pelvic organ prolapse repair: role of hysterectomy. Int Urogynecol J. 2013;24:1481–7.

13.

Dietz V, van der Vaart CH, van der Graaf Y, Heintz P, Koops SES. One-year follow-up after sacrospinous hysteropexy and vaginal hysterectomy for uterine descensus: a randomized study. Int Urogynecol J. 2010;21:209–16.

14.

Neuman M, Lavy Y. Conservation of the prolapsed uterus is a valid option: medium term results of a prospective comparative study with the posterior intravaginal slingoplasty operation. Int Urogynecol J. 2007;18(8):889–93.

15.

Roovers JPWR, van der Vaart CH, van der Bom JG, van Leeuwen JHS, Scholten PC, Heintz APM. A randomised controlled trial comparing abdominal and vaginal prolapse surgery: effects on urogenital function. BJOG. 2004;111:50–6.

16.

Rahmanou P, Price N, Jackson SR. Laparoscopic hysteropexy versus vaginal hysterectomy for the treatment of uterovaginal prolapse: a prospective randomized pilot study. Int Urogynecol J. 2015;26:1687–94.

17.

Rosen DMB, Shukla A, Cario GM, Carlton MA, Chou D. Is hysterectomy necessary for laparoscopic pelvic floor repair? A prospective study. J Minim Invasive Gynecol. 2008;5(6):729–34.

18.

Carramão S, Auge APF, Pacetta AM, et al. A randomized comparison of two vaginal procedures for the treatment of uterine prolapse using polypropylene mesh: hysteropexy versus hysterectomy. Rev Col Bras Cir. 2009;36(1):65–72.

19.

Jeng CJ, Yang YC, Tzeng CR, Shen J, Wang LR. Sexual functioning after vaginal hysterectomy or transvaginal sacrospinous uterine suspension for uterine prolapse. J Rep Med. 2005;50(9):669–74.

20.

Huang LY, Chu LC, Chiang HJ, Chuang FC, Kung FT, Huang KH. Medium-term comparison of uterus preservation versus hysterectomy in pelvic organ prolapse treatment with Prolift™ mesh. Int Urogynecol J. 2015;26(7):1013–20.

21.

de Boer TA, Milani AL, Kluivers KB, Withagen MI, Vierhout ME. The effectiveness of surgical correction of uterine prolapse: cervical amputation with uterosacral ligament plication (modified Manchester) versus vaginal hysterectomy with high uterosacral ligament plication. Int Urogynecol J. 2009;20(11):1313–9.

22.

Thys ST, Coolen AL, Martens IR, et al. A comparison of long-term outcome between Manchester Fothergill and vaginal hysterectomy as treatment for uterine descent. Int Urogynecol J. 2011;22:1171–8.

23.

Bedford ND, Seman EI, O'Shea RT, Keirse MJNC. Effect of uterine preservation on outcome of laparoscopic uterosacral suspension. J Minim Invasive Gynecol. 2013;20(2):172–7.

24.

Fedorkow DM, Kalbfleisch RE. Total abdominal hysterectomy at abdominal sacrovaginopexy: a comparative study. Am J Obstet Gynecol. 1993;169(3):641–3.

25.

Bai SW, Kim EH, Shin JS, Kim SK, ParK KH, Lee DH. A comparison of different pelvic reconstruction surgeries using mesh for pelvic organ prolapse patients. Yonsei Med J. 2005;46(1):112–8.

26.

Romanzi LJ, Tyagi R. Hysteropexy compared to hysterectomy for uterine prolapse surgery: does durability differ? Int Urogynecol J. 2012;23:625–31.

27.

Marschalek J, Trofaier ML, Yerlikaya G, et al. Anatomic outcomes after pelvic organ prolapse surgery comparing uterine preservation with hysterectomy. Eur J Obstet Gynecol Reprod Biol. 2014;183:33–6.

28.

Shi RX, Sun HT. Total pelvic floor reconstruction versus transvaginal hysterectomy for pelvic organ prolapse: a retrospective cohort. Clin Exp Obstet Gynecol. 2014;41(3):323–7.

29.

Iliev VN, Andonova IT. Uterus preserving vaginal surgery versus vaginal hysterectomy for correction of female pelvic organ prolapse. Pril (Makedon Akad Nauk Umet Odd Med Nauki). 2014;35(1):243–7.

30.

Korbly NB, Kassis NC, Good MM, et al. Patient preferences for uterine preservation and hysterectomy in women with pelvic organ prolapse. Am J Obstet Gynecol. 2013;209(5):470.e1–e6.

31.

Jirschele K, Seitz M, Zhou Y, Rosenblatt P, Culligan P, Sand P. A multicenter, prospective trial to evaluate mesh-augmented sacrospinous hysteropexy for uterovaginal prolapse. Int Urogynecol J. 2015;26(5):743–8.

32.

Kovac SR, Cruikshank SH. Successful pregnancies and vaginal deliveries after sacrospinous uterosacral fixation in five of nineteen patients. Am J Obstet Gynecol. 1993;168:1778–86.

33.

Gamble T, Aschkenazi S, Nguyen A, et al. Bilateral, graft-augmented sacrospinous hysteropexy, anatomic and functional outcomes at one year. J Pelvic Med Surg. 2008;14:213–352.
Acknowledgements
We thank Vinícius Fernando Calsavara who helped with the statistical analyses.
Ethics declarations
Funding
None.
Conflicts of interest
None.
Electronic supplementary material
About this article
Cite this article
de Oliveira, S.A., Fonseca, M.C.M., Bortolini, M.A.T. et al. Hysteropreservation versus hysterectomy in the surgical treatment of uterine prolapse: systematic review and meta-analysis. Int Urogynecol J 28, 1617–1630 (2017). https://doi.org/10.1007/s00192-017-3433-1
Received:

Accepted:

Published:

Issue Date:
Keywords
Pelvic organ prolapse

Hysterectomy

Hysteropreservation

Uterine preservation

Meta-analyses

Systematic review