Abstract
Introduction and hypothesis
The Prolapse/Incontinence Sexual Questionnaire–International Urogynecology Association (IUGA) Revised (PISQ-IR) measures sexual function in women with pelvic floor disorders (PFDs) yet is unwieldy, with six individual subscale scores for sexually active women and four for women who are not. We hypothesized that a valid and responsive summary score could be created for the PISQ-IR.
Methods
Item response data from participating women who completed a revised version of the PISQ-IR at three clinical sites were used to generate item weights using a magnitude estimation (ME) and Q-sort (Q) approaches. Item weights were applied to data from the original PISQ-IR validation to generate summary scores. Correlation and factor analysis methods were used to evaluate validity and responsiveness of summary scores.
Results
Weighted and nonweighted summary scores for the sexually active PISQ-IR demonstrated good criterion validity with condition-specific measures: Incontinence Severity Index = 0.12, 0.11, 0.11; Pelvic Floor Distress Inventory-20 = 0.39, 0.39, 0.12; Epidemiology of Prolapse and Incontinence Questionnaire-Q35 = 0.26 0,.25, 0.40); Female Sexual Functioning Index subscale total score = 0.72, 0.75, 0.72 for nonweighted, ME, and Q summary scores, respectively. Responsiveness evaluation showed weighted and nonweighted summary scores detected moderate effect sizes (Cohen's d > 0.5). Weighted items for those NSA demonstrated significant floor effects and did not meet criterion validity.
Conclusions
A PISQ-IR summary score for use with sexually active women, nonweighted or calculated with ME or Q item weights, is a valid and reliable measure for clinical use. The summary scores provide value for assesing clinical treatment of pelvic floor disorders.
This is a preview of subscription content, log in to check access.
Access options
Buy single article
Instant access to the full article PDF.
US$ 39.95
Price includes VAT for USA
Subscribe to journal
Immediate online access to all issues from 2019. Subscription will auto renew annually.
US$ 199
This is the net price. Taxes to be calculated in checkout.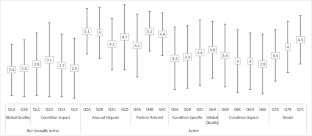 References
1.

Rogers RG, Rockwood TH, Constantine ML, Thakar R, Kammerer-Doak DN, Pauls RN, et al. A new measure of sexual function in women with pelvic floor disorders (PFD): the pelvic organ prolapse/incontinence sexual questionnaire, IUGA-revised (PISQ-IR). Int Urogynecol J Pelvic Floor Dysfunct. 2013;24(7):1091–103.

2.

Lodge M. Magnitude scaling, quantitative measurement of opinions. Beverly Hills: Sage Publications; 1981.

3.

Brown SR. Political subjectivity: applications of Q methodology in political science. New Haven: Yale University Press; 1980.

4.

Watts S, Stenner P. Doing Q methodological research: theory, method and interpretation. London: Singapore Sage Publications; 2012.

5.

Hersen M. Comprehensive handbook of psychological assessment, behavioral assessment. Hokoben: Wiley; 2004.

6.

McKeown B, Thomas D. Q methodology. Series 66: quantitative applications in the social sciences. Thousand Oaks: Sage Publications; 1988.

7.

Pett MA, Lackey NR, Sullivan JJ. Making sense of factor analysis: the use of factor analysis for instrument development in health care research. Thousand Oaks: Sage Publications; 2003.

8.

Cohen J. Statistical power analysis for the behavioral science. New York: Academic Press; 1977.

9.

Haylen BT, de Ridder D, Freeman RM, Swift SE, Berghmans B, Lee J, et al. An international urogynecologic association (IUGA)/international continence society (ICS) joint report on the terminology for female pelvic floor dysfunction. Int Urogynecol J. 2010;21:5–26.

10.

Campbell DT, Russo MJ. Social measurement. Thousand Oaks: Sage Publications Inc; 2001.

11.

Tversky A, Shafir E. Preference, belief, and similarity: selected writings. Cambridge: MIT Press; 2004.

12.

Schwarz N, Bienias J. What mediates the impact of response alternatives on frequency reports of mundane behaviors? Appl Cogn Psychol. 2006;4(1):61–72.

13.

Schwarz N, Sudman S. Context effects in social and psychological research. New York: Springer-Verlag; 1992.

14.

Rockwood TH, Constantine ML, Adegoke O, Rogers RG, McDermott E, Davila GW, et al. The PISQ-IR: considerations in scale scoring and development. Int Urogynecol J. 2013;24(7):1105–22.
Ethics declarations
Conflicts of interest
Dr. Rogers has received paid travel expenses or honoraria from UptoDate, ABOG, AUGS, and IUGA. He is on the Board of ABOG, AUGS, and IUGA.
Funding statement
No funding was received for this study.
Additional information
This work was presented as an oral poster at the American Urogynecologic Society annual meeting, 29 September, 2016, Denver, CO, USA.
Electronic supplementary material
About this article
Cite this article
Constantine, M.L., Pauls, R.N., Rogers, R.R. et al. Validation of a single summary score for the Prolapse/Incontinence Sexual Questionnaire–IUGA revised (PISQ-IR). Int Urogynecol J 28, 1901–1907 (2017). https://doi.org/10.1007/s00192-017-3373-9
Received:

Accepted:

Published:

Issue Date:
Keywords
Pelvic floor disorders

PISQ-IR

Validated questionnaire

Sexual function

Prolapse