Abstract
Introduction and hypothesis
The aims of this study were to determine the topographical relationships between the obturator nerve (ON), artery (OA), and vein (OV) in the lateral pelvic wall.
Methods
One hundred and fifty hemipelvises of 84 Korean cadavers were dissected.
Results
The ON, OA, and OV ran in that order (from upper to lower) within the lateral pelvic wall in 46.7 % of specimens. In 32 % of cases, the three structures were separated at the posterior portion of the wall and then converged toward the obturator canal (OC). In 10 %, the OA and OV were in contact with each other and separate from the ON; in 2 %, the ON was contiguous with the OA and separate from the OV; in 2.7 %, all three structures were in contact with each another. Alternately, the order of ON, OA, and OV was altered in the lateral pelvic wall in 41.3 % of specimens. Finally, in 12 % specimens, either the OA or OV or both were absent from the lateral pelvic wall.
Conclusions
The possibility of the presence of either the OA or OV being between the ON and the external iliac vein, and the potential contact between the ON and either the OA or OV in the lateral pelvic wall, should be borne in mind during pelvic procedures.
Access options
Buy single article
Instant access to the full article PDF.
US$ 39.95
Tax calculation will be finalised during checkout.
Subscribe to journal
Immediate online access to all issues from 2019. Subscription will auto renew annually.
US$ 119
Tax calculation will be finalised during checkout.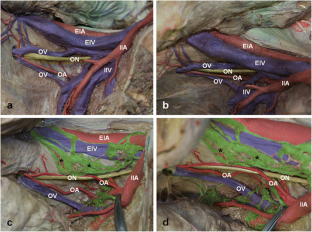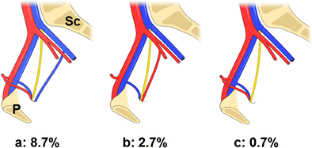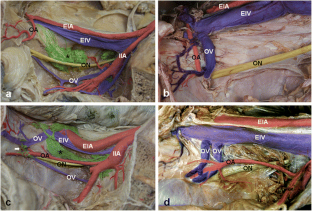 Abbreviations
ON:

Obturator nerve

OA:

Obturator artery

OV:

Obturator vein
References
1.

Anson BJ (1966) Morris' human anatomy, 12th edn. Blackiston Division McGraw-Hill Book Co., New York

2.

Woodburne RT, Burkel WE (1988) Essentials of human anatomy, 8th edn. Oxford University Press, New York

3.

Rouvière H, Delmas A (1992) Anatomie Humaine. Tome II. Tête et Cou. 13e edn. Masson, Paris

4.

Hollinshead WH, Rosse C (1985) Textbook of anatomy, 4th edn. Harper & Row Purbishers, Philadelpia

5.

Berberoǧlu M, Uz A, Ozmen MM, Bozkurt C, Erkuran C, Taner S, Tekin A, Tekdemir I (2001) Corona mortis. Surg Endosc 15:72–75

6.

Rusu MC, Cergan R, Motoc AGM, Folescu R, Pop E (2010) Anatomical considerations on the corona mortis. Surg Radiol Anat 32:17–24

7.

Sañudo JR, Mirapeix R, Rodriguez-Niedenfuehr M, Maranillo E, Parkin IG, Vazquez T (2011) Obturator artery revisited. Int Urogynecol J 22:1313–1318

8.

Missankov AA, Asvat R, Maoba KI (1996) Variations of the pubic vascular anastomoses in black south Africans. Acta Anat 155:212–214

9.

Gilroy AM, MacPherson BR, Ross LM (2008) Atlas of anatomy. Thieme, Stuttgart

10.

Fishman JR, Moran ME, Carey RC (1993) Obturator neuropathy after laparoscopic pelvic lymphadenectomy. Urology 42:198–200

11.

Querleu D, Ferron G, Rafii A, Bouissou E, Delannes M, Mery E, Gladieff L (2008) Pelvic lymph node dissection via a lateral extraperitoneal approach: description of a technique. Gynecol Oncol 109:81–85

12.

Ricciardi E, Jakimovska M, Maniglio P, Schimberni M, Frega A, Kobal B, Moscarini M (2012) Laparoscopic injury of the obturator nerbe during fertility-sparing procedure for cervical cancer. World J Surg Oncol 10:177

13.

Nezhat FR, Chang-Jackson SCR, Acholonu UC Jr, Vetre PF (2012) Robotic-assisted laparoscopic transaction and repair of an obturator nerve during pelvic lymphadenectomy for endometrial cancer. Obstet Gynecol 119:462–464

14.

Saliviero M, Steinberg AP, Kaouk JH, Desai MM, Hammert WC, Gill I (2004) Laparoscopic injury and repair of obturator nerve during radical prostatectomy. Urology 64:1030.e11–1130.e12

15.

Ludwig W, Tewari A (2013) Retraction of external iliac vessels and obturator nerve with the vas deferns during extended pelvic lymph node dissection in robot-assisted radical prostatectomy. Urology 81:1369–1371

16.

Agur AMR (1991) Grant's atlas of anatomy, 9th edn. Williams & Wilkins, Baltimore

17.

Williams PL (1995) Gray's anatomy. Churchill Livingstone, Edinburgh

18.

Putz R, Pabst R (2000) Sobotta atlals of human anatomy, vol 2. 13th edn. Lippincott Williams & Wilkins, Philadelphia

19.

Lallas CD, Pe ML, Thumar AB, Chandrasekar T, Lee FC, McCue P, Gomella LG, Trabulsi EJ (2011) Comparison of lymph node yield in robot-assisted laparoscopic prostatectomy with that in open radical retropubic prostatectomy. BJU Int 107:1136–1140

20.

Yee DS, Katz DJ, Godoy G, Nogueira L, Chong KT, Kaag M, Coleman JA (2011) Extended pelvic lymph node dissection in robotic-assisted radical prostatectomy: surgical technique and initial experience. Urology 75:1199–1204

21.

Kitagawa R, Kim D, Reid N, Kline D (2009) Surgical management of obturator nerve lesions. Neurosurgery 65:A24–A28

22.

Mirilas P, Skandalakis JE (2010) Surgical anatomy of the retroperitoneal spaces, part III: retroperitoneal blood vessels and lymphatics. Am Surg 76:139–144

23.

Weingärtner K, Ramaswamy A, Bittinger A, Gerharz EW, Vöge D, Riedmiller H (1996) Anatomical basis for pelvic lymphadenectomy in prostate cancer: results of an autopsy study and implications for the clinic. J Urol 156:1969–1971

24.

Briganti A, Chun FK, Salonia A, Suardi N, Gallina A, Da Pozzo LF, Roscigno M, Zanni G, Valiquette L, Rigatti P, Montorsi F, Karakiewicz PI (2006) Complications and other surgical outcomes associated with extended pelvic lymphadenectomy in men with localized prostate cancer. Eur Urol 50:1006–1013

25.

Fricker RM, Troeger H, Pfeiffer KM (1997) Obturator nerve palsy due to fixation of an acetabular reinforcement ring with transacetabular screws. A case report. J Bone Joint Surg Am 79:444–446

26.

Grant P, Røise O, Ovre S (2001) Obturator neuropathy due to intrapelvic extrusion of cement during total hip replacement - report of 2 patients. Acta Orthop Scand 72:537–540

27.

Jirsch JD, Chalk CH (2007) Obturator neuropathy complicating elective laparoscopic tubal occlusion. Muscle Nerve 36:104–106

28.

Akata T, Murakami J, Yoshinaga A (1999) Life-threatening haemorrhage following obturator artery injury during transurethral bladder surgery: a sequel of an unsuccessful obturator nerve block. Acta Anaesthesiol Scand 43:784–788

29.

Daneshgari F, Kong W, Swartz M (2008) Complications of mid urethral slings: important outcomes for future clinical trials. J Urol 180:1890–1897

30.

Walters MD, Tulikangas PK, LaSala C, Muir TW (2001) Vascular injury during tension-free vaginal tape procedure for stress urinary incontinence. Obstet Gynecol 98:957–959

31.

Negura A, Andreescu G, Marderos GG, Marderos GH, Mǎrgǎrit L (1993) Hemorrhagic risks in the Burch procedure. Int Urogynecol J 4:310–313

32.

Tantchev LS, Gorchev GA, Tomov ST, Radionova ZV, Velkova AS (2013) Aberrant obturator vessels in minimally invasive pelvic lymph node dissection. Gynecol Surg 10:273–278
Acknowledgments
The authors thank Prof. In-Hyuk Chung and Mr. Seong-In John for their help in dissecting specimens and preparing figures.
Conflicts of interest
None
About this article
Cite this article
Won, HS., Kim, JH., Lee, UY. et al. Topographical relationships between the obturator nerve, artery, and vein in the lateral pelvic wall. Int Urogynecol J 27, 213–218 (2016). https://doi.org/10.1007/s00192-015-2806-6
Received:

Accepted:

Published:

Issue Date:
Keywords
Obturator nerve

Obturator artery

Obturator vein

Lateral pelvic wall

Pelvic surgery