Abstract
Introduction and hypothesis
The aim of this study was to assess pelvic floor muscle (PFM) function using transabdominal ultrasound (TAUS) in women attending group exercise classes. Specific aims were to: (1) identify the ability to perform a correct elevating PFM contraction and (2) assess bladder-base movement during an abdominal curl exercise.
Methods
Ninety women participating in group exercise were recruited to complete a survey and TAUS assessment performed by two qualified Continence and Women's Health physiotherapists with clinical experience in ultrasound scanning. The assessment comprised three attempts of a PFM contraction and an abdominal curl exercise in crook lying. Bladder-base displacement was measured to determine correct or incorrect activation patterns.
Results
Twenty-five percent (n = 23) of women were unable to demonstrate an elevating PFM contraction, and all women displayed bladder-base depression on abdominal curl (range 0.33–31.2 mm). Parous women displayed, on average, significantly more bladder-base depression than did nulliparous women [15.5 (7.3) mm vs 11.4 (5.8) mm, p < 0.009). Sixty percent (n = 54) reported stress urinary incontinence (SUI). There was no association between SUI and the inability to perform an elevating PFM contraction (p = 0.278) or the amount of bladder-base depression with abdominal curl [14.1 (7.6) mm SUI vs 14.2 (6.7) mm non-SUI].
Conclusions
TAUS identified that 25 % of women who participated in group exercise were unable to perform a correctly elevating PFM contraction, and all depressed the bladder-base on abdominal curl. Therefore, exercising women may be at risk of PFM dysfunction when performing abdominal curl activities.
Access options
Buy single article
Instant access to the full article PDF.
USD 39.95
Price excludes VAT (USA)
Tax calculation will be finalised during checkout.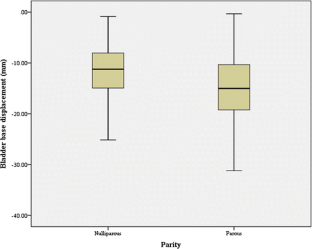 References
Milsom I, Altman D, Cartwright R, Lapitan MC, Nelson R, Sillen U, Tikkinen K (2013) Epidemiology of urinary incontinence (UI) and other lower urinary tract symptoms (LUTS), pelvic organ prolapse (POP) and anal incontinence (AI). In: Abrams P, Cardozo L, Khoury S, Wein A (eds) Fifth international consultation on incontinence. Health Publications, Paris

Avery JC, Gill TK, MacLennan AH, Chittleborough CR, Grant JF, Taylor AW (2004) The impact of incontinence on health-related quality of life in a South Australian population sample. Aust N Z J Public Health 28:173–179

Koelbl H, Igawa T, Salvatore S, Laterza RM, Lowry A, Sievert K-D, Sultan A (2013) Pathophysiology of urinary incontinence, faecal incontinence and pelvic organ prolapse. In: Abrams P, Cardozo L, Khoury S, Wein A (eds) Fifth International consultation on incontinence. Health Publications, Paris

Bo K (2004) Urinary incontinence, pelvic floor dysfunction, exercise and sport. Sports Med 34:451–464

Goldstick O, Constantini N (2014) Urinary incontinence in physically active women and female athletes. Br J Sports Med 48:296–298

Bo K, Sundgot Borgen J (2010) Are former female elite athletes more likely to experience urinary incontinence later in life than non-athletes? Scand J Med Sci Sports 20:100–104

Nygaard IE (1997) Does prolonged high-impact activity contribute to later urinary incontinence? A retrospective cohort study of female olympians. Obstet Gynecol 90:718–722

Fozzatti C, Riccetto C, Herrmann V, Brancalion MF, Raimondi M, Nascif CH, Marques LR, Palma PP (2012) Prevalence study of stress urinary incontinence in women who perform high-impact exercises. Int Urogynecol J 23:1687–1691

Salvatore S, Serati M, Laterza R, Uccella S, Torella M, Bolis PF (2009) The impact of urinary stress incontinence in young and middle-age women practising recreational sports activity: an epidemiological study. Br J Sports Med 43:1115–1118

McKenzie S, Preedy T, Thompson J, Briffa K (2014) Women who attend group exercise classes or gymnasiums have a high prevalence of stress urinary incontinence. 23rd National Conference on Incontinence 12th September; Cairns

Deeble M, French S, Thompson J, Andrews A, Briffa K (2012) Should women with pelvic floor dysfunction do sit-ups? Australian and New Zealand Continence Journal 19: ISSN 1448-0131

Jácome C, Oliveira D, Marques A, Sá-Couto P (2011) Prevalence and impact of urinary incontinence among female athletes. Int J Gynecol Obstet 114:60–63

Dumoulin C, Hay-Smith J (2010) Pelvic floor muscle training versus no treatment, or inactive control treatments, for urinary incontinence in women. Cochrane Database Syst Rev. doi:10.1002/14651858.CD005654.pub2

Miller J, Ashton-Miller J, Delancey J (1998) A pelvic muscle precontraction can reduce cough-related urine loss in selected women with mild SUI. J Am Geriatr Soc 46:870–874

Moore K, Dumoulin C, Bradley C, Burgio K, Chambers T, Hagen S, Hunter K, Imamura M, Thakar R, Williams K, Vale L (2013) Adult conservative management. In: Abrams P, Cardozo L, Khoury S, Wein A (eds) Fifth international consultation on incontinence. Health Publications, Paris

Delancey J, Ashton-Miller J (2004) Pathophysiology of adult urinary incontinence. Gastroenterology 126:S23–S32

Thompson JA, O'Sullivan PB (2003) Levator plate movement during voluntary pelvic floor muscle contraction in subjects with incontinence and prolapse: a cross-sectional study and review. Int Urogynecol J 14:84–88

Thompson JA, O'Sullivan PB, Briffa NK, Neumann P (2007) Comparison of transperineal and transabdominal ultrasound in the assessment of voluntary pelvic floor muscle contractions and functional manoeuvres in continent and incontinent women. Int Urogynecol J 18:779–786

Thompson J, O'Sullivan P, Briffa K, Neumann P (2006) Altered muscle activation patterns in symptomatic women during pelvic floor muscle contraction and Valsalva manouevre. Neurourol Urodyn 25:268–276

Theofrastous J, Wyman J, Bump R, McClish D, Elser D, Robinson D, Fantl J (1997) Relationship between urethral and vaginal pressures during pelvic muscle contraction. Neurourol Urodyn 16:553–558

Bump R, Hurt W, Fantl J, Wyman J (1991) Assessment of Kegel pelvic muscle exercise performance after brief verbal instruction. Am J Obstet Gynecol 165:322–329

Thompson JA, O'Sullivan PB, Briffa K, Neumann P, Court S (2005) Assessment of pelvic floor movement using transabdominal and transperineal ultrasound. Int Urogynecol J 16:285–292

Dietz H, Wilson P, Clarke B (2001) The use of perineal ultrasound to quantify levator activity and teach pelvic floor muscle exercises. Int Urogynecol J 12:166–169

Dietz H, Steensma A, Vancaillie T (2003) Levator function in nulliparous women. Int Urogynecol J 14:24–26

Junginger B, Baessler L, Sapsford R, Hodges P (2010) Effect of abdominal pressure and pelvic floor tasks on muscle activity, abdominal pressure and bladder neck. Int Urogynecol J 21:69–77

Chehrehrazi M, Arab AM, Karimi N, Zargham M (2009) Assessment of pelvic floor muscle contraction in stress urinary incontinent women: comparison between transabdominal ultrasound and perineometry. Int Urogynecol J 20:1491–1496

Frawley HC, Galea MP, Phillips BA, Sherburn M, Bø K (2006) Effect of test position on pelvic floor muscle assessment. Int Urogynecol J 17:365–371

Ree M, Nygaard I, Bo K (2007) Muscular fatigue in the pelvic floor muscles after strenuous physical activity. Acta Obstet Gynecol Scand 87:870–876

Laycock J, Jerwood D (2001) Pelvic floor muscle assessment. The PERFECT scheme. Physiotherapy 87:631–642
Conflicts of interest
None.
About this article
Cite this article
Barton, A., Serrao, C., Thompson, J. et al. Transabdominal ultrasound to assess pelvic floor muscle performance during abdominal curl in exercising women. Int Urogynecol J 26, 1789–1795 (2015). https://doi.org/10.1007/s00192-015-2791-9
Received:

Accepted:

Published:

Issue Date:

DOI: https://doi.org/10.1007/s00192-015-2791-9
Keywords