Abstract
Introduction and hypothesis
Risk of pelvic floor disorders increases after menopause and may be linked to estrogen deficiency. We aimed to systematically and critically assess the literature on vaginal estrogen in the management of pelvic floor disorders in postmenopausal women and provide evidence-based clinical practice guidelines.
Methods
MEDLINE and Cochrane databases were searched from inception to July 2014 for randomized controlled trials of commercially available vaginal estrogen products compared with placebo, no treatment, or any medication for overactive bladder or urinary incontinence. We double-screened 1,805 abstracts and identified 12 eligible papers. Studies were extracted for participant information, intervention, comparator, efficacy outcomes, and adverse events, and they were individually and collectively assessed for methodological quality and strength of evidence.
Results
Evidence was generally of poor to moderate quality. Vaginal estrogen application before pelvic organ prolapse surgery improved the vaginal maturation index and increased vaginal epithelial thickness. Postoperative vaginal estrogen use after a midurethral sling resulted in decreased urinary frequency and urgency. Vaginal estrogen and immediate-release oxybutynin were similar in improvement of urinary urgency, frequency, and urgency urinary incontinence in women with overactive bladder, but oxybutynin had higher rates of side effects and discontinuation. Conversely, the addition of vaginal estrogen to immediate or extended-release tolterodine did not improve urinary symptoms more than tolterodine alone. One study reported an improvement in stress urinary incontinence with use of vaginal estrogen.
Conclusion
Vaginal estrogen application may play a useful role as an adjunct in the management of common pelvic floor disorders in postmenopausal women.
Access options
Buy single article
Instant access to the full article PDF.
USD 39.95
Price excludes VAT (USA)
Tax calculation will be finalised during checkout.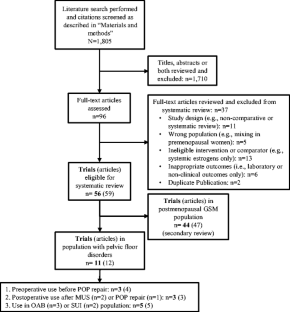 References
Luber KM, Boero S, Choe JY (2001) The demographics of pelvic floor disorders: current observations and future projections. Am J Obstet Gynecol 184(7):1496–1501, discussion 1501–1493

Wu JM, Hundley AF, Fulton RG, Myers ER (2009) Forecasting the prevalence of pelvic floor disorders in U.S. Women: 2010 to 2050. Obstet Gynecol 114(6):1278–1283. doi:10.1097/AOG.0b013e3181c2ce96

Swift S, Woodman P, O'Boyle A, Kahn M, Valley M, Bland D, Wang W, Schaffer J (2005) Pelvic Organ Support Study (POSST): the distribution, clinical definition, and epidemiologic condition of pelvic organ support defects. Am J Obstet Gynecol 192(3):795–806. doi:10.1016/j.ajog.2004.10.602

Nygaard I, Bradley C, Brandt D (2004) Pelvic organ prolapse in older women: prevalence and risk factors. Obstet Gynecol 104(3):489–497. doi:10.1097/01.AOG.0000136100.10818.d8

Diwadkar GB, Barber MD, Feiner B, Maher C, Jelovsek JE (2009) Complication and reoperation rates after apical vaginal prolapse surgical repair: a systematic review. Obstet Gynecol 113(2 Pt 1):367–373. doi:10.1097/AOG.0b013e318195888d

Denman MA, Gregory WT, Boyles SH, Smith V, Edwards SR, Clark AL (2008) Reoperation 10 years after surgically managed pelvic organ prolapse and urinary incontinence. Am J Obstet Gynecol 198(5):555 e551–555. doi:10.1016/j.ajog.2008.01.051

Hartmann KE, McPheeters ML, Biller DH, Ward RM, McKoy JN, Jerome RN, Micucci SR, Meints L, Fisher JA, Scott TA, Slaughter JC, Blume JD (2009) Treatment of overactive bladder in women. Evidence Reports/Technology Assessments 187, Agency for Healthcare Research and Quality, Rockville, MD

Waetjen LE, Brown JS, Vittinghoff E, Ensrud KE, Pinkerton J, Wallace R, Macer JL, Grady D (2005) The effect of ultralow-dose transdermal estradiol on urinary incontinence in postmenopausal women. Obstet Gynecol 106(5 Pt 1):946–952. doi:10.1097/01.AOG.0000182576.48290.6d

Hendrix SL, Cochrane BB, Nygaard IE, Handa VL, Barnabei VM, Iglesia C, Aragaki A, Naughton MJ, Wallace RB, McNeeley SG (2005) Effects of estrogen with and without progestin on urinary incontinence. JAMA 293(8):935–948. doi:10.1001/jama.293.8.935

Steinauer JE, Waetjen LE, Vittinghoff E, Subak LL, Hulley SB, Grady D, Lin F, Brown JS (2005) Postmenopausal hormone therapy: does it cause incontinence? Obstet Gynecol 106(5 Pt 1):940–945. doi:10.1097/01.AOG.0000180394.08406.15

Kingsberg SA, Wysocki S, Magnus L, Krychman ML (2013) Vulvar and vaginal atrophy in postmenopausal women: findings from the REVIVE (REal Women's VIews of Treatment Options for Menopausal Vaginal ChangEs) survey. J Sex Med 10(7):1790–1799. doi:10.1111/jsm.12190

Shulman LP, Portman DJ, Lee WC, Balu S, Joshi AV, Cobden D, Wang Q, Pashos CL (2008) A retrospective managed care claims data analysis of medication adherence to vaginal estrogen therapy: implications for clinical practice. J Womens Health (Larchmt) 17(4):569–578. doi:10.1089/jwh.2007.0407

Institute of Medicine (US) Committee on Standards for Systematic Reviews of Comparative Effectiveness Research; Eden J, Levit L, Berg A, Morton S (2011) Finding what works in health care: standards for systematic reviews. National Academies Press, Washington, DC

Rahn DD, Carberry C, Sanses TV, Mamik MM, Ward RM, Meriwether KV, Olivera CK, Abed H, Balk EM, Murphy M (2014) Vaginal estrogen for genitourinary syndrome of menopause: systematic review. Obstet Gynecol (in press)

Wallace BC, Trikalinos TA, Lau J, Brodley C, Schmid CH (2010) Semi-automated screening of biomedical citations for systematic reviews. BMC Bioinformatics 11:55. doi:10.1186/1471-2105-11-55

Rahn DD, Mamik MM, Sanses TV, Matteson KA, Aschkenazi SO, Washington BB, Steinberg AC, Harvie HS, Lukban JC, Uhlig K, Balk EM, Sung VW (2011) Venous thromboembolism prophylaxis in gynecologic surgery: a systematic review. Obstet Gynecol 118(5):1111–1125. doi:10.1097/AOG.0b013e318232a394

Sung VW, Rogers RG, Schaffer JI, Balk EM, Uhlig K, Lau J, Abed H, Wheeler TL 2nd, Morrill MY, Clemons JL, Rahn DD, Lukban JC, Lowenstein L, Kenton K, Young SB (2008) Graft use in transvaginal pelvic organ prolapse repair: a systematic review. Obstet Gynecol 112(5):1131–1142

Owens DK, Lohr KN, Atkins D, Treadwell JR, Reston JT, Bass EB, Chang S, Helfand M (2010) AHRQ series paper 5: grading the strength of a body of evidence when comparing medical interventions--agency for healthcare research and quality and the effective health-care program. J Clin Epidemiol 63(5):513–523

Atkins D, Eccles M, Flottorp S, Guyatt GH, Henry D, Hill S, Liberati A, O'Connell D, Oxman AD, Phillips B, Schunemann H, Edejer TT, Vist GE, Williams JW Jr (2004) Systems for grading the quality of evidence and the strength of recommendations I: critical appraisal of existing approaches The GRADE Working Group. BMC Health Serv Res 4(1):38

Felding C, Mikkelsen AL, Clausen HV, Loft A, Larsen LG (1992) Preoperative treatment with oestradiol in women scheduled for vaginal operation for genital prolapse. A randomised, double-blind trial. Maturitas 15(3):241–249

Mikkelsen AL, Felding C, Clausen HV (1995) Clinical effects of preoperative oestradiol treatment before vaginal repair operation. A double-blind, randomized trial. Gynecol Obstet Invest 40(2):125–128

Vaccaro CM, Mutema GK, Fellner AN, Crisp CC, Estanol MV, Kleeman SD, Pauls RN (2013) Histologic and cytologic effects of vaginal estrogen in women with pelvic organ prolapse: a randomized controlled trial. Female Pelvic Med Reconstr Surg 19(1):34–39. doi:10.1097/SPV.0b013e318278cc40

Rahn DD, Good MM, Roshanravan SM, Shi H, Schaffer JI, Singh RJ, Word RA (2014) Effects of preoperative local estrogen in postmenopausal women with prolapse: a randomized trial. J Clin Endocrinol Metab 99(10):3728–3736. doi:10.1210/jc.2014-1216

Liapis A, Bakas P, Georgantopoulou C, Creatsas G (2010) The use of oestradiol therapy in postmenopausal women after TVT-O anti-incontinence surgery. Maturitas 66(1):101–106. doi:10.1016/j.maturitas.2010.01.020

Karp DR, Jean-Michel M, Johnston Y, Suciu G, Aguilar VC, Davila GW (2012) A randomized clinical trial of the impact of local estrogen on postoperative tissue quality after vaginal reconstructive surgery. Female Pelvic Med Reconstr Surg 18(4):211–215. doi:10.1097/SPV.0b013e31825e6401

Zullo MA, Plotti F, Calcagno M, Palaia I, Muzii L, Manci N, Angioli R, Panici PB (2005) Vaginal estrogen therapy and overactive bladder symptoms in postmenopausal patients after a tension-free vaginal tape procedure: a randomized clinical trial. Menopause 12(4):421–427. doi:10.1097/01.GME.0000148645.93603.62

Beisland HO, Fossberg E, Moer A, Sander S (1984) Urethral sphincteric insufficiency in postmenopausal females: treatment with phenylpropanolamine and estriol separately and in combination. A urodynamic and clinical evaluation. Urol Int 39(4):211–216

Kobata SA, Girao MJ, Baracat EC, Kajikawa M, Di Bella V Jr, Sartori MG, Jarmy-Di Bella ZI (2008) Estrogen therapy influence on periurethral vessels in postmenopausal incontinent women using Dopplervelocimetry analysis. Maturitas 61(3):243–247. doi:10.1016/j.maturitas.2008.07.015

Nelken RS, Ozel BZ, Leegant AR, Felix JC, Mishell DR Jr (2011) Randomized trial of estradiol vaginal ring versus oral oxybutynin for the treatment of overactive bladder. Menopause 18(9):962–966. doi:10.1097/gme.0b013e3182104977

Serati M, Salvatore S, Uccella S, Cardozo L, Bolis P (2009) Is there a synergistic effect of topical oestrogens when administered with antimuscarinics in the treatment of symptomatic detrusor overactivity? Eur Urol 55(3):713–719. doi:10.1016/j.eururo.2008.06.051

Tseng LH, Wang AC, Chang YL, Soong YK, Lloyd LK, Ko YJ (2009) Randomized comparison of tolterodine with vaginal estrogen cream versus tolterodine alone for the treatment of postmenopausal women with overactive bladder syndrome. Neurourol Urodyn 28(1):47–51. doi:10.1002/nau.20583

Ismail SI, Bain C, Hagen S (2010) Oestrogens for treatment or prevention of pelvic organ prolapse in postmenopausal women. Cochrane Database Syst Rev (9):CD007063. doi:10.1002/14651858.CD007063.pub

Weidner AC, Wu JM, Kawasaki A, Myers ER (2013) Computer modeling informs study design: vaginal estrogen to prevent mesh erosion after different routes of prolapse surgery. Int Urogynecol J 24(3):441–445. doi:10.1007/s00192-012-1877-x

Cody JD, Jacobs ML, Richardson K, Moehrer B, Hextall A (2012) Oestrogen therapy for urinary incontinence in post-menopausal women. Cochrane Database Syst Rev (10):CD001405. doi:10.1002/14651858.CD001405.pub3

Nelson RE, Grebe SK, O'Kane DJ, Singh RJ (2004) Liquid chromatography-tandem mass spectrometry assay for simultaneous measurement of estradiol and estrone in human plasma. Clin Chem 50(2):373–384. doi:10.1373/clinchem.2003.025478
Acknowledgements
The Society of Gynecologic Surgeons provided funding support of a methodology expert in systematic review and clinical practice guideline development (EMB).
Conflicts of interest
None.
Author participation
Project development, data collection/management and analysis: all authors; manuscript writing: D.D. Rahn, R.M. Ward, T.V. Sanses, C. Carberry, E.M. Balk; manuscript editing: all authors.
Electronic supplementary material
Below is the link to the electronic supplementary material.
About this article
Cite this article
Rahn, D.D., Ward, R.M., Sanses, T.V. et al. Vaginal estrogen use in postmenopausal women with pelvic floor disorders: systematic review and practice guidelines. Int Urogynecol J 26, 3–13 (2015). https://doi.org/10.1007/s00192-014-2554-z
Received:

Accepted:

Published:

Issue Date:

DOI: https://doi.org/10.1007/s00192-014-2554-z
Keywords