Abstract
Introduction and hypothesis
The effect of different episiotomy techniques on pain perception 3 months after delivery is unknown. Study aims were to explore the association between different episiotomy techniques and perineal pain 3 months after delivery and to assess female sexual activity in relation to episiotomy technique.
Methods
This is a prospective observational study, designed to investigate short- and long-term complications of different episiotomy techniques. All 300 participants were recruited and clinically examined during their postpartum hospital stay in order to evaluate episiotomy performance. A 3-month follow-up questionnaire addressing pain, sexual activity, and puerperal wound infection was distributed to 208 women who had scored perineal pain in a personal interview the first day after delivery.
Results
A response rate of 87.7 % was obtained. We found no difference in pain score distribution by Visual Analogue Scale (VAS) when comparing midline, mediolateral, and lateral episiotomy techniques (p = 0.32) or between midline and lateral incision points (p = 0.58). Dyspareunia was reported by 33 out of 179 women, but no difference between episiotomy techniques (p = 0.90), or between episiotomy incision points (p = 0.14), was found. Perineal wound infection was reported by 9.5 %, but there was no significant difference between episiotomy techniques (p = 0.73).
Conclusions
No difference was found in perineal pain perception 3 months postpartum between different episiotomy techniques or when comparing midline and lateral incision points. Dyspareunia was not associated with any particular episiotomy technique or incision point.
Access options
Buy single article
Instant access to the full article PDF.
USD 39.95
Price includes VAT (USA)
Tax calculation will be finalised during checkout.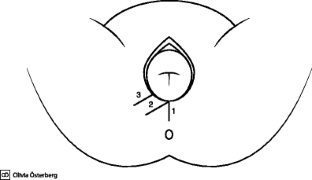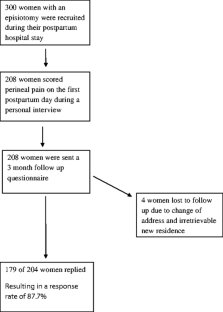 References
1.

Carroli G, Mignini L (2009) Episiotomy for vaginal birth. Cochrane Database Syst Rev 1:CD000081

2.

Cunningham F, Leveno K, Bloom S, Hauth J, Rouse D, Spong C (2010) Williams obstetrics. 23rd edn. McGraw Hill, New York

3.

De Leeuw JW, de Wit C, Kuijken JP, Bruinse HW (2008) Mediolateral episiotomy reduces the risk for anal sphincter injury during operative vaginal delivery. BJOG 115:104–108

4.

Laine K, Skjeldestad FE, Sandvik L, Staff AC (2012) Incidence of obstetric anal sphincter injuries after training to protect the perineum: cohort study. BMJ Open 2:e001649

5.

Kalis V, Laine K, de Leeuw JW, Ismail KM, Tincello DG (2012) Classification of episiotomy: towards a standardisation of terminology. BJOG 119:522–526

6.

Fodstad K, Laine K, Staff AC (2013) Different episiotomy techniques, postpartum perineal pain, and blood loss: an observational study. Int Urogynecol J 24:865–872

7.

Tincello DG, Williams A, Fowler GE, Adams EJ, Richmond DH, Alfirevic Z (2003) Differences in episiotomy technique between midwives and doctors. BJOG 110:1041–1044

8.

Andrews V, Thakar R, Sultan AH, Jones PW (2005) Are mediolateral episiotomies actually mediolateral? BJOG 112:1156–1158

9.

Kalis V, Stepan J Jr, Horak M, Roztocil A, Kralickova M, Rokyta Z (2008) Definitions of mediolateral episiotomy in Europe. Int J Gynaecol Obstet 100:188–189

10.

Aytan H, Tapisiz OL, Tuncay G, Avsar FA (2005) Severe perineal lacerations in nulliparous women and episiotomy type. Eur J Obstet Gynecol Reprod Biol 121:46–50

11.

Stedenfeldt M, Pirhonen J, Blix E, Wilsgaard T, Vonen B, Øian P (2012) Episiotomy characteristics and risks for obstetric anal sphincter injuries: a case–control study. BJOG 119:724–730

12.

Stedenfeldt M, Øian P, Gissler M, Blix E, Pirhonen J (2014) Risk factors for obstetric anal sphincter injury after a successful multicentre interventional programme. BJOG 21:83–91

13.

Räisänen S, Vehviläinen-Julkunen K, Gissler M, Heinonen S (2012) Hospital-based lateral episiotomy and obstetric anal sphincter injury rates: a retrospective population-based register study. Am J Obstet Gynecol 206:347.e1–347.e6

14.

Coats PM, Chan KK, Wilkins M, Beard RJ (1980) A comparison between midline and mediolateral episiotomies. Br J Obstet Gynaecol 87:408–412

15.

Shiono P, Klebanoff MA, Carey JC (1990) Midline episiotomies: more harm than good? Obstet Gynecol 75:765–770

16.

Eogan M, Daly L, O'Connell PR, O'Herlihy C (2006) Does the angle of episiotomy affect the incidence of anal sphincter injury? BJOG 113:190–194

17.

Karbanova J, Rusavy Z, Betincova L, Jansova M, Parizek A, Kalis V (2014) Clinical evaluation of peripartum outcomes of mediolateral versus lateral episiotomy. Int J Gynaecol Obstet 124:72–76

18.

Raisanen S, Cartwright R, Gissler M et al (2013) Changing associations of episiotomy and anal sphincter injury across risk strata: results of a population-based register study in Finland 2004–2011. BMJ Open 3:e003216

19.

Chang SR, Chen KH, Lin HH, Chao YM, Lai YH (2011) Comparison of the effects of episiotomy and no episiotomy on pain, urinary incontinence, and sexual function 3 months postpartum: a prospective follow-up study. Int J Nurs Stud 48:409–418

20.

Andrews V, Thakar R, Sultan AH, Jones PW (2008) Evaluation of postpartum perineal pain and dyspareunia—a prospective study. Eur J Obstet Gynecol Reprod Biol 137:152–156

21.

Macarthur AJ, Macarthur C (2004) Incidence, severity, and determinants of perineal pain after vaginal delivery: a prospective cohort study. Am J Obstet Gynecol 191:1199–1204

22.

Röckner G, Henningsson A, Wahlberg V, Ölund A (1987) Evaluation of episiotomy and spontaneous tears of the perineum during childbirth. Scand J Caring Sci 2:19–24

23.

Larsson PG, Platz-Christensen JJ, Bergman B, Wallstersson G (1991) Advantage or disadvantage of episiotomy compared with spontaneous perineal laceration. Gynecol Obstet Invest 31:213–216

24.

Sleep J, Grant A (1987) West Berkshire perineal management trial: three year follow up. Br Med J (Clin Res Ed) 295:749–751

25.

Amorim Francisco A, Junqueira Vasconcellos de Oliveira SM, Barbosa da Silva FM, Bick D, Gonzalez Riesco ML (2011) Women's experiences of perineal pain during the immediate postnatal period: a cross-sectional study in Brazil. Midwifery 27:e254–e259

26.

Signorello LB, Harlow BL, Chekos AK, Repke JT (2001) Postpartum sexual functioning and its relationship to perineal trauma: a retrospective cohort study of primiparous women. Am J Obstet Gynecol 184:881–888, discussion 888–890

27.

Rathfisch G, Dikencik BK, Kizilkaya Beji N, Comert N, Tekirdag AI, Kadioglu A (2010) Effects of perineal trauma on postpartum sexual function. J Adv Nurs 66:2640–2649

28.

Klein MC, Gauthier RJ, Robbins JM et al (1994) Relationship of episiotomy to perineal trauma and morbidity, sexual dysfunction, and pelvic floor relaxation. Am J Obstet Gynecol 171:591–598

29.

Rådestad I, Olsson A, Nissen E, Rubertsson C (2008) Tears in the vagina, perineum, sphincter ani, and rectum and first sexual intercourse after childbirth: a nationwide follow-up. Birth 35:98–106

30.

Buhling KJ, Schmidt S, Robinson JN, Klapp C, Siebert G, Dudenhausen JW (2006) Rate of dyspareunia after delivery in primiparae according to mode of delivery. Eur J Obstet Gynecol Reprod Biol 124:42–46
Acknowledgements
We thank Olivia Österberg for the graphical illustration in Fig. 1.
Conflict of interest
None.
About this article
Cite this article
Fodstad, K., Staff, A.C. & Laine, K. Effect of different episiotomy techniques on perineal pain and sexual activity 3 months after delivery. Int Urogynecol J 25, 1629–1637 (2014). https://doi.org/10.1007/s00192-014-2401-2
Received:

Accepted:

Published:

Issue Date:
Keywords
Episiotomy

Perineal pain

Postpartum sexual function

Perineal wound infection