Abstract
Introduction and hypothesis
Little is known about the natural history of pelvic floor dysfunction (PFD). We investigated the association between prepregnancy and postnatal PFD in premenopausal primiparous women and the associated effect of mode of delivery.
Methods
A prospective cohort study, nested within the parent Screening for Pregnancy Endpoints (SCOPE) study, was performed in a tertiary referral teaching hospital with approximately 9,000 deliveries per annum. The validated Australian pelvic floor questionnaire was completed by 872 nulliparous women at 15 weeks' gestation, at the time of recruitment to the SCOPE study and 1 year postnatally. The questionnaire contained four sections with questions about urinary, faecal, prolapse and sexual dysfunction.
Results
One year postnatally urinary dysfunction was present in 73 %, faecal in 49 %, prolapse in 14 % and sexual in 58 % of participants. Prepregnancy PFD persistent postnatally constituted more than half of total PFD. The majority of affected (71 %) had multicompartment involvement. Participants with persistent PFD had higher prevalence of severe symptoms and bothersome symptoms within the group. Severity of prepregnancy PFD worsened in <15 % cases postnatally.
Conclusions
The main damage to the pelvic floor seems to occur in the majority of patients before first pregnancy, where first childbearing does not worsen prepregnancy PFD in the majority of cases. Pregnancy appears to affect more pre-existing symptoms of urgency and urge incontinence comparing to stress incontinence. Caesarean section seems to be more protective against postnatal worsening of prepregnancy PFD comparing to de novo onset pathology. However, larger studies are needed to confirm these findings.
Access options
Buy single article
Instant access to the full article PDF.
USD 39.95
Price excludes VAT (USA)
Tax calculation will be finalised during checkout.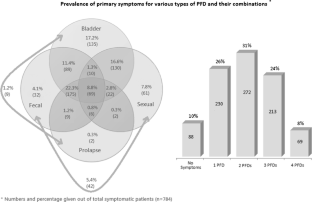 References
MacLennan AH, Taylor AW, Wilson DH et al (2000) The prevalence of pelvic floor disorders and their relationship to gender, age, parity and mode of delivery. BJOG 107(12):1460–1470

Skoner MM, Thompson WD, Caron VA (1994) Factors associated with risk of stress urinary incontinence in women. Nurs Res 43(5):301–306

Rortveit G, Daltveit AK, Hannestad YS et al (2003) Urinary incontinence after vaginal delivery or cesarean section. N Engl J Med 348(10):900–907

Hendrix SL, Clark A, Nygaard I et al (2002) Pelvic organ prolapse in the Women's Health Initiative: gravity and gravidity. Am J Obstet Gynecol 186(6):1160–1166

Rortveit G, Daltveit AK, Hannestad YS et al (2003) Vaginal delivery parameters and urinary incontinence: the Norwegian EPINCONT study. Am J Obstet Gynecol 189(5):1268–1274

Chan SS, Cheung RY, Yiu KW et al (2012) Prevalence of urinary and fecal incontinence in Chinese women during and after their first pregnancy. Int Urogynecol J 24(9):1473–1479

Stanton SL, Kerr-Wilson R, Harris VG (1980) The incidence of urological symptoms in normal pregnancy. Br J Obstet Gynaecol 87(10):897–900

Baessler K, Schüssler B, Burgio KL, Moore KH, Norton PA, Stanton SL (eds) (2008) Pelvic floor re-education. Principles and practice. Springer, London, pp 36–48

Fritel X, Ringa V, Quiboeuf E et al (2012) Female urinary incontinence, from pregnancy to menopause: a review of epidemiological and pathophysiological findings. Acta Obstet Gynecol Scand 91(8):901–910

Durnea CM, Khashan AS, Kenny LC, Tabirca SS, O'Reilly BA (2014) An insight into pelvic floor status in nulliparous women. Int Urogynecol J 25(3):337–345

Baessler K, O'Neill SM, Maher CF et al (2009) Australian pelvic floor questionnaire: a validated interviewer-administered pelvic floor questionnaire for routine clinic and research. Int Urogynecol J Pelvic Floor Dysfunct 20(2):149–158

Zou GY (2004) A modified Poisson regression approach to prospective studies with binary data. Am J Epidemiol 159(7):702–706

Nygaard I, Barber MD, Burgio KL et al (2008) Prevalence of symptomatic pelvic floor disorders in US women. JAMA 300(11):1311–1316

Gartland D, Donath S, MacArthur C et al (2012) The onset, recurrence and associated obstetric risk factors for urinary incontinence in the first 18 months after a first birth: an Australian nulliparous cohort study. BJOG 119(11):1361–1369

Brown SJ, Donath S, MacArthur C et al (2010) Urinary incontinence in nulliparous women before and during pregnancy: prevalence, incidence, and associated risk factors. Int Urogynecol J 21(2):193–202

Hannestad YS, Rortveit G, Sandvik H et al (2000) A community-based epidemiological survey of female urinary incontinence: the Norwegian EPINCONT study. Epidemiology of incontinence in the County of Nord-Trøndelag. J Clin Epidemiol 53(11):1150–1157

Borello-France D, Burgio KL, Richter HE et al (2006) Fecal and urinary incontinence in primiparous women. Obstet Gynecol 108(4):863–872

Murad-Regadas SM, Regadas FS, Rodrigues LV et al (2009) Types of pelvic floor dysfunctions in nulliparous, vaginal delivery, and cesarean section female patients with obstructed defecation syndrome identified by echodefecography. Int J Colorectal Dis 24(10):1227–1232

Dietz HP, Clarke B (2005) Prevalence of rectocele in young nulliparous women. Aust N Z J Obstet Gynaecol 45(5):391–394

Thom DH, van den Eeden SK, Ragins AL et al (2006) Differences in prevalence of urinary incontinence by race/ethnicity. J Urol 175(1):259–264

Githens PB, Glass CA, Sloan FA et al (1993) Maternal recall and medical records: an examination of events during pregnancy, childbirth, and early infancy. Birth 20(3):136–141
Acknowledgments
We would like to thank all SCOPE Ireland participants, Continence Foundation Ireland and The Irish Centre for Fetal and Neonatal Translational Research (INFANT) for their input into this research project.
Funding
SCOPE Ireland is funded by Health Research Board of Ireland (grant reference CSA 2007/2). The study was supported by Continence Foundation Ireland and INFANT Research Centre, UCC. This work was funded in part by Science Foundation Ireland.
Conflicts of interest
None.
Electronic supplementary material
Below is the link to the electronic supplementary material.
STARD flow chart indicating recruited number (BMP 352 kb)
Australian pelvic floor questionnaire (PDF 797 kb)
About this article
Cite this article
Durnea, C.M., Khashan, A.S., Kenny, L.C. et al. The role of prepregnancy pelvic floor dysfunction in postnatal pelvic morbidity in primiparous women. Int Urogynecol J 25, 1363–1374 (2014). https://doi.org/10.1007/s00192-014-2381-2
Received:

Accepted:

Published:

Issue Date:

DOI: https://doi.org/10.1007/s00192-014-2381-2
Keywords
4P study

Incontinence

Primiparous

PFD

Prolapse

Urge