Abstract
Introduction and hypothesis
Our goal was to determine psychosexual outcome after labiaplasty in the long-term with specific measures of genital body image and sexual dysfunction.
Method
We conducted a prospective study with a matched-comparison group of women not wanting labiaplasty. Forty-nine women were compared against a group of 39 women matched for age, sexual orientation, ethnicity, and marital status. The labiaplasty group was assessed before, 3 months after and between 11 and 42 months after surgery. The comparison group was assessed at two time points 3 months apart to control for the passage of time. The primary outcome measure was the Genital Appearance Satisfaction (GAS) scale.
Results
Of the 49 women receiving labiaplasty, 19 (38.8 %) were lost to follow-up but were reassessed clinically. Twenty-four of 25 (96 %) women in the labiaplasty group showed a reliable and clinically significant improvement on the GAS scale 3 months after the procedure; 21/23 (91.3 %) showed an improvement at the long-term follow-up. A large effect size was found for improvements on the GAS scale in the labiaplasty group. Small-effect sizes were found for improvements in sexual functioning. Nine women obtaining labiaplasty met diagnostic criteria for body dysmorphic disorder before the operation; eight lost that diagnosis at the 3-month follow-up; 26 % reported minor side effects.
Conclusions
Labiaplasty is effective in improving genital appearance and sexual satisfaction, but larger studies are required to determine the prevalence of potential side effects.
This is a preview of subscription content, log in to check access.
Access options
Buy single article
Instant access to the full article PDF.
US$ 39.95
Price includes VAT for USA
Subscribe to journal
Immediate online access to all issues from 2019. Subscription will auto renew annually.
US$ 199
This is the net price. Taxes to be calculated in checkout.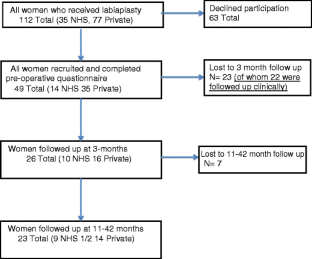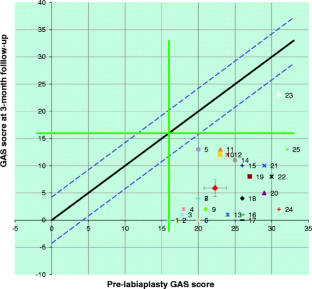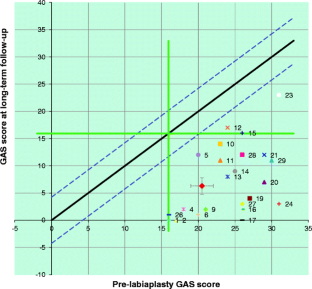 References
1.

The Health and Social Care Information Centre. HESOnline. 2012 4 April 2012; Available from: www.hesonline.nhs.uk

2.

Braun V (2010) Female genital cosmetic surgery: a critical review of current knowledge and contemporary debates. J Womens Health 19(7):1393–1407

3.

Liao LM, Michala L, Creighton SM (2010) Labial surgery for well women: a review of the literature. BJOG Int J Obstet Gynaecol 117(1):20–25

4.

Veale D, Eshekevari E, Ellison N, Cardozo L, Robinson D, Kavouni A (2014) Characteristics and motivation of women seeking labiaplasty. Psychol Med 44(3):555–566

5.

Miklos JR, Moore RD (2008) Labiaplasty of the labia minora: patients' indications for pursuing surgery. J Sex Med 5(6):1492–1495

6.

Veale D, Eshekevari E, Ellison N, Costa A, Robinson D, Kavouni A, Cardozo L (2014) A comparison of risk factors for women seeking labiaplasty compared to those not seeking labiaplasty. Body Image. doi:10.1016/j.bodyim.2013.10.003

7.

Crouch NS et al (2011) Clinical characteristics of well women seeking labial reduction surgery: a prospective study. BJOG 118(12):1507–1510

8.

Phillips KA, Diaz SF (1997) Gender differences in body dysmorphic disorder. J Nerv Ment Dis 185(9):570–577

9.

Veale D et al (1996) Body dysmorphic disorder. A survey of fifty cases. Br J Psychiatry 169(2):196–201

10.

Crerand CE, Menard W, Phillips KA (2010) Surgical and minimally invasive cosmetic procedures among persons with body dysmorphic disorder. Ann Plast Surg 65(1):11–16

11.

Tignol J et al (2007) Body dysmorphic disorder and cosmetic surgery: evolution of 24 subjects with a minimal defect in appearance 5 years after their request for cosmetic surgery. Eur Psychiatry 22(8):520–524

12.

Veale D, De Haro L, Lambrou C (2003) Cosmetic rhinoplasty in body dysmorphic disorder. Br J Plast Surg 56(6):546–551

13.

Goodman MP (2011) Female genital cosmetic and plastic surgery: a review. J Sex Med 8(6):1813–1825

14.

Alter G (2008) Aesthetic labia minora and clitoral hood reduction using extended wedge resection. Plast Reconstr Surg 122(6):1780–1789

15.

Goodman M et al (2011) The sexual, psychological and body image health of women undergoing elective vulvovaginal plastic/cosmetic procedures: a pilot study. Am J Cosmet Surg 28(4):219–226

16.

Michala L, Liao L-M, Creighton SM (2012) Female genital cosmetic surgery: how can clinicians act in women's best interests? Obstet Gynaecol 14(3):203–206

17.

Bramwell R, Morland C (2009) Genital appearance satisfaction in women: the development of a questionnaire and exploration of correlates. J Reprod Infant Psychol 27(1):15–27

18.

Veale D et al (2013) Validation of genital appearance satisfaction scale and the cosmetic procedure screening scale for women seeking labiaplasty. J Psychosom Obstet Gynecol 34(1):46–52

19.

Zigmond A, Snaith RP (1983) The hospital depression and anxiety scale. Acta Psychiatr Scand 67:361–370

20.

Rogers RG et al (2001) A new instrument to measure sexual function in women with urinary incontinence or pelvic organ prolapse. Am J Obstet Gynecol 184(4):552–558

21.

Cash TF, Fleming EC (2002) The impact of body-image experiences: development of the body image quality of life inventory. Int J Eat Disord 31(4):455–460

22.

Veale D et al (2011) Development of a cosmetic procedure screening questionnaire (COPS) for body dysmorphic disorder. J Plast Reconstr Aesthet 65(4):530–532

23.

First MB et al (1995) Structured clinical interview for DSM-IV axis I disorders. Biometric Research Department, New York

24.

Evans C, Margison F, Barkham M (1998) The contribution of reliable and clinically significant change methods to evidence-based mental health. Evid Based Ment Health 1:70–72

25.

Jacobson NS, Truax P (1991) Clinical significance: a statistical approach to defining meaningful change in psychotherapy research. J Consult Clin Psychol 59(1):12–19

26.

Agostinis A, Morley SJ, Dowzer CN The leeds reliable change index calculator (v. 1), in Excel2008: http://www.leeds.ac.uk/lihs/psychiatry/dclin/rcic.html

27.

Lloyd J et al (2005) Female genital appearance: 'normality' unfolds. BJOG Int J Obstet Gynaecol 112(5):643–646

28.

Veale D et al (1996) Body dysmorphic disorder: a cognitive behavioural model and pilot randomised controlled trial. Behav Res Ther 34(9):717–729

29.

Grant JR, Cash TF (1995) Cognitive-behavioral body-image therapy-comparative efficacy of group and modest-contact treatments. Behav Ther 26(1):69–84

30.

Rosen C et al (2000) The Female Sexual Function Index (FSFI): a multidimensional self-report instrument for the assessment of female sexual function. J Sex Marital Ther 26(2):191–208
Acknowledgments
DV, NE, AC and IN acknowledge salary support from the National Institute for Health Research (NIHR) Biomedical Research Centre for Mental Health at South London and Maudsley NHS Foundation Trust and the Institute of Psychiatry, King's College London. The views expressed are those of the author(s) and not necessarily those of the NHS, the NIHR or the Department of Health.
Funding
None.
Conflicts of interests
We declare no support from any organisation for the submitted work; no financial relationships with any organisations that might have an interest in the submitted work in the previous 3 years, no other relationships or activities that could appear to have influenced the submitted work other than Angelica Kavouni has received fees for services for private patients in the study.
About this article
Cite this article
Veale, D., Naismith, I., Eshkevari, E. et al. Psychosexual outcome after labiaplasty: a prospective case-comparison study. Int Urogynecol J 25, 831–839 (2014). https://doi.org/10.1007/s00192-013-2297-2
Received:

Accepted:

Published:

Issue Date:
Keywords
Labiaplasty

Labioplasty

Body dysmorphic disorder

Labia

Female genital cosmetic surgery