Abstract
Polypropylene in sheets has been been found to be carcinogenic in some laboratory animals. Although no human carcinogenicity has been reported, long-term follow-up in humans implanted with polypropylene mesh will be important.
This is a preview of subscription content, log in to check access.
Access options
Buy single article
Instant access to the full article PDF.
US$ 39.95
Price includes VAT for USA
Subscribe to journal
Immediate online access to all issues from 2019. Subscription will auto renew annually.
US$ 199
This is the net price. Taxes to be calculated in checkout.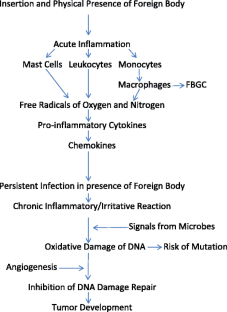 References
1.

http://www.fda.gov/MedicalDevices/Safety/AlertsandNotices/ucm262435.htm (Accessed 4 May 2013)

2.

http://www.fda.gov/downloads/AdvisoryCommittees/CommitteesMeetingMaterials/MedicalDevices/MedicalDevicesAdvisoryCommittee/ObstetricsandGynecologyDevices/UCM271769.pdf (Accessed 4 May 2013)

3.

http://www.acog.org/About%20ACOG/News%20Room/News%20Releases/2011/Joint%20Recommendations%20Issued%20on%20Use%20of%20Vaginal%20Mesh%20for%20POP.aspx (Accessed 4 May 2013)

4.

http://www.antichips.com/cancer/05-blanchard-et-al-1999.pdf. (Accessed 4 May 2013)

5.

http://monographs.iarc.fr/ENG/Monographs/vol74/index.php (Accessed 4 May 2013)

6.

Vollmar J, Ott G (1961) Experimental tumor induction by plastics from a surgical point of view. Langenbecks Arch Klin Chir Ver Dtsch Z Chir 298:729–735. (Quoted in Reference 5)

7.

Imai Y, Watanabe A (1987) Tumorigenesis from polyurethrane materials. Jpn J Artif Organs 16:1329–1332, Quoted in Reference 5

8.

Nakamura A, Tsuchiya T, Nakaoka R, Wang C, Nakamura T, Imai K, Inoue H (1997) Studies on the development of evaluation method for the material/tissue interaction. In: Annual Report of Cooperative Research Projects between Governmental and Private Institutions, Part IV, Tokyo, Japan Health Science Foundation, pp. 123–132. (Quoted in Reference 5)

9.

Blanchard KT, Barthel C, French JE, Holden HE, Moretz R, Pack FD, Tennant RW, Stoll RE (1999) Transponder induced sarcoma in heterozygous p53+/− mouse. Toxicol Path 27:519–527

10.

Witherspoon P, Bryson G, Wright DM, Reid R, O'Dwyer PJ (2004) Carcinogenic potential of commonly used hernia repair prostheses in an experimental model. Br J Surg 91:368–372

11.

Moihess TG (2008) Carcinogenesis induced by foreign bodies. Biochem Mosc 73:763–775

12.

Coen N, Kadhim MA, Wright EG, Case CP, Mothersill CE (2003) Particulate debris from a titanium metal prosthesis induces genomic instability in primary human fibroblast cells. Br J Cancer 88:548–552

13.

Nikolaou K, Sarris M, Talianidis I (2013) Molecular pathways: the complex roles of inflammation pathways in the development and treatment of liver cancer. Clin Cancer Res Apr 2

14.

Balkwill F, Mantovani A (2001) Inflammation and cancer. Lancet 357:539–545

15.

Moore GE (1991) Foreign body carcinogenesis. Cancer 67:2731–2732

16.

Tazawa H, Tatemichi M, Sawa T, Gilibert I, Ma N, Hiraku Y, Donehower LA, Ohgaki H, Kawanishi S, Ohshima H (2007) Oxidative and nitrative stress caused by subcutaneous implantation of a foreign body accelerates sarcoma development ion TRP53+/− mice. Carcinogenesis 28:191–198

17.

Coussens LM, Werb Z (2002) Inflammation and cancer. Nature 420:860–867

18.

Rakoff-Nahoum S (2006) Why cancer and inflammation? Yale J Biol Med 79:123–130

19.

Sternschuss G, Ostergard DR, Patel H (2012) Post-implantation alterations of polypropylene in the human. J Urol 188:27–32

20.

Patel H, Ostergard DR, Sternschuss G (2012) Polypropylene mesh and the host response. 23:669–679

21.

Birolini C, Minossi JG, Lima CF, Utiyama EM, Rasslan S (2013) Mesh cancer: long-term mesh infection leading to squamous-cell carcinoma of the abdominal wall. Hernia Published on line 19 April

22.

Oppenheimer BS, Oppenheimer ET, Stout AP, Willhite M, Danishefsky I (1958) The latent period in carcinogenesis by plastics in rats in relation to the presarcomatous stage. Cancer 11:204–213
Conflicts of interest
Dr. Ostergard gives medicolegal consultations and testimony and is a speaker/consultant for Astellas. Dr. Azadi has nothing to disclose.
About this article
Cite this article
Ostergard, D.R., Azadi, A. To mesh or not to mesh with polypropylene: does carcinogenesis in animals matter?. Int Urogynecol J 25, 569–571 (2014). https://doi.org/10.1007/s00192-013-2239-z
Received:

Accepted:

Published:

Issue Date:
Keywords
Polypropylene mesh carcinogenesis

Total vaginal polypropylene mesh

Material safety data sheet