Abstract
Introduction and hypothesis
Few studies have comprehensively investigated the prevalence of various types of pelvic floor Dysfunction (PFD) in women before their first pregnancy. However, no previous studies have investigated in detail all four compartments of PFD and the correlation between them.
Methods
This was a cross-sectional study nested within a parent prospective study Screening for Pregnancy Endpoints (SCOPE) performed in a tertiary referral teaching hospital with approximately 9,000 deliveries per annum. Nulliparous women completed the validated Australian Pelvic Floor Questionnaire at 15 weeks' gestation, at the time of recruitment to the SCOPE study. The questionnaire contained four sections, with questions about urinary, faecal, prolapse and sexual dysfunction in the prepregnancy period.
Results
A total of 1,484 participants completed the prenatal questionnaire. Urinary dysfunction was present in 61 % of participants, faecal in 41 %, prolapse in 5 % and sexual in 41 %; in 37 %, dysfunction was perceived as bothersome . At least one clinically significant symptom, defined as severity grade 2 or 3, or grade 1 associated with being bothersome, was reported by 58.2 % of participants. More than one type of PFD was present in 57.6 % of cases. The severity score of each symptom within a PFD section was associated with total section score.
Conclusions
We confirmed a high rate of PFD in nulliparous women. Clinically significant symptoms and associated bother were very common among symptomatic participants. The majority of affected women had more than one type of PFD. Postnatal follow-up is needed in order to elucidate the role of prepregnancy symptoms in the aetiology of postnatal pelvic floor pathology.
Access options
Buy single article
Instant access to the full article PDF.
USD 39.95
Price excludes VAT (USA)
Tax calculation will be finalised during checkout.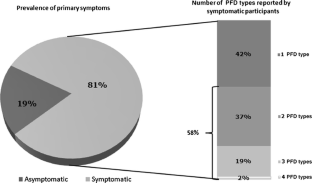 References
Bump RC, Norton PA (1998) Epidemiology and natural history of pelvic floor dysfunction. Obstet Gynecol Clin N Am 25(4):723–746

MacArthur C, Lewis M, Knox EG (1991) Health after childbirth. Br J Obstet Gynaecol 98(12):1193–1195

MacLennan AH et al (2000) The prevalence of pelvic floor disorders and their relationship to gender, age, parity and mode of delivery. BJOG 107(12):1460–1470

Skoner MM, Thompson WD, Caron VA (1994) Factors associated with risk of stress urinary incontinence in women. Nurs Res 43(5):301–306

Rortveit G et al (2003) Urinary incontinence after vaginal delivery or cesarean section. N Engl J Med 348(10):900–907

Nygaard I et al (2008) Prevalence of symptomatic pelvic floor disorders in US women. JAMA 300(11):1311–1316

King JK, Freeman RM (1998) Is antenatal bladder neck mobility a risk factor for postpartum stress incontinence? Br J Obstet Gynaecol 105(12):1300–1307

Dietz HP et al (2005) Bladder neck mobility is a heritable trait. BJOG 112(3):334–339

Hendrix SL et al (2002) Pelvic organ prolapse in the Women's Health Initiative: gravity and gravidity. Am J Obstet Gynecol 186(6):1160–1166

Persson J, Wolner-Hanssen P, Rydhstroem H (2000) Obstetric risk factors for stress urinary incontinence: a population-based study. Obstet Gynecol 96(3):440–445

Ekstrom A et al (2008) Planned cesarean section versus planned vaginal delivery: comparison of lower urinary tract symptoms. Int Urogynecol J Pelvic Floor Dysfunct 19(4):459–465

Cacciatore A et al (2010) Putative protective effects of cesarean section on pelvic floor disorders. J Perinat Med 4(1):1–4

Chaliha C (2009) Postpartum pelvic floor trauma. Curr Opin Obstet Gynecol 21(6):474–479

Stanton SL, Kerr-Wilson R, Harris VG (1980) The incidence of urological symptoms in normal pregnancy. Br J Obstet Gynaecol 87(10):897–900

Chan SS et al (2012) Prevalence of urinary and fecal incontinence in Chinese women during and after their first pregnancy. Int Urogynecol J 24(9):1473–1479

Viktrup L et al (1992) The symptom of stress incontinence caused by pregnancy or delivery in primiparas. Obstet Gynecol 79(6):945–949

Baessler K et al (2009) Australian pelvic floor questionnaire: a validated interviewer-administered pelvic floor questionnaire for routine clinic and research. Int Urogynecol J Pelvic Floor Dysfunct 20(2):149–158

Vaughan CP et al (2011) The prevalence of clinically meaningful overactive bladder: bother and quality of life results from the population-based FINNO study. Eur Urol 59(4):629–636

O'Halloran T et al (2012) Urinary incontinence in young nulligravid women: a cross-sectional analysis. Ann Intern Med 157(2):87–93

Rortveit G et al (2001) Age- and type-dependent effects of parity on urinary incontinence: the Norwegian EPINCONT study. Obstet Gynecol 98(6):1004–1010

Hannestad YS et al (2000) A community-based epidemiological survey of female urinary incontinence: the Norwegian EPINCONT study. Epidemiology of Incontinence in the County of Nord-Trondelag. J Clin Epidemiol 53(11):1150–1157

Lam GW et al (1992) Social context, social abstention, and problem recognition correlated with adult female urinary incontinence. Dan Med Bull 39(6):565–570

Bellelis P et al (2010) Epidemiological and clinical aspects of pelvic endometriosis-a case series. Rev Assoc Med Bras 56(4):467–471

Dalpiaz O et al (2008) Female sexual dysfunction: a new urogynaecological research field. BJU Int 101(6):717–721

Monz B et al (2007) Patient characteristics associated with quality of life in European women seeking treatment for urinary incontinence: results from PURE. Eur Urol 51(4):1073–1081, discussion 1081–2

Gil KM et al (2009) Distress and quality of life characteristics associated with seeking surgical treatment for stress urinary incontinence. Health Qual Life Outcomes 7:8

Brown SJ et al (2010) Urinary incontinence in nulliparous women before and during pregnancy: prevalence, incidence, and associated risk factors. Int Urogynecol J 21(2):193–202

Gay LR (1987) Educational research: Competencies for analysis and application, 3rd edn. Merrill Publishing Company, Columbus, pp 114–115

Thom DH et al (2006) Differences in prevalence of urinary incontinence by race/ethnicity. J Urol 175(1):259–264

Githens PB et al (1993) Maternal recall and medical records: an examination of events during pregnancy, childbirth, and early infancy. Birth 20(3):136–141
Acknowledgments
We thank all SCOPE Ireland participants, the Continence Foundation Ireland and Anu Research Centre for their input into this research project.
Funding
SCOPE Ireland is funded by Health Research Board of Ireland (grant reference CSA 2007/2). The study was supported by Continence Foundation Ireland and Anu Research Centre, UCC.
Financial disclaimer/Conflicts of interest
None.
Electronic supplementary material
Below is the link to the electronic supplementary material.
About this article
Cite this article
Durnea, C.M., Khashan, A.S., Kenny, L.C. et al. An insight into pelvic floor status in nulliparous women. Int Urogynecol J 25, 337–345 (2014). https://doi.org/10.1007/s00192-013-2225-5
Received:

Accepted:

Published:

Issue Date:

DOI: https://doi.org/10.1007/s00192-013-2225-5
Keywords
4P-Study

Incontinence

Nulliparous

PFD

Prolapse

Urge