Abstract
"Female genital circumcision" or "female genital mutilation", as it is called more often, is an operation that is primarily carried out in Africa. Owing to migration, physicians are increasingly confronted with this issue in Western countries as well. A range of negative effects may result from this operation and this article aims to address consequences for female pelvic health. Special emphasis is placed on urogynaecological health consequences; in particular, on "voiding difficulties", "recurrent urinary tract infections" and "vesicovaginal fistula". All of these occur mostly in infibulated women, i.e. in women whose genitalia are sealed by the most severe form of circumcision. Some of the problems that may emerge as a result of the operation can be resolved by defibulation (i.e. surgical reopening of the sealed vulva). Female genital circumcision is a sensitive topic even in the area of research and reliable data are therefore scarce.
Access options
Buy single article
Instant access to the full article PDF.
US$ 39.95
Tax calculation will be finalised during checkout.
Subscribe to journal
Immediate online access to all issues from 2019. Subscription will auto renew annually.
US$ 119
Tax calculation will be finalised during checkout.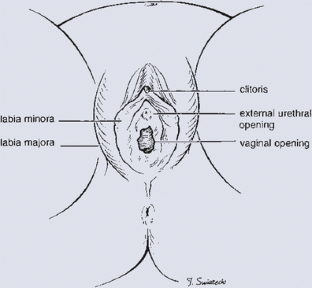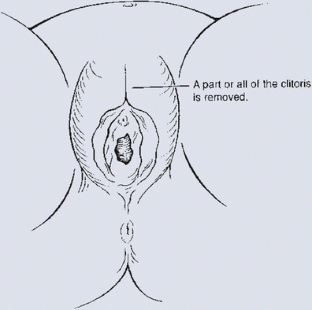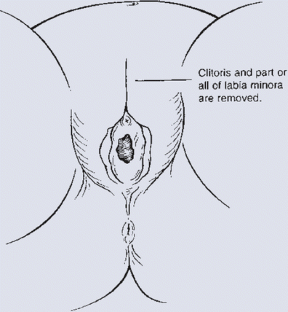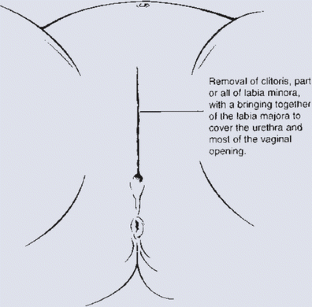 References
1.

World Health Organisation (2011) An update on WHO's work on female genital mutilation (FGM). http://whqlibdoc.who.int/hq/2011/WHO_RHR_11.18_eng.pdf. Accessed 15 May 2013

2.

Maier C (2003) Echo des Schweigens. Stimmen der Betroffenheit zur Genitalverstümmelung bei afrikanischen Immigrantinnen in Wien. Ethnologische Studie. [Echo of silence. Voices of women affected by female genital mutilation in an immigrant population in Vienna, Austria). Edition Roesler, Maria Enzersdorf

3.

Saharaso S (2008) Gibt es einen multikulturellen Feminismus? Ansätze zwischen Universalismus und Anti-Essenzialismus. (Is there a multicutural feminism? Aspects of universalism vs. anti-essentialism). In: Sauer B, Strasser S (eds) Zwangsfreiheiten. Multikulturalität und Feminismus [Forced freedom. Multiculturalism and feminism]. Südwind/Promedia, Vienna

4.

Asefaw F (2008) Weibliche Genitalbeschneidung. Hintergründe, gesundheitliche Folgen und nachhaltige Prävention [Female genital mutilation. Background, health effects and prevention]. Ulrike Helmer Verlag, Königstein/Taunus

5.

Utz-Billing I, Kentenich H (2008) Female genital mutilation: an injury, physical and mental harm. J Psychosom Obstet Gynaecol 29:225–229

6.

Nour NM (2004) Female genital cutting: clinical and cultural guidelines. Obstet Gynecol Surv 59:272–279

7.

Behrendt A, Moritz S (2005) Posttraumatic stress disorder and memory problems after female genital mutilation. Am J Psychiatry 162:1000–1002

8.

Nour NM, Michels KB, Bryant AE (2006) Defibulation to treat female genital cutting. Effect on symptoms and sexual function. Obstet Gynecol 108:55–60

9.

Rouzi AA, Al-Sibiani SA, Al-Mansouri NM, Al-Sinani NS, Al-Jahdali EA, Darhouse K (2012) Defibulation during vaginal delivery for women with type III female genital mutilation. Obstet Gynecol 120:98–103

10.

Awang NA, Viegas C, Viegas OAC (2004) Incomplete bladder emptying due to labial fusion in a pubertal girl: a delayed consequence of female circumcision. Aust N Z J Obstet Gynaecol 44:372–373

11.

Dirie MA, Lindmark G (1992) The risk of medical complications after female circumcision. East Afr Med J 69:479–482

12.

Teufel K (2012) Gesundheitsfolgen von weiblicher Beschneidung—Eine Pilotstudie in Österreich [Health effects of female genital mutilation. A pilot study in Austria]. Diploma thesis, Medical University of Vienna

13.

Agugua NEN, Egwuatu VE (1982) Female circumcision: management of urinary complications. J Trop Pediatr 28:248–252

14.

Nour MN (2006) Urinary calculus associated with female genital cutting. Obstet Gynecol 107:520–523

15.

Knight R, Hotchin A, Bayley C, Grover S (1999) Female genital mutilation—experience of The Royal Women's Hospital, Melbourne. Aust N Z J Obstet Gynaecol 39:50–54

16.

Browning A, Allsworth JE, Lewis Wall L (2010) The relationship between female genital cutting and obstetric fistula. Obstet Gynecol 115:578–583

17.

Essén B, Sjöberg NO, Gudmundsson E, Östergren PO, Lindqvist PG (2004) No association between female circumcision and prolonged labour: a case control study of immigrant women giving birth in Sweden. Eur J Obstet Gynecol Reprod Biol 121:182–185

18.

Toubia N (1994) Female circumcision as a public health issue. N Engl J Med 331:712–716

19.

WHO Study Group on Female Genital Mutilation and Obstetric Outcome (2006) Female genital mutilation and obstetric outcome: WHO collaborative prospective study in six African countries. Lancet 367:1835–1841

20.

Schnüll P (2003) Weibliche Genitalverstümmelung in Afrika [Female genital mutilation in Africa]. In: Terre des Femmes (ed) Schnitt in die Seele. Weibliche Genitalverstümmelung—eine fundamentale Menschenrechtsverletzung [Terre des Femmes (ed) Cutting of the soul—a fundamental human rights abuse]. Mabuse-Verlag, Frankfurt am Main

21.

Caflisch M, Mirabaud M (2007) Verstümmelung des weiblichen Genitale (Female Genital Mutilation, FGM). Paediatrica 18:44–47
Conflicts of interest
None.
About this article
Cite this article
Teufel, K., Dörfler, D.M. Female genital circumcision/mutilation: implications for female urogynaecological health. Int Urogynecol J 24, 2021–2027 (2013). https://doi.org/10.1007/s00192-013-2160-5
Received:

Accepted:

Published:

Issue Date:
Keywords
Female genital mutilation

Female genital cutting

Health consequences

Urogynaecology