Abstract
Introduction and hypothesis
Bladder pain syndrome (BPS) has an impact on quality of life and available treatments often only provide temporary symptomatic relief. The information provided by websites can be valuable for patient education and management. The hypothesis was to assess medical information available on the internet related to bladder pain syndrome in terms of accuracy, credibility, readability and quality.
Methods
A search was performed in the meta-search engine Copernic Agent, using the search terms "bladder pain syndrome, interstitial cystitis, painful bladder syndrome and pelvic pain", which simultaneously captured websites from a range of engines. Websites in the English language that were open-access were included. The four quality assessments used were: credibility using a ten-point scale, accuracy based on the American Urological Association guidelines, quality using the DISCERN questionnaire and readability using the Flesch Reading Ease Score. Inter-rater agreement was tested by intra-class coefficient (ICC).
Results
Eighteen suitable websites were identified; 7 (39%) were specialist or specific to BPS. The combined mean scores for accuracy, quality, credibility and readability ranged from 83 to 144 for specialist websites and 76 to 137 for non-specialist ones, with a maximum possible score of 208. There was good inter-observer agreement for the assessments performed with an ICC ranging from 0.80 for DISCERN to 0.53 for readability. Specialist websites had higher quality scores (median difference 10, p = 0.07) and readability scores (median difference 5.4, p = 0.05) compared with non-specialist websites whereas credibility and accuracy scores were no different.
Conclusion
We found four websites that fulfilled our criteria for good quality information.
This is a preview of subscription content, log in to check access.
Access options
Buy single article
Instant access to the full article PDF.
US$ 39.95
Price includes VAT for USA
Subscribe to journal
Immediate online access to all issues from 2019. Subscription will auto renew annually.
US$ 199
This is the net price. Taxes to be calculated in checkout.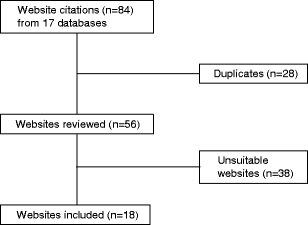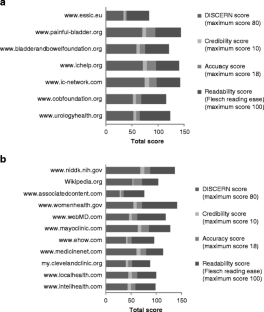 Abbreviations
AUA:

American Urological Association

BPS:

Bladder pain syndrome

CI:

Confidence interval

DMSO:

Dimethyl sulfoxide

FRE:

Flesch Reading Ease test

ICC:

Intra-class co-efficient

PRISMA:

Preferred Reporting Items for Systematic Reviews and Meta-analyses

PROSPERO:

International Prospective Register for Systematic Reviews

SD:

Standard deviation
References
1.

van de Merwe JP, Nordling J, Bouchelouche P, Bouchelouche K, Cervigni M, Daha LK et al (2008) Diagnostic criteria, classification, and nomenclature for painful bladder syndrome/interstitial cystitis: an ESSIC proposal. Eur Urol 53(1):60–67

2.

Hanno PM, Burks DA, Clemens JQ, Dmochowski RR, Erickson D, Fitzgerald MP et al (2011) AUA guideline for the diagnosis and treatment of interstitial cystitis/bladder pain syndrome. J Urol 185(6):2162–2170

3.

McMullan M (2006) Patients using the internet to obtain health information: how this affects the patient-health professional relationship. Patient Educ Couns 63(1–2):24–28

4.

Benigeri M, Pluye P (2003) Shortcomings of health information on the internet. Health Promot Int 18(4):381–386

5.

Temml C, Wehrberger C, Riedl C, Ponholzer A, Marszalek M, Madersbacher S (2007) Prevalence and correlates for interstitial cystitis symptoms in women participating in a health screening project. Eur Urol 51(3):803–808, discussion 809

6.

Chien PF, Khan KS, Siassakos D (2012) Registration of systematic reviews: PROSPERO. BJOG 119(8):903–905

7.

Liberati A, Altman DG, Tetzlaff J, Mulrow C, Gøtzsche PC, Ioannidis JP et al (2009) The PRISMA statement for reporting systematic reviews and meta-analyses of studies that evaluate health care interventions: explanation and elaboration. J Clin Epidemiol 62(10):e1–e34

8.

Silberg WM, Lundberg GD, Musacchio RA (1997) Assessing, controlling, and assuring the quality of medical information on the internet: caveant lector et viewor–let the reader and viewer beware. JAMA 277(15):1244–1245

9.

Latthe PM, Latthe M, Khan KS (2000) Quality of medical information about menorrhagia on the worldwide web. BJOG 107(1):39–43

10.

Winker MA, Flanagin A, Chi-Lum B, White J, Andrews K, Kennett RL et al (2000) Guidelines for medical and health information sites on the internet: principles governing AMA web sites. Am Med Assoc JAMA 283(12):1600–1606

11.

Groot D, ter Riet G, Khan KS, Misso K (2001) Comparison of search strategies and quality of medical information of the internet: a study relating to ankle sprain. Injury 32(6):473–476

12.

Kunst H, Groot D, Latthe PM, Latthe M, Khan KS (2002) Accuracy of information on apparently credible websites: survey of five common health topics. BMJ 324(7337):581–582

13.

Murphy R, Frost S, Webster P, Schmidt U (2004) An evaluation of web-based information. Int J Eat Disord 35(2):145–154

14.

Ambre J, Guard R, Perveiler FM, Renner J, Rippen H (1997) White paper: Criteria for assessing the quality of health information on the internet

15.

Hanno P, Lin A, Nordling J, Nyberg L, van Ophoven A, Ueda T et al (2010) Bladder pain syndrome committee of the international consultation on incontinence. Neurourol Urodyn 29(1):191–198

16.

Bernstam EV, Shelton DM, Walji M, Meric-Bernstam F (2005) Instruments to assess the quality of health information on the world wide web: what can our patients actually use? Int J Med Inform 74(1):13–19

17.

Routh JC, Gong EM, Cannon GM, Nelson CP (2011) Does a controversial topic affect the quality of urologic information on the internet? Urology 78(5):1051–1056

18.

Kaicker J, Debono VB, Dang W, Buckley N, Thabane L (2010) Assessment of the quality and variability of health information on chronic pain websites using the DISCERN instrument. BMC Med 8:59

19.

Henderson EM, Rosser BA, Keogh E, Eccleston C (2012) Internet sites offering adolescents help with headache, abdominal pain, and dysmenorrhoea: a description of content, quality, and peer interactions. J Pediatr Psychol 37(3):262–271

20.

Landis JR, Koch GG (1977) The measurement of observer agreement for categorical data. Biometrics 33(1):159–174

21.

Davies L, Ganger K, Drummond M, Saunders D, Beard R (1992) The economic burden of intractable gynaecological pain. J Obstet Gynaecol 12 [Suppl 2]:S46–S54

22.

Henry JL (2008) The need for knowledge translation in chronic pain. Pain Res Manag 13(6):465–476

23.

Corcoran TB, Haigh F, Seabrook A, Schug SA (2009) The quality of internet-sourced information for patients with chronic pain is poor. Clin J Pain 25(7):617–623

24.

de Boer MJ, Versteegen GJ, van Wijhe M (2007) Patients' use of the Internet for pain-related medical information. Patient Educ Couns 68(1):86–97

25.

Sajadi KP, Goldman HB (2011) Social networks lack useful content for incontinence. Urology 78(4):764–767

26.

Clemens JO, Calhoun EA, Litwin MS, Collins MM (2008) Primary care physician practice patterns in the management of interstitial cystitis/painful bladder syndrome. Neurourol Urodyn 27(2):140–141

27.

Cline RJ, Haynes KM (2001) Consumer health information seeking on the internet: the state of the art. Health Educ Res 16(6):671–692
Acknowledgments
None.
Funding
None.
Ethics
None.
Conflicts of interest
None.
Additional information
PROSPERO registration number
CRD42012003203
Brief summary
Patient-accessible information on the internet related to bladder painsyndrome can be variable in terms of quality, credibility, accuracy and readability
Electronic supplementary material
Below is the link to the electronic supplementary material.
About this article
Cite this article
Tirlapur, S.A., Leiu, C. & Khan, K.S. Quality of information on the internet related to bladder pain syndrome: a systematic review of the evidence. Int Urogynecol J 24, 1257–1262 (2013). https://doi.org/10.1007/s00192-013-2091-1
Received:

Accepted:

Published:

Issue Date:
Keywords
Accuracy

Bladder pain syndrome

Credibility

Internet

Interstitial cystitis

Readability