Abstract
In 1950, Gräfenberg described a distinct erotogenic zone on the anterior wall of the vagina, which was referred to as the Gräfenberg spot (G-spot) by Addiego, Whipple (a nurse) et al. in 1981. As a result, the G-spot has become a central topic of popular speculation and a basis of a huge business surrounding it. In our opinion, these sexologists have made a hotchpotch of Gräfenberg's thoughts and ideas that were set forth and expounded in his 1950 article: the intraurethral glands are not the corpus spongiosum of the female urethra, and Gräfenberg did not report an orgasm of the intraurethral glands. G-spot amplification is a cosmetic surgery procedure for temporarily increasing the size and sensitivity of the G-spot in which a dermal filler or a collagen-like material is injected into the bladder–vaginal septum. All published scientific data point to the fact that the G-spot does not exist, and the supposed G-spot should not be identified with Gräfenberg's name. Moreover, G-spot amplification is not medically indicated and is an unnecessary and inefficacious medical procedure.
This is a preview of subscription content, log in to check access.
Access options
Buy single article
Instant access to the full article PDF.
US$ 39.95
Price includes VAT for USA
Subscribe to journal
Immediate online access to all issues from 2019. Subscription will auto renew annually.
US$ 199
This is the net price. Taxes to be calculated in checkout.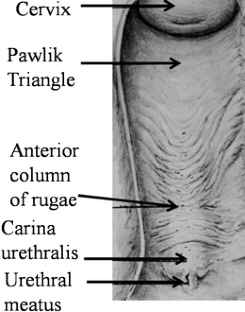 References
1.

Addiego F, Belzer EG, Comolli J, Moger W, Perry JD, Whipple B (1981) Female ejaculation: a case study. J Sex Res 17:13–21

2.

Hines TM (2001) The G-spot: a modern gynecologic myth. Am J Obstet Gynecol 185:359–362

3.

Gräfenberg E (1950) The role of urethra in female orgasm. Int J Sexol 3:145–148

4.

Perry JD, Whipple B (1981) Pelvic muscle strength of female ejaculators: evidence in support of a new theory of orgasm. J Sex Res 17:22–39

5.

Shafik A, Shafik IA, El Sibai O, Shafik AA (2009) An electrophysiologic study of female ejaculation. J Sex Marital Ther 35:337–346

6.

Puppo V (2011) Embryology and anatomy of the vulva: the female orgasm and women's sexual health. Eur J Obstet Gynecol Reprod Biol 154:3–8

7.

Burri AV, Cherkas L, Spector TD (2010) Genetic and environmental influences on self-reported G-spots in women: a twin study. J Sex Med 7:1842–1852

8.

Gravina GL, Brandetti F, Martini P, Carosa E, Di Stasi SM, Morano S, Lenzi A, Jannini EA (2008) Measurement of the thickness of the urethrovaginal space in women with or without vaginal orgasm. J Sex Med 5:610–618

9.

Komisaruk BR, Beyer-Flores C, Whipple B (2006) The science of orgasm. Johns Hopkins University, Baltimore

10.

Buisson O (2011) Answer to V. Puppo's letter: "G-spot does not exist". Gynecol Obstet Fertil 39:267–268

11.

Puppo V (2011) Anatomy of the clitoris: revision and clarifications about the anatomical terms for the clitoris proposed (without scientific bases) by Helen O'Connell, Emmanuele Jannini and Odile Buisson. ISRN Obstet Gynecol Article ID 261464, 5 pages

12.

Jannini EA, Whipple B, Kingsberg SA, Buisson O, Foldès P, Vardi Y (2010) Who's afraid of the G-spot? J Sex Med 7:25–34

13.

Ladas AK, Whipple B, Perry J (1982) The G-spot and other recent discoveries about human sexuality. Holt, Reinehart & Wiston, New York

14.

Wikipedia. G-spot amplification. Available at: http://en.wikipedia.org/wiki/G-Spot_amplification. Accessed 21 Nov 2011

15.

Doctor G-spot (2007) Page 1. Available at: http://www.browardpalmbeach.com/2007-07-12/news/doctor-g-spot/. Accessed 21 Nov 2011

16.

American College of Obstetricians and Gynecologists (2007) ACOG Committee Opinion No. 378: Vaginal "rejuvenation" and cosmetic vaginal procedures. Obstet Gynecol 110:737–738

17.

Doctor G-spot (2007) Page 2. Available at: http://www.browardpalmbeach.com/2007-07-12/news/doctor-g-spot/2/. Accessed 21 Nov 2011

18.

Marchitelli CE, Sluga MC, Perrotta M, Testa R (2010) Initial experience in a vulvovaginal aesthetic surgery unit within a general gynecology department. J Low Genit Tract Dis 14:295–300

19.

Ostrzenski A (2012) G-spot anatomy: a new discovery. J Sex Med 9:1355–1359

20.

Upton GJ, Langdon WB, Harrison AP (2008) G-spots causes incorrect expression measurement in Affymetrix microarrays. BMC Genomics 9:613–622

21.

Kilchevsky A, Vardi Y, Lowenstein L, Gruenwald I (2012) Is the female G-spot truly a distinct anatomic entity? J Sex Med 9:719–726

22.

Puppo V (2012) The Gräfenberg spot (G-spot) does not exist-a rebuttal of Dwyer PL: Skene's gland revisited: function, dysfunction and the G spot. Int Urogynecol J 23:247

23.

Puppo V, Mannucci A, Abdulcadir J, Puppo G (2008) Clarifications about some theories in sexology and about a correct sexual terminology. Oral Presentation-9th Congress of the European Federation of Sexology (EFS). Rome, 13–17 April 2008. Sexologies 17(Suppl. 1):T10-O-25: S147. Full text available at: http://www.youtube.com/user/NewSexology?gl=IT&hl=it#p/u/0/E52HiDw5bhM. Accessed 21 Nov 2011

24.

Standring S (2008) Gray's anatomy: the anatomical basis of clinical practice, 40th edn. Churchill Livingstone-Elsevier, New York
Conflicts of interest
None.
About this article
Cite this article
Puppo, V., Gruenwald, I. Does the G-spot exist? A review of the current literature. Int Urogynecol J 23, 1665–1669 (2012). https://doi.org/10.1007/s00192-012-1831-y
Received:

Accepted:

Published:

Issue Date:
Keywords
Vulvovaginal surgery

Urethra

Female prostate

Female orgasm

Clitoris

Vagina