Abstract
Introduction and hypothesis
The glycosaminoglycan hyaluronic acid (HA) protects the urothelium; damage may increase bacterial adherence and infection risk. This study evaluated the effect of intravesical HA in recurrent bacterial cystitis (RBC).
Methods
Women with RBC were randomized to intravesical HA 800 mg and chondroitin sulfate (CS) 1 g (IALURIL®, IBSA) in 50 mL of saline solution once weekly for 4 weeks then once every 2 weeks twice more (group 1) or long term antibiotic prophylaxis using sulfamethoxazole 200 mg and trimethoprim 40 mg once weekly for 6 weeks (group 2; control). Evaluations included: cystitis recurrence at 2 and 12 months; subjective pain symptoms (visual analog scale [VAS]); 3 day voiding; sexual function; quality of life (King's Health Questionnaire [KHQ]); frequency symptoms/frequency symptoms (PUF symptom scale); and maximum cystometric capacity (MCC). Means ± standard deviations were reported, with Mann-Whitney test for between-group comparison (significance P < .05).
Results
Of 28 women (mean age 60 ± 13 y) randomized, 26 completed follow-up (mean follow-up 11.5 mo). Group 1 showed a significant improvement in all evaluations; cystitis recurrence (1 ± 1.2 versus 2.3 ± 1.4, P = .02); 3-day voiding (mean 17.8 ± 3.5 vs 24.2 ± 8.3, P = .04); symptom VAS (1.6 ± 0.8 vs 7.8 ± 1.6, P < .001); PUF score (11.2 ± 2.7 vs 19.6 ± 2.2, P < .001), KHQ score (18.4 ± 7.2 vs 47.3 ± 13.6, P < .001), and MCC (380 ± 78 vs 229 ± 51 mL, P < .001) vs group 2 at 12 mo. No adverse effects were recorded.
Conclusions
Intravesical HA and CS in combination significantly reduced cystitis recurrence and improved urinary symptoms, quality of life, and cystometric capacity in RBC patients at 12 mo follow-up versus antibiotic prophylaxis. Study limitations include a small sample and relatively short follow-up.
Access options
Buy single article
Instant access to the full article PDF.
USD 39.95
Price excludes VAT (USA)
Tax calculation will be finalised during checkout.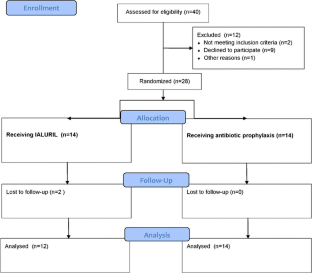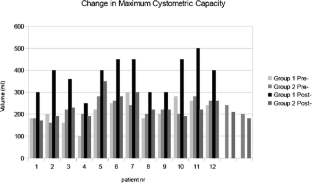 References
Foxman B (2002) Epidemiology of urinary tract infections: incidence, morbidity and economic costs. Am J Med 113:5S–13S

Ronald A (2002) The etiology of urinary tract infection: traditional and emerging pathogens. Am J Med 113:14S–19S

Chung A, Arianayagam M, Rashid P (2010) Bacterial cystitis in women. Aust Fam Physician 39(5):295–298

Foxman B, Gillespie B, Koopman J, Zhang L, Palin K, Tallman P et al (2000) Risk factors for second urinary tract infection among college women. Am J Epidemiol 151:1194–1205

Avorn J, Monane M, Gurwitz JH, Glynn RJ, Choodnovskiy I, Lipsitz LA (1992) Reduction of bacteriuria and pyuria after ingestion of cranberry juice. J Am Med Assoc 271:751–754

Raz R, Stamm WE (1993) A controlled trial of intravaginal estriol in postmenopausal women with recurrent urinary tract infections. N Engl J Med 329:753–756

Reid G (1999) The scientific basis for probiotic strains of Lactobacillus. Appl Environ Microbiol 65:3763–3766

Schulman CC, Corbusier A, Michiels H, Taenzer HJ (1993) Oral immunotherapy of recurrent urinary tract infections: a double-blind placebo-controlled multicenter study. J Urol 150:917–921

Kruze D, Holzbecher K, Andrial M, Bossart W (1989) Urinary antibody response after immunisation with a vaccine against urinary tract infection. Urol Res 17:361–366

Schilling JD, Mulvey MA, Hultgren SJ (2001) Dynamic interactions between host and pathogen during acute urinary tract infections. Urology 57:56–61

Reid G (1999) Current scientific understanding of urinary tract infections in women: an overview. World J Urol 17:336–338

Gupta K, Stamm WE (1999) Pathogenesis and management of recurrent urinary tract infections in women. World J Urol 17:415–420

Poggi MM, Johnstone PAS, Conner RJ (2000) Glycosaminoglycan content of human bladders: a method of analysis using coldcup biopsies. Urol Oncol 5:234–237

Morales A, Emerson L, Nickel JC (1997) Intravesical hyaluronic acid in the treatment of refractory interstitial cystitis. Urology 49:111–113

Parsons CL (1997) Epithelial coating techniques in the treatment of interstitial cystitis. Urology 49:100–104

Daha LK, Riedl CR, Hohlbrugger G, Knoll M, Engelhardt PF, Pflüger H (2003) Comparative assessment of maximal bladder capacity, 0.9% NaCl versus 0.2 M KCl, for diagnosis of interstitial cystitis: prospective controlled study. J Urol 170:807–809

Shao Y, Shen ZJ, Rui WB, Zhou WL (2010) Intravesical instillation of hyaluronic acid prolonged the effect of bladder hydrodistention in patients with severe interstitial cystitis. Urology 75(3):547–550

Porru D, Leva F, Parmigiani A, et al (2011) Impact of intravesical hyaluronic acid and chondroitin sulfate on bladder pain syndrome/interstitial cystitis. Int Urogynecol. doi:10.1007/s00192-011-1546-5

Constantinides C, Manousakas T, Nikolopoulos P, Stanitsas A, Haritopoulos K, Giannopoulos A (2004) Prevention of recurrent bacterial cystitis by intravesical administration of hyaluronic acid: a pilot study. BJU Int 93(9):1262–1266

Lipovac M, Kurz C, Reithmayr F, Verhoeven HC, Huber JC, Imhof M (2007) Prevention of recurrent bacterial urinary tract infections by intravesical instillation of hyaluronic acid. Int J Gynaecol Obstet 96(3):192–195

Damiano R, Quarto G, Bava I et al (2011) Prevention of recurrent urinary tract infections by intravesical administration of hyaluronic acid and chondroitin sulphate: a placebo-controlled randomised trial. Eur Urol 59(4):645–651

Gillenwater JY, Wein AJ (1987) Summary of the National Institute of Arthritis, Diabetes, Digestive and Kidney Diseases Workshop on Interstitial Cystitis, National Institutes of Health, Bethesda, Maryland, August 28-29, 1987. J Urol 140(1):203–206

Ronald AR, Harding CK, Mathias R, Wong CK, Muir P (1975) Prophylaxis of recurring urinary tract infection in females: a comparison of nitrofurantoin with trimethoprim-sulfamethoxazole. Can Med Assoc J 112(13 Spec No):13–16

Salomon J, Denys P, Merle C, Chartier-Kastler E, Perronne C, Gaillard JL, Bernard L (2006) Prevention of urinary tract infection in spinal cord-injured patients: safety and efficacy of a weekly oral cyclic antibiotic (WOCA) programme with a 2 year follow-up–an observational prospective study. J Antimicrob Chemother 57(4):784–788

Ito T, Tomoe H, Ueda T, Yoshimura N, Sant G, Hanno P (2003) Clinical symptoms scale for interstitial cystitis for diagnosis and for following the course of the disease. Int J Urol 10:S24–26

Kelleher CJ, Cardozo LD, Khullar V, Salvatore S (1997) A new questionnaire to assess the quality of life of urinary incontinent women. Br J Obstet Gynaecol 104(12):1374–1379

Figueiredo AB, Palma P, Riccetto C, Herrmann V, Dambros M, Capmartin R (2011) Clinical and urodynamic experience with intravesical hyaluronic acid in painful bladder syndrome associated with interstitial cystitis. Actas Urol Esp 35(3):184–7

Leppilahti M, Hellström P, Tammela TL (2002) Effect of diagnostic hydrodistension and four intravesical hyaluronic acid instillations on bladder ICAM-1 intensity and association of ICAM-1 intensity with clinical response in patients with interstitial cystitis. Urology 60(1):46–51

Lee DG, Cho JJ, Park HK et al (2010) Preventive effects of hyaluronic acid on Escherichia coli-induced urinary tract infection in rat. Urology 75(4):949–954

Fraser MO, Lavelle JP, Sacks MS, Chancellor MB (2002) The future of bladder control-intravesical drug delivery, a pinch of pepper, and gene therapy. Rev Urol 4(1):1–11

Schulz A, Vestweber AM, Dressler D (2009) Anti-inflammatory action of a hyaluronic acid-chondroitin sulfate preparation in an in vitro bladder model. Aktuelle Urol 40(2):109–12

Southgate J, Varley CL, Garthwaite MA, Hinley J, Marsh F, Stahlschmidt J et al (2007) Differentiation potential of urothelium from patients with benign bladder dysfunction. BJU Int 99(6):1506–1516

Engelhardt PF, Morakis N, Daha LK, Esterbauer B, Riedl CR (2010) Long-term results of intravesical hyaluronan therapy in bladder pain syndrome/interstitial cystitis. Int Urogynecol J Pelvic Floor Dysfunct 22(4):401–405

Burkhard FC, Blick N, Hochreiter WW, Studer UE (2004) Urinary urgency and frequency, and chronic urethral and/or pelvic pain in females. Can doxycycline help? J Urol 172(1):232–235

Hooton TM (2001) Recurrent urinary tract infection in women. Int J Antimicrob Agents 17:259–268
Acknowledgments
The authors thank inScience Communications who provided native English editing assistance. This assistance was funded by IBSA Institut Biochimique SA, Lugano, Switzerland.
Funding
Neither of the authors have anything to disclose. Neither author has any commercial associations or disclosures that may pose, or create any conflict of interest with information presented in this manuscript. This was an independent study, and the funding support from IBSA Institut Biochimique SA was limited to editorial assistance.
Conflicts of interest
None
About this article
Cite this article
De Vita, D., Giordano, S. Effectiveness of intravesical hyaluronic acid/chondroitin sulfate in recurrent bacterial cystitis: a randomized study. Int Urogynecol J 23, 1707–1713 (2012). https://doi.org/10.1007/s00192-012-1794-z
Received:

Accepted:

Published:

Issue Date:

DOI: https://doi.org/10.1007/s00192-012-1794-z
Keywords
Recurrent urinary tract infections

Chondroitin sulfate

Hyaluronic acid

Intravesical instillation

Cystitis