Abstract
Introduction and hypothesis
This study assesses the prevalence of interstitial cystitis (IC)/bladder pain syndrome (BPS) in women with chronic pelvic pain (CPP).
Methods
This was a prospective study of 150 women undergoing laparoscopy as investigation for CPP in an Endometriosis and Pelvic Pain unit. Preoperative questionnaires [demographic details, pelvic pain symptoms, the Pelvic Pain and Urgency/Frequency (PUF) and O'Leary-Sant (OLS) Symptom and Problem Index scores] were completed, and concurrent standardized cystoscopy with hydrodistention performed at laparoscopy. The primary outcome measures the proportion of IC in this group, defined by presence of glomerulations with CPP and urinary symptoms (urinary frequency, nocturia, urgency). The secondary outcome measures the proportion of BPS [defined by the European Society of the Study of Interstitial Cystitis (ESSIC)].
Results
IC was diagnosed in 48/150 (32%) individuals, and 80/150 (53%) had BPS. There were no significant differences in symptomatology or questionnaire results between groups with and without IC. Women with BPS had higher PUF (17.2 vs 12.9, p < 0.001), OLS Symptom (8.2 vs 6.0, p = 0.001) and Problem (7.5 vs 4.2, p < 0.001) scores and more severe pain symptoms. Visually proven endometriosis was seen in 90/150 (60%), and 27/150 (18%) had both endometriosis and IC. Of the 80 women with BPS, 45/80 (60%) had endometriosis.
Conclusions
The prevalence of IC/BPS varies depending on the definition used. This study showed IC in 32% of women with CPP based on symptoms and presence of glomerulations. BPS as defined by ESSIC was diagnosed in 53%. History and questionnaires did not correlate with positive cystoscopic findings.
Access options
Buy single article
Instant access to the full article PDF.
US$ 39.95
Tax calculation will be finalised during checkout.
Subscribe to journal
Immediate online access to all issues from 2019. Subscription will auto renew annually.
US$ 119
Tax calculation will be finalised during checkout.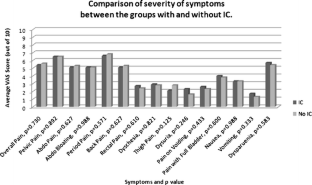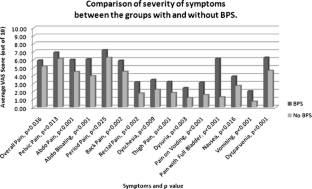 References
1.

Hanno PM (1994) Diagnosis of interstitial cystitis. Urol Clin North Am 21:63–66

2.

Hunner GL (1918) Elusive ulcer of the bladder; further notes on a rare type of bladder ulcer with a report of twenty-five cases. Am J Obstet Dis Child 78:3–8

3.

Messing EM, Stamey TA (1978) Interstitial cystitis, early diagnosis, pathology and treatment. Urology 12:381–392

4.

Gillenwater JY, Wein AJ (1987) Summary of the national institute of arthritis, diabetes, digestive and kidney diseases workshop on interstitial cystitis, national institutes of health, Bethesda, Maryland, August 28-29, 1987. J Urol 140:203–206

5.

Abrams P, Cardozo L, Fall M et al. (2002) The standardisation of terminology of lower urinary tract function: report from the standardisation sub-committee of the international continence society. Neurourol Urodyn 21:167–178

6.

Evans RJ, Sant GR (2007) Current diagnosis of interstitial cystitis: an evolving paradigm. Urology 69(Suppl 4A):64–72

7.

van de Merwe JP, Nordling J, Bouchelouche P, Bouchelouche K, Cervigni M, Daha LK et al. (2008) Diagnostic criteria, classification, and nomenclature for painful bladder syndrome/interstitial cystitis: an ESSIC proposal. Eur Urol 53:60–67

8.

Oravisto K (1975) Epidemiology of interstitial cystitis. Ann Chir Gynaecol Fenn 64:75

9.

Held P, Hanno PM, Wein AJ (1990) Epidemiology of interstitial cystitis: 2. In: In Hanno PM, Staskin DR, Krane RJ et al (eds) Interstitial cystitis. Springer, London, p 29

10.

Jones C, Harris M, Nyberg L (1994) Prevalence of interstitial cystitis in the United States. J Urol 151:423A

11.

Chung MK, Chung RP, Gordon D (2005) Intersitital cystitis and endometriosis in patients with chronic pelvic pain: the "Evil Twins" syndrome. JSLS 9:25–29

12.

Paulson JD, Delgado M (2007) The relationship between interstitial cystitis and endometriosis in patients with chronic pelvic pain. JSLS 11:175–181

13.

Clemons JL, Arya LA, Myers DL (2002) Diagnosing interstitial cystitis in women with chronic pelvic pain. Obstet Gynecol 200:337–341

14.

Stanford EJ, Koziol J, Feng A (2005) The prevalence of interstitial cystitis, endometriosis, adhesions, and vulvar pain in women with chronic pelvic pain. J Min Inv Gynecol 12:43–49

15.

Nordling J, Anjum F, Bade J, Bouchelouche K, Bouchelouche P, Cervigni M et al. (2004) Primary evaluation of patients suspected of having Interstitial Cystitis (IC). Eur Urol 45:662–669

16.

American Society for Reproductive Medicine (1996) Revised American society for reproductive medicine classification of endometriosis:1996. Fertil Steril 67:817–821

17.

Gambone J, Mittman B, Munro M, Scialli A, Winkel C (2002) Chronic pelvic pain and endometriosis: proceedings of an expert-panel consensus process. Fertil Steril 78:961–972

18.

Vercellini P, Fedele L, Aimi G, Pietropaolo G, Consonni D, Crosignani P (2007) Association between endometriosis stage, lesion type, patient characteristics and severity of pelvic pain symptoms: a mulivariate analysis of over 1000 patients. Hum Reprod 22:266–271

19.

Fukaya T, Hoshiai H, Yajima A (1993) Is pelvic endometriosis always associated with chronic pain? a retrospective study of 618 cases diagnosed by laparoscopy. Am J Obstet Gynecol 169:719–722

20.

Brewer M, White W, Klein F, LM K, Waters W (2007) Validity of pelvic pain, urgency, and frequency questionnaire in patients with interstitial cystitis/painful bladder syndrome. Urology 70:646–649

21.

Kushner L, Moldwin R (2006) Efficiency of questionnaires used to screen for interstitial cystitis. J Urol 176:587–592
Acknowledgement
This study was supported by a grant from the Australasian Gynaecological Endoscopy & Surgery (AGES) Research Fund. Special thanks are given to all staff who helped with recruitment and execution of this study. In particular, trainees of the Royal Women's Hospital within the Gynaecology 2 Unit who helped with recruitment; fellows and senior registrars who helped with data collection and performing the surgeries, and all Gynaecology 2 Unit consultants who performed or supervised the operations.
Conflicts of interest
None.
About this article
Cite this article
Cheng, C., Rosamilia, A. & Healey, M. Diagnosis of interstitial cystitis/bladder pain syndrome in women with chronic pelvic pain: a prospective observational study. Int Urogynecol J 23, 1361–1366 (2012). https://doi.org/10.1007/s00192-012-1711-5
Received:

Accepted:

Published:

Issue Date:
Keywords
Bladder pain syndrome

Chronic pelvic pain

Endometriosis

Interstitial cystitis