Abstract
Introduction and hypothesis
This study aimed to establish the prevalence of urinary leakage during intercourse, the extent to which urinary leakage impacts on sex life and the correlation between different urodynamic diagnosis and coital leakage.
Methods
Four hundred eighty women attending between 1 January 2006 and December 2010 with urinary incontinence and subsequently undergoing urodynamic assessment were included. Data were collected as part of routine clinical care using the electronic Pelvic floor Assessment Questionnaire and correlated with urodynamic findings.
Results
Sixty percent of women with urinary incontinence reported leakage during intercourse. Overall quality of life in women with urinary incontinence was strongly correlated to the impact of urinary symptoms on sex life. Parameters of sexual function were no different in women with different urodynamic diagnosis.
Conclusion
Worsening urinary incontinence has a deleterious effect on sexual function. Urodynamic diagnosis does not correlate with the nature of underlying sexual problems, orgasm or penetration incontinence.
Access options
Buy single article
Instant access to the full article PDF.
US$ 39.95
Tax calculation will be finalised during checkout.
Subscribe to journal
Immediate online access to all issues from 2019. Subscription will auto renew annually.
US$ 119
Tax calculation will be finalised during checkout.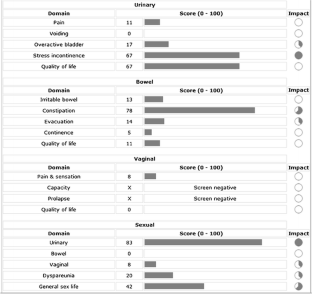 References
1.

Hilton P (1988) Urinary incontinence during sexual intercourse: a common, but rarely volunteered, symptom. Br J Obstet Gynaecol 95(4):377–381

2.

El Azab AS, Yousef HA, Seifeldein GS (2011) Coital incontinence: relation to detrusor overactivity and stress incontinence. Neurourol Urodyn. doi:10.1002/nau.21041

3.

Moran PA, Dwyer PL, Ziccone SP (1999) Urinary leakage during coitus in women. J Obstet Gynaecol 19(3):286–288

4.

Radley SC, Jones GL, Tanguy EA, Stevens VG, Nelson C, Mathers NJ (2006) Computer interviewing in urogynaecology: concept, development and psychometric testing of an electronic pelvic floor assessment questionnaire in primary and secondary care. BJOG 113(2):231–238

5.

Schafer W, Abrams P, Liao L, Mattiasson A, Pesce F, Spangberg A et al (2002) Good urodynamic practices: uroflowmetry, filling cystometry, and pressure-flow studies. Neurourol Urodyn 21(3):261–274

6.

Abrams P, Cardozo L, Fall M, Griffiths D, Rosier P, Ulmsten U et al (2002) The standardisation of terminology of lower urinary tract function: report from the Standardisation Sub-committee of the International Continence Society. Neurourol Urodyn 21(2):167–178

7.

Valderas JM, Kotzeva A, Espallargues M, Guyatt G, Ferrans CE, Halyard MY et al (2008) The impact of measuring patient-reported outcomes in clinical practice: a systematic review of the literature. Qual Life Res 17(2):179–193

8.

Benoit A, Dykes P, Chang F, Gertman P, Vandever W, Li Q et al. (2007) Using electronic questionnaires to collect patient reported history. AMIA Annu Symp Proc, 871

9.

Ellerkmann RM, Cundiff GW, Melick CF, Nihira MA, Leffler K, Bent AE (2001) Correlation of symptoms with location and severity of pelvic organ prolapse. Am J Obstet Gynecol 185(6):1332–1337

10.

Novi JM, Jeronis S, Morgan MA, Arya LA (2005) Sexual function in women with pelvic organ prolapse compared to women without pelvic organ prolapse. J Urol 173(5):1669–1672

11.

Roos AM, Thakar R, Sultan AH, Scheer I (2009) Female sexual dysfunction: are urogynecologists ready for it? Int Urogynecol J Pelvic Floor Dysfunct 20(1):89–101

12.

Dokmeci F, Seval M, Gok H (2010) Comparison of ambulatory versus conventional urodynamics in females with urinary incontinence. Neurourol Urodyn 29(4):518–521
Conflicts of interest
None.
Electronic supplementary material
Below is the link to the electronic supplementary material.
About this article
Cite this article
Jha, S., Strelley, K. & Radley, S. Incontinence during intercourse: myths unravelled. Int Urogynecol J 23, 633–637 (2012). https://doi.org/10.1007/s00192-011-1583-0
Received:

Accepted:

Published:

Issue Date:
Keywords
Coital incontinence

Orgasm incontinence

Penetration incontinence

Urodynamics

USI

DOA