Abstract
The pathophysiology of stress urinary incontinence (SUI) is multifactorial and evidence supports a critical role of pregnancy and vaginal delivery. This review dissects epidemiologic literature to determine the weight of evidence on the role of advanced maternal age (AMA) as a risk factor for the development of subsequent or persistent SUI. We conducted a Medline search using the keywords postpartum, SUI, maternal age, pregnancy, and incontinence. The published literature was critically analyzed. Evidence supports that childbirth trauma contributes to the development and severity of SUI. Yet, there is contradicting evidence as to whether AMA increases the risk. AMA clearly represents an independent risk factor for postpartum SUI. However, long-term studies did not confirm this observation. Whether this finding is suggestive of a true biologic signal that is lost with competing risk factors over time warrants further research.
This is a preview of subscription content, log in to check access.
Access options
Buy single article
Instant access to the full article PDF.
US$ 39.95
Price includes VAT for USA
Subscribe to journal
Immediate online access to all issues from 2019. Subscription will auto renew annually.
US$ 199
This is the net price. Taxes to be calculated in checkout.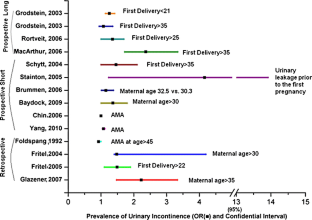 References
1.

Altman D, Ekstrom A, Gustafsson C, Lopez A, Falconer C, Zetterstrom J (2006) Risk of urinary incontinence after childbirth: a 10-year prospective cohort study. Obstet Gynecol 108:873–878

2.

Baydock SA, Flood C, Schulz JA, MacDonald D, Esau D, Jones S, Hiltz CB (2009) Prevalence and risk factors for urinary and fecal incontinence four months after vaginal delivery. J Obstet Gynaecol Can 31:36–41

3.

Carley ME, Turner RJ, Scott DE, Alexander JM (1999) Obstetric history in women with surgically corrected adult urinary incontinence or pelvic organ prolapse. J Am Assoc Gynecol Laparosc 6:85–89

4.

Chin HY, Chen MC, Liu YH, Wang KH (2006) Postpartum urinary incontinence: a comparison of vaginal delivery, elective, and emergent cesarean section. Int Urogynecol J Pelvic Floor Dysfunct 17:631–635

5.

Dietz HP, Simpson JM (2007) Does delayed child-bearing increase the risk of levator injury in labour? Aust N Z J Obstet Gynaecol 47:491–495

6.

Diez-Itza I, Arrue M, Ibanez L, Murgiondo A, Paredes J, Sarasqueta C (2010) Factors involved in stress urinary incontinence 1 year after first delivery. Int Urogynecol J 21:439–45

7.

Foldspang A, Mommsen S, Lam GW, Elving L (1992) Parity as a correlate of adult female urinary incontinence prevalence. J Epidemiol Community Health 46:595–600

8.

Fritel X, Fauconnier A, Levet C, Benifla JL (2004) Stress urinary incontinence 4 years after the first delivery: a retrospective cohort survey. Acta Obstet Gynecol Scand 83:941–945

9.

Fritel X, Ringa V, Varnoux N, Fauconnier A, Piault S, Breart G (2005) Mode of delivery and severe stress incontinence. A cross-sectional study among 2,625 perimenopausal women. BJOG 112:1646–1651

10.

Glazener CM, Herbison GP, MacArthur C, Lancashire R, McGee MA, Grant AM, Wilson PD (2006) New postnatal urinary incontinence: obstetric and other risk factors in primiparae. BJOG 113:208–217

11.

Grodstein F, Fretts R, Lifford K, Resnick N, Curhan G (2003) Association of age, race, and obstetric history with urinary symptoms among women in the Nurses' Health Study. Am J Obstet Gynecol 189:428–434

12.

Groutz A, Helpman L, Gold R, Pauzner D, Lessing JB, Gordon D (2007) First vaginal delivery at an older age: does it carry an extra risk for the development of stress urinary incontinence? Neurourol Urodyn 26:779–782

13.

Hermansen IL, O'Connell BO, Gaskin CJ (2010) Women's explanations for urinary incontinence, their management strategies, and their quality of life during the postpartum period. J Wound Ostomy Continence Nurs 37:187–192

14.

Huang L, Sauve R, Birkett N, Fergusson D, van Walraven C (2008) Maternal age and risk of stillbirth: a systematic review. CMAJ 178:165–172

15.

MacArthur C, Glazener CM, Wilson PD, Lancashire RJ, Herbison GP, Grant AM (2006) Persistent urinary incontinence and delivery mode history: a six-year longitudinal study. BJOG 113:218–224

16.

Marsh F, Lynne R, Christine L, Alison W (2011) Obstetric anal sphincter injury in the UK and its effect on bowel, bladder and sexual function. Eur J Obstet Gynecol Reprod Biol 154:223–227

17.

Pregazzi R, Sartore A, Troiano L, Grimaldi E, Bortoli P, Siracusano S, Guaschino S (2002) Postpartum urinary symptoms: prevalence and risk factors. Eur J Obstet Gynecol Reprod Biol 103:179–182

18.

Rortveit G, Hunskaar S (2006) Urinary incontinence and age at the first and last delivery: the Norwegian HUNT/EPINCONT study. Am J Obstet Gynecol 195:433–438

19.

Schytt E, Lindmark G, Waldenstrom U (2004) Symptoms of stress incontinence 1 year after childbirth: prevalence and predictors in a national Swedish sample. Acta Obstet Gynecol Scand 83:928–936

20.

Stainton MC, Strahle A, Fethney J (2005) Leaking urine prior to pregnancy: a risk factor for postnatal incontinence. Aust N Z J Obstet Gynaecol 45:295–299

21.

van Brummen HJ, Bruinse HW, van de Pol G, Heintz AP, van der Vaart CH (2006) Bothersome lower urinary tract symptoms 1 year after first delivery: prevalence and the effect of childbirth. BJU Int 98:89–95

22.

Viktrup L (2002) The risk of lower urinary tract symptoms five years after the first delivery. Neurourol Urodyn 21:2–29

23.

Viktrup L, Rortveit G, Lose G (2006) Risk of stress urinary incontinence twelve years after the first pregnancy and delivery. Obstet Gynecol 108:248–254

24.

Yang X, Zhang HX, Yu HY, Gao XL, Yang HX, Dong Y (2010) The prevalence of fecal incontinence and urinary incontinence in primiparous postpartum Chinese women. Eur J Obstet Gynecol Reprod Biol 152:214–217
Acknowledgments
The authors thank Kerry O. Grimberg, Ph.D. for her medical editorial assistance.
Conflicts of interest
None.
About this article
Cite this article
Hijaz, A., Sadeghi, Z., Byrne, L. et al. Advanced maternal age as a risk factor for stress urinary incontinence: a review of the literature. Int Urogynecol J 23, 395–401 (2012). https://doi.org/10.1007/s00192-011-1562-5
Received:

Accepted:

Published:

Issue Date:
Keywords
Maternal age

Pregnancy

Risk factors

Stress urinary incontinence

Postpartum